My 5 wood is my favorite fairway wood. As great as it can be to hit a perfect 3 wood off the tee or from the fairway, the 5 wood is so much more consistent for me, and can prove to be much more versatile. There are times that I can even launch one from the rough with the 5 wood if the ball is sitting up just right. 
With the 5 wood technology improving dramatically through the years, many players are choosing to skip the 3 wood altogether and invest in a great quality 5 wood. We've rounded up all the best 5 woods for 2023– read on for our top picks!
Things To Consider When Buying A 5 Wood 
When purchasing a new 5 wood, these are some of the top features to keep in mind: 
The loft of the club: standard is 19 degrees, but adjustability in the club head is a great feature to have. 
Center of Gravity: an optimized center of gravity leads to higher ball flight and better forgiveness. If you struggle to get the ball in the air, the right center of gravity can be a game changer.
Shaft Flex: shaft flex is important for any club you have in your bag- the faster you swing, the more important it becomes. Most golfers with slow swing speeds (sub 90) will do well with a regular flex, while players who swing faster should use a Stiff or X-Stiff flex.
Players vs. Game Improvement Look: some new fairway woods have a very large and bulky head that helps promote forgiveness; if you like a more players-style streamlined look, be aware of the technology you choose. 
6 Best 5 Woods in 2023
TaylorMade Stealth 5 Wood
Pros:
Easy to line up with contrasting face and crown

Enhanced forgiveness and impressive launch

Flexible Speed Pocket design

Lower dispersion rates than the TaylorMade SIM 2 Max lineup
Cons:
It would be nice to see TaylorMade release the Carbon technology in the fairway woods

Priced higher than others on the market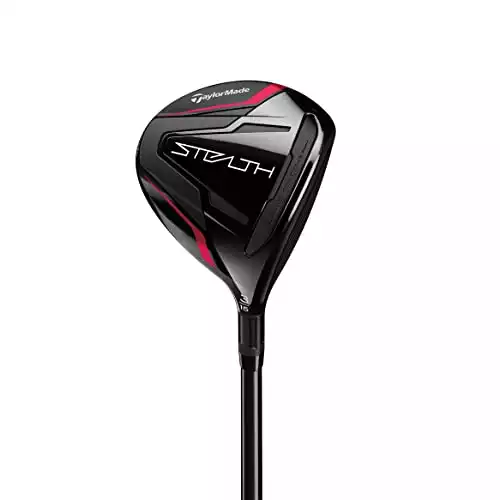 We earn a commission if you make a purchase, at no additional cost to you.
The TaylorMade Stealth 5 wood is the best overall option on the market in 2023. TaylorMade changed things up with the Stealth when they decided to come out with the Carbon Twist Face driver technology. Carbon is something entirely new to the golf market, and TaylorMade claims to have been working on it for more than 20 years. However, they kept the fairway woods with a steel face. 
TaylorMade claims that the face on a fairway wood is too small to benefit from Carbon fiber technology. The TaylorMade Stealth 5 wood is a soft feeling but still produces tremendous distance and a higher ball flight. The weight distribution in the clubhead also increased optimal launch properties. 
TaylorMade fairway woods have always had impressive turf interaction. The V Steel design led the market for many years. That has been refined in the new Stealth, but again you will feel as though the clubhead glides over the turf. 
Although it's not the most important factor when looking for a 5 wood, I have to say this is my favorite 5 wood when it comes to looks. From the top down, it's a clean-looking club with an impressive feel that helped to boost my overall confidence. I just felt like I could hit the Stealth 5 wood far, and I did. 
For golfers that want more ball speed, forgiveness on off-center hits, and a unique feel, the TaylorMade Stealth is, without a doubt, the best choice.
Callaway Rogue ST LS 5 Wood
Pros:
C300 Maraging steel

Flash Face Cup technology

Lower spin but tons of ball speed

Low and forward center of gravity for a little extra forgiveness
Cons:
Compact clubhead does make it more difficult for higher handicap players who have a hard time finding the center of the clubface.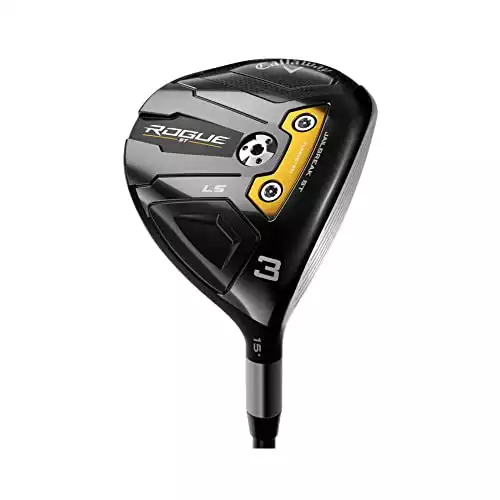 We earn a commission if you make a purchase, at no additional cost to you.
Low handicap golfers don't only use the 5 wood for distance; they need accuracy as well. Lower handicap players will use the 5 wood to try and get the ball as close to the hole as possible on longer shots to the green. Essentially instead of trying to just get it as close to the green as possible, lower handicappers want to be able to make a putt. 
That's where this Callaway Rogue ST LS comes in. 
The combination of distance technology and compact shape make this a perfect club for a better player. There is certainly no lack of distance technology in the club head; you can hit this as far as you would like. In addition, the AI Jailbreak System allows for a ton of stability at impact. 
The major technology change we saw in the Callaway Rogue ST Ls is the Tungsten Speed Cartridge. Callaway used this for the first time in a fairway wood, and the result was low spin and higher speed, something any player can benefit from. 
I really felt like I could launch this 5 wood, even with the clubhead being more compact. 
Best 5 Wood for Mid Handicappers: Titleist TSR2
Titleist TSR2 5 Wood
Pros:
Premium shaft offerings

Higher ball flight

Improved sound and feel

The new positioning of the center of gravity
We earn a commission if you make a purchase, at no additional cost to you.
Titleist is often thought of as the best option for lower handicap players. However, the TSR2 line is such an excellent choice for average golfers. If you love the game of golf and appreciate a good feel in a club, there is no question that Titleist TSR2 should be on your list. 
The TSR2 has the lowest center of gravity ever seen in a Titleist fairway wood. This directly relates to added forgiveness. One thing I immediately noticed with the TSR2 was the ability to keep the ball near the center of the fairway; even my misses were still playable. 
The TSR2 also has impressive sound and feel characteristics. Let's face it, this is a Titleist, and they are very particular about how a golf club feels and responds on the course. 
One issue that golf manufacturers have had in the past is the low center of gravity, causing extra backspin on golf shots. With the positioning of the center of gravity ultra-low and centered in the face, the TSR2 is still a mid to low spin fairway wood. 
Cleveland Launcher XL Halo 5 Wood
Pros:
High MOI design

High launching

Large sweet spot

New action mass CB for a better feel
Cons:
The club head is huge; it takes a little while to get used to it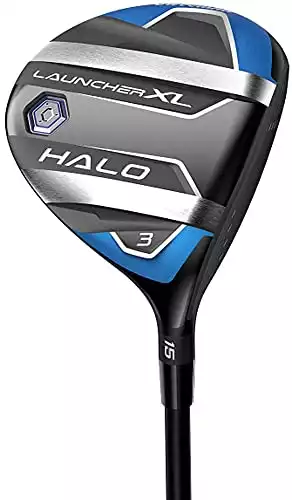 We earn a commission if you make a purchase, at no additional cost to you.
Some golfers love to set themselves up for a fairway wood shot, and others dread it. If you dread it, the Cleveland Launcher XL Halo is for you. This club features the Gliderail Tech and XL Head Design and the new Rebound Frame. 
The formula from Cleveland is rather simple if you can't hit the center of the clubface, use a bigger clubface! 
This is an enormous head with a high MOI and high launch. In fact, one of the things that I had to adjust to a bit when I first put that club in the bag was how large the club head was. A larger clubhead means a more prominent sweet spot, but it takes a bit to adjust to this look. 
Cleveland created an Action Mass CB technology with an 8g weight at the top of the grip. Most forgiving golf clubs take weight away as opposed to adding more. However, what matters in the golf club makeup is that the weight is correctly positioned in the club; this weight gives you a ton of control. 
Cleveland typically appeals to the higher handicappers and beginners because of the forgiveness technology. After playing with the Cleveland XL Halo, I would agree that the higher handicappers and beginners will benefit the most. 
Honorable Mention: Ping G425 5 Wood (Great for Any Golfer)
PING G425 5 Wood
Pros:
Tungsten sole weight for higher MOI

Arccos Caddie Smart Grip Program

Easy to align at the address

Very high ball speeds from maraging steel face
Cons:
Even though it has been out for a while, Ping takes a long time to drop the price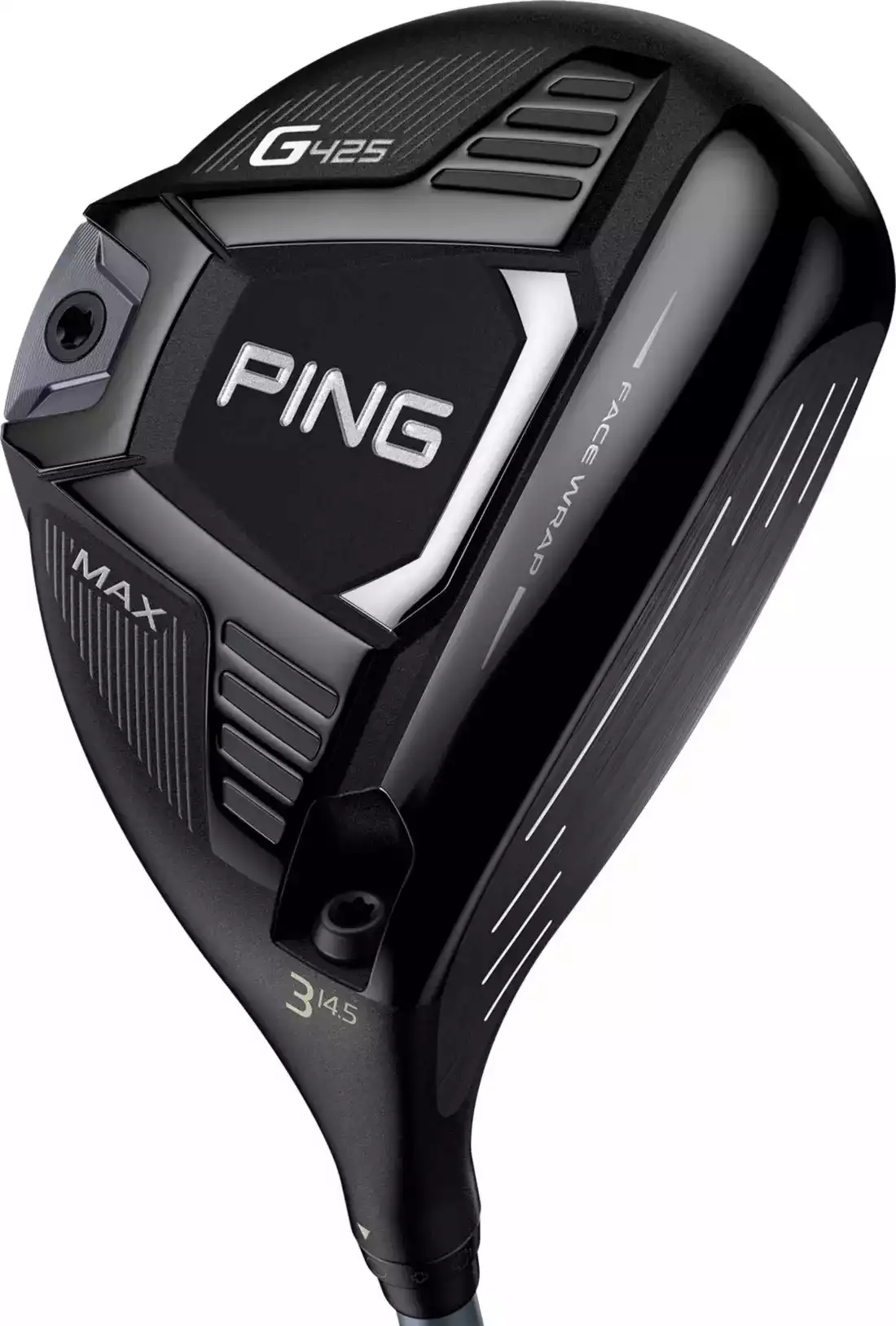 We earn a commission if you make a purchase, at no additional cost to you.
The Ping G425 5 wood is a versatile fairway wood that can work for almost any player. The G425 Max did a great job of combining distance, feel, and forgiveness into a high-quality golf club. I've always loved the Ping feel, especially in the woods, and this certainly is no exception. 
With the G425 fairway wood, you can choose between the LST (Low Spin Technology) and the SFT (Straight Flight Technology); however, for most players, the G425 Max is the best overall option to consider. 
The Ping G425 has new Facewrap Technology. A thin layer of maraging steel extends into the crown area of the club. The idea here was to create a bit more face flexing and a higher ball speed. The feel was still impressive, and I got plenty of distance with the G425, comparable to the TaylorMade Stealth distance. 
Easy alignment was another great feature of the Ping G425. The face sits square, and there is even a 3 dot alignment feature on the club head to help golfers have a better visual cue as to where the club head should be pointed. 
Honorable Mention: Srixon ZX
Srixon Golf- ZX 5 Wood
Pros:
A rebound frame allows for higher ball speed

The club is built with distance in mind

Great both off a tee or from the short grass
Cons:
Feel, and forgiveness are not as good as other models on the market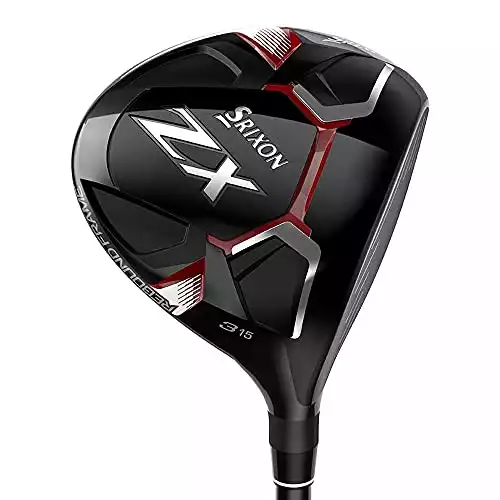 We earn a commission if you make a purchase, at no additional cost to you.
The Srixon ZX is a fairway wood that does not get as much attention as some of the others on our list. However, the technology incorporated into this clubhead is actually quite good. I like this option if you are looking for more speed and distance for a fair price,. 
Srixon created what they call a Cannon Sole on the Srixon ZX fairway. There is a weight pad and a flexible sole that work together to act almost as a cannon at impact and increase overall ball speed. Overall I was happy with the ball speed I produced with the ZX. 
In addition, you will notice the Crow Step that increases the overall launch and ball flight and improves MOI. I won't tell you this is the most forgiving design on the market; in fact, I found distance here to be better than forgiveness. 
However, for the value the club is offered, the technology is quite good overall. 
FAQ
Here are a few of the most commonly asked questions about the best 5 wood for all skill levels. Remember that it is always best to be honest with yourself about your skill level before deciding which club is best for your game. 
What is the best 5 wood in golf?
The best 5 wood in golf is the TaylorMade Stealth 5 wood for 2023. Even though TaylorMade did not incorporate its carbon face into this club, it has some really impressive feel and launch that any golfer can benefit from. 
Should a high handicapper use a 5 wood?
The 5 wood is a perfect club for the high handicapper as it has a great mix of forgiveness and distance. 5 woods typically have 19 degrees of the loft; this added loft improves forgiveness over a 3 wood.  If you want another tool in your bag that is a little easier to hit, you should definitely consider using a 5 wood.
What is the best 5 fairway wood for seniors?
The best 5 fairway for seniors is the Cleveland XL Halo. The large clubface on the Cleveland XL Halo increases forgiveness and makes it much easier for senior golfers to make up for any clubhead speed they have recently lost. 
How far should a 5 wood go for an average golfer?
Most average golfers will get about 180 yards out of their 5 wood. Higher swing speed players can get the 5 wood over 200 yards with ease. The 5 wood shots hit off the tee tend to fly a little further than those hit from the grass. 
What club is a 5 wood equal to?
If you choose not to put a 5 wood in your bag, you may look into a 3 hybrid as an alternative. The 3 hybrid and the 5 wood have about the same amount of loft. They will have different ball flight capabilities and characteristics, but the clubs are similar. 
Final Thoughts
We hope you now feel a bit more confident in your ability to choose a 5 wood this year. As I mentioned, I love my 5 wood. The club has so many great benefits, and it is the most versatile of any fairway wood in the game.
After all of our testing, the TaylorMade Stealth did prove that it was the best 5 wood option on the market. With incredible ball speed, impressive feel, and clean turf interaction, the Stealth is a great choice.