Traditionally, there have been two main types of golf irons available to players: forged irons and cavity backs. The cavity back irons have historically been a chunkier option that offer maximum forgiveness and consistent distance for mid and high handicap players. On the other hand, forged irons have traditionally come with a more compact head and a smaller sweet spot resulting in less forgiveness and distance on mishits.
More recently, manufacturers have paired the forgiveness of cavity back irons with the look and feel of forged irons to make the clubs more attractive to a broader range of golfers. Forged irons are now accessible and a realistic option for a wide range of golfers from high to low handicap. The biggest appeal on forged irons is the feel and feedback; there's a surprising difference in feel and sound hitting a forged club vs standard cavity!
We have scoured the world of golf to find you the best forged irons, no matter your handicap or skill level. You can browse our findings in our detailed guide on the best forged irons below!
Want the short version? Here are a few highlights:
Buyers Guide: Factors to Consider When Shopping for Forged Irons
Budget
Before embarking on your hunt for a new set of forged irons, draw up a budget. There are countless forged iron options on the market, and a budget will help narrow down the selection.
Looking for irons without a budget in mind will send you down a rabbit hole. This will waste hours of your time that you would rather be spending on the course. There's no point looking at a forged set that costs $2000 if your budget is nowhere close to that (although it can be fun to dream, right?).
Weigh up what is more important to you, acquiring irons that have all the features you are after? Or taking ownership of a reputable brand?
New releases from industry leaders can be costly, and if you are on a budget and adamant about the brand name, tradeoffs need to be made. Look at some of the older releases from the brand in question with similar features. You can usually get a great deal on the previous year model for irons, and save hundreds of dollars without missing out much on technology!
If you are not fussed about brands but want specific aspects for an affordable price, look at some lesser-known manufacturers, or possibly even used clubs.
Typical Play Style
Once your budget has been created, think about the layout of your home course. What features will help you navigate the links and lower your scores?
Tight or long layouts favor irons that are forgiving and offer consistent distance. If this describes your home course, you may want to shop for slightly offset clubheads. They help you to strike the ball squarer but reduce your ability to work your shots.
Compact greens with challenging pin locations are better suited to clubs that promote spin and soft landings. Superior ball strikers should think about muscle-back irons, which will give them more workability and spin on shots into tight targets.
Forgiveness
Forged irons are renowned for their slick, compact clubheads that offer players a crisp sound and smooth feel at impact. Including these features generally meant that the manufacturer needed to sacrifice forgiveness.
These days there are a wealth of players' distance irons that combine the appealing look and feel of forged irons with the forgiveness of cavity backs. Extra forgiveness on mishits goes a long way to helping you consistently break 80. Look for irons that advertise a lower center of gravity and a higher MOI; these two features lead to higher, straighter shots and help produce more consistent results.
Sweet Spot
The sweet spot on forged irons is reduced when compared to cavity backs. This means that to achieve your desired distance, you need to hit it out of the middle. If you are a lower handicapper, you may be willing to swap forgiveness for the look and feel. However, any golfers higher than a 12 handicap should stick to irons with larger sweet spots.
Blades VS Cavity Backs
Traditionally, blades or muscle backs were the only options when it came to forged irons. Blades were made for the better ball striker who had no problem achieving loft and distance. Due to the concentration of weight directly behind the center sweet spot, blades leave you no room for error and are mainly used by low handicappers, scratch golfers and even pros.
Lower handicap players confident in their ability to strike every shot cleanly may consider blades. If your ball striking is still a work in progress, you should stick with cavity backs.
Cavity backs are more oversized in appearance, with a larger sweet spot and more evenly distributed weight across the clubface. These features offer you more forgiveness and consistent distance on fat and thin strikes.
Am I Ready For Forged Irons?
The question I often get is, am I ready for forged irons? This is difficult to answer because it depends on the individual's game and handicap. 
As a general rule, I prefer higher handicap players to stick to cavity back irons. This is due to their higher level of forgiveness. However, some Forged irons on the market now offer ample forgiveness for mid to higher handicappers.
Forged irons also benefit the players who want more control over the shape and trajectory of their shots. Oversized irons help players hit straight and consistently long but reduce your control over the shot.
Flex
The flex on the shaft of your irons depends on your swing speed and ball speed. The faster your ball speed is, the easier it is for you to get the ball airborne, and the longer your ball will fly. There are five options when it comes to the level of flex: extra stiff, stiff, regular, senior, and ladies.
Extra stiff shafts are best suited to the player who swings in the mid to high 90 mph. Stiff shaft irons are for those players that are swinging around the mid to high 80 mph mark. Regular flex works best for the player who averages 75 mph.
Senior and ladies flex shafts are for the slower swinging golfers that need assistance generating faster ball speeds. The additional flex of the shaft enhances the moment of inertia (MOI) at impact, giving you better launch, loft, and distance.
Loft
Players that struggle to achieve their desired carry may benefit from clubs with weakened loft, especially with a long iron in hand. When club makers use the term weakened loft, it means the degree of loft is higher.
If you are looking for a strengthened level of loft, you should consider a set where the 3-iron has 21 degrees of loft. It should increase by 3 degrees per club up to the pitching wedge.
You will generally find 3-irons with a weakened level of loft between 22 and 24 degrees.
A 3-iron with 21 degrees of loft will likely go further than a 3-iron with 24 degrees of loft. However, if the latter helps you consistently get your iron shots airborne, it is worth the sacrifice.
Should I Mix and Match?
Sometimes we find that we hit better with one brand's long irons and other brands short irons. Since amateurs are not tied down to any iron sponsorship deals, we have the freedom to mix and match our clubs. This is actually a pretty common practice, and is something I'm seeing more and more frequently.
You can buy individual clubs from manufacturers. However, this may be a more expensive endeavor compared to purchasing a whole set of the same brand.
When you are on the hunt for your next set of irons, test a diverse range of brands, lofts, cavity backs, and blades to see which give you the best results. If it is in your budget, there is no harm in acquiring Cobra King Forged Tec long irons and Mizuno JPX 921 short irons.
Players Distance Irons vs Players Irons
 In the past, we had to make the tradeoff between look and feel and distance and forgiveness. The options were players irons which were for high-level golfers or mid-size and oversize irons that were for the average player.
Players irons are compact in design and pleasing to the eye. The clubheads are often blades with a thinner top line and a small sweet spot behind the center of the clubface. The design reduced vibrations at impact and offered crisp acoustics on strikes out of the middle. These are unforgiving clubs that are suited to better ball strikers and lower handicap players.
With players distance irons, we do not need to make any compromises. They have the look and feel of a players irons while offering forgiveness and consistent distance, even on off-center strikes.
Players distance irons also offer you better control and workability with your irons than you would get with mid or oversize irons. Players distance clubs are now a popular category among mid to high handicap players, and this is definitely an option for a good forged iron.
Shaft Length
If you are unsure about the ideal length of your shafts for your setup. I suggest taking a trip to your local fitter to find out. The shafts of your 4 to 7 iron are generally longer, becoming shorter as the lofts of your irons weaken.
Thanks to Cobra we now also have the option of one length irons, which has been made famous by Bryson DeChambeau. The shafts on all irons are the length of the 7-iron, enabling you to have the same setup and swing with every iron shot.
Some golfers may find this setup awkward, but the performance of each iron is maximized. Beyond one size irons, there are extra long irons for taller players out there. If you're taller than 6'3, you may want to go for extended shafts.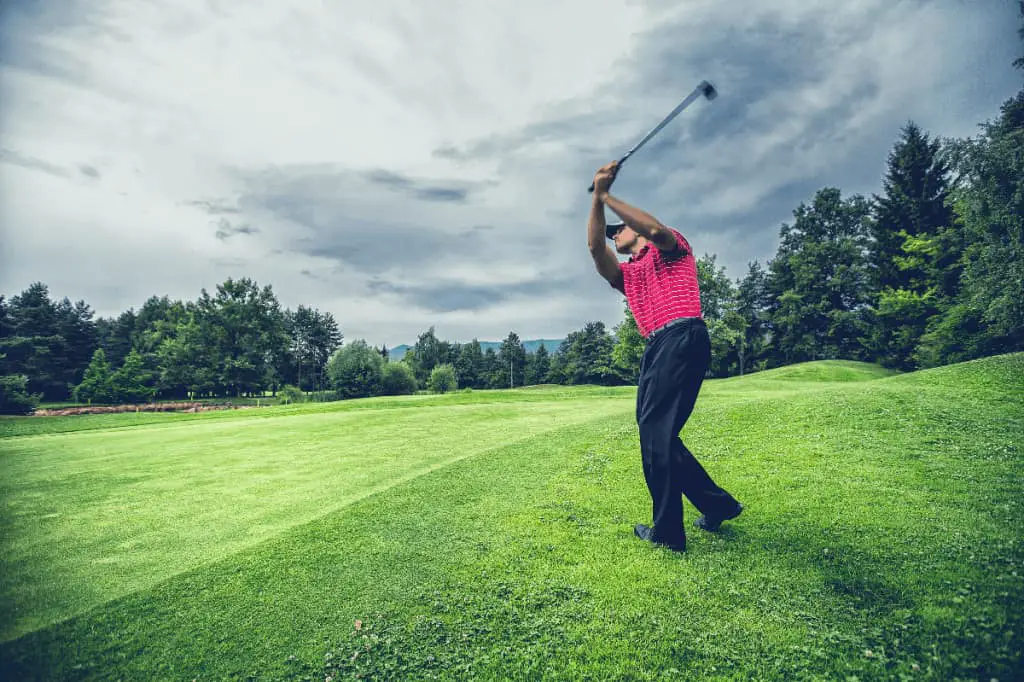 Spin
Some of us struggle with getting our long iron shots to land softly, which impacts our distance control. If you fit into this category, it is advisable to search for irons with clubfaces that promote spin and height. Typically, this means a set of irons with a lower center of gravity. These characteristics are more likely to be found in players distance and game improvement irons.
Similarly, shorter irons that promote higher launch and excess spin can reduce your control and distance with the scoring irons.
Ball Speed
The speed at which your ball leaves your clubface determines the trajectory and distance of your shots. If you struggle with generating ball speed, you should consider irons with clubface technology and flex that enhance your ball speed.
Players with slower ball speeds should consider forged players distance irons rather than players irons that require better consistent ball striking.
Workability
 Mid to low handicap players generally seek irons with better workability. This gives them more control over the shape and trajectory of their shots. This helps with distance control, shot making and accuracy, especially with scoring irons.
Players looking for irons with better workability are recommended to opt for clubheads with less offset than you would find in pure game improvement irons.
Muscle back irons allow for maximum workability for better golf players but offer less forgiveness. If you are looking for workability, look, feel, distance, and forgiveness, players distance irons should be on your radar.
Best Forged Irons: Our List
Our best overall forged irons choice for 2021 goes to Taylormade's P790 irons. This is a revamped version of the already impeccable P790 range first released in 2017.
One of the main reasons that the P790's are our best pick for 2021 is the scope of players these clubs are suitable for. These clubs fall into the players distance irons category. They offer you the look and feel of players irons and the forgiveness and consistency of game improvement irons.
P790's are injected with speedfoam, which sits between the clubface and the hollow back. The foam is designed to enhance the speed of your clubface while providing a smooth feel at impact.
The irons were crafted using ICT (Inverted Cone Technology). Resulting in an expanded sweet spot that gives you consistent distance, even on off-center strikes. The soles of the Taylormade P790's are fitted with tungsten weight. This is common in the players distance irons category. The alloy gives you a higher launch, longer carry, and more distance.
These irons are affordable and appealing for low to high handicap players that need additional assistance in generating ball speed. You have the option of choosing these irons in steel or graphite with regular, stiff, and extra stiff flex. These flex variants are best suited for medium to fast swinging golfers. These have been a huge hit since they came out in 2017, and have only been improved on since. If you want a battle tested set for forged irons, we love this pick.
The Cobra King Forged Tec 2020 irons are our budget pick for forged irons in 2021. They have the look and feel of players irons but the forgiveness and distance of game improvement irons, without breaking the bank.
The back of the clubhead has a hollow design and, the sole is fitted with tungsten alloy. The weight is evenly distributed across the clubface, giving you additional forgiveness on strikes out of the heel or toe. These irons are fitted with Cobra's PWRShell technology that dangles the clubface loosely, enabling more flex and power at impact for increased ball speeds and longer distance.
Foam microspheres are inserted between the clubface and the hollow back to enhance the feel of the irons. The foam absorbs the impact of your strike and minimizes any vibrations typically felt on mishits. That reduction in vibration still offers feedback on a mishit, without the sting.
The King Forged Tec's are the only irons on this list that come with the option of one-length shafts, allowing you to set up like you are hitting a 7-iron every shot. 2020 US Open Champion Bryson DeChambeau worked with Cobra to develop one length irons, which give you consistency with your setup and swing.
These are an affordable forged irons option for the mid to lower handicap players. If you are looking for more ball speed to get further carry and longer distance, at a reasonable price point. It is worth thinking about the Cobra King Forged Tec irons.
You have the choice of acquiring these irons with steel and graphite shafts. Steel shafts come with extra-stiff, stuff, and regular flex. While graphite shafts come in extra stiff, stiff, regular, and senior flex. These irons cater to fast, medium, or slow swinging golfers. These aren't a great pick for the high handicap crowd, but otherwise are a great choice for someone who strikes the ball well.
The Titleist T series has been a huge hit since it came out, and is one of the most popular iron sets on the market these days. The Titleist T200 irons are players distance irons built for forgiveness and distance. Maximum Impact Technology is used in the design of the clubs, enhancing the ball and clubhead speed. This gives you consistency when it comes to distance, even on mishits.
A polymer core is placed between the face and the cavity back, reducing vibrations at impact. The mid to long irons in the T200 range are fitted with an average of 90 grams of tungsten alloy. As a result, a third of the clubhead's weight is set in the heel and toe. The MOI is increased around the clubface and offers maximum forgiveness.
Titleist's T200 irons are shaped in a forged L-face design that wraps around the iron's sole. This design amplifies the ball speed in the lower part of the clubface, allowing you to get your ball airborne with ease. The L-face design is especially relevant with longer irons, where carry can be a challenge for us average golfers.
These irons only come in steel with the flex options of stiff and regular. The T200 irons are best suited for mid to lower handicap players with medium to fast swing speeds, looking for forgiveness and better distance from their game.
The Srixon Z-Forged is the most affordable set of forged irons in the class of 2021. However, it was not our budget pick as these are designed for the better golfers. These muscle-back irons are classic players irons that lower handicap players yearn for. The blade design is dynamic and gives you more workability with your shots.
The body of the Z-forged irons is forged out of a single billet of soft 1020 carbon steel. This provides you with a smooth feel and crisp sound at impact. We think these are some of the sleekest looking muscle-back irons out there right now, and offer unbelievable feel.
The technology on these clubs is elementary, but they give you the distance, sound, and feel you would expect from a players iron. The flex options on the Srixon Z-forged irons are stiff and extra stiff for the faster swinging golfers.
I would only recommend low handicap players to consider this option. For a better player, this set of clubs is a bargain for what you get.
Mizuno is well known for their forged irons, and they have a saying that nothing feels quite like a Mizuno. That remains true here, and these are one of our favorite sets on this list. The Mizuno JPX 921 are the first irons by Mizuno to be fitted with Chromoly, an alloy sturdier than carbon steel and resistant to corrosion. Chromoly has been found to increase your ball speed by a couple of mph. These irons ensure you do not need to compromise on distance, forgiveness, looks, and feel.
While the club has the look and feel of a players iron, Mizuno has employed a wide variety of technology to improve your game. These irons are 0.5 mm thinner than any other forged club the brand has ever made.
The C.O.R or coefficient of restitution, which is the energy retention from backswing to impact between clubface and ball, is 35% higher due to the thinner face. This gives you more further carry and longer distance on your 4 to 7 iron shots.
The 8 iron to gap wedge in the JPX 921 range are fitted with 1025E pure select mild carbon steel and have a lower C.O.R. Allowing you to work your shots more in terms of shape and trajectory with your scoring irons.
The Mizuno JPX 921 shafts come in the options of extra stiff, stiff, regular, senior, or ladies, catering to slow, medium, and fast swinging players. If you are a mid to low handicap player looking for consistent distance, you may appreciate these irons. These are packed with technology and offer exceptional performance across the bag.
The Callaway X Forged CB irons are our best performing set for 2021, creating the most consistent strikes and distances. Callaway inserted tungsten weighting internally the toe of the clubhead. This aligns the center of gravity (CG) in the center of the clubface.
Tungsten alloy was also fitted externally to help customize the weight of the irons. Each iron in the X Forged CB range is individually optimized to maximize the performance of each club.
The design of the irons allows for seamless turf interaction. This enables you to get under the ball in the rough and fairway with ease. The use of forged 1025 mild carbon steel to craft the body gives you a smooth feeling at impact.
The thin topline of the clubface and the minimal offset is ideal for better golfers looking for a club that offers more workability. Callaway has applied a tour tuned faceplate to the X Forged CB irons, which increases clubface speed and enhances spin levels.
These irons are definitely more on the expensive side, and are certainly considered a premium set of forged irons. The shafts of the X Forged CB range are available in the option of regular and stiff flex. These would suit mid to fast swinging, lower handicap golfers. If you want the best set in terms of performance, you should go for these.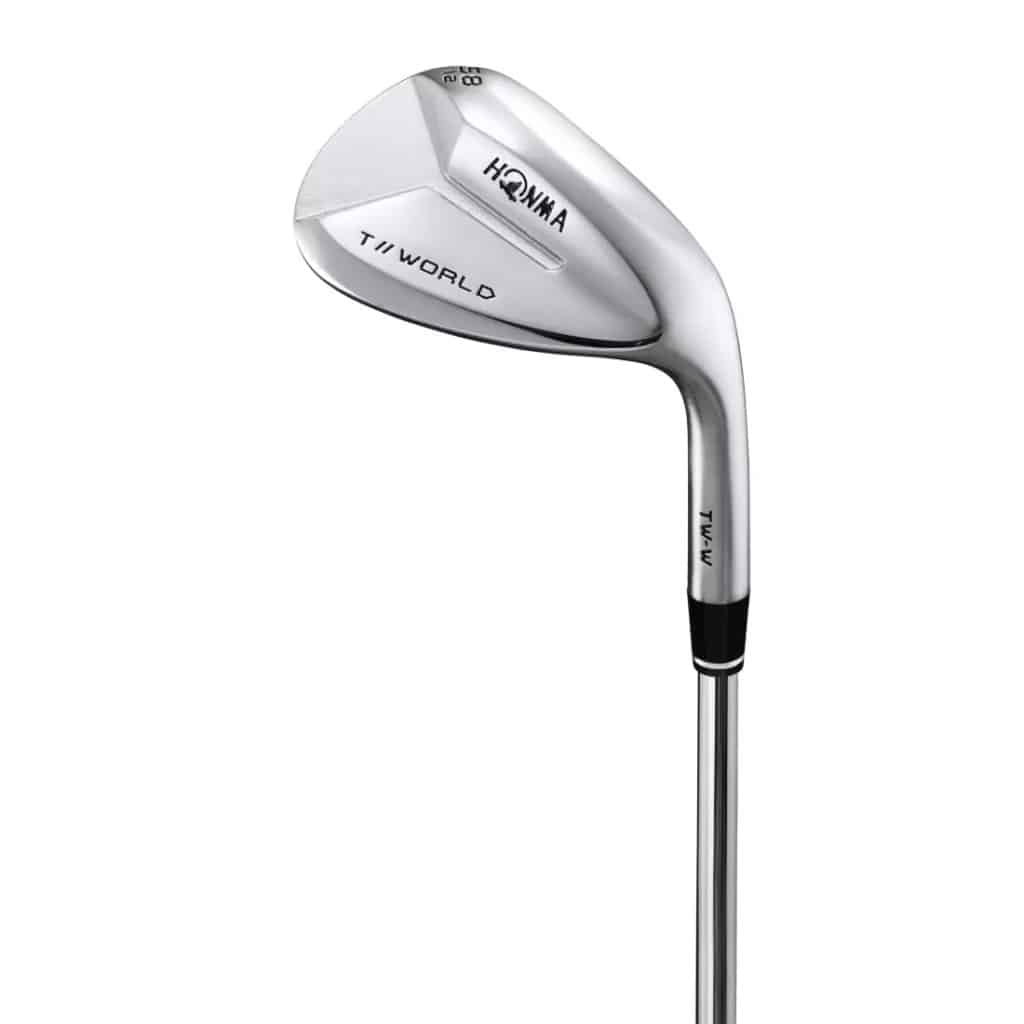 If you're in the know about forged irons, you're definitely familiar with Honma, the Japanese club manufacturer. The TW-X clubs are players distance irons. They combine the workability of players irons with the forgiveness of oversize clubs. These offer a modern design and look, and are crafted by hand in Sakata Japan.
The enhanced MOI on the TW-X irons helps you achieve longer carry and softer landings on tight greens. Honma has created irons that provide the design and feel that lower handicap players seek, with the forgiveness that mid handicappers need.
The shafts of the TW-X irons come with the option of regular or stiff flex. They are better suited for the mid to low handicap players with moderate to fast swing speeds. If you want a hand crafted game improvement set of forged irons, grab these while you can.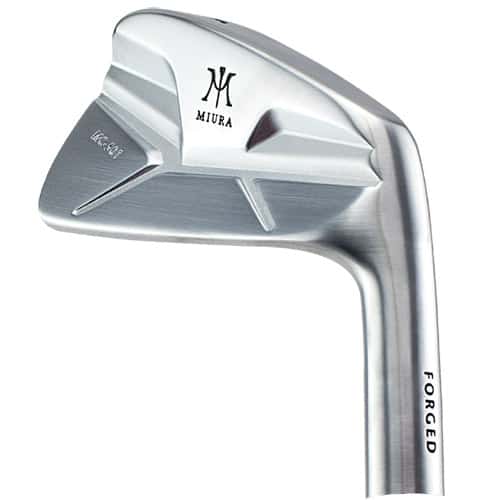 Besides holding the prize for the highest-priced forged irons in our class of 2021, the Miura MC-501 range is also our most unique. These are muscle-cavity irons that are equipped with the look of blades and the forgiveness of cavity backs. Forged iron aficionados will go crazy for these, as Miura is well known as a best in class designed of forged irons.
Miura MC-501's are fitted with Yoshitaka Miura's legendary Y-grind, improving the glide of the irons through the turf. This enables your clubface to remove any debris in its path and make solid contact with the ball.
Miura allows you to fully customize your set of MC-501's from the shaft model, to the shaft flex, shaft alignment, ferrule, grip, length, and loft. This gives you complete freedom to apply the specs best suited to enhance your performance.
Most of the shaft options are extra stiff, stiff, and regular flex. However, the Aerotech steelfiber shaft range does have a senior flex option for the slower swinging player.
Due to the price and the array of customizable specs, the Miura MC-501 iron set is best suited for lower handicap golfers and forged iron junkies. If you want the best of the best, here they are.
Final Word
Forged irons have come a long way from being blades, with reduced sweet spots, and only suitable to lower handicap players. If you want to get the feel and performance from a forged iron, you don't need to sacrifice forgiveness anymore. Forged irons are now being made with cavity backs, and are open to many more golfers. This is the reason we selected the Taylormade P790 irons as the best overall forged irons set for 2021. The clubs are befitting for low to high handicap players, offering distance, forgiveness, look and feel that you want to maximize your game.
If you struggle with generating sufficient ball speed for longer carry distance. The P790 forged irons are worth considering.
Thanks for reading!