A staggering 5.3 million people over the age of 55 played golf regularly in 2019, and that number is increasing every year. The older population has historically been a huge percentage of golfers in the United States, and that's a statistic that isn't going anywhere.
With improvements in technology over the last decade, there has never been a better time to buy golf clubs made for seniors to improve your distance and control over the golf ball. These days, there is a wide selection of golf clubs for seniors, which are perfectly suited to their needs. We've compiled a guide on what to look for when buying clubs, as well as a list of our top picks for the best golf clubs for seniors in 2021.
In a rush? Here are a couple of our top picks:
Best Golf Clubs for Seniors: Complete Review (Updated for 2021)
Picking a set of golf clubs is never a straight forward process, as there are hundreds of options on the market. We've covered the market and chose our top 7 picks that suit the needs of senior golfers; check out our findings below.
We separated our reviews into 2 main categories: Irons and hybrid sets, and complete golf club sets. We'll start with the iron and hybrid sets, as most seniors out there probably have swung a club or 2, and are looking for a core upgrade, and not a complete overhaul.
Here are our picks for the best irons for seniors in 2021:
Irons and Hybrid Sets
Cleveland has carved themselves a great niche within the golf equipment market, catering to a large crowd of golfers who want more out of their game. Cleveland makes forgiving clubs, whether it be a driver, irons, wedges or otherwise. The Cleveland Launcher HB Iron set is definitely a super game improvement set, and is a very popular option for senior golfers.
The Launcher HB iron set is made to be as forgiving as possible, and this is done through using a progressive hollow back design. The majority of the clubs in this set are hybrids, and as you get down into the shorter irons they hybrid design becomes more compact, delivering more feel and control throughout the bag.
These clubs are made for golfers who need help in their game. The hollow back cavity design lowers the center of gravity in these clubs as much as possible. The result here is that you get a higher launch angle and better ball flight. Cleveland has also made a point to pull as much distance out of the HB set as possible. For the 2020 set, they use a thin HT177OM Steel insert in the clubface to increase ball speeds and distance. The sweet spot in these clubs is huge, so your mishits become straighter and longer, keeping your game in the fairway and allowing you to be more competitive.
These are by far the most forgiving clubs we've ever reviewed. If you want a set of clubs that will keep you in the fairway more often and help you find the green, we love this option for you.
If you're not really in the market for a set that's billed as super game improvement, we hear you. The 2020 SIM Max Hybrid set is a set that is geared more toward mid handicappers, who want a little better action out of their longer irons.
There are a couple options available for this set: you can get a 4 and 5 hybrid, along with 6-PW and their gap wedge, OR you can go for the set with a 3 and 4 hybrid, along with the clubs 5-PW. Personally, I think that if you're going for this hybrid set as a senior, it may make more sense to get the 4 and 5 hybrid option, with the gap wedge.
These clubs feature the same technology everyone's been raving about from the SIM Max set; they're forgiving, deliver exceptional distance and they feel and sound great, all thanks to the Speed Bridge technology that supports the topline. The Inverted Cone Technology used in these clubs creates a bigger sweet spot while reducing side spin, and the ultra thin face produces a straighter ball flight.
Overall these are forgiving, long, and sleek looking clubs. If you want a premium set of clubs that pack in a little more forgiveness with hybrids replacing longer irons, these are your go-to set.
To create the Mavrik Max irons, Callaway researched player tendencies through data to produce a better club for mid and high handicappers. I think that the AI Flash Face Cup Technology is one of the most sophisticated designs in the golf industry today, and I am excited to see how it'll be used in the future. Right now, it brings an exhilarating level of consistency to the game. 
The Mavrik Max irons are a direct competitor to the SIM Max irons, however we wanted to offer a set of irons that would suit a senior player, without the additional hybrids. These irons are going to be for seniors who consistently make great contact. If you're not getting the right trajectory and distance from your swing, these won't be for you.
Callaway uses tungsten infused weights in these clubs to create an optimal center of gravity in each club, without negatively impacting ball speed. The result of these well placed weights is a great launch and trajectory, with optimal ball speed off the face of the club.
These are billed as super game improvement irons, with an oversized clubhead; with that said, they look sleek at address. These irons are made for the mid or high handicapper, and would do well in most golf bags. Check these out if you want to go for irons instead of a hybrid set.
The M6 Combo Hybrid set is the previous version of the SIM Max Combo set, and frankly these are still awesome golf clubs. We like these for anyone who wants an upgrade without paying the premium sticker price that comes with a 2021 club set.
These M6's feature a lot of the same technology as the SIM MAX combo set. These clubs feature the Speed Bridge and Speed Pocket, producing impressive ball speeds and distance off the face. Compared to the SIM Max, you will get about 5 yards less out of these clubs, however they will likely be a big upgrade if you're trading in a set that's more than 3 years old. These clubs feature the same Inverted Cone Technology, and the hybrids feature Twist Face technology. Twist Face was introduced in the M6 hybrid and woods, and allows for more forgiveness on mishits due to a slightly distorted face that naturally improves off center shots.
These clubs offer great value, and excellent technology as a hybrid combo set. If you want to save some cash, go for these.
Complete Club Sets for Seniors
If you're going for a complete club set, you're more likely a little bit newer to the game. These sets provide all the tools you need to get started (except for balls, tees etc). Here are our favorites!
Cobra has a reputation for creating superior golf clubs, and this complete 13 piece set is a great deal for anyone who wants a premium starter set of clubs. This set features a carry bag, all clubs from driver to wedges, as well as a putter.
Because of the fact that this set is marketed towards the beginner crowd, every club has been crafted with forgiveness, optimal launch and distance in mind. Every club features a low center of gravity to help you get the ball in the air. These are not a budget set of clubs; they're made with premium technology and materials, and are built to last as you grow from a beginner into a better players.
If you're looking for a cheap complete set, these are not for you. This is an expensive set, but the clubs are well made and will help any beginner out there get into the game.
This is one of the most popular starter or complete golf club sets out there, and these are perfect for seniors who want a complete package to get started with. This is a budget set, which acts as a trial set more than anything. These clubs are by far the cheapest on our list, and the quality is reflected in the price. We don't want to claim that these clubs are amazing and will change your game. They're not, and they wont.
These clubs are for anyone who wants to try out the game of golf. If you're a senior who's thinking about getting started, but you're hesitant because everything seems so expensive, give these a go! It will give you a taste for the game, and help you decide if you'd like to invest more time and money into the world of golf.
These Cobra's aren't nearly as expensive as the Cobra XL's are, but they still bring some pretty impressive technology to the table. This is a 13 piece set including 12 clubs and a bag. I love the look of this cart bag, and frankly it looks like something you'd buy as a standalone bag, without a set of clubs. This is the lightest and most forgiving complete set that Cobra has ever produced, making this an awesome option for someone just getting started.
This set is essentially a complete set of F-Max golf clubs, from Driver to putter. These are super easy to hit, and are really well made. This is our favorite value set for a beginner; these clubs will last you several seasons, and really do provide impressive technology.
What to Look For in a Golf Club for Seniors
From comfortable grips to performance-enhancing technology and features, here's what to look when choosing the best golf clubs for seniors.
Forgiveness
Whether you're in your mid 20s or your mid 60s, forgiveness is always going to be a top consideration when choosing a set of golf clubs. Forgiveness can come in a few different packages within your golf clubs. Mainly, you'll want to read into cavity, Moment of Inertia (MOI), and Center of Gravity (CG) as these are the most important technical features for forgiveness.
One of the first things to look at is whether your new set of clubs will have a cavity on the clubhead. Muscle back irons are for the low handicap crowd, and don't bring much extra forgiveness to the table at all; we generally advise senior golfers to stay away from these. Instead, look at half cavity or full cavity irons; half cavity irons are targeted at a huge range of players, from low handicappers to high handicappers, while full cavity irons are mostly for high handicap players who struggle to get the ball in the air and on the right trajectory.
Moment of Inertia and Center of Gravity are the 2 next important aspects for forgiveness. You'll want a set of clubs with a high MOI, which helps retain distance on mishits. A higher MOI will translate to better overall consistency. As for Center of Gravity, the lower the CG is in the club, the higher your trajectory will be. As a senior golfer, you want a low CG that helps you achieve the best possible ball flight.
Shaft
The shaft comes in five different flex ratings: extra stiff (X), Stiff (S), regular (R), senior (A), and ladies (L).  For the most part, they're either made of steel or graphite.
Unless you have an extra fast swing, it probably makes sense to stick with the Senior Flex (A). You'll be gaining distance thanks to extra flex in the shaft, and won't experience any loss of accuracy. Senior Flex shafts also tend to be made of graphite, making them a bit lighter and easier to swing. If you're not sure whether you should be using a Senior Flex golf club or not, head over to a fitting so you can understand where your swing speed stands.
The shaft is like the engine of the club; make sure you have an idea how how each shaft can benefit or hurt your game. You should never buy a set of golf clubs if you don't know which shaft flex is best for you; the wrong flex could hurt your game instead of help it!
Grip
Frankly the grips that come with your clubs will usually be comfortable and name brand.
Grips come in rubber or synthetic material. The difference comes down to personal preference. Rubber is more durable, but the synthetic material is softer. I would recommend synthetic grips for people with arthritis. If you buy clubs and hate the grips, it's really not the end of the world; you're supposed to regrip your clubs about once a year anyway! As a senior player, this is especially important; make sure you have a grip that sits comfortably in your hands.
Hybrids
If you struggle to get the same bite and contact out of your irons that you used to, it may be time to go for a set that includes hybrids. There are plenty of club sets on the market that include a few different hybrids in them to replace the longer irons in the bag.
If long irons aren't your thing, we highly recommend switching over to a set that includes shorter irons and more hybrids. You'll find you get a better launch, more distance and find more fairways.
The Types, The Why, and The Who's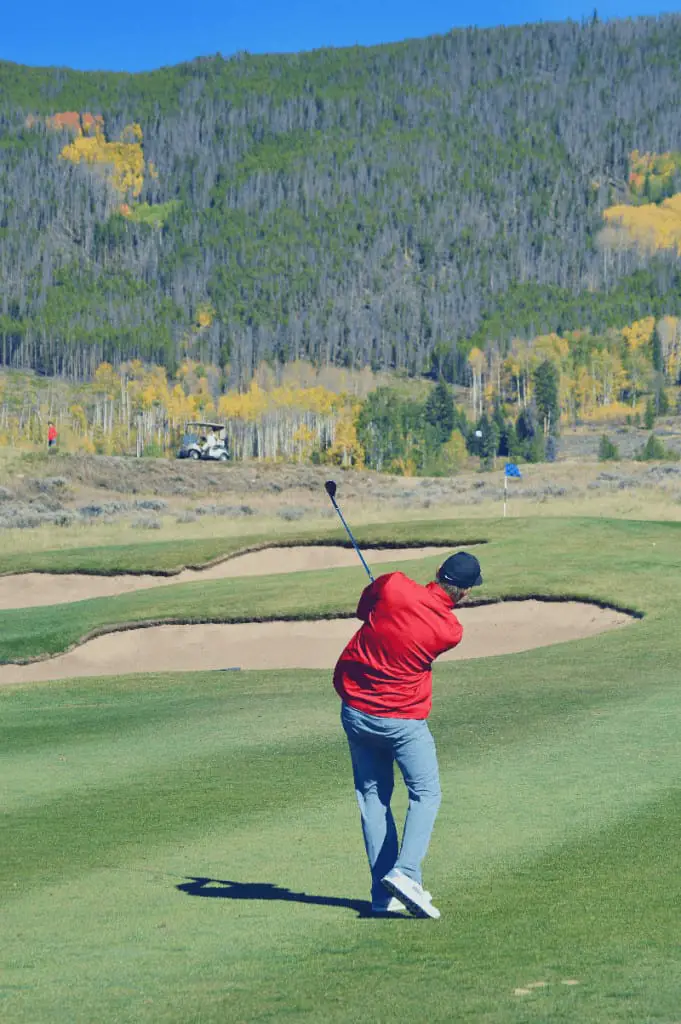 Below is a list of the types, whos, and whys for seniors' best golf clubs.
Super-Game-Improvement Golf Clubs
Super-Game-Improvement golf clubs are ideal for beginners or senior golfers with high handicaps. This type of club is very popular among seniors on the golf course who don't have the same swing speed that they used to have.
If you swing slow or have trouble staying consistent, then you will notice the ball may not go up high enough, go far enough, or fly in the right direction (or the right fairway).
Super game improvement irons will include a mix of hybrids and irons in the set, to maximize your distance and help improve accuracy. They will help you aim the ball toward your target. Light shafts will help you hit the ball further. Overall, this could make a big difference to your game, as well as your enjoyment of it.
These golf clubs can help you stay consistent the entire time you are on the golf course. The super game improvement category is a very popular choice among senior golfers.
Game-Improvement Irons
Game improvement irons are meant for mid and high handicappers. Generally they won't be as forgiving as the super game improvement category, but they still are packed with technology to help you hit better shots. Game improvement irons will have slightly wider soles, low center of gravity and high MOI.
This is another popular category of golf clubs among senior players. If you go for these, you're probably a regular on the course.
Players Irons
Players irons don't pack nearly as much forgiveness into the clubs, and for that reason they're reserved for good players. If you have a handicap over lets say 8 or 10, you probably are doing yourself a disservice using players irons. Mid and high handicappers will see better results with game improvement irons.
Players irons are made to look and feel great; they have a great top line at address, and are much more compact than game improvement irons. This style irons is also made to deliver exceptional audio feedback.
If you're looking for more workable irons that have exceptional feel and sound, then players irons might be a good option for you. There are plenty of seniors out there who are qualified to play with this type of irons, and they'll help you maximize your shot making ability.
Players Distance Irons
Players Distance irons are somewhere between a players iron and a game improvement iron, frankly. Players distance irons will generally offer the same workability that a standard players iron will provide, but they do feature technology that helps add more distance to your iron shots.
Players distance irons will probably be a bit better for a senior player than traditional players irons, but that's for you to decide!
Senior Golf Clubs FAQ
Should I Buy Senior Golf Clubs?
This is a great question; many golfers out there aren't completely sure whether they should make the switch to senior flex shafts or not. A good rule of thumb is to measure the swing speed of your driver; if your swing speed is below 85 mph, your game will benefit from Senior flex shafts. If it's above 85 mph, you'd be fine going with a Regular flex shaft. In this situation, just consider whether you want an iron set, or a hybrid set.
Is Golf Good for Seniors?
The answer here is a resounding yes! Playing golf has many health benefits for seniors, and is considered great exercise. Whether you end up walking the golf course or riding in a cart, golf is a great way to get out and get moving. If you want to increase your physical activity, picking up golf is absolutely ideal.
How Do I Increase My Swing Speed?
This is a relatively simple question with an astoundingly complicated answer. In short, there are a couple things that can be done to increase a senior golfer's swing speed. Number one, make sure you're hitting the golf ball on the sweet spot every time. That sweet spot helps you get the maximum energy transfer from your club to the golf ball, and increases speed on impact, sending the ball soaring.
Beyond hitting the ball well, you can actually exercise to increase your swing speed; the two types of exercise to do this are strength training and speed training. Here's a great read by TPI that really goes into why seniors lose swing speed, and a few steps that can be taken to get it back.
Final Thoughts
If you're thinking of upgrading or buying your first set of clubs as a senior, congratulations! The new technology available today is unbelievable, and makes the game a lot easier to play. If you're looking for an iron or a hybrid set, we think the SIM MAX combo set is your best bet. These clubs are surprisingly affordable, offers exceptional distance and forgiveness, and will last you many seasons.
If you want a complete set of clubs that will be plug and play, we recommend the Cobra Airspeed set; it's not too expensive, but offers a pretty great value for what you get. Thanks for reading!