Thankfully, over the last few decades, golf style and dress code has significantly developed and has increasingly become more fashionable for women. There was a time when women had to wear ankle length skirts, blouses with sleeves covering their shoulders, and dresses with no waistline. Let's all take a moment to feel sorrow for our ancestors, and then be thankful that we can now wear golf skorts and dresses that are not down to our ankles. 
More and more brands are coming out with new golf dress designs and patterns, making this a very fun time for women golfers. Younger generations are also becoming increasingly involved in the game of golf and they are not down to wear long Bermuda shorts. Golf dresses are continuously increasing in popularity among women golfers, and we think this trend will continue.
Being able to wear a golf dress on the golf course gives women an opportunity to look great and feel great while they play their rounds. Golf dresses allow women to have increased mobility and flexibility when walking the course and swinging the club. There are dozens of golf brands out there offering golf dresses, but frankly some of them are less than flattering.
Let's discuss what features golf dresses should include, and then look at our top picks for golf dresses currently in the market. 
Important Features: Choosing Your Golf Dress
It is important that if you do choose to wear a golf dress on the course, that it is specifically made to be a golf dress. You cannot wear sundresses or any other type of dress that is not specifically made for the golf course. The material, length, and features such as pockets and built in shorts are all very important and will help to make you feel comfortable and confident. 
Material
The material for a golf dress is important for several different reasons. It should be thick enough so you don't worry about the dress being see-through, but it should also be lightweight and breathable. Usually, golf dresses are built with a polyester/spandex blend to be stretchy and comfortable and give it that sporty look and feel. Brands are getting great at making the material breathable and moisture-wicking. Good air flow is essential for your comfort out on the course; if it is a hot sunny day, you do not want a heavy feeling dress on. 
Inside Shorts
Honestly, we think this is a MUST HAVE when it comes to golf dresses. When it comes down to it, golf isn't a fashion show; it's a sport. You will be bending over to put your tee in the ground, leaning over when swinging a club, and the wind will be blowing. You need to make sure that you have spandex shorts underneath your dress. It will make you feel so much more comfortable knowing that you will be appropriately covered no matter what. Typically, matching spandex shorts come with a golf dress; either separately but included in the price, or built in. We prefer when the shorts come separately so it isn't a hassle getting in and out of the dress. 
Length 
The length of a golf dress should be between your knee and mid thigh. If your golf dress is too short you may end up feeling uncomfortable while swinging, bending to put your tee in the ground, or even walking around. In addition to being potentially uncomfortable, many golf courses and country clubs have a stricter dress code and shorter dresses/skirts are not permitted. If you are worried your dress is too short, it might be. Rule of thumb – if you are even thinking "is it too short?" it probably is. Good thing is, golf companies know this and typically make the length appropriate to wear to a country club. 
Pockets
This is such a key feature that needs to be on a golf dress! It is so frustrating when you don't have pockets on the golf course. It's always a good idea to keep a few extra tees, a ball marker, and an extra golf ball or two in your pockets. Who has been here – you hit a ball into the woods on a drive, you want to take a mulligan and try again, realize you don't have an extra ball on you and have to ask your partner to toss you one. Having these items in your pocket is so convenient and if a golf dress doesn't feature pockets…you may want to skip that one all together.
Now that we've touched on the important features a golf dress should include, let's take a look at our top picks for the best golf dresses currently on the market:
Best Golf Dresses Shortlist:
This golf dress made by TAIL, named the Reselda Dress, is a great and stylish choice. It has all of the features you will need – zip pockets, shorts inside, a good length, breathable material and an affordable price tag. We love the ruffle hem which adds a nice feminine touch, and the patterns are fun! The material is wrinkle resistant and also offers UPF 50+ protection which is really helpful on those sunny days. Compared to many other brands, TAIL is an affordable brand with tons of colorful golf clothing for women. They have many dresses to choose from but we love the Reselda Dress for it's shape, features and great design!
If you want a good value option, Tail has great options that don't completely break the bank.
Peter Millar has become a powerhouse in the premium golf apparel space for both men and women, and naturally we love some of their options for golf dresses! This golf dress by Peter Millar is a very classy and stylish option that can be worn both on and off the course. We love the pattern and colors in this dress- navy and white is always a stylish combo and the touch of light pink compliments it very well. The Chrissie Zip-Neck Performance Dress features a small feminine collar, two front pockets, shorts inside, and a zipper closure. The material is a polyester and spandex blend, giving this dress four-way stretch and moisture wicking properties. The price on this dress reflects other Peter Millar's clothing; a bit on the pricier side, but worth the extra money due to its high quality and great design. 
Peter Millar positions themselves as a premium brand in the women's golf market, and this dress is not an exception. This Chrissie is a well made, comfortable and stylish dress that will look amazing on the course, and last several seasons. If you want a premium golf dress, you won't be disappointed here.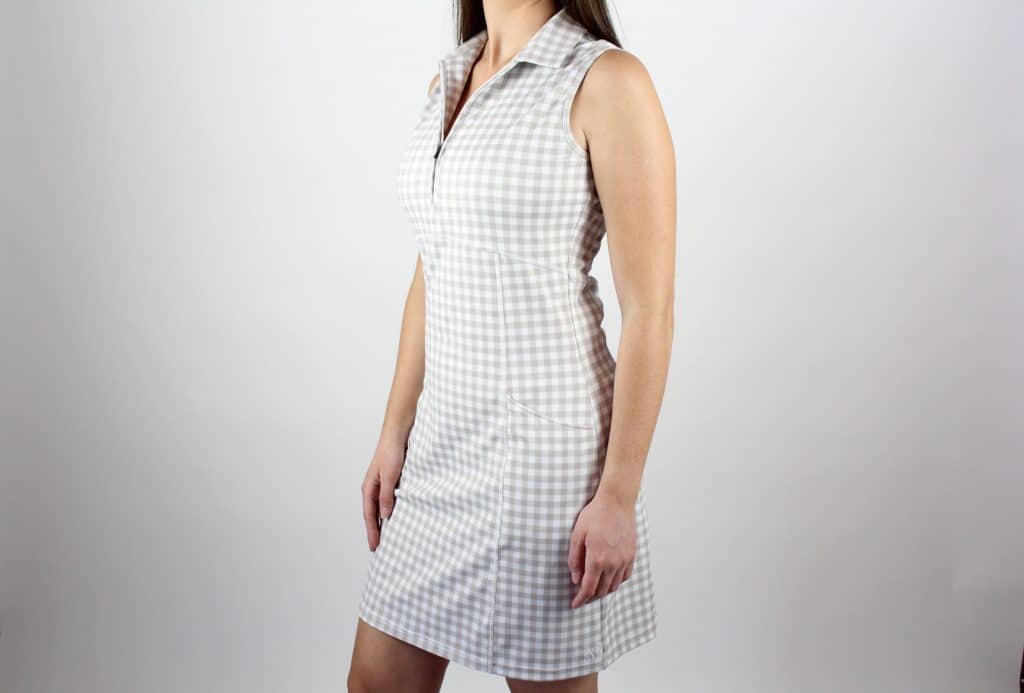 Nevis Golf Co. is a fresh new brand on the market, solely specializing in women's golf apparel. The brand is woman-owned and launched in 2021. In their first collection, they offer two dresses, but we love their Lexington Dress which has a classy white and taupe gingham pattern.
The Lexington Golf Dress is crafted with four-way stretch material, offers UPF 50+ protection, has two front pockets and a back pocket (which can be hard to find on dresses), and comes with separate spandex shorts that are included in the rate. The dress is stylish, practical, comfortable and reasonably priced all wrapped in one. We would highly suggest checking out this new brand and taking a look at their Lexington Golf Dress when searching for a new golf dress!
Kinona is a fun, women-focused golf brand that features colorful patterns and designs throughout all of their collections. They offer a wide selection of golf apparel and their golf dresses are filled with great features. Kinona's apparel are crafted with Italian fabric so the dresses are soft and comfortable.
The Kick Pleat Chic Sleeveless Dress is a fun dress to wear on the course and is also practical. The length is ideal, the shorts inside the dress feature grips around the legs so they don't ride up, and there are two front pockets. This dress is a great addition to any women's golf apparel collection.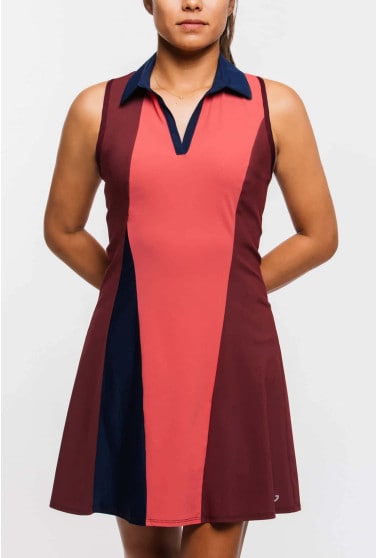 Foray Golf is chock full of edgy and trendy women's golf apparel. They offer several stylish golf dresses and their apparel is categorized within "collections". This particular dress that we reviewed is part of their Birds in Paradise collection which features a pink, maroon and navy color scheme. The Birds in Paradise Colorblocked Dress is a sleeveless dress and is equipped with separate shorts to wear underneath. The dress itself does not feature front or back pockets, however the shorts do have pockets. You can hide your phone, tees, or a ball in the short pocket and it is meant to "hide" any bulky items that are usually obvious in your pocket. This dress rings in at a price of $180 but if you are looking for nice quality and style, this dress is a great option. 
The Stripe Swing Dress by Jofit is another solid golf dress choice currently on the market. One thing we love about this dress is that there are short sleeves – it is not completely sleeveless. A lot of women prefer short sleeves to sleeveless and these are both feminine and flattering. The color is called Appletini Stripe and features navy, white and turquoise. The dress has two front pockets, mesh under shorts, a zipper closure on the chest, and a small collar. The Stripe Swing Dress is machine washable, UPF 50+ protective, and is moisture wicking. You will feel comfortable and confident on the course wearing this dress and it is more affordable than other competitors in the market, coming in at a $90 price tag. 
Final Thoughts
There are numerous golf apparel brands out there creating women's clothing for the course. Golf dresses are becoming so much more popular among women golfers and brands are continuously releasing new golf dress designs to keep up with the increasing demand. We have reviewed several companies and their golf dresses, but these top picks included all of the key features such as pockets, under shorts, and a comfortable material/length. 
Thanks for reading! Make sure to check out our article reviewing top overall women's golf apparel brands for more women's golf apparel insight!