The golf rangefinder has quickly become one of the most useful accessories you can have in your golf bag. 
The first time I used one, I realized immediately that I had been missing out, big time. To be able to know with certainty exactly what yardage I was from the pin was the most empowering feeling. It took the guesswork out of the equation entirely. Prior to this point, I had only been using a standard golf gps watch, which provides less exact data.
The main function of a golf laser rangefinder is to help you identify exactly how far you are from the pin, usually to the yard. You can use one to measure distance to bunkers, the front of the green, hazards etc.
This will help you make better decisions on the golf course. 
I'll keep this page updated as new models come out, but this review was last revised on 4/3/20. Read on to find the best golf rangefinder for you!
Our Top Picks
Best Golf Rangefinder Overall Pick: Bushnell Pro XE
Buying Guide
Will I benefit from using a Golf rangefinder? 
Most players will benefit from having a golf rangefinder. If you have put in some practice and aren't brand new to the game, you should know the distances you hit each club. Maybe not to the yard, but within a few yards at least. Having the rangefinder streamlines your decision making process once you know your yardage. 
If you're not as confident on what your distances are, that's ok. Taking a rangefinder to the range for a few sessions can help you dial in and feel confident about your distances. Start by picking a club, and hitting enough shots until you feel you've got consistency. Once you can identify where the balls are typically landing, use the rangefinder to get the distance of either the balls or a close target. Use this method for any club, but it is especially handy on getting a true feel for your shorter shots; half swing wedge, ¾ swing etc.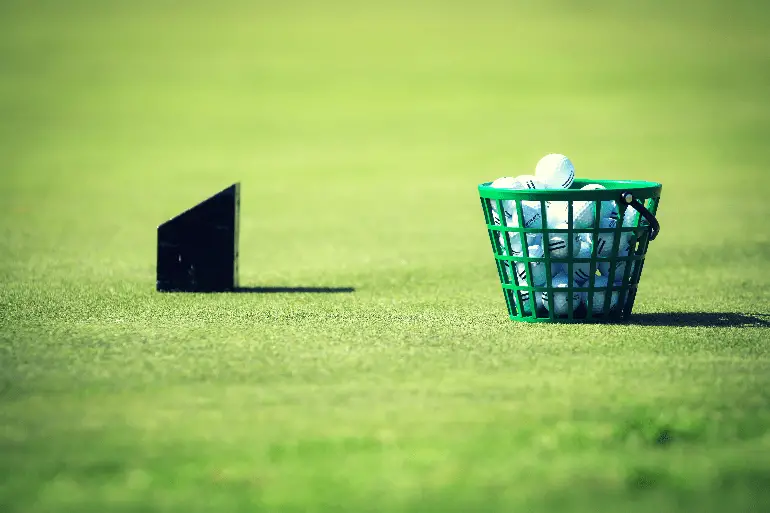 What to Consider When Buying
All golf rangefinders have the same basic functionality; they all measure distance. With that in mind, there is a wide variety of options available and it can be tough to differentiate without knowing what to look for. This is one of the more expensive golf purchases aside from golf clubs, and a good investment here will last many years.
Usability
You don't want to have to go through a complicated process to be able to get distances with your rangefinder. Usability can be anything from how the rangefinder sits in your hand, the clarity through the lense, any stability assistance and using the main functions available. 
Accuracy
Obviously. There's no point to buy a rangefinder if it isn't going to be accurate. *Most* rangefinders on the market are exceptional in this area. It is rare to find significant differences in accuracy across models. It's most common for rangefinders to claim they are accurate within 1 yard of the measurement.
Range
Most of the rangefinders we have reviewed measured a maximum distance of about 300-450 yards. You won't need much more than this, but if a rangefinder is only reliable within 180 yards, you will start having issues. Make sure your golf rangefinder gives you enough range where you can nail any approach shot you take on the golf course.
Pin Seeking/Jolt Technology
Is this necessary? Not really. Does it give you an extra bit of confidence that you've measured the intended target? Definitely. Jolt Technology is a vibration once your device has confirmed it's locked onto your target. Not all devices have this feature.
Slope Switch 
This feature takes into consideration the "slope" when measuring a distance. For instance, if you are 140 yards from the pin but there's a large hill to contend with, it will take this into account and give you the "true" distance. Again, another feature to streamline your decision making process. Most rangefinders have the slope function feature, and it can usually be switched on and off. The slope technology is illegal in tournament play.
Water Resistance
You don't want to take your rangefinder for a swim, but sometimes it can get wet if it starts to rain during your round. Most rangefinders will be water resistant, but a few claim to be fully waterproof.  I would avoid any rangefinder that doesn't have some level of resistance to water.
Design
This is subjective to the buyer. But hey, if you're holding this thing 20+ times a day, you'll want it to look nice, right?  Luckily, most rangefinders on the market are well designed and look good in any bag.
Price
As with most purchases, you get what you pay for. The laser rangefinder price range can be as low as $100, and as high as $600! Of course, there's a reason for the drastic difference in prices; most quality rangefinders will be on the higher end of that range. Paying a bit more for a higher quality rangefinder pays dividends in the long run. 
Magnification
Rangefinders typically have a magnification between 5x and 7x; I find the most success with magnifications of either 5x or 6x. When it gets to 7x magnification, I find it more difficult to lock onto the target quickly, and any hand shakes are amplified substantially.
Is a Golf Rangefinder Legal in a Tournament? 
They can be. The slope technology switch is what will determine if your rangefinder is tournament legal or not. If you have a model that only reads slope and the function cannot be turned off, that is considered illegal. You must have the slope function turned off to be able to use a rangefinder in a tournament, according to the USGA rules. 
Best Golf Rangefinders in 2020, Reviewed
After careful review, the Bushnell Tour V4 Shift provides the best value in the golf rangefinder market. This golf laser rangefinder is much cheaper than what I consider the best overall, but for the price, most models don't hold a candle to the Tour V4 Shift. This model has a 5x magnification, and includes the ability to toggle Slope. If you're a mid or low handicap player, this one is probably best for you. This rangefinder is really user friendly and is consistently accurate, even from a long distance of 350+ yards. The only true downside I saw is that it doesn't work optimally in the fog. It would also be nice if there was some way to stabilize the rangefinder for shaky hands.  
There's a reason Bushnell is the brand that 97% of pros use. This is definitely my favorite of the group. The Bushnell Pro XE has every feature you'd like to see; it is lightning fast and accurate, with above average range and the useful Jolt function.  This model has a 7x magnification, and includes the ability to toggle Slope. I think this model is best for a pretty serious player given the higher price tag that comes with it. The waterproof aspect of the Pro XE is something that few others have. Finally, the slope function on the XE is stellar and the most advanced on the market. For us, this was a no brainer pick for the best golf rangefinder out there.
For me, I thought this was the best in terms of design; it looks almost futuristic. This model is one of the only rangefinders with a stabilization feature built into it, which I love because my hands are inherently shaky. This model comes in at a slightly lower price point than our Top Pick. This model has a 6x magnification, and includes the ability to toggle Slope. I love this one because it's another waterproof model, that has a beautiful display and is really easy to use. While the Nikon doesn't have Jolt Technology when it locks onto the pin, it does have a lock on confirmation feature. If the Nikon had the jolt technology, it probably would have been our overall best golf rangefinder pick- it was a close call!
While most high end golf rangefinders run somewhere between $300-500, you can  still find a great budget option at a much lower price. Precision Pro Golf delivers a high quality budget line of golf rangefinders. These two picks are for someone looking for all the basic functionality with a bit lower price. The NX7 has a 6x magnification, and includes the ability to toggle Slope. This is a basic, no frills rangefinder that gets the job done. For most models that are on the lower end, you should always be measuring your distances a few teams to make sure you get the right distance, and this is no exception. Overall, if you're on a budget or have a higher handicap the Precision Pro Golf NX9 will do just fine. 
This is another good option for a budget rangefinder. If you're just getting your first rangefinder and are quite cost-conscious, this is a great play. The VPRO500S Slope has a 6x magnification,and does not include the ability to toggle Slope. This is not tournament legal. As another budget option, it will work best within 200 yards, but frankly you won't need it until that point anyway. Because there is no vibration to confirm you've locked onto pin, shoot the target multiple times to confirm your reading. 
This is almost a completely different beast to all the previously mentioned golf rangefinder picks. The Bushnell Hybrid has two distinct functions that separate it from a normal rangefinder; It has an integrated display, and a separate exterior screen for pure GPS readings. The integrated display works in the same way you use a normal rangefinder; once you lock onto a pin it will tell you the distance, but it will also give you the distance to the front, middle and back of the green as well. This can be useful when deciding on which club to use and give a bit more insight on where you should land the ball. The separate exterior GPS display is useful is showing hole distances at any point, and can give readings to hazards. One of the biggest drawbacks of the Bushnell Hybrid is that with the GPS rangefinder, you will need to charge it frequently. Expect to charge it every other round. The Bushnell Hybrid has a 5x magnification. 
The Bottom Line
Golf becomes much easier when you know your distances for every shot, and the golf rangefinders are the best tool to get this information quickly. There are hundreds of rangefinders on the market, and navigating the field can be daunting. For me, I think the true best golf rangefinder is the Bushnell Tour V4 Shift; it is simply a well made rangefinder with every main feature you'd need for an edge on the course. Compared to the XE, the Tour V4 Shift has fewer features; it's slope technology is inferior, and it doesn't have a magnet for the cart, but those aren't necessary. The Tour V4 Shift is complete with every feature you need in a rangefinder. Most importantly, this model is easy to use and very accurate.  If you're on a tight budget, the Precision Pro Golf rangefinders are always a great pick. Alternatively, Golf GPS watches are a good alternative to golf lager rangefinders that don't cost quite as much.
Thanks for reading! Did you enjoy this article? Check out our guide on the best Golf GPS Watches!