There are two putter face constructions that exist: a milled pattern and a polymer insert. Polymer inserts provide a soft feel on all strokes and deliver a consistent roll. On the other hand, a milled putter doesn't feel quite as soft, however when struck on the sweet spot the feedback is immediate.
These are the putters that I prefer. Not that I have anything against the insert, I just appreciate the craftsmanship of milled putters. I have compiled a list of the top options on the market. Plus, I provide a few tips on what to consider before acquiring a milled putter.
If your golf journey is just kicking off, I suggest reading our guide on putting for beginners. Once you understand the basics, you should circle back to this post, where we rank and review the best milled putters for the year. Let's dive in!
Things to consider before buying a Milled Putter
Putting Stroke
Your putting stroke is the starting point for identifying your ideal model for a putter. A center shaft or double bend hosel is the way to go if you have a straight stroke. Conversely, a short hosel suits those with an arc stroke, while a plumber's neck works for a hybrid of the two strokes.
Moment of Inertia (MOI)
You want a putter with a high MOI to help you deliver a square face at impact. These putters contain precision weighting to boost stability during your stroke, preventing the face from twisting and veering off path. In layman's terms, the face will wants to stay on path as long as possible during your putting stroke.
Putters with high MOI help you produce straighter putts with a little more consistency, with a wider margin for error.
Roll
A milled putter face works to provide a soft feel and pure roll. However, a milled putter face with an expanded sweet spot is recommended. This maintains ball speed and ensures optimal topspin, even on off center strikes.
As a result, you enjoy consistent distance control on all strikes, leading to fewer putts per round. Getting the right roll off a putter is essential, but usually comes down to testing on what feels best for you.
Grip
A grip can be changed, so it is not the defining factor when purchasing a putter. But, your grip can either restrict wrist movement or encourage it. If you need to limit movement, I suggest looking for a thicker putter grip. Those with a stable hand and straight stroke only need a standard grip.
The Top 10 Best Milled Putters | Full review
The Scotty Cameron Phantom X 11 combines a clean milled face with a mallet head to provide an attractive and very forgiving putter. A milled 303 stainless steel face produces a desirable feel at impact and encourages maximum forward roll.
The engineers from Titleist employed stainless steel in the sole of the putter to produce added perimeter weighting. As a result, the putter offers forgiveness across the face and delivers consistent topspin, even on mishits.
Furthermore, the sole weight and mid-bend shaft technology boost the MOI of the putter. It reduces the rate of twist to deliver a square face at impact. Therefore, you enjoy straighter putts and improved accuracy.
Its face-balanced design makes it ideal for golfers with a straight stroke or those looking to limit face movement. In addition, a white line appears on the cavity insert to provide accurate alignment. If you're looking for a best in class putter, a Scotty Cameron will always be on the short list. We loved the Phantom X 11, and found this to be the best overall option for milled putters this year.
Pros
Forgiving
Optimal feel
Produces consistent forward across the face
Limits face rotation
Suits players with a straight stroke
Cons
Expensive
Players with an arc stroke may struggle to get the face square for impact
Check the price for the Scotty Cameron Phantom X 11 here.
If you want the performance and feel of a milled putter without paying $350+, the Cleveland Golf Huntington Beach (HB) Soft Premier #4 is a phenomenal option. This classic blade construction with a gray satin finish looks good and shields you from glare at address. Plus, the HB produces consistent ball speed and offers a soft feel at contact.
The engineers at Cleveland fitted the face with Speed Optimized Technology. It works to produce consistent ball speed, even on mishits. As a result, you enjoy optimal topspin for improved distance control.
Adding to the roll of the ball is its CNC Milled face. It ensures optimal roll and a buttery-soft feel at impact.
Furthermore, a single line features in the center of the cavity. It aids you with alignment to ensure that your putter face aims along your target line. It is nothing significant and one area where this putter could be better.
The HB Premier #4 includes a plumber neck hosel with moderate toe hang, making it ideal for golfers with a slight arc stroke.
Ultimately, this is a putter with a sleek and sharp blade style design that produces a soft feel at impact. If you want a high quality milled putter under $200, this is an excellent pick.
Pros
Maintains ball speed across the face
Soft feel at impact
Delivers improved distance control results
It best suits players with a slight arc stroke
Classic blade design
Cons
Miniature alignment aid
Reduced MOI
Check the price on the Cleveland Huntington Beach Soft Premier #4 here.
The Ping Heppler offers a traditional putter face with no grooves or inserts. Only machine-milled steel. A mid-mallet design contains wings to enhance stability through the stroke and maximize MOI. That is why it is your most forgiving milled putter in 2022.
Thanks to a high MOI profile, the Heppler Tyne slows down the rate of face rotation to limit the impact on your accuracy. Moderate toe-hang helps arc-straight combinations keep the face on path through impact. 
The wing mallet design further bolsters the stability of the head through the stroke to optimize your control. In addition, a low and deep CG is added to produce consistent topspin and roll on every putt. 
Moreover, a single line is printed in the cavity to help you align your putts. The wing mallet design enables you to frame your ball and the line for a precise alignment.
Ping constructed this putter with an adjustable shaft. You can increase or reduce the length in ¼-inch increments from 32 to 36-inches. That affords you the chance to experiment and determine the best length for your game.
This is a beautiful putter at a mid range price point, that for the right player could easily stay in the golf bag for a decade. Ping has always produced a very reliable putter; if you want forgiveness in a clean package, this is a great pick.
Pros
Maximum forgiveness
Adjustable shaft
Built for golfers with an arc-straight combo stroke
Minimizes face twisting through the stroke
Provides added stability
Cons
The lack of grooves can cause the face to chip easily.
Check the price of the PING Heppler Tyne 3 putter here.
The Axis1 Rose-B putter stakes claim to the world's first perfectly balance-torque free putter. Even more impressive is that it carries the name of US Open Champion Justin Rose. 
The 303 stainless steel milled putter works to prevent the putter face from opening at all costs, to keep your ball on the intended line. The winged-mallet design offers superior balance. It keeps the face square at address and to your swing path.
In addition, the torque-free design ensures that your face does not open from take away through impact. Therefore, you start your ball on your intended line. 
Furthermore, the milled 303 stainless steel produces a satisfying feel at impact for added feedback. Three lines are included to assist with alignment. The centerline appears above the face, while two additional lines feature on either wing. This enables you to frame your putt and improve your consistency.
The Axis1 Rose-B putter is a premium golf club that benefits players with a straight stroke. However, its premium price does not appeal to the average golfer. This is a putter that competes with the very best in the world, and is absolutely one of the best milled putters out there this year.
Pros
The face does not open
Increased accuracy
Excellent feel
Created for players with straight strokes
Maximum stability
Cons
Expensive
Not suited to players with an arc stroke
Check price on the Axis1 Rose-B Putter here.
Sticking with putters that boost your accuracy, we turn to the club with the best alignment aid. The PXG 0211 V-42 tops this category thanks to its runway reticle guide. 
The Runway Reticle alignment Guide features a top rail line and flared dual-step geometry. These factors combine to enhance the ease of acquiring your target and improve accuracy.
Aside from keeping you on target, the V-42 contains Pyramid Face Pattern technology. This technology preserves ball speed across the face, even on off-center strikes. That leads to optimal topspin for a pure roll and consistent distance control.
The Pyramid Face Pattern also produces a soft feel to eradicate unwanted vibrations and deliver an improved putting experience. You can get this putter in a heel-shafted, plumber neck or a double-bend shaft. Therefore, it does not matter what stroke you have. There is a putter for you.
Overall, the PXG 0211 V-42 is a moderately affordable and accurate putting option for golfers of all levels.
Pros
Advanced alignment aid
Prompts consistent topspin
Soft feel
There are hosel options available for all strokes
Improved MOI
Cons
The putter head design may appear awkward to those used to mallets.
Check the price on the PXG 0211 V-42 putter here.
If your putter face moves excessively during your stroke, you may need extra toe hang. Mizuno M. Craft I features a square design with a mid-slant hosel that produces maximum toe hang, ideal for players with an exaggerated arc stroke.
The CNC milled face is crafted from forged 1025 mild carbon steel to produce a soft feel. The deeply milled face prompts a pure roll across the face for consistent distance control. Engineers at Mizuno also included a single sightline to ensure that your face points to the target. 
In addition, the putter is equipped with an interchangeable weight system. That allows you to experiment with varying swing weights to find your optimal setup.
Overall, the M. Craft I delivers excellent distance control, feel and toe hang. As a result, it is the ideal option for mid and low handicappers with extreme arc strokes.
Pros
Delivers pure roll
Interchangeable swing weight system
Maximum toe hang
Soft feel
Crafted for arc strokes
Cons
It does not suit straight strokes
Unflattering alignment aid
Check price on the Mizuno M. Craft I here.
The HB Soft 10.5 is the second Cleveland on the list this year. The mallet construction contains a single bend hosel and is face balanced. As a result, the manufacturer suggests it is ideal for straight strokes.
The HB Soft 10.5 offers the whole package. It is forgiving, consistent, and provides a soft feel at impact. The engineers employed Speed Optimized Face Technology to conserve ball speed across an expanded zone. Therefore, it delivers consistent topspin for optimal roll and distance control.
Furthermore, the mallet head boosts MOI and combats off-center strikes to reduce side spin and encourage forward roll. Plus, the inclusion of a diamond milling pattern enhances friction for a soft feel and pure roll.
Lastly, the 304 stainless steel face provides a balanced offering of a soft feel and ample feedback.
The Cleveland HB Soft 10.5 works for high handicappers with a straight putting stroke. The feel, forgiveness, and roll consistency are everything you need for improved results on the green.
Pros
Forgiving
Soft feel
Provides sufficient feedback
Prompts consistent roll
Built for golfers with a straight stroke
Moderately affordable
Cons
It is not constructed for arc strokes.
Check price on the Cleveland Golf Huntington Beach Soft 10.5 putter here.
Blades are often labeled unforgiving putters compared to their high MOI packing mallet companions. However, the Scotty Cameron Newport 3.5 features a classic blade design with a tungsten sole weighting. The tungsten expands the sweet spot and boosts stability, encouraging a square face through impact.
An expanded sweet spot and optimal stability ensure harmonious ball speed on all strikes. Therefore, you enjoy improved distance control and leave yourself fewer testers.
The classic blade connects to the shaft via a plumber neck hosel, giving you a clear view of the narrow, flat topline. It is a suitable option for golfers with an arc and straight stroke combo.
Moreover, the face is milled from a block of 303 stainless steel to deliver a mid-milled pattern, which is hand-finished, exhibiting exemplary craftsmanship. This laborious effort results in a buttery-soft feel at impact and optimal forward roll.
The Titleist Scotty Cameron Newport 3.5 is a masterpiece. As art collectors know, one must pay top dollar for the finest. This makes sense for lower handicappers looking for serious equipment. However, it does not make sense to the average casual golfer, who has an array of options for a lower price.  
Pros
Expanded sweet spot
Buttery soft feel
Prompts maximum forward roll
Increased forgiveness
Classic blade appearance
Crafted for players with an arc-straight stroke
Cons
Expensive
Tiny alignment aid
Check the price on the Scotty Cameron Newport 3.5 putter here.
Sometimes you find a putter that you really like, but it doesn't have the correct hosel for your stroke. Although you could switch out the shaft for your preferred design, it is an added mission. The Evnroll ER2v solves this problem by offering a hosel for every putting stroke.
This putter is costly, but it performs optimally on strikes across the face. Sweet Face Technology comprises closely spaced milled grooves that push the ball to the center of the face for maximum friction.
When you strike the ball off-center, you receive a boost in topspin and forward roll for superb distance control. 
In addition, two dots sit above the face to help you aim the putter face to the high side of the cup and give you the best chance of a 2-putt. Lastly, the Evnroll ER2v is available in black or gray.
Pros
The putter suits every stroke
Sweet Face Technology
Consistent roll
2 dot alignment aid
Available in 2 colors
Cons
Check the price on the Envroil ER2v ML midblade putter on Dicks Sporting Goods here.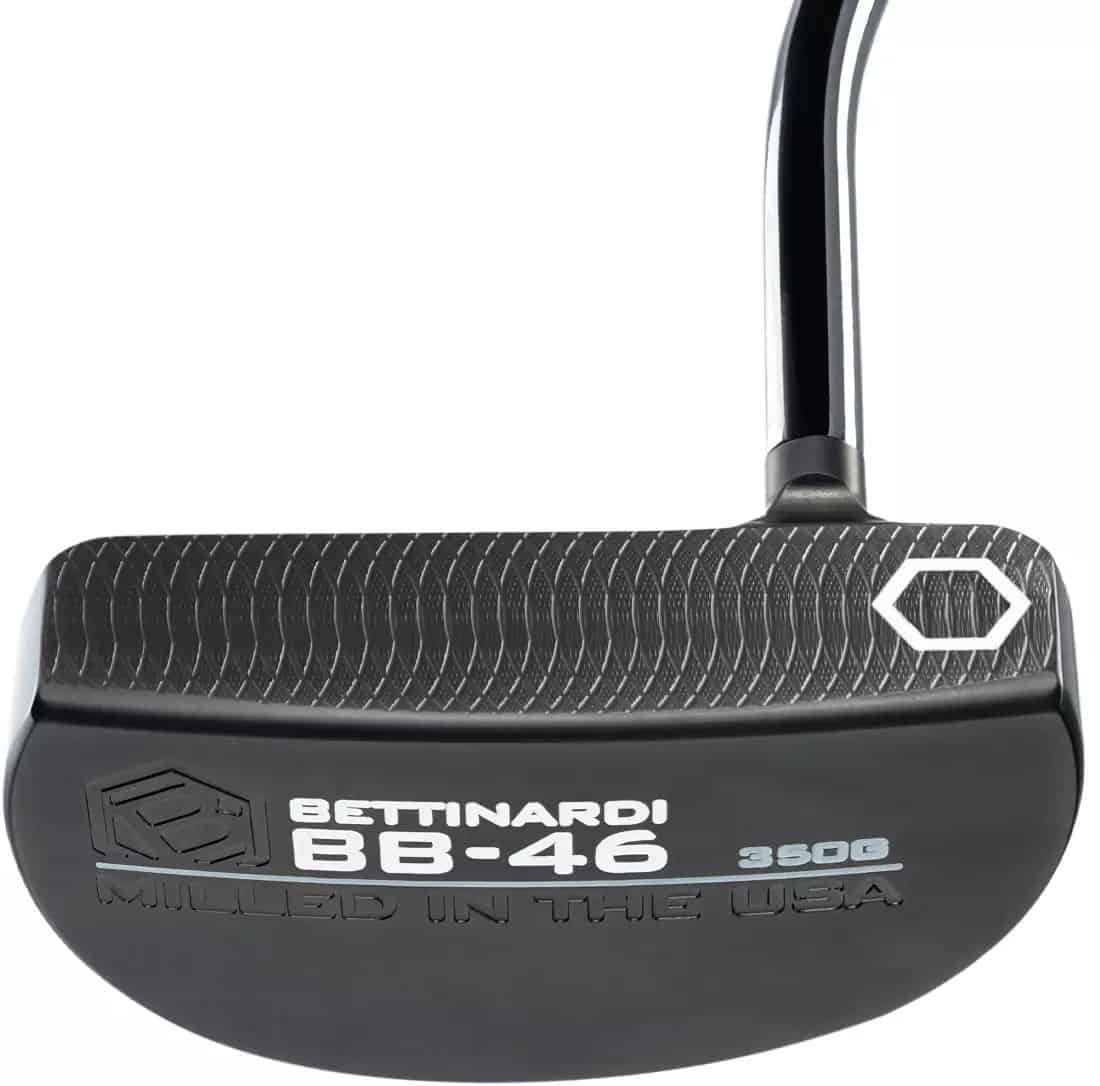 The final model on our best milled putters list is the Bettinardi BB46. The assertive Flymill face is softer than traditional constructions to produce a superior feel at impact. If you are the golfer who values feel above all else, keep reading.
The BB46 offers a soft feel and advanced feedback for a superior putting experience. Physical Vapor Deposition (PVD) is applied to the milling to exude a polished look and reduce glare for added comfort at address.
A single piece of 303 stainless steel was used to construct the putter face, boosting durability and responsiveness. 
Moderate toe hang sets the Bettinardi BB46 up to excel for arc-straight stroke combos. Its mallet head design slows face movement during your backstroke and follows through to get the face square. Therefore, you enjoy extra accuracy.
Pros
Superior feel
Durable
Accurate
Restricts glare
Prompts consistent topspin
Cons
Expensive
Not suited to players with an excessive arc or straight stroke.
Check price on Bettinardi BB46 Putter at Dicks Sporting Goods here.
Milled Putters FAQs
Are milled putters better?
Milled putters offer a softer feel and consistent roll. In addition, I have found milled putters to be more durable and enjoy a longer life. Inserts dry out and damage faster than stainless steel. They are better for some players in terms of feel and performance, but it is dependent on the player!
What is the benefit of a milled putter?
The benefit of a milled putter is feel, a pure roll, and a durable club. Therefore it lasts longer and performs consistently. Milled steel on the putter face doesn't look half bad, either.
Are milled putters less forgiving?
No, milled putters are not less forgiving. This list includes multiple milled putters that provide high MOI and consistent ball speed on all strikes.
Final Thoughts
Milled putters are a work of art, and although there is nothing wrong with inserts, they do not offer the same feel. The former produces a consistently smooth feel and optimal ball speed. Plus, you get to admire the craftsmanship of a milled block of steel.
Our list of the best milled putters offers something for every golfer. Options exist for those on a budget, high handicappers, or scratch golfers. However, let me recap your top picks before I close off.
Your best budget milled putter is the Cleveland Golf Huntington Beach Soft Premier #4, while the Ping Heppler Tyne 3 is the most forgiving. Finally, the Scotty Cameron Phantom X 11 presents the best all round features of any putter in its class.