Playing great golf starts with looking and feeling great on the course, and I don't think any brand has created a better "golf image" than Nike. Between Tiger, Rory, Brooks and other major superstars, Nike has set the tone for the best of the best, and that definitely includes the best Nike golf shoes.
Golf shoes are an absolutely critical part of your golf equipment, and the decision on which shoes you rock to the course should not be taken lightly. You need a pair of golf shoes that are stylish, definitely, but they need to be comfortable and durable. A premium pair of golf shoes can do wonders for your game; your feet are your connection to the ground during your swing, and you need stability to stem from your golf shoes. Frankly, Nike has very nearly some of the best golf shoes on the market.
Nike just brings a cool factor to all of their apparel, especially their golf shoes. Many of their premium pairs are based on already popular Nike shoe designs, which make them even more appealing, adding a certain level of predictability. So which Nike golf shoes should you go for, and why? Read our in-depth best Nike golf shoes review for a deep dive breakdown on each of the most popular pairs they have on the market today.
Best Nike Golf Shoes | Reviewed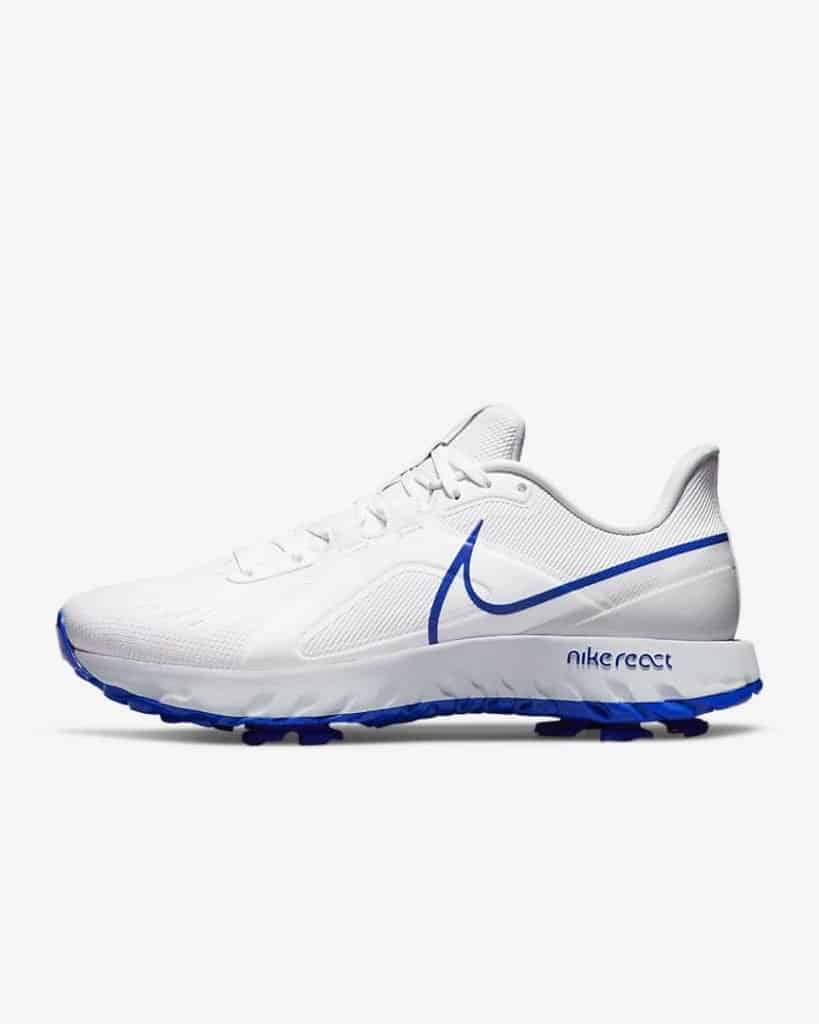 Up first we have the Nike React Infinity Pro golf shoes, a pair of well-made spiked golf shoes. These shoes are actually modelled off of a pair of Nike running shoes, using some existing technology to make these golf shoes comfortable all day long.
The React Infinity Pro golf shoes feature NIKESKIN technology, which acts as a breathable support technology. The NIKESKIN also prevents water from getting inside your golf shoes, and makes the surface of these shoes really easy to clean. These Infinity Pro's feature Nike's signature React technology, acting as a lightweight durable foam to ensure comfort during your round. Nike uses Piston spikes on these shoes for maximum grip and energy transfer, giving you a stable base during your swing.
From a design point of view, these stand out really well on the course, and are guaranteed to get compliments; they have a very clean, modern look. These golf shoes also come with a 1-year waterproof warranty, and come in 8 different colorways. They're priced as a mid-range golf shoe with high end performance, making these easily one of the best Nike golf shoes of the year.
Does Nike Roshe sound familiar to you? That's because these are one of their best selling running shoes, however they've been modified to be an ultimate value golf shoe. Like the iconic Roshe running shoes, the Roshe G golf shoes are lightweight, stylish, and comfortable- all without breaking the bank. These are a great crossfunctional pair, and in my mind you know what you're in for thanks to the overwhelming popularity of the Roshe line. These will be your best bang for buck option for Nike golf shoes, coming in well under $100 for a pair.
The Nike Roshe G feature a comfortable foam midsole, and are one of a few spikeless golf shoe options on our list. The fit is snug without being too tight, and really hold up well for golfers who tend to walk the golf course. Because of how casual these shoes look, you can easily sport them from the course to day to day activities. A word of caution- if you wear these too heavily on concrete or other hard surfaces, the traction on the bottom can start to wear out. Still, these are golf shoes you can wear all year long, and there are 8 different color options to pick from here. All in all, these are an excellent value golf shoe.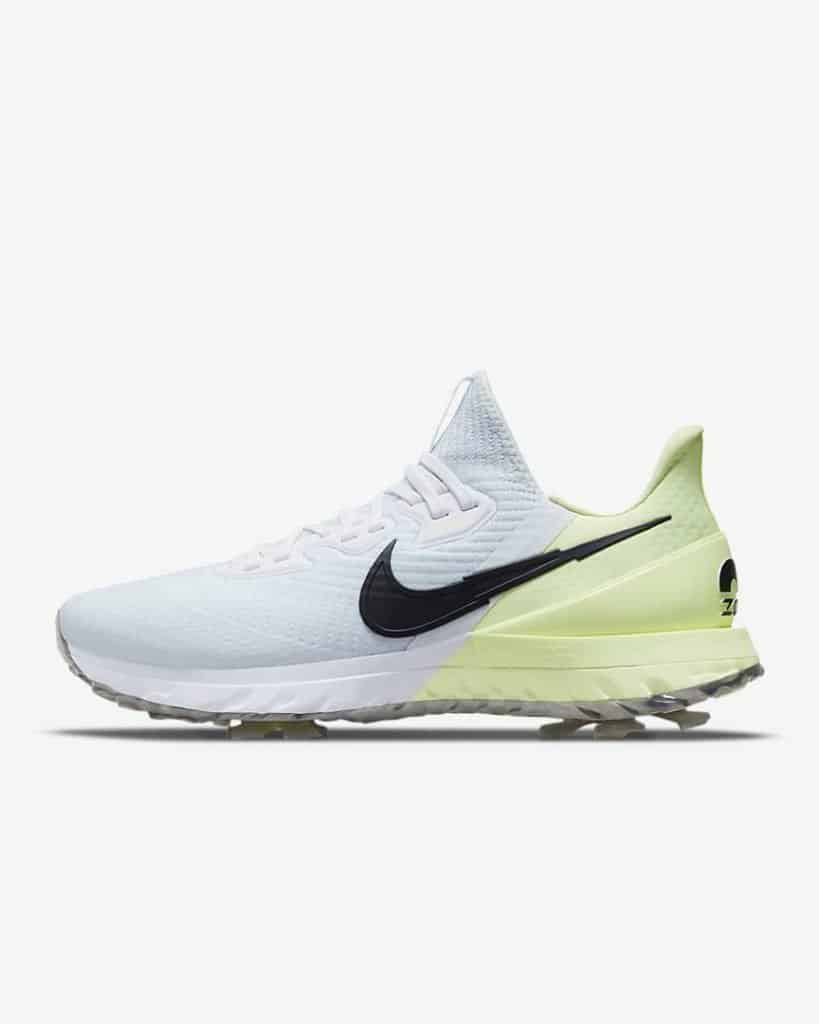 Similarly to the React Infinity Pro's, the Air Zoom Infinity Tour's are also inspired by a signature running shoe by Nike. The inspiration for these was derived from Brooks Koepka's preference for running shoes during at home practice; Nike ran with this idea and created one seriously stunning looking golf shoe. These shoes are more on the premium end of the spectrum, so if you're looking for the highest possible quality materials, these are going to be a safe bet.
The Air Zoom Infinity Tours feature the signature Flyknit construction that Nike uses, which is a very thin outer layer to keep these shoes breathable and semi-waterproof. These feature the legendary Zoom Air units utilized in Nike basketball shoes, that act as a cushion for your feet and a springboard for energy transfer. After trying these out, these come close to being the most comfortable golf shoes I've ever worn. This pair features a 2-year waterproof warranty, and 7 different colors to pick from. If you want premium performance, these are the best option for you.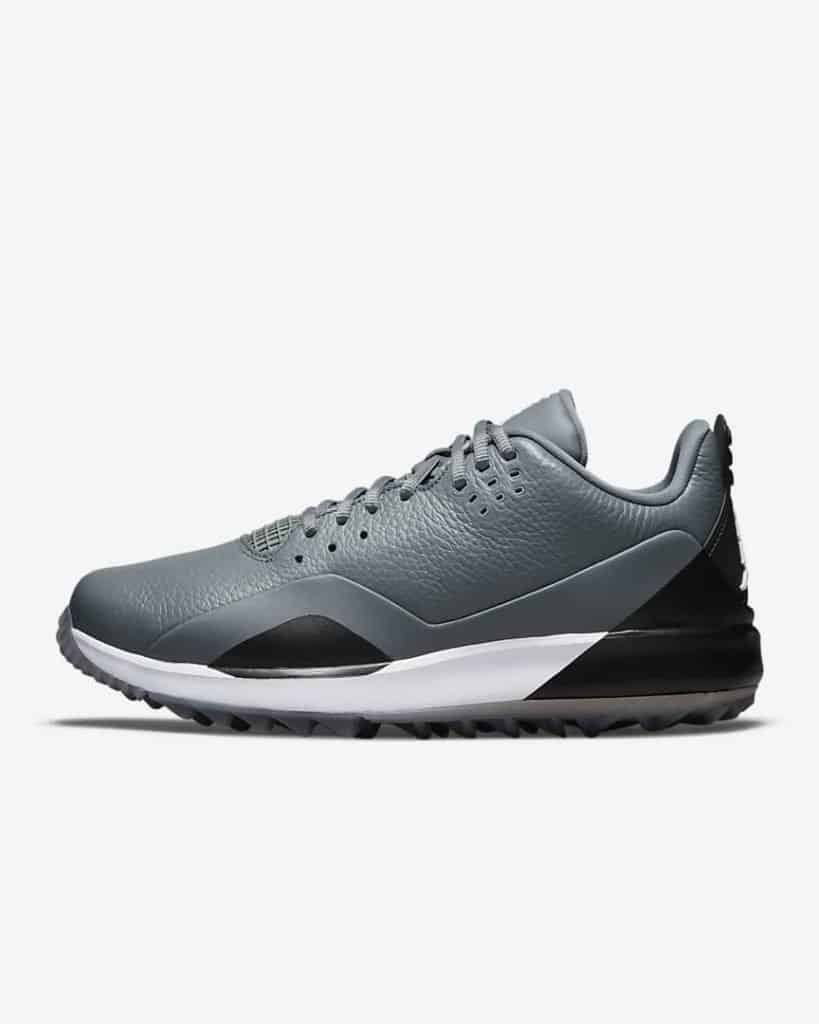 When I first saw Jordan golf shoes, they were on the feet of Harold Varner III; I instantly loved them. The Jordan ADG 3 golf shoes take a heavy dose of inspiration from the Jordan 4 style, and probably have the biggest cool factor of any golf shoe on the market. If style is your main priority in the best Nike golf shoes, these are going to be right up your alley.
The Jordan ADG 3's are available in 5 signature Jordan color schemes, all reflective of standard Jordan basketball shoes. These golf shoes also feature an Air Zoom unit in the forefoot, as well as a comfortable foam midsole. The ADG's are spikeless with an integrated traction pattern for optimal grip during your golf swing. These are more waterproof than others on this list, thanks to the premium leather used in these shoes.
One small downside to these shoes- walking on short grass I noticed an occasional squeak. Not ideal for concentration out on the course, and after a while that can really get annoying. That aside, these are classic Jordan fashion and deserve a spot in your golf shoe rotation if you're a fan of the Jordan brand.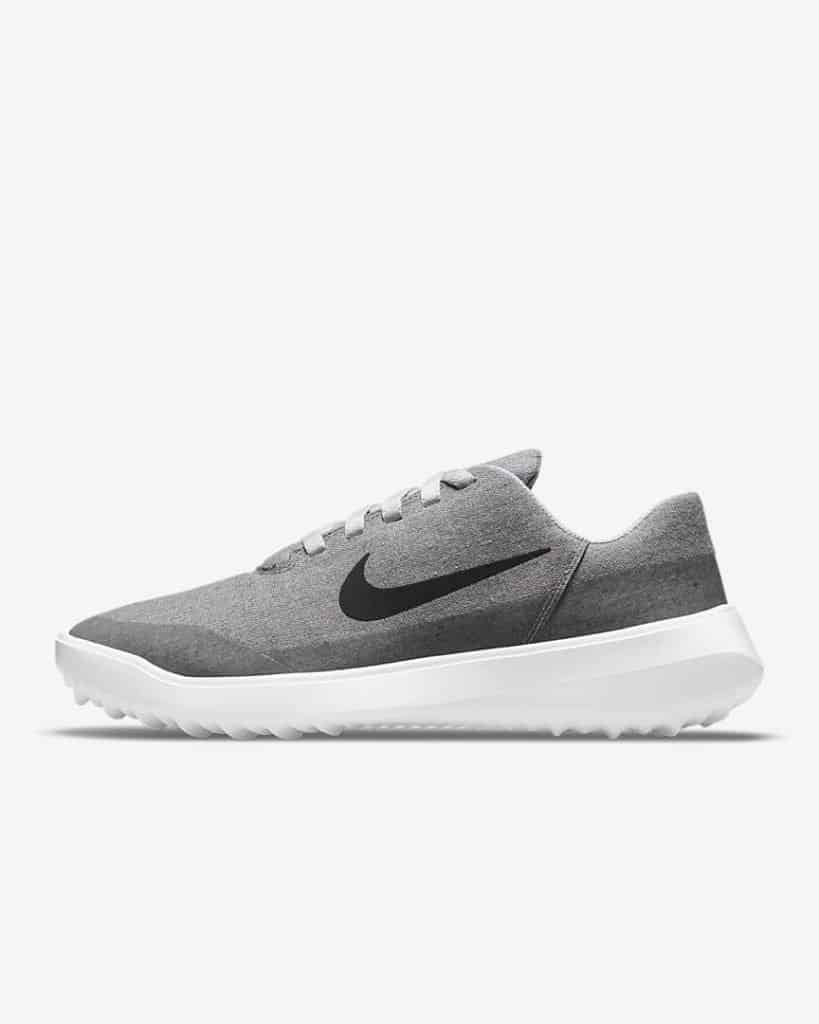 The Nike Victory G Lite golf shoes are a very affordable and very comfortable option from Nike, which is a big win for bargain hunters. When you put these things on the first thing you'll notice is that they're really comfortable– you can spend all day in these golf shoes without feeling constricted or uncomfortable. As you might have guessed, these are very light shoes thanks to a light sole and a light mesh upper. These are also a classic running shoe style, and are a versatile looking shoe that you can take from the course to the store and wear in a pretty casual setting if necessary.
The fact that these shoes are made with recycled materials is impressive, especially considering how comfortable they are. This is the only truly sustainably designed pair on this list, with the laces, sockliner and lining all being sustainably sourced. This is a very breathable option, featuring a cushiony foam midsole that promotes long lasting comfort. These are lightweight, and feature a data-driven traction pattern for maximum grip out on the course. Because of the make, these aren't really a great golf shoe for the winter- these are optimal for fair weather golf. Looking for a borderline budget pick? This pair is a no brainer.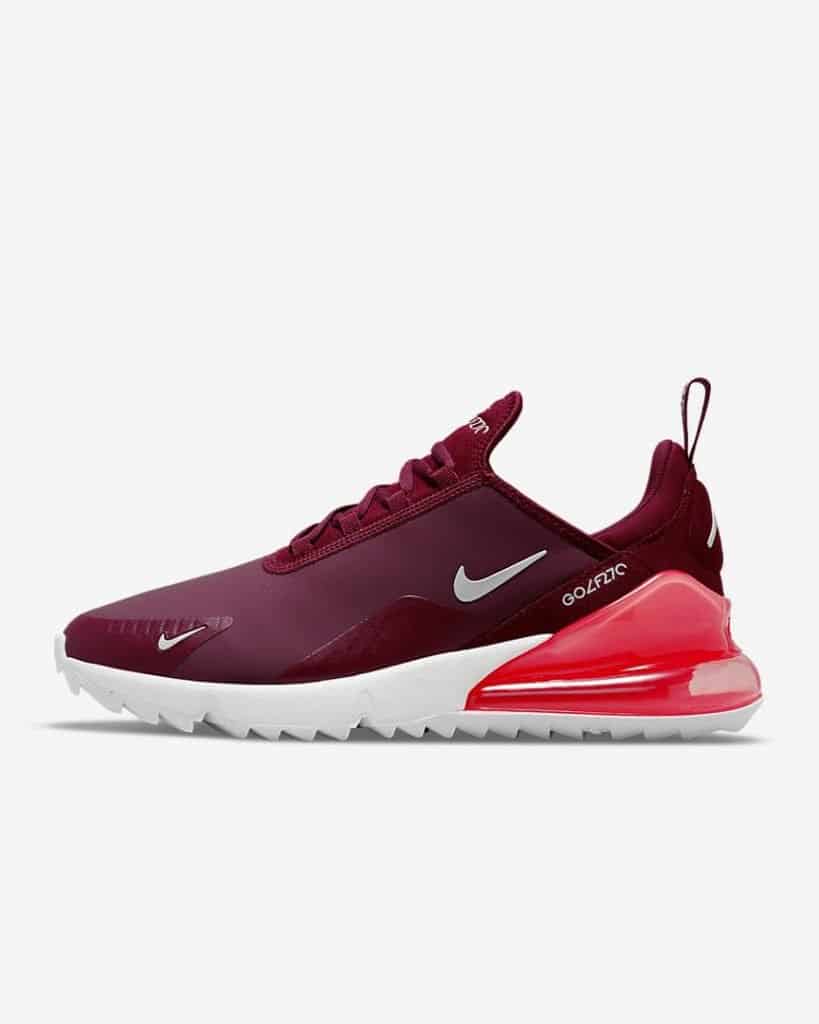 The Air Max 270 G golf shoes just look badass, and they pay homage to an iconic Big Air Nike shoe. There's really no other way to describe it; these do not look like they are meant to be golf shoes, yet, the original design has been modified for golf. These modifications include an innovative traction system to help you stay grounded in all different conditions on the golf course. Not only that, but the outsole of these golf shoes is designed to enhance your grip and stability while you're rotating during your golf swing.
The upper area of this shoe is an exact reconstruction of the original Air Max 270's, with a mesh overlay that helps keep these shoes clean and dry. This is a pretty standard feature among golf shoes by Nike, and it makes a huge difference on keeping your golf shoes clean. The foam midsole features a large Max Air unit for extra cushion in your step while you're out playing. These are the type of golf shoes that you'll want to grab 2-3 different pairs of; they're extremely comfortable, look awesome, and keep you playing your best.
You can't tell me you haven't wanted to look, feel and play just like Tiger Woods. Everyone wants to be like Tiger, and thanks to the release of his Air Zoom Tiger Woods golf shoes, you're one step closer. These are the same iconic golf shoes we've seen Tiger wear over the last several years, and they feature a very clean and classic look for a golf shoe. These shoes are actually modelled after dress shoes, and come in either black or white.
These shoes feature a classic synthetic leather on the outside of the shoe, which is super easy to maintain and keep clean over the long-term. Synthetic leather is generally really durable, and will last for many seasons no matter what weather conditions you play in. The collar of these golf shoes is padded with foam, with a tight tongue to keep you well supported as you play. The TW's pull upon the Nike React technology featured in previous golf shoes on this list for an all-day comfortable ride.
This isn't the first iteration of the Tiger Woods Air Zooms, but this year's model has been optimized to be even more comfortable than previous models. They run half a size large, and offer some impressive waterproofing. If you want an iconic Nike golf shoe, these are an easy pick.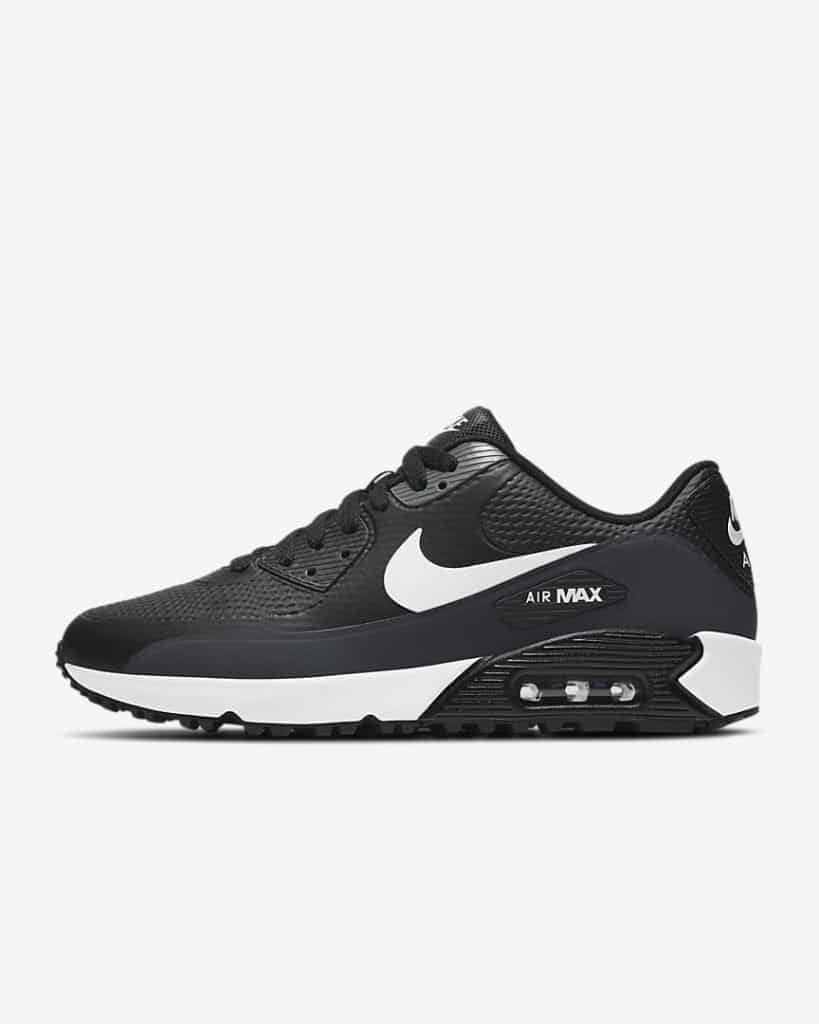 The Nike Air Max 90 G looks iconic, and for the most part is an exact replica of the original Air Max 90 shoe that Nike has on the market. In a word, this pair just looks familiar. This is a timeless Nike design that will virtually never go out of style, and it is a little more tamed than some other options on this list.
From a practicality standpoint, these iconic Nike shoes have been slightly modified for the golf course. Notably, there's a thin overlay on the outside of the 90 G's which helps keep water at bay. The shoes deploy an integrated traction pattern in the form of a spikeless design, modified from the original basketball motivated traction. That said, the traction is a waffle design in a direct homage to the original Air Max traction pattern. The Air Max 90 G's feature a Max Air unit in the heel of these golf shoes, as well as a foam midsole made to make these shoes nice and comfy. These run true to size so if you have any other pairs of Nike's you should be covered. The 90 G's feature 3 different color options, and are the final pair on our list!
Final Thoughts
Frankly, you can't really go wrong with any of the shoes listed in this round up. If you're truly looking for the best Nike golf shoes, The Air Zoom Infinity Tour's take the top spot on my list. These were co-designed by Brooks Koepka to maximize comfort, style, and performance out on the course. There are 7 different color options to choose from, giving you a ton of flexibility in your choice.
Nike stays true to form with their golf shoes, so make your pick based off what you think is best for your game. If you need more options, head over to our page reviewing the most comfortable golf shoes for walking; that's a comprehensive guide featuring a plethora of brands and styles, all focused around walking shoes.
Thanks for reading, and happy hunting!