One of the best staples to keep in your golf apparel collection is undoubtedly a great golf skirt. Nothing is better than a go-to golf skirt that fits you perfectly, has a flattering style and length, and is equipped with all of the practical features you need while playing golf. Every woman who plays golf frequently is sure to have a few good golf skirts or skorts in their repertoire, however finding one that has all of the right features is actually harder than it sounds. 
The best golf skirts need to be crafted with the right material, have deep pockets for tees and golf balls, and come with built-in liner shorts. Surprisingly, it can be a hard task to find a good golf skirt that checks off all this criteria! Many women have resorted to buying tennis skirts to wear on the golf course due to the shorter length and their fun styles. The problem with this, however, is that many tennis skirts are too short for the golf course or don't have deep enough pockets to be practical. Luckily, there are many amazing golf skorts in the market that have all of the right features that you will need. To save you the time, we have done the research for you and compiled a list of the best women's golf skirts we could find!
Before we dive into our top picks, let's look at the criteria we took into consideration to compile this list of the best golf skirts & skorts:
Buying Criteria
Material 
The material of a golf skirt is surprisingly important and something we don't really think about. Imagine playing golf in a denim skirt? The thought makes me cringe! The majority of golf skirts are made out of a spandex and polyester blend making them stretchy and flexible. While playing golf, you will be swinging your golf club, bending down for golf balls and tees, and walking around outside; remember that golf is a sport and you need to be wearing the proper athletic material to play your best. The best material for golf skirts will be breathable, moisture wicking and offer plenty of mobility while you play your round of golf!
Length
For a majority of women, length is the most important factor when deciding whether or not to purchase a golf skirt. Golf skirts typically range from around 14-18 inches long. According to the LPGA, the shortest length allowed for shorts and skirts is 14 inches. The tricky part for companies is finding a length that appeals to both the younger generation of golfers, and the older generations as well.
The most important thing to remember is that comfort should be your #1 priority on the course. Yes you want to look great, but if you aren't comfortable it can end up ruining your whole experience. 
Pockets
If you have ever made the mistake of wearing bottoms that do not have pockets to the golf course, I am sure that you'll never make that mistake again. Pockets are pretty non-negotiable when it comes to the perfect golf skort; it is SO inconvenient to golf without pockets. The deeper the pockets, the better. Storing tees, a ball marker and an extra ball or two in your pockets is extremely helpful while on the course. This is a major problem if you have resorted to buying tennis skirts for golf – lots of tennis skirts are not equipped with pockets deep enough to hold all of these items. 
Ideally, you'll want a golf skirt or skort that has at least two front pockets, and ideally a back pocket too!
Inside Shorts
This is a MUST when wearing a golf skirt. Your skirt must include attached inside spandex shorts (which technically makes it a golf skort). Luckily, almost all golf skirts on the market include these as they are incredibly important. Whether you are driving around in a windy golf cart or bending down to put your tee in the green, it is crucial that you feel comfortable and covered while you play. It's always a relief to know that you are appropriately covered if your skirt blows around in the wind or when you are taking a shot. 
Style 
Now that we have all of the practical features out of the way, let's talk about the style of golf skirts. Even though golf is a sport and we need to be practical, we also want to look our best. If brands can get all of these features down while looking cute and stylish, it's a win-win in our eyes. More and more brands are now expanding their styles and appealing to a wider range of clientele. Younger women are golfing more than ever, and it is important to keep up with the times and ever changing style trends. 
Our List: Best Women's Golf Skirts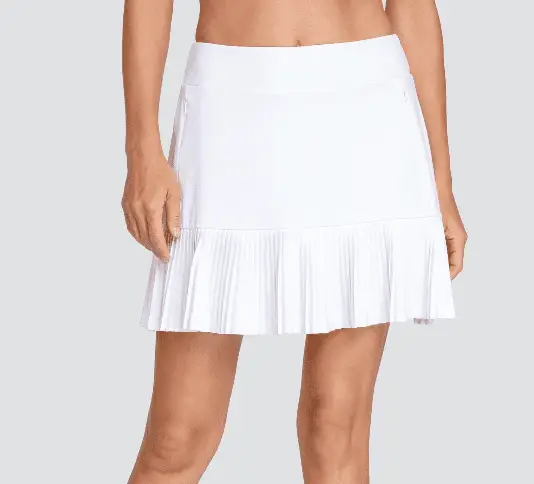 This 17 inch TAIL golf skort is perfect for spring and summer and is a classic staple that will match any top you own. Timeless white with cute micro-pleats, this is a fun and flirty style. This skirt features two front pockets, two back pockets, built in white shorties, and is made with material that provides UPF 50 protection. The skirt is high waisted which tends to be a flattering fit and makes every age feel comfortable. The only drawback for this skirt is that the pockets are not as deep as some other options listed. Overall, we love this skirt and it will surely bring in the compliments while on the course!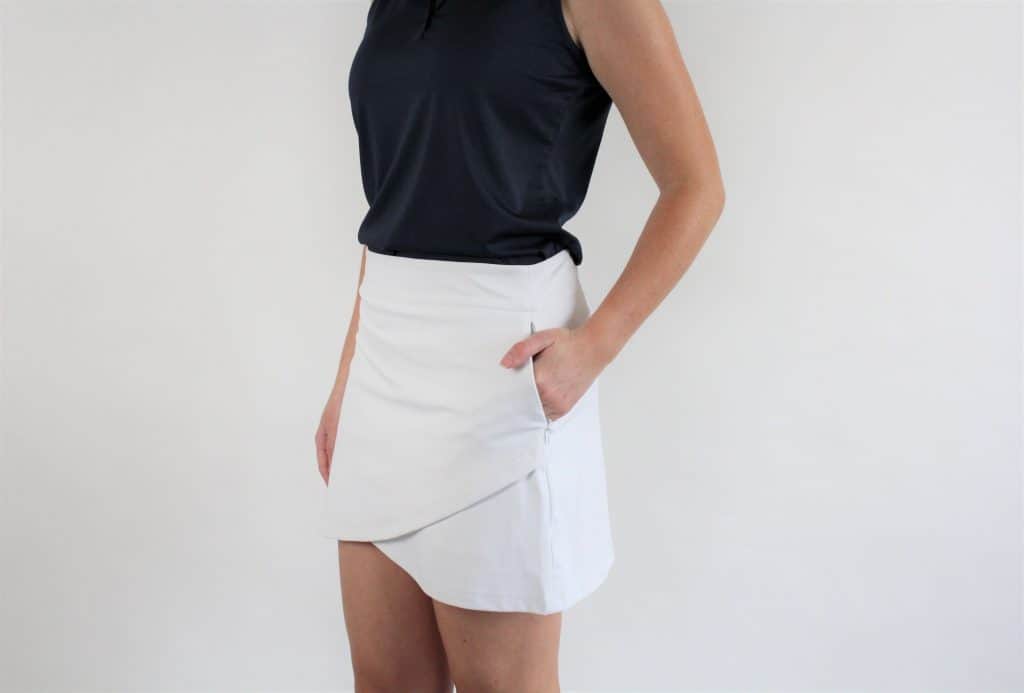 Nevis Golf Co. is a relatively new brand on the market, solely specializing in women's golf apparel. The brand is woman-owned and launched in 2021.
In their first collection, they feature the Newbury Skirt which offers a twist on the basic golf skirt shape and features a flirty double wrap design in the front. One thing that stands out about these skirts is the amount of pockets they offer. Two very deep front pockets with zipper closures, a back pocket, and a hidden pocket in the built-in spandex shorts inside the skirt. You can fit an iphone, multiple balls, tees, anything you want in the front pockets – they are deep! The skirts are crafted with four way stretch material, offer UPF 50+ protection,  and are available in several different colors.
Nike is obviously a powerhouse within the sporting industry and they have an amazing reputation within women's golf apparel. They have numerous golf skirts that are great choices, but the Nike Flex is our favorite. This skirt is available in several colors and is equipped with all of the practical features that are needed. The material is made with Nike's Flex fabric to provide plenty of mobility and freedom to move around. and With two deep front pockets, inside spandex shorts, a back pocket and stylish pleating in the back, this is a go-to choice for a staple golf skirt. The Nike Flex is a no brainer for a simple and stylish golf skirt for any woman golfer.
The Adidas Ultimate365 Knit Frill Skort offers a fun feminine style with all of the necessities needed to create a great golf skort. The length is not as short as some of the other competing options, which makes this a great choice for all ages. There are two front pockets with a smaller hidden pocket inside, two back pockets, and our favorite feature…inner short tights with secure-fit grippers. This is an excellent feature to keep the inside shorts from riding up or becoming uncomfortable. The Ultimate365 Knit Skort allows for a comfortable fit that isn't too tight, and the material offers UPF 50 protection. All around, this skirt checks off all of the boxes that we love!
This golf skirt is perfect for anyone looking for a control waist option. With a wider waistband, this skirt gives you a tummy-control feel which is always a welcomed feature! The length is comfortable and the style is flattering. This PUMA skirt feels lighter than other options and is breathable on those hotter summer days, making life a lot easier on the golf course. The inner shorts also feature gripper tape which makes a huge difference when walking for hours. This skirt comes in several attractive colors and will surely become one of your favorites!
This Slazenger golf skirt is definitely a top pick within my golf skirt collection and for good reason. The material is stretchy and durable, while featuring a stylish pleated back. The skirt features front pockets, a small back pocket, and inside spandex shorts. The length is on the shorter side, but it doesn't feel too short when on the course. The material is the common polyester and spandex blend that you'll typically find, and features Slazenger's Hydro Dri technology that helps quickly dry any sweat or moisture.
My favorite part of this skirt is the style – as it is white, you can pair it with every color polo that you own and the pleated back adds a fun twist. This skirt is also a great bang for buck pick, coming in right around the $50 mark.
FAQ on Golf Skirts:
Is there a difference between tennis skirts and golf skirts?
Yes! There are a few big differences between golf skirts and tennis skirts. The main difference is the length. Tennis skirts can be as short as 12-14 inches which is significantly shorter than golf skirts. The PGA states that the shortest skirt or shorts allowed professionally is 14 inches – which is actually pretty short! These rules generally carry across country clubs and public golf courses. 
The second difference between tennis and golf skirts are the pockets. As tennis skirts are generally much shorter, the skirts do not feature deep pockets. Sometimes, they have no pockets at all. As a golfer, it is extremely practical to have deep enough pockets to store tees and extra golf balls. 
What is the difference between skirts and skorts?
In general, the difference between normal skirts and skorts is that a skort will feature a skirt fabric on the front, and shorts on the back side. Thankfully, golf skirts typically have inside shorts built in, whether they are called skorts or skirts. It is very rare that golf skorts are actually skorts in that they have shorts in the back- they usually look like skirts!
Final Thoughts 
A golf skirt is an item that every woman golfer should own. They are comfortable, stylish and extremely practical. Make sure you always consider the material, length, pockets, and inside shorts before purchasing a golf skirt as these are important factors to keep you comfortable. We hope that you enjoy this review and we know you will feel wonderful in each of these golf skirts!