Callaway offers a wide range of golf irons from game improvement to tour level players irons. The current game improvement golf irons from Callaway are the Mavrik and Rogue sets, Apex are considered to be more in the players iron category. 
However, the Apex DCB is kind of a mix between a players and a game improvement set. 
Combining some of what you see in the rest of Apex line and some of what you see in a game improvement iron, this is a forged cavity back that has the look and feel of a player's iron with the forgiveness of a cavity back. Didn't think that was possible? You aren't the only one. 
Our full Callaway Apex DCB 21 irons review is below!
Callaway Apex DCB 21 Irons Overview
Callaway Apex DCB 21 Iron Set
Pros:
Forged Game Improvement option from Callaway delivers exceptional feel and feedback

Forgiving cavity back design is great for mid and high handicappers

Best in class distance and ball speed among its peers thanks to AI Flash Face Cup

Naturally high launch and very easy to hit
Cons:
A little chunky for a forged iron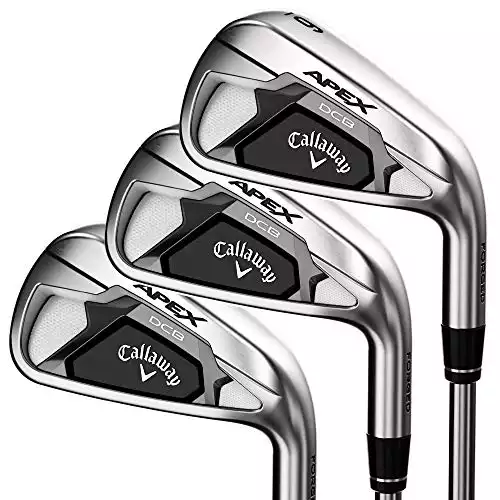 We earn a commission if you make a purchase, at no additional cost to you.
The Callaway Apex DCB 21 Irons are a mix between a game improvement golf club and a forged players club. The DCB is a forged game improvement iron that many other companies have tried to create without too much luck. 
Feel, consistency, and a clean look were key when producing the Apex DCB set of irons. In addition, the club was made to be very long. This is not a players style forged club that will have you sacrificing distance. In fact, the DCB are among the leaders in terms of distance.
The Callaway Apex DCB irons are some of my favorite options on the market. When I hit these clubs, I was incredibly impressed by the performance. The top-down look is still a bit thick for a true players club, but the feel is right where it needs to be, better than most game improvement sets on the market. 
Key Features and Technology
The Callaway Apex DCB has some unique technology as it can't fit in just the cavity back or just the player's golf category. Instead, it's a bit of a mix between the two. 
AI-Designed Flash Face Cup 
Callaway is a pro when it comes to AI and Flash Face technology at this point. However, when you look at combining premium technology with a forged feel, it's what makes the Callaway Apex DCB golf irons unique. The ball certainly jumps off the clubface as a result; there is no denying that. 
Tungsten Energy Core 
Most forgiving golf clubs have a center of gravity that is low and towards the front of the face. By adding 50 grams of Tungsten to the clubhead, Callaway had the ability to reposition the center of gravity to a perfect location that allowed a stronger and longer ball flight. 
Forged Design (Improved Turf Interaction) 
With this being a forged golf club made with 1025 carbon steel, the interaction with the turf is greatly improved. If you strike the ball well, you will feel that it is a lot like the other Apex irons in the set. However, if you happen to miss the center of the face, distance isn't sacrificed. 
Looks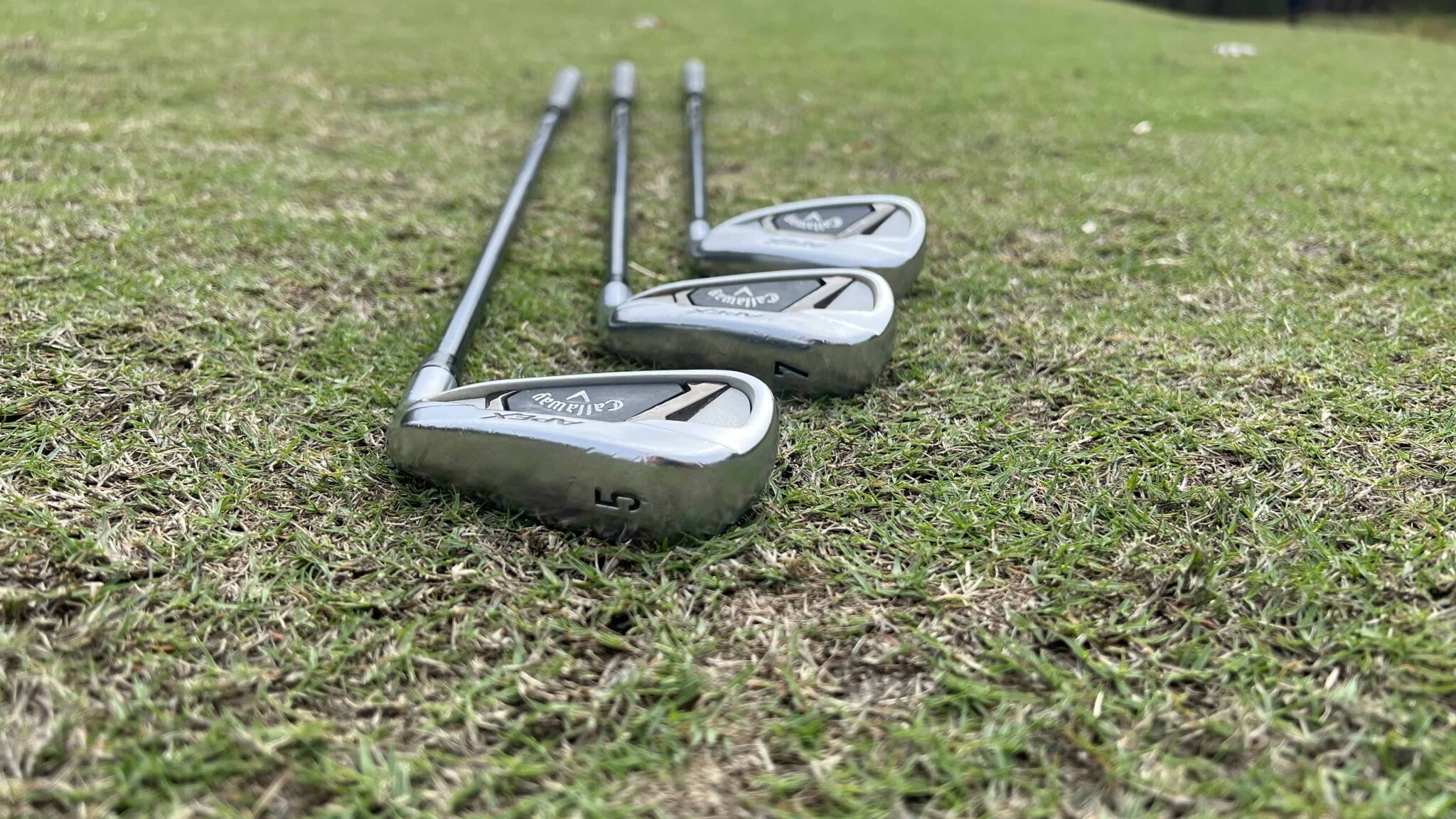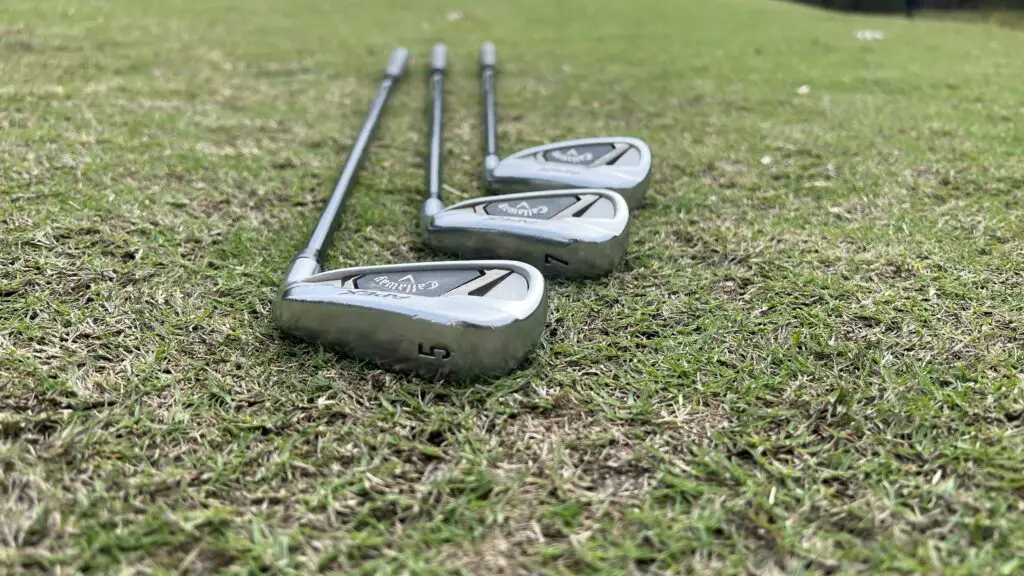 The overall look of the Callaway Apex DCB is nothing all that impressive. It's clean looking but certainly not as sleek as some of the other Apex irons in the set. The top down look was my major concern. It's hard to say something has players' feel and precision when the top down look is as thick as Callaway game improvement irons are.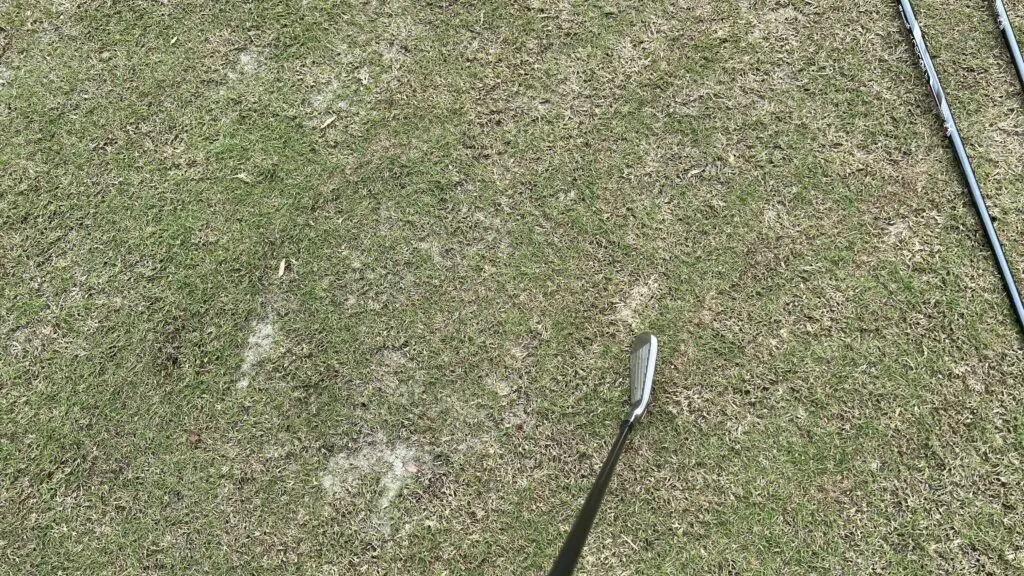 However, I was impressed with the top-down look. It's not overly thick or overly offset. I won't tell you that the club has that thin Titleist look, but it's not ugly. 
Performance
Regardless of how the club looks, the performance is most important. 
When it comes to the distance, I was really impressed with the capabilities of the Apex DCB. In fact, when I tried this iron, I also tested the regular Callaway Apex standard irons, and the Apex DCB are considerably longer. 
In addition, the distance feels effortless. Overall, the ball flight is really high, so the carry distance is longer than expected. However, with the right shaft option, you can control the ball flight a little more. 
Controlling these golf irons from a ball flight perspective is also not incredibly difficult. 
I was able to lower ball flight when I wanted and hit a draw and a fade at times. Of course, the club is not as responsive as a Callaway Apex blade iron, but it's something that you can certainly work with. 
Out of the rough, I was impressed with the way the club can get the ball moving towards the target. With the grass being thicker and the Apex DCB clubhead being a little wider, I had no trouble getting that jump out of the rough, which is important for a forgiving iron. 
Forgiveness
The Callaway Apex DCB irons are really forgiving. Forgiving enough to straighten out some of the bad shots but also forgiving enough to take a little of the workability away, a typical trade-off for a game improvement iron set. Sometimes if you are trying to hit a fade or a draw, the forgiveness built in can certainly overcorrect your shot. 
Basically, the Callaway Apex DCB is a cavity back iron. You must remember that it's going to perform like a cavity back. Of course, that becomes a problem for some great players, but I find that most golfers, even low handicappers are fine with having a little extra forgiveness built into their golf clubs. 
Sound and Feel
The Callaway Apex DCB actually has some of the best feels of any of the Callaway game improvement irons. I noticed right away that these clubs felt more like a premium player's iron and less like a cavity back. That's a huge win for your average golfer.
The sound is pleasing; it's not quite as buttery as a forged blade, but the sound out of the center of the face is pure and crisp. 
Club Specs
The Callaway Apex DCB has relatively strong lofts. I always like to look at the pitching wedge when comparing sets. The new Callaway Rogue golf irons have a pitching wedge with 41 degrees of loft, certainly considerably less and something that will, without a doubt, impact the performance. 
With this not being a true players' iron set, it's worth noting that there is no 3 iron available. With the strength of the 4 iron loft, you really won't need it. 
Here's a quick look at the Callaway Apex DCB iron specs:
| | | | |
| --- | --- | --- | --- |
| Club | Loft | Lie | Length |
| 4-Iron | 20° | 60.5° | 38.5″ |
| 5-Iron | 23° | 61.25° | 38″ |
| 6-Iron | 26° | 62° | 37.5″ |
| 7-Iron | 30° | 62.5° | 37″ |
| 8-Iron | 34° | 63° | 36.5″ |
| 9-Iron | 38° | 63.5° | 36″ |
| P | 43° | 64° | 35.75″ |
| A | 48° | 64° | 35.5″ |
Who Should Use These Irons?
My favorite thing about the Callaway Apex DCB irons is that both high and low-handicap players can use them. I love the feel of these clubs, and if you can get used to a slightly thicker top line, they give you almost all the performance you can expect from a top player's iron but with plenty of forgiveness packed in. 
The Apex DCB is not the cheapest of the Callaway irons on the market. Anytime you add forged technology to a golf club, expect the pricing to increase quite a bit. 
Whether you're a low or high handicap player, if you want a forgiving cavity back iron set with forged feel, this is a great choice.
Final Thoughts
We hope you now feel a bit more confident about whether or not the Callaway Apex DCB iron set could be a great fit for you. These irons have some of the best feel I have found in the Callaway lineup this year.
In addition, I'm impressed with the total distance and launch angle. I would recommend that someone as low as a 5 handicap and as high as a 25 handicap could benefit from the technology in the DCB golf irons. That's a pretty large gap, and an impressive job done by Callaway. 
Thanks for checking out our Callaway Apex DCB 21 iron review!
Check the price for the Callaway Apex DCB 21 on Golf Galaxy here.