With Callaway being one of the top golf club brands in the world, they have something to offer for every style of player. Whether you're brand new to the game or have been playing for decades, Callaway has club sets made for you, with most of the club lineups being highly recognizable and well marketed. One of their sets, the Callaway Edge golf set has very little literature online, and is not well advertised on the open market. So what's the deal?
The Callaway Edge set is a true sleeper set for the beginner or high handicap golf crowd: these are affordable golf clubs featuring great technology, and are a turnkey golf set for anyone starting out or upgrading from an older golf set. All this said, Callaway doesn't advertise it much, and you can only find the set in Costco or on Amazon. To get a full breakdown of the Callaway Edge golf clubs, check out our full Callaway Edge review below!
Callaway Edge Golf Clubs Review | Short Version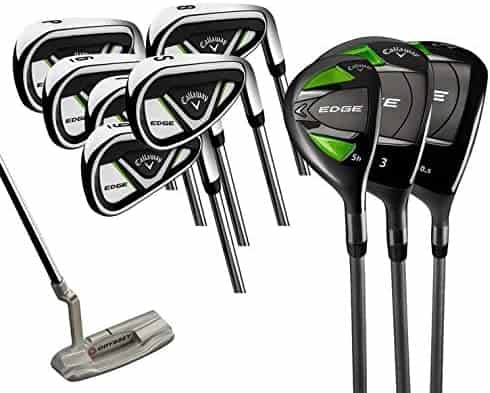 The Callaway Edge golf set is a 10 club set that rivals any of the top golf club sets for beginners. This set is ready for the golf course from the moment you open the box. The set features a Driver, a 3-wood, a hybrid, a series of irons from 6-9, a pitching wedge, a sand wedge, and an Odyssey White Hot Pro putter.
The Callaway Edge set would be ideal for a brand new player or a high handicapper who is looking for a complete and easy upgrade to their old set.
These clubs are really playable and highly forgiving. The woods are oversized with a low center of gravity and feature graphite shafts, making them easy to hit and easy to get the ball into the air. The irons are oversized cavity backs, which help improve ball launch. For the putter, Callaway was generous to put a high end White Hot Pro putter in this set, which features a Super Stroke grip. This putter is an amazing addition to this bag, making this set pretty desirable in my eyes.
Here's what I love:
A super forgiving set
Great value with everything you need to play
Solid performance and great for beginners
High-end putter included in the set
It comes with headcovers included
If you want a high quality plug and play set tailored for the beginner and high handicap market, these Callaway Edge golf clubs are an awesome pick.
The Callaway Edge Club Set | What You Get
Bearing in mind that Callaway is a pretty premium brand with plenty of great technology, I'm impressed with what they include in this well-priced set. To put it frankly, the Callaway Edge set is great value pick for the average golfer.
Out of the box, here's what you'll receive:
A titanium driver with an included headcover
A 3 wood with a headcover
A hybrid '5-wood' with a headcover
Four mid-short irons 6-9
A pitching wedge and a sand wedge
An Odyssey White Hot putter with super stroke grip and headcover
Amazed? I was. And here's why.
Take a look at some of the other drivers that Callaway produces, and ask yourself how much that is likely to cost. The same can be said of any of the woods in the set.
Throw in the price of a decent wedge and a putter, and you are already well over what the Callaway Edge set should cost. You get an Odyssey White Hot Putter included in the set, which I find to be an absolutely amazing addition to the set.
If you've seen my article reviewing the best putters for high handicappers, you'll already know how highly I rate the white-hot series! The putter alone isn't exactly what you'll call cheap or 'budget'. Often when you purchase a 'full set," you'll find that they have cut corners to make it cheaper. In this case, Callaway has included something that is positively premium.
Ok, so it doesn't come with a golf bag, which is one of the only things that prevents this from being a true turnkey set. But, because you get so much at such a low price point, you should be able to plan a little extra budget to invest in a decent golf bag.
Ok, so onto the rest of my Callaway Edge Review…
Are the Callaway Edge golf clubs Good? | Full Review
So you are getting a lot for the money, but what are these clubs actually like? I split the set into its individual parts. It says on the box, "easy to hit and designed for distance", but marketing can be deceiving.
Here's what I found:
The Callaway Edge Driver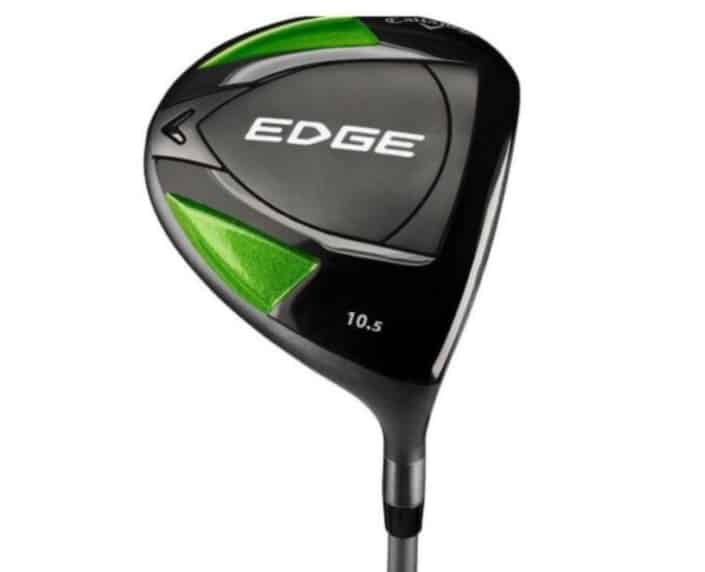 Once you remove the (included) headcover, you have a driver that doesn't look out of place in any players' golf bag. The Callaway Edge driver certainly doesn't look like a 'budget' club at all. I was reminded of the Callaway Epic when I first removed the headcover. The finish on the back is matte, which is a nice touch for preventing distracting glare and reflections.
There is a strong chance that this set may be the first purchase for a beginner or high handicapper, and the driver doesn't disappoint.
The head is a substantial 460cc. Held up against the Callaway Mavrik, there Is actually very little difference visually. You'll find a sizeable titanium head that will give confidence over the ball and should be pretty forgiving.
The face has been deliberately made thinner. This is designed to promote a faster ball speed which is exactly what a beginner needs. As far as performance goes, I was impressed after hitting this one a few times. It lacked the carry of some more premium drivers, but only just. One exemplary thing was the sound. There were no surprises. It was neither hollow nor 'hard', just a crisp 'ping' followed by a really penetrating trajectory and ball flight.
One thing that I really liked was the loft. Some may criticize the 10.5° loft as being a little too 'strong' for beginners. However, I think that is a good thing. First, it will give long-lasting playability as the loft is strong enough to allow a new golfer to progress. I'm not of the opinion that a beginner should be playing with more than 10.5° of loft, since nobody else does.
Secondly, by starting with a slightly more 'grown up' loft, there will be a less steep learning curve in the future when the beginner does seek to upgrade their driver to something more in the intermediate range.
Callaway Edge 3-Wood
A 3-wood is always a nice club to have in your bag. It's versatile, allowing you to hit it off the tee and giving you extra distance on those long par 5's. The quality of the driver is replicated in the 3-wood. It has the same matte finish on the crown and, in my opinion, looks pretty great.
Fairway woods can often be difficult to hit, but Callaway seems to have done a pretty good job here. They've designed the 3-wood in this set to have a low center of gravity. What this means for you as a player is that it is much easier to get a high launch on the ball.
The shaft of the 3-wood, as with the driver, is a little on the soft side, great for squeezing a few more mph out of the clubhead with a slower swing.
One thing that I really liked is the oversized head. It can be daunting hitting a wood 'off the deck'. When placed behind the ball, it gives a real sense of confidence and playability.
What a beginner needs is forgiveness. Callaway seems to have done a pretty good job with their 3-wood. Off-center hits weren't massively penalized and still gained a fair carry.
Callaway Edge Hybrid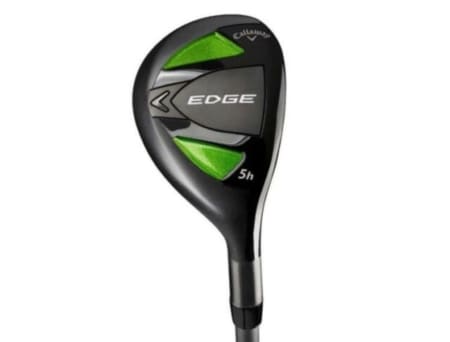 Once again, Callaway has firmly catered to the beginner or high handicapper with this set. Some of the hardest clubs to hit are your long irons. Callaway's philosophy in this full set has been to do away with the 4 and 5- iron and replace them with something that should get the ball up and away with minimal effort.
With this 5 hybrid, you get the best of both worlds. It is lofty enough to reduce side spin, preventing the bane of most beginner's golf game… The slice. But it is powerful enough with a hot enough face to ensure a fair amount of carry and roll.
As with the driver and 3-wood, the Callaway Edge hybrid has an oversized head and a low center of gravity. I think this is a great addition. It covers you for all sorts of situations, including playing from the rough, which most beginners will be doing, more than a few times per round.
It would make little sense to remove hard-to-hit clubs if their replacement wasn't forgiving. I'm pleased to say that the Edge hybrid did offer a great degree of forgiveness. Essentially it gets the ball up and away from most lies.
Callaway Edge Irons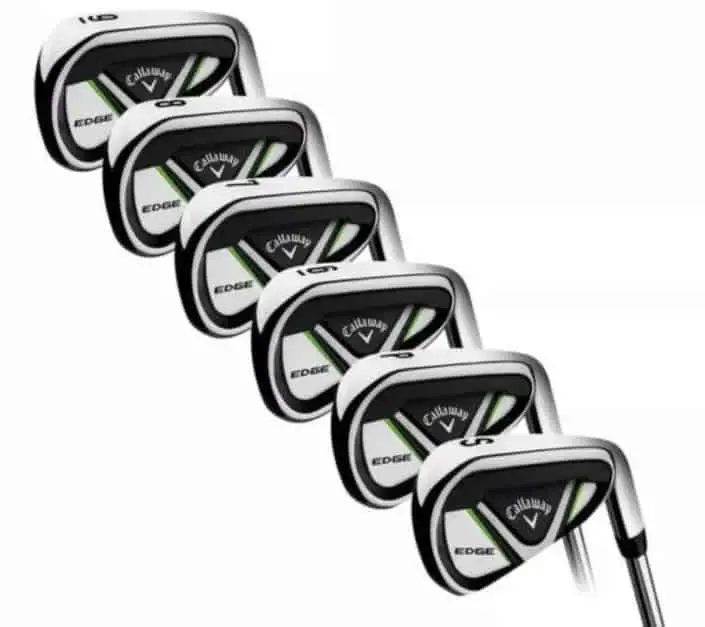 When I first saw the look and finish of the Callaway Edge irons, I was pretty impressed. Had you told me these were a mid-priced set, I'd have had no trouble believing you. They look pretty premium with a highly polished chrome finish and a large cavity back. The set includes irons 6,7,8 and 9, as well as a pitching wedge and sand wedge.
One thing that really stood out is the styling. Callaway has done a great job keeping their signature look with a large and imposing toe leading down to a relatively low profile hosel.
But what are they like to play with?
I'll be honest, if this is your first set, you'll be in for a treat. They aren't so far removed from clubs that occupy a much more 'premium' price bracket. The feel and forgiveness are both excellent. Which is exactly what you would expect from the substantial cavity back.
The sound is crisp and feels really solid. Off-center hits didn't jar my fingers, nor was the distance severely cut short. They seem to generate a decent amount of spin too. Hitting the 8 iron into the green left the ball bouncing and stopping dead. Not bad for the money.
I'm usually not a huge fan of wedges that come with beginner sets, but I'm pretty impressed with both the Callaway Edge pitching wedge and the Callaway Edge sand wedge. Neither of them are bulky, which is my usual qualm with a beginner type wedge. They're both very playable, and allow you to play a variety of shots around the greens.
Odyssey White Hot Pro Putter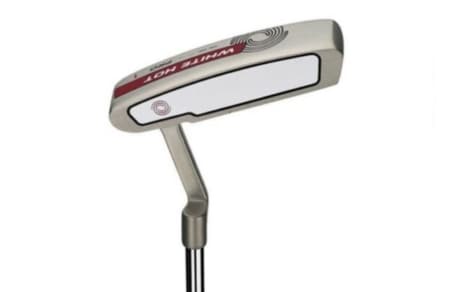 The inclusion of an Odyssey White Hot Pro putter is where, in my opinion, Callaway has surpassed themselves and has elevated this set in my Callaway Edge review.
Simply put, they have made a 'good' set to be 'outstanding' with this addition.
Beginner golfers tend to focus on hitting the ball a long way. Still, it is the short game where most will begin to make the most inroads into reducing their handicap. By including a white-hot putter, Callaway has given the high handicapper a tool to achieve this.
The putter comes with the trademark 'white-hot' face insert. Designed to give a truer roll and forgiveness for sub-standard contact. It also gives excellent feel.
If this wasn't enough, you'll also find a chunky and substantial 'Super Stroke' grip. This is designed to provide consistency in the putting stroke by minimizing rotation of the hands. The simplest way to put it is to say that it feels amazing.
One really great thing is that even if you outgrow the set as you improve, the putter is of a high enough caliber that you can take it with you into your new set. This will minimize the 'bedding in' period where you have to recalibrate a new putter's feel.
If you've shopped around for putters, you'll know that getting something half decent isn't cheap. They have included an Odyssey Putter as standard is nothing short of phenomenal when it comes to getting amazing value.
Potential Drawbacks?
This wouldn't be a full Callaway Edge review without listing some downsides too.
While there aren't many significant things that are inherently 'bad' about this set, you might want to consider a few things here:
Bag Not Included
If you are looking to get out and playing with a good golf club set, this would be ideal. But bear in mind that the set doesn't come with a bag. As I said at the start, the fact that you will make a significant saving on the clubs should free up a little budget to invest in a golf bag.
Although some may consider this a drawback, what it does give you is freedom of choice. Often full golf sets with bags included lead to you being forced into choosing a bag that doesn't quite fit your purpose. So you still have to buy another bag anyway.
No Long Irons
Some may see this as a good thing. After all, long irons are the least used clubs in a beginner golf set. That said, the Callaway Edge hybrid might not be for everyone. If you had a full set including a 3,4, and 5-iron, if you couldn't hit one club, the other two might just bridge the gap. When you have a blanket club, like the Edge hybrid, you have nowhere to go if you can't hit it.
Softer Shafts in the Woods
The Callaway Edge woods all have a fast and relatively soft graphite shaft. Generally, for slow-swinging beginners, this is a good thing as it's a sure-fire way to pick up the club speed.
However…
Beginners' swings don't stay slow for long. Eventually, you may find that your swing speed exceeds the capabilities of the club. With softer shafts, this can lead to a loss of accuracy and control, hindering your progress as a player.
No Fine Tuning
None of the club's features in the Callaway Edge set are adjustable. What you see is what you get, so any unfavorable elements can't be 'tuned out'. Granted, this is probably one of the reasons why the clubs can occupy a much lower price point.
Wedges
Back in the day, a pitching wedge and a sand wedge were all you'd find in most golfers' bags. However, times have changed. It is normal to see a variety of different wedges as part of a full set. Unfortunately, with this set, you are going to have to buy them separately. For instance, you may want to consider adding a 60 degree or lob wedge.
Again this adds to the cost, which will offset a little of the sweetness of this deal.
On the upside, this isn't a 14 club set, so you have ample room to make a few additions without breaking the rules.
FAQ
So you've probably got some questions. Here are some things that people commonly ask:
Are Callaway Edge Golf Clubs Any Good?
In a word, yes, the Callaway Edge club set is good, and for several reasons. First, they are convenient. It is rare to find a full set that is so complete, you'll literally be able to open the box and have everything you need to play. Second, considering what you get, the price is great.
Which Callaway Golf Clubs are Best?
While this set is really decent, Callaway does have more premium offerings. The Callaway Mavrik set is a massive contender offering superior performance in distance, looks, and feel. If you want to learn more about them or see how they compare, check out my Callaway Mavrik article here.
What are the Most Forgiving Clubs on the Market?
That's tricky. These clubs, for the money, are pretty forgiving. If it is ultimate forgiveness you are after, then I've got a full guide here, featuring brands such as TaylorMade and Wilson.
What's the Best Golf Clubs for High Handicappers?
When choosing the 'best' clubs for high handicappers, you want to look for a mixture of playability and forgiveness. It is these two things that will help you to improve in your game. Ping is famous for producing forgiving clubs, but others can easily match them, including big names like Titleist, Cleveland, and Mizuno
Where Can I Buy the Callaway Edge Golf Set?
When the set was launched, it was only available at Costco. However, they also make a regular appearance on other sites too such as Amazon. You can check the price here.
Alternatives to the Callaway Edge Set
While these are a great set of clubs, maybe you are looking for something different. Here are a few sets that may tick many similar boxes:-
You can possibly expect to pay slightly more with this set from TaylorMade, but, just as with the Callaway Edge set, you are getting excellent value. The putter and driver are not included, and TaylorMade has replaced the 3-wood with a  hybrid. These clubs offer great forgiveness and distance too!
Great looks
High launch and long ball flight
Graphite shafts
The Callaway Strata set is the cheapest in the Callaway range, and is definitely the most popular beginner golf set. The Callaway Strata set features hybrids and comes with a putter included (it isn't an odyssey White-Hot, however). You'll also find that this set comes with a bag, so aside from balls and tees, you'll be ready to go. Again you won't find it hard to hit long irons in this bag.
A fully complete package
Great forgiveness
Fully titanium driver
If you are looking for a budget full golf set, they don't come much cheaper than this and would be ideal for someone looking to start playing. The set features an oversized driver, along with fairway woods, a hybrid, and a putter. You also get a bag and headcovers included as part of the price.
Full set including woods and putter
Bag included
Perimeter weighted forgiving irons
Final Thoughts
Considering the brand, the Callaway Edge golf set is the perfect setup for new entrants to the game or those looking to upgrade an older set to something more modern. Our Callaway Edge review revealed that they perform amazingly well, considering the price. The clubs offer both distance and forgiveness. When you take into account that they come with a premium putter, there isn't a lot to dislike.