Whether you are just getting into the game of golf and are looking for your first set of women's golf clubs, or you have been playing for a while and want to upgrade to a new set…the Callaway Solaire Women's Golf Set is an amazing option to consider.
When I first began to play golf, I started off with a beginner set of Top Flite Clubs. Once I was more serious about the game and ready to upgrade, I settled on the 11-Piece Callaway Solaire set and fell in love instantly!
The difference between my first set and the Callaway Solaire set was incredible and I never had one regret about purchasing them. These clubs are lightweight, forgiving, comfortable and built with great quality.
Let's take a deeper look into the Callaway Solaire Golf Set and dive into what exactly what they come with and how they perform in this review.
Who Are The Callaway Solaire Golf Clubs For? ([Currentyear] Notes)
The Callaway Solaire Set is a fantastic full set of clubs for beginner and high handicap women golfers. If you are just starting to get into golf and you want a quality set that will last you a few year years while you grow, this would be a perfect set to learn and grow with. 
This remains true in 2023! While the Callaway Solaire golf club set has been around for a few seasons at this point, they are still an excellent buy, providing great value for you money.
If you are like me and began with a smaller or less expensive set when you were just starting out, but now want to upgrade, this is also perfect for what you are looking for. If you started with a generic starter brand, you will definitely see a difference in your shot quality once you upgrade.
What's Inside The Bag?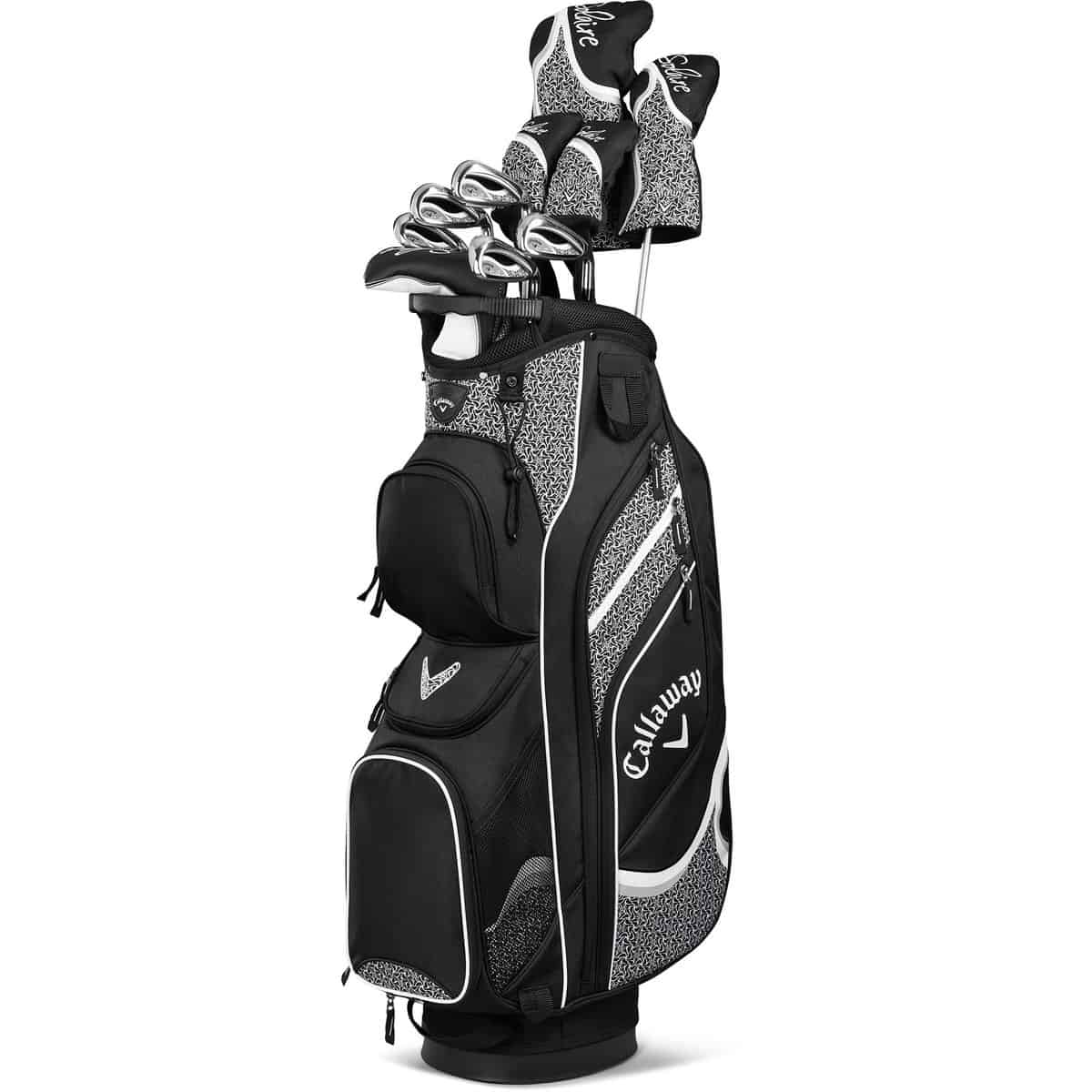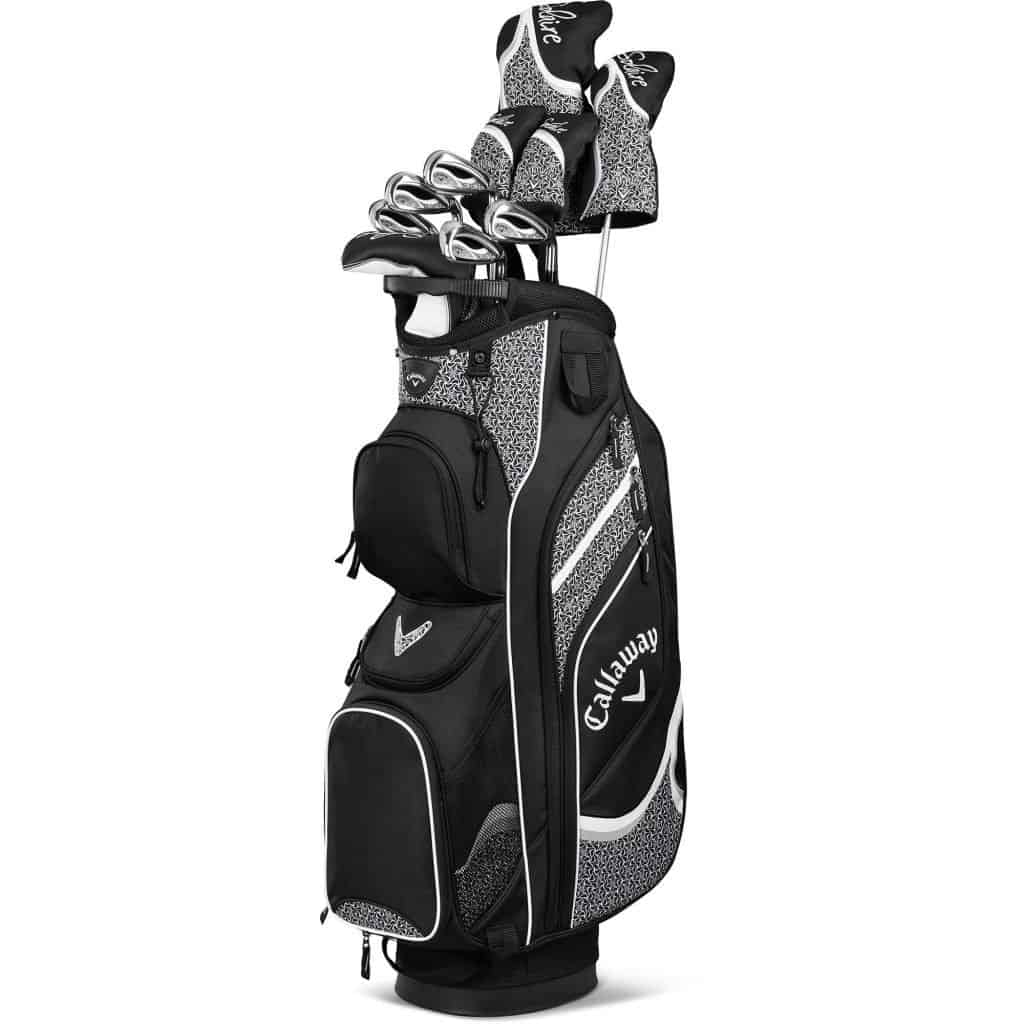 First, it's important to note that the Callaway Solaire Golf Club Set is available in two versions – an 8-Piece set or an 11-Piece set . For this review, we will take a deeper look into the 11-Piece set but here is what's included in both sets:
The 8 piece version comes with the following:
Driver
5 & 6 Woods
7 & 9 Irons
Putter with cover
3 Head Covers
Cart Bag
The 11 piece version comes with the following:
Driver
3 Wood
7 – 9 Irons
Pitching Wedge 
Sand Wedge
Putter with cover
4 Head Covers
Cart Bag
The price is of course slightly less for the 8-Piece set, but if you are getting more serious about the game or want to become more serious down the line, we think that the 11-Piece set is an excellent value pick. As you progress and hone in on your golf skills, you will find yourself in situations on the course where you will want more options available in your golf bag. 
Let's take a detailed look at each club in the 11-Piece Callaway Solaire Set: 
Driver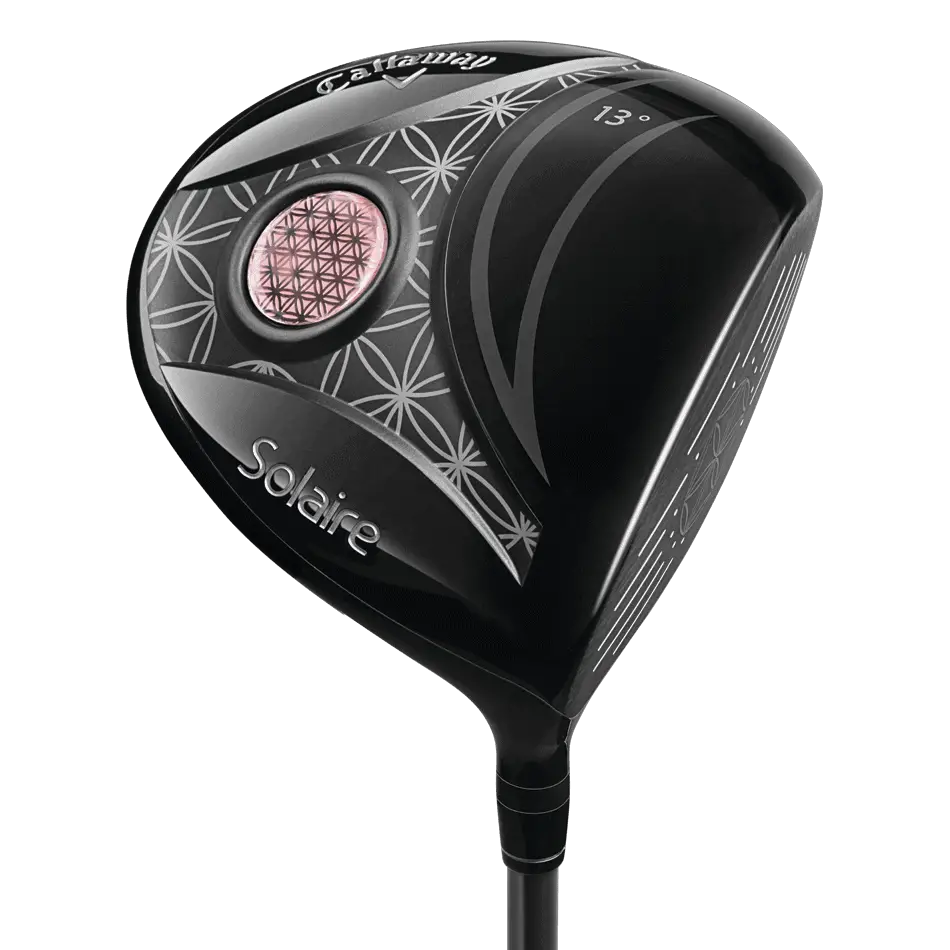 Right away when using this set for the first time, I was really impressed with the Callaway Solaire Driver and for good reason. The driver is lightweight, has a comfortable grip, and is quite forgiving. This driver features a larger sweet spot in the middle of the club face and is rear-weighted, which helps you launch the ball in the air while providing forgiveness on poor shots. The loft is set at 13 degrees which is a happy-medium loft – not too high, not too low. Unfortunately you cannot change this setting, as the loft is not adjustable. I found this to be a comfortable setting for myself but it is definitely a nice feature when drivers have the option to adjust the loft. 
This particular driver is crafted with titanium making it super light to swing while making a really nice sound when you make contact with the ball! Many people have actually commented asking what my driver is, mistaking it for a much more expensive club!
3 Wood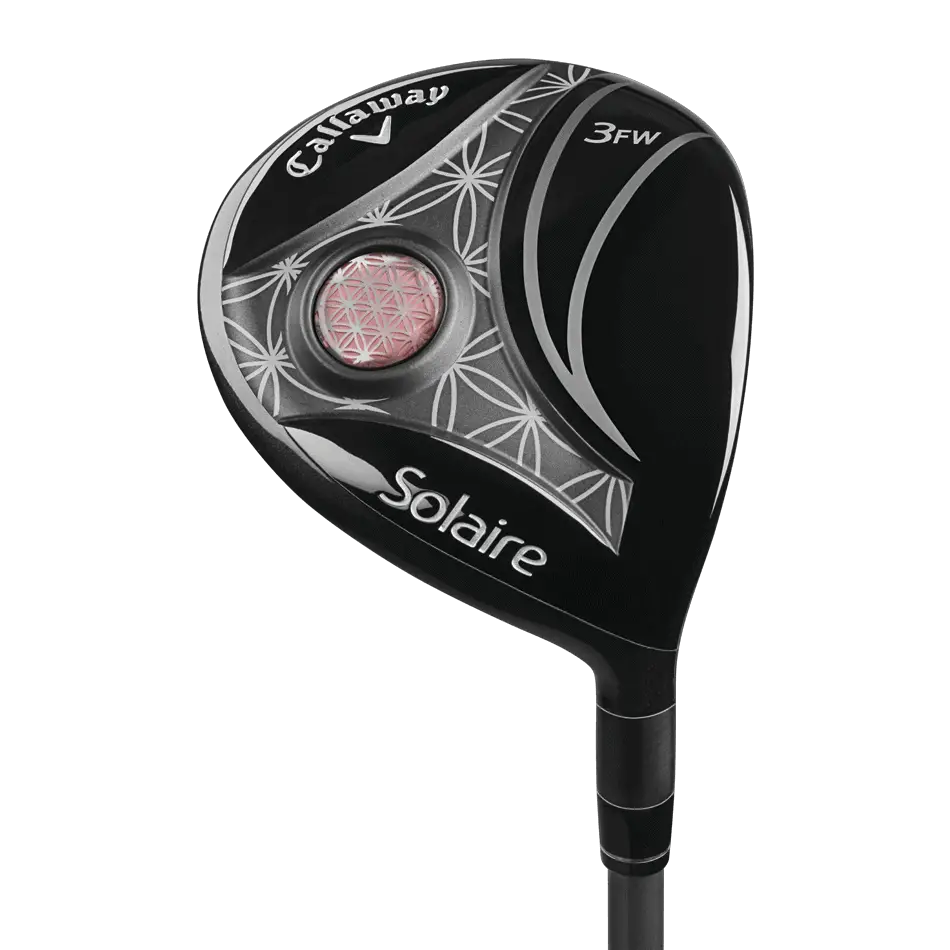 I have to be honest, I'm really not a huge fan of any 3 wood in general – it's a hard club for me to hit well! I don't have much personal experience using this particular club but that being said, it's extremely light weight and seems to be really forgiving! The club is made out of stainless steel compared to the titanium in the driver. I've used it several times on long par 3s and really liked the way it felt when swinging. The 3 wood has a loft of 18 degrees, which helps get the ball into the air as it's a slightly higher than standard 3 wood loft.
5 & 6 Hybrids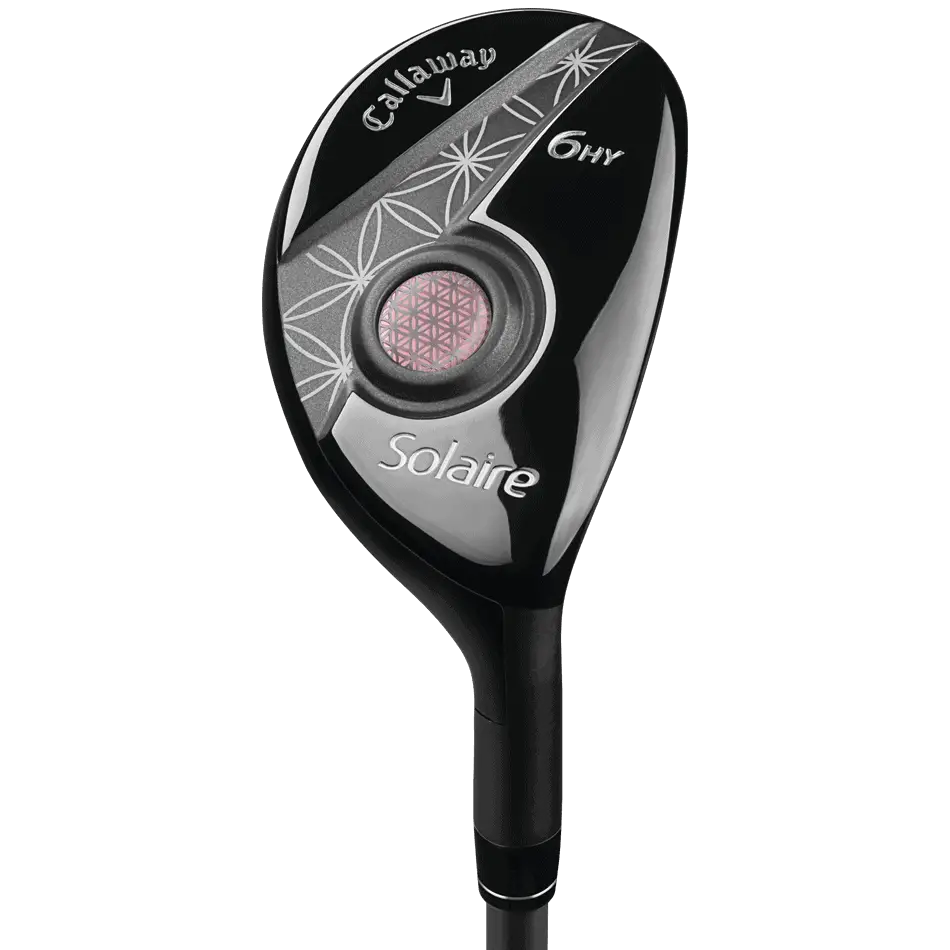 On the flip side of my dislike for 3 woods, comes my love for hybrids! The 5 & 6 hybrids in the Callaway Solaire set are my favorite. They seem to do the trick every time you hit them – they are super forgiving, light and comfortable to swing, great sound, and launch the ball really well. They check off all the boxes in my mind, and are 2 of my go-to clubs in the bag. The loft of these two hybrids are 24 and 29 respectively. You may think there isn't a huge difference between these two clubs when you look at them but it's really nice to have different options for specific situations and yardages on the course. 
Irons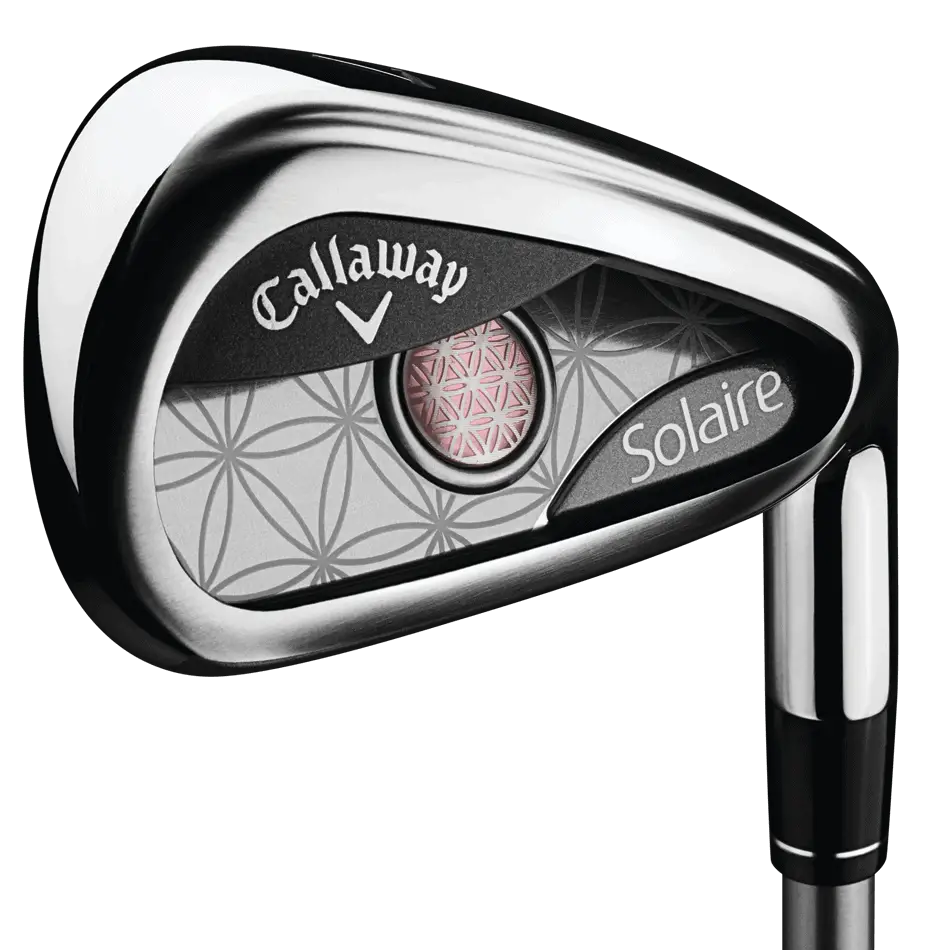 The 11-Piece Callaway Solaire Set is equipped with 7, 8, & 9 irons. All three irons are perimeter weighted which make them more forgiving and easier to swing. The loft for the 7 iron is 33 degrees, 8 iron is 38 degrees, and the 9 iron is 43 degrees. I always found these irons to be super comfortable and easy to swing. I always feel really confident swinging these irons – they're built well and are dependable. If you hit them the way you want to hit them, they are always on point and never disappoint. I noticed a huge difference in my yardage with these irons when I upgraded from my Top Flite irons. These are forgiving, yet not clunky. Love them!
Wedges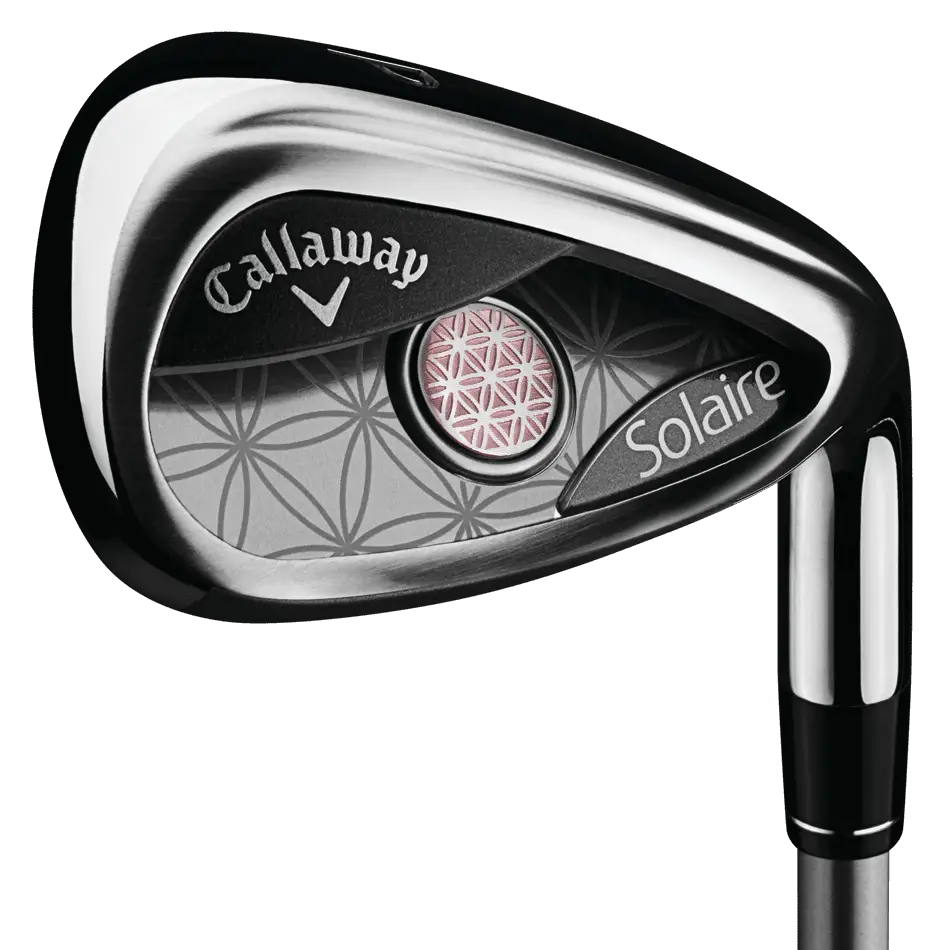 One huge difference between the 8-Piece and 11-Piece Callaway Solaire Sets that you should keep in mind are the wedges. The 11-Piece set comes with both the pitching wedge and the sand wedge, while the 8-Piece only has the sand wedge. In my opinion, it is super important to have both. Once you have both and are used to the different properties they each possess and situations that you'd use them in, you would never go back to just having one or the other!
The pitching wedge has a loft of 48 degrees and the sand wedge has a loft of 56 degrees. The difference in loft is pretty evident in my opinion – the sand wedge's loft comes in super handy when you need to guarantee that you pop up over a hazard or get out of a bunker with a high lip.
Putter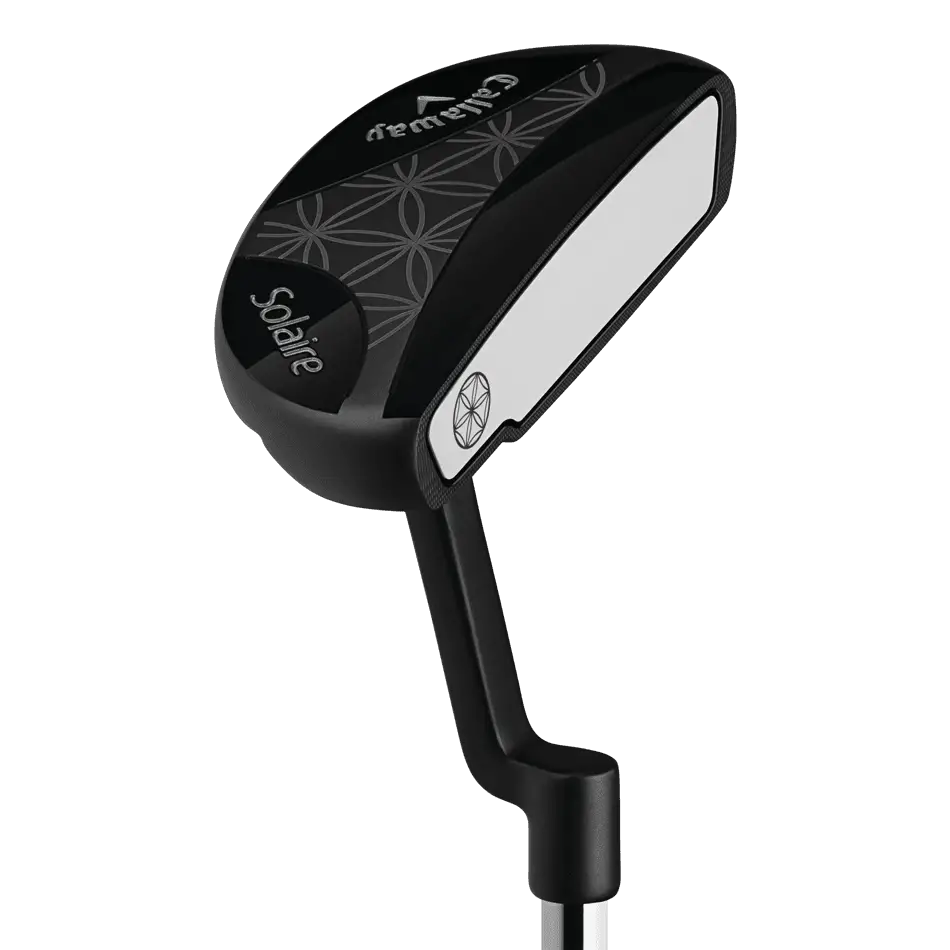 In the Callaway Solaire Set, the putter is a genuinely great putter to start off with or upgrade to. It's no Scotty Cameron, but it is a solid putter given the market it's being catered to. This is a mallet style putter and has 3 lines to really make sure your alignment is on point. I like the weight of this particular putter as well – it's heavy enough where you can better control the speed but light enough where it's not uncomfortable or awkward. It also comes with a nice leather cover with Velcro closing so it doesn't slide off on the go. 
Cart Bag
The Callaway Solaire bag is extremely spacious – it features 8 zippered pockets, and 2 open net pockets on the side for easy access. 2 of these pockets are basically full length down the side of the bag to easily store shoes, extra clothing, drinks, etc. There is plenty of room for anything you may need while you're out on the course. 
Another benefit of this bag are the 14 individual dividers for your clubs. Included in the 14 dividers is the putter well which gives your putter face plenty of room.
The only downfall to this cart bag is that it does not have legs to prop it up. If it is really windy, the bag can fall down easily. It does have a cushioned shoulder strap and handles to easily carry it around however and it fits on a push cart perfectly! If you like to walk and carry your bag, this isn't the ideal bag. With that said, it fits well on a golf push cart and of course a regular golf cart.
Club Set Options
As we mentioned before, there is an 8-Piece Set and an 11-Piece Set for the Callaway Solaire Club Sets. In addition to the 8 and 11-Piece, there are a few other variations available as well. 
Callaway also offers a Petite Callaway Solaire 11-Piece Set which is specifically designed for smaller, petite women. All of the clubs are .5 inch shorter than in the regular Solaire set. For instance in the regular set, the driver is 44.50 inches tall and in the petite set, the driver is 44 inches tall. 
In addition, there is also a Women's Callaway Solaire Sport 11-Piece Set which features a stand bag! This is actually a really nice option if you like to carry your bag to the range or need to stand it up frequently. All of the clubs are the same, the only difference is the bag with stand legs.
Color Options 
The Callaway Solaire Set is available in a few different color schemes. The original versions which are still on the market are available in black and cherry pink. The newer versions are available in black/grey and hot pink/black, blue, and champagne color. I have the black/grey and think it looks really sharp and classy. If you like a bit of color though, you may like the cherry or hot pink versions!
Pros & Cons of the Callaway Solaire Golf Set
With anything, it's always important to consider the pros and cons of something before taking the next step to purchasing. Luckily, there are not many cons we could come up with but here are our overall takeaways from the Callaway Solaire Women's Golf Club Set:
Pros: 
Complete full set of clubs 
Very forgiving 
Lightweight and comfortable to swing
Mark on grip to properly align hands
Good quality and durable
Spacious bag with lots of pockets
Cons:
More expensive than some other starter sets
Cart bag does not have legs to stand 
Alternative Options to Callaway Solaire Golf Set
If you read this review and are still interested in comparing the Callaway Solaire set to other options on the market, we'd recommend these particular sets:
Another great option for a complete set of clubs is the Women's Cobra Fly XL Complete Set. It comes with everything you need and has slightly different clubs than the Callaway Solaire. Instead of an 11-Piece Set, this is a 13-Piece Set. The set includes a driver, 5 wood, 5 hybrid, 6 – 9 irons pitching wedge, sand wedge and putter. 
These clubs are also very lightweight and forgiving and have every club you may need while playing a round. One thing to note is the loft – the loft on these clubs are slightly higher than the Callaway lofts. The driver loft is 15 degrees while the Callaway driver loft is 13 degrees. 
The Callaway Women's Strata Set is another good alternative if you are looking for a complete set of clubs. The Strata set is priced lower than the Callaway Solaires and this set is known to be more of an approachable beginner's set. It still has everything you need but not as high quality as the Solaires. 
The set comes equipped with a driver, 3 wood, 4 & 5 hybrid, 6-9 irons, pitching wedge, sand wedge, putter, and cart bag. The loft on the driver is 12 degrees which is a bit surprising as it is a beginner's set.
If you want a full set of clubs but think in a couple years you'd want to upgrade again, this may be a good option for you.
Final Thoughts
Overall, the Callaway Solaire 11-Piece Set is a really solid choice and is definitely worth the price. From the forgiving titanium driver to the dependable irons, you'll feel confident with every swing. This is a set that will last you many years if you so choose and it's a great investment if you want to take your game to the next level. With first hand personal experience using these clubs, I would truly recommend this set to anyone who is looking for an upgraded new set or for a quality beginner set of clubs!