Callaway Strata Review: 2023 notes
The Callaway Strata set is by no means new to the market. These clubs have been around for years, and they are specifically designed to be an introductory set. If you want to get into golf, but aren't convinced you want to pay 2-3k for a brand new get up, we get it. That's why these clubs are popular.
You might be asking yourself is the Strata set is worth it in 2023? From our perspective, the answer is a resounding yes. These clubs allow you to have a set, and get into the game without breaking the bank. These are excellent value for beginner players.
For the full details, check out our Callaway Strata review below.
Quick Rundown
In 2023 there are a few great options as far as starter golf club sets go, and one of the absolute best on the market is the Callaway Strata golf club set. In this piece, we're going to go deep on our Callaway Strata review. I'll tell you what I liked, what wasn't so great and highlight some features that stand out.
For starters, the Callaway Strata golf club set is available as a basic 12 piece full set, with the option of adding in other items in the 14 and 16 piece versions. As well as a bag, you will get a driver, fairway woods, mid to short irons, and a putter from this set. Essentially, this is a turnkey golf club set; all you really need otherwise are golf balls and tees and a few basic accessories.
The clubs are well made, and actually give a surprising amount of performance based on their price point. They are also forgiving, which is critical as a beginner golfer. As a starter set for someone new to golf or as an upgrade for someone who has kept old clubs a little longer than their sell-by-date, this is probably your best option on the market.
Our Beginners Pick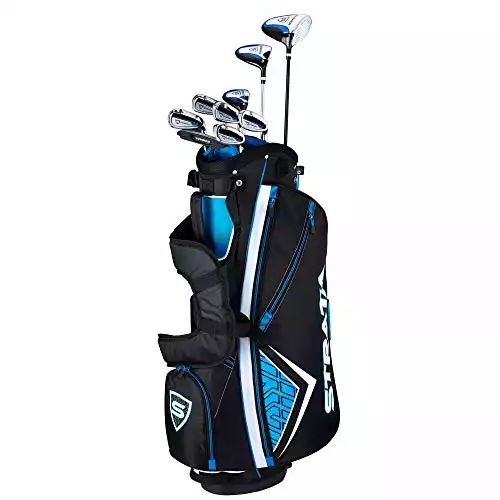 We earn a commission if you make a purchase, at no additional cost to you.
Callaway Strata Review | What's In The Bag

What you get 'out of the box' all depends on which set you go for. Callaway has three different options when it comes to the Callaway Strata set.
The basic 'barebones' 12-piece setup will give you the following:
A Driver (with included headcover)
3-wood (with included headcover)
5-Hybrid
Irons (6-9)
Pitching Wedge
If you opt for the 14 piece set, you'll also get a sand wedge and an additional headcover.
Finally, if you choose the 16 piece set you'll get a sand wedge, another 4-hybrid club, and 2 extra headcovers.
Overall, you are getting quite a bit of golf gear for the money. Aside from golf balls and tees, that's pretty much everything that you would need to play golf!
So that nothing is missed, I opted to try out the 16 piece set to see what the set is all about.
Callaway Strata Review  | What you Get
Ok, so this wouldn't be a full review without checking out all that the Callaway Strata Golf Set has to offer. Let's check out each individual piece in the set below.
Callaway Strata Driver
As drivers go and considering the price, this driver exceeded my expectations. It might not have all of the higher-end drivers' innovative technology, but if you are looking for something that will get the ball launched on a nice trajectory, it does well.
The driver, when viewed standing over the club, comes in a highly polished black finish. It looks sleek and imposing at the address.
The head is the same size as drivers in a much higher price bracket. At 460cc, it is what is commonly referred to as an 'oversize' driver head. What this means for you as a player is that you will gain greater confidence behind the ball.
As a beginner or high handicapper, a major aspect of a good driver is forgiveness. The Strata driver has a large clubface, with a generous sweet spot. With a bigger sweet spot like this, you're much more likely to hit the ball straight.
The titanium head also has a thin face. This leads to pretty fast ball speeds, which should give an increase in distance. When paired with a relatively soft graphite shaft, it's possible to get a really high swing speed with this club, perfect for beginners.
At 10.5° loft, the driver isn't as high as some other beginner models that I've seen, but this could be a good thing as it means that you won't have the expense of upgrading to something with a stronger loft as your game improves. This is an ideal loft to get started with, as it's a pretty standard option among much more advanced drivers.
When it comes to feel and sound, I really liked the driver. The metallic ping is identical to that of higher-priced models, and, after trying several shots, even those that didn't find the middle still got a really decent launch and distance.
Callaway Strata 3-Wood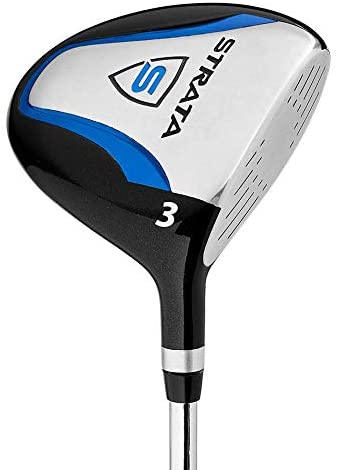 A 3 wood can be an acquired taste. Most golfers (even those with better handicaps) tend to shy away from playing one off the grass when they can avoid it. So, to be a success, it has to be really easy to hit.
This was definitely the case with the Callaway Strata 3-wood. With regards to looks, the finish and details are identical to that of the driver. The head, while 'oversize' is smaller than the driver. It's still plenty big enough to give you confidence when you've got 200 yards to go on that long par 5.
As loft goes, the 3-wood is perhaps just a little strong, based on who this set is aimed at. A reduction in the loft does equal more distance, but it can also cause side spin elements to sneak in, leading to a fade bias. This strong loft helps keep your shots a little bit straighter.
Like the driver, the 3-wood features a graphite shaft to push a few extra mph out of the clubhead.
The sound and feel aren't quite as 'hollow' as that of the driver, and the smaller head doesn't offer quite as much forgiveness. But, provided that you catch it right, you should see that it gets the ball well on the way.
Callaway Strata 4-Hybrid
Now, it is worth bearing in mind that the 4-hybrid only comes with the 16-piece set. Otherwise, you are going to be limited to the 5-hybrid only.
The 4-hybrid shares its finish with the 3-wood and the driver. It has a 22-degree loft which is about the strength you'd expect on a 4-iron. There is a difference though. It is much easier to hit than a standard long iron.
Hybrids are always a great addition to any set. Beginners and high handicappers can often find themselves in the rough as often as the fairway. By utilizing a hybrid, particularly well suited for poor lies, you should still be able to make your way around the course easily.
Callaway Strata 5-Hybrid
There are only two main differences between the 5-hybrid and the 4… Namely, the loft is a little greater on the 5- hybrid. Sitting at around 25 degrees, it occupies the space you would normally see occupied by a 5-iron.
This increase in the loft will add a little more spin to your shots, which should go some way to making the ball fly straighter.
The other difference is the length. The 5-hybrid is fractionally shorter than the 4-hybrid.
Callaway Strata Irons
The irons, along with the driver, are one of the highlights of the set.
The entire set is a full cavity back, which helps add forgiveness to these irons. (Cavity back irons are critical for beginner golfers). As irons go, they may be just a little 'basic', but you're getting them at an amazing price point. You won't find all of the technological advancements in Callaway's more premium irons. But that said, they do a great job for the beginner player.
The cavity allows golf club manufacturers to thin the face of the iron. This promotes faster ball speed and flight, not to mention forgiveness, with these irons. As the weight is spread around the club's perimeter, it is less prone to twisting with off-center hits, giving you straighter ball flight.
When viewed from the rear, you can see that the clubhead's weight is focused toward the sole. This low center of gravity will aid in getting a higher flight, which is an area that beginners typically struggle with. This is further aided by the wide sole, something that is always nice to see on clubs that offer forgiveness.
Wedges
The wedges are very similar to the irons and are both cavity-backed. The loft of the sand wedge is 60 degrees, and in this case should help get your chips and pitches off the ground.
Putter
The putter included in the Callaway Strata set is a blade-style putter. Generally speaking, a blade putter is good for beginners who tend to naturally have a slightly curved swing path when putting.
When it comes to performance, it will work. When you're just starting out, you really don't need anything fancy. As you play more and try different putters, you may find it a little basic. There are no face inserts or additional features to augment the feel.
On the plus side, the blade is substantial in length and does provide a degree of forgiveness. While there are more forgiving putters out there, this one will help a beginner get the basics and refine their technique.
Bag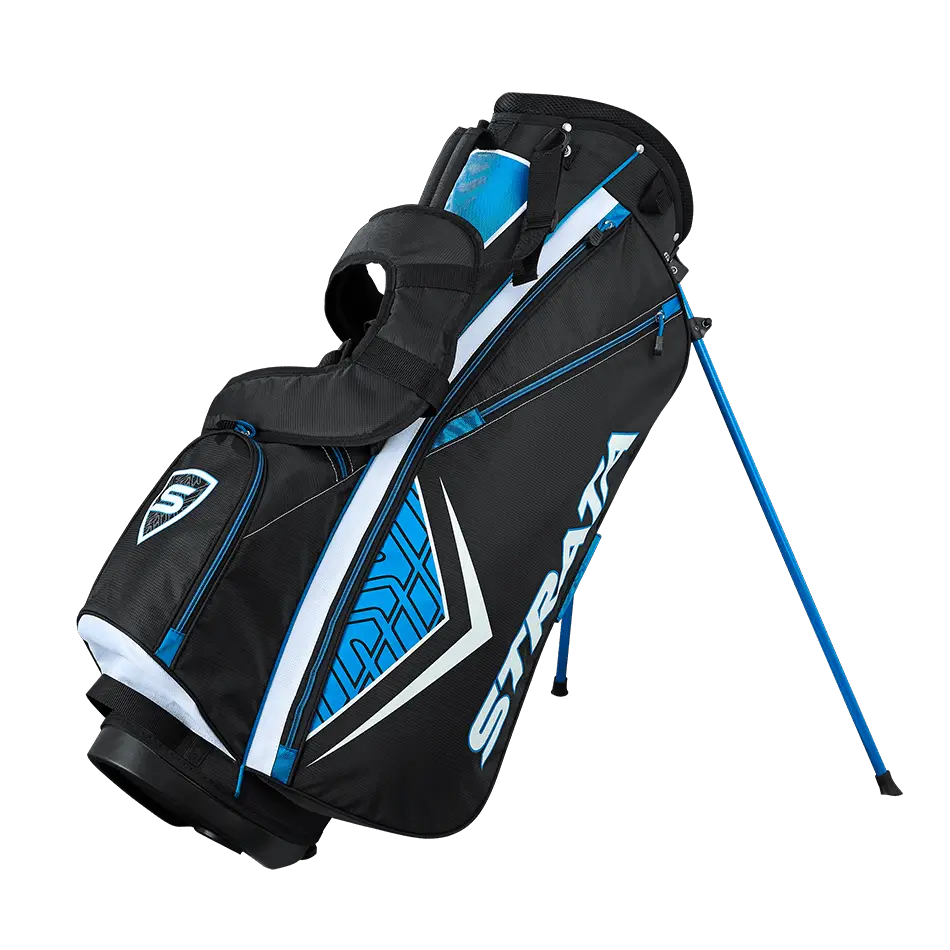 Bearing in mind the price, the bag works well. The side compartment is sizeable and big enough to store larger items like your waterproofs or a golf towel. The bag's center has a good-sized ball pocket with a smaller pocket for tees and other golf accessories.
The strap is two shoulder, and the bag also comes with a stand. While it isn't the best golf bag on the market, considering it comes in addition to the clubs, it should serve until you are ready for a complete golf equipment upgrade.
Potential Drawbacks?
Now, I'm very much a believer in getting what you pay for. And I am a graduate of the school "buy cheap, buy twice". All that said, I was pleasantly surprised with the Callaway Strata set. As a beginner's option, it could be ideal. However, here is what I didn't like during my Callaway Strata review:
How Callaway defines 'pieces.'
I do think it is slightly amiss to charge extra for 'pieces' that don't all go into improving your game…
What do I mean?
The 14 'piece' set only actually contains one extra club (the sand wedge). The other piece is a headcover for your 5-hybrid.
 In my opinion, you shouldn't have to pay extra for a club cover when that club is already included in the cheaper set. I can't quite understand why Callaway thought adding a club cover makes a set 'better'?
Likewise, for the 16 piece set. Callaway includes a cover with the included 4-hybrid when you upgrade, and this forms one part of your 16 'pieces', yet they don't include it for the 5-hybrid with the 12 piece set… It's all rather strange.
Speaking of Hybrids…
Callaways' choice of clubs in the upgraded versions of this set is also a little 'different'. The loft gap between the hybrids is minimal. They both perform the same role and are used for similar shots, yet you aren't going to see a massive change in distance and performance between the two hybrids. Remembering that you will have paid for a different club, this seems to make little sense.
Callaway may have been better giving you a hybrid between the two and using the saving to make something else better (like a really great putter).
The Wedges
Again Callaway has made an odd choice with the lofts when it comes to the wedges. Provided you go for the 16 piece set, you'll find the pitching wedge is set at 44°. You'll find that the sand wedge is 60°. That's a jump of 16° between two clubs!
If your next shot challenges your sand wedge's max range, you may find that you really have to throttle back on your swing with the pitching wedge. This isn't great for a beginner who doesn't have a ton of finesse or touch around the greens.
This also means that if you want to 'plug the gap', you will end up having to buy an extra wedge that won't match with the rest of the clubs in either look or feel. Not to mention, this will be an additional expense. 
The Putter
As the full set goes, this is the main area where I feel it was let down.
Ok, so you do get an included 'flat stick'. But it is bare-bones and basic. There is a high probability that as soon as you find your feet in the game, you will want to upgrade to something at least slightly more advanced. This makes that 'cheap deal' not so cheap after all.
FAQ
If you are looking at the Callaway Strata set, you're probably brand new to the game. Here are some common questions that I am asked regularly.
Are Callaway Strata Clubs Good?
In short, yes. The clubs are actually really good. On an individual level (and maybe putting the putter aside), they actually all perform well. The driver clubhead is just as large as some more premium offerings. The fairway woods and hybrids offer great distance and forgiveness, and the irons perform solidly. My criticisms above are more in the way the set is organized. When it comes to individual club performance, they are really great.
Is Strata Really Callaway?
There has been some debate over whether these are authentic Callaway clubs. The short answer is yes, these are Callaway Clubs, and you can buy them on the Callaway website.
Callaway is one of the best golf brands on the market, used by tour pros worldwide. They wouldn't risk their own reputation by giving their name to anything that didn't meet their standards. Sure, these clubs are the cheapest that Callaway produces, but they still meet a minimum standard. The proof is in the playing, and they perform well, regardless of price.
What are the Best Golf Clubs for the Average Player?
This all depends on what you count as 'average'. For a mid handicapper, the Callaway Strata might be a little too basic. But that said, if you are an average player who is looking to upgrade your set from something really old, you'll find these are far more advanced than what you are used to.
The best golf clubs for an average player offer decent forgiveness and the ability to get around the course without too much difficulty. By this metric, the Callaway Strata could easily fit the bill.
Is a 3-Iron Hard to Hit?
If you have been browsing full golf sets, you may have noticed that most no longer include long irons… This is for a reason.
Long Irons are notoriously difficult to hit. Even most pros shy away from a long iron unless they have to. The solution is hybrid clubs. They still give distance, and the best thing is that they can be played from unfavorable lies without too many adverse effects. If you were hitting out of the rough with a 3 iron, you'd be lucky to have a 50/50 chance of making a successful shot.
What is the Most Forgiving Iron Set?
If you are here because you are looking for forgiveness in a club set, I've got plenty of suggestions. My favorites include the Ping G710's and other alternatives by great brands such as TaylorMade. The Callaway Strata irons are forgiving, and they are also brilliant value too!
Alternatives
Do you like some features but not others with the Callaway Strata, or are you looking for something slightly more advanced? Here are some great suggestions for alternatives to the Callaway Strata set.
Ok, so it is slightly more expensive. You will still need to invest in a bag, driver, and putter, but if you want a set of irons along with easy-to-hit hybrids thrown in, then this is a great choice. The TaylorMade Sim Max clubs offer both distance and forgiveness from one of the best-known names in golf!
Great distance and forgiveness
Speed bridge technology
Excellent feel
Remember how I was complaining about the putter? Well, here is the answer. As with the Callaway Strata Set, these offer excellent value, with great performance… And the best bit? The included putter is phenomenal! The only downside is that you don't get a bag, but with clubs as good as this, they are worth every penny. You can see my detailed review here [link]
Final Thoughts
It's not often we get a chance to see a full set in its entirety. Our Callaway Strata golf clubs review shows that a good full set doesn't need to cost the earth. Ok, so they probably won't be your 'forever' clubs, but for the money, they can act as a great starter package while you figure out your game and where it is leading. As an all-in-one solution, the Callaway Strata set will allow you to hit the ground running and get out playing, which is what it is all about.