For those of us young enough to remember, Callaway only started producing golf balls in the late 90s. Their first ball, Rule 35, went on sale in 2001. Since then, the company has continued to innovate and stamp its mark on the golf ball industry.
The Callaway SuperSoft is an immensely popular golf ball among amateur golfers, and has been for quite some time. We've done a complete Callaway SuperSoft golf ball review to see how this ball performs on the course, and who should play it. Check out our full review below!
Callaway SuperSoft Review: At A Glance
MSRP: $22.99
Construction: 2 Piece
Compression: 38
Key Performance Traits: Soft Feel, Long, Straight
Check Price:  Global Golf or Amazon
The SuperSoft is the softest ball that Callaway has ever designed, with a compression of 38. Despite its basic 2-piece construction, this ball is known for its impressive distance, yet it spins well on shots around the green. The ball is made with an ultra-low compression core and a soft ionomer cover.
2014 was the first time that we laid eyes on a SuperSoft. Its ability to go long off the tee and land soft on the greens quickly made it Callaway's number one selling golf ball.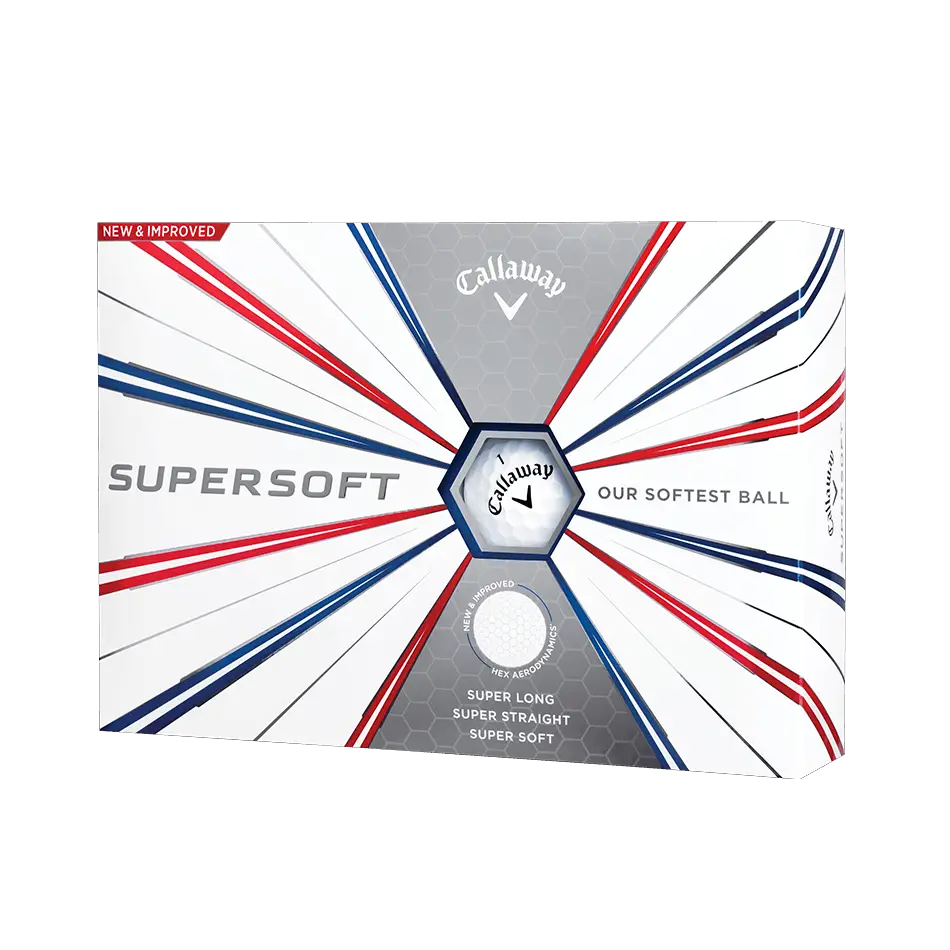 Performance
SuperSoft's are by far the softest ball that I have ever played. I did not have high expectations for it off the tee but was suitably impressed.
Before I played a round, I decided to compare the Callaway SuperSoft vs Chrome Soft balls. All I needed was my launch monitor, driver, 7-iron, and sand wedge.
Here are a few areas we looked at:
Long Game Performance
When it came to the driver, I generated 1500 rpm of backspin compared to the Chrome Soft's 2100 rpm. The side angle on my drives averaged 1.7 degrees, meaning the ball flew relatively straight. That reduction in spin on longer clubs is a huge benefit for anyone who struggles to keep the ball in play.
The ball speed on my tee shots reached an average of 154.5 mph compared to the 152.4 mph with Chrome Softs. These speeds are below the 159 mph ball speeds I got when testing out the Pro V1x.
My average drive carried 272 yards, while my total distance reached 300 yards exactly. While the Chrome Soft's average carry was 271 yards, it did not run as far, averaging 291 yards. Neither of these come close to the length I average with the Pro V1x.
Callaway designed the SuperSofts using a low drag hex aerodynamic technology. The dimples on the ball set in a hexagonal shape, covering the entire surface of the ball. The 332 hexagonal dimples help to lower the spin rate and reduce drag on longer shots. This design gives you more loft for a consistent flight and longer carry.
Spin
SuperSoft's have a low long game spin to give you increased distance off the tee. However, the soft ionomer cover combined with the ultra-low compression core, provides you with a shot-stopping spin around the greens.
I have already touched on the backspin performance of the ball with a driver. Now, let's look at how the SuperSoft's faired with a mid-iron and wedge.
With a 7-iron in hand, my average backspin rpm was just under 5000. That was in contrast to the Chrome Soft that averaged 6200 rpm. The lower backspin rpm resulted in the SuperSoft balls ending 3 yards further than the Chrome Soft's.
On sand wedge shots, my average backspin rpm with the SuperSoft's reached 10900 rpm. The ball bit the green and stopped instantly on landing. The Chrome Softs backspin 900 rpm more than the SuperSofts, but landed only 1 yard further and stopped dead as well.
Short Game
After enjoying a few yards extra run with my drives and 7-iron shots, I was interested to see what the SuperSoft would do around the greens. On average, a full sand wedge shot was carrying 96 yards and stopping 96 yards.
These results gave me the confidence to stick the ball close, and know I could trust the spin to leave me with a makeable one putt. My average sand wedge shot launched at 32.8 degrees, almost two degrees more than I managed with the Chrome Soft's, which explains the shot-stopping spin enjoyed.
Ultra-Low Compression Core
The ultra-low compression core gives the SuperSoft a compression of 38. That is well below the average of two-piece balls on the market. The only ball I am aware of that has a lower compression, is the Wilson Staff Duo. It clocks in at 29.
The purpose of the low compression core is to enhance your ball's speed. Thus, promoting a further, straighter carry.
If timing is an issue for you, and you need a boost with ball speed, an ultra-low compression core may be the way to go.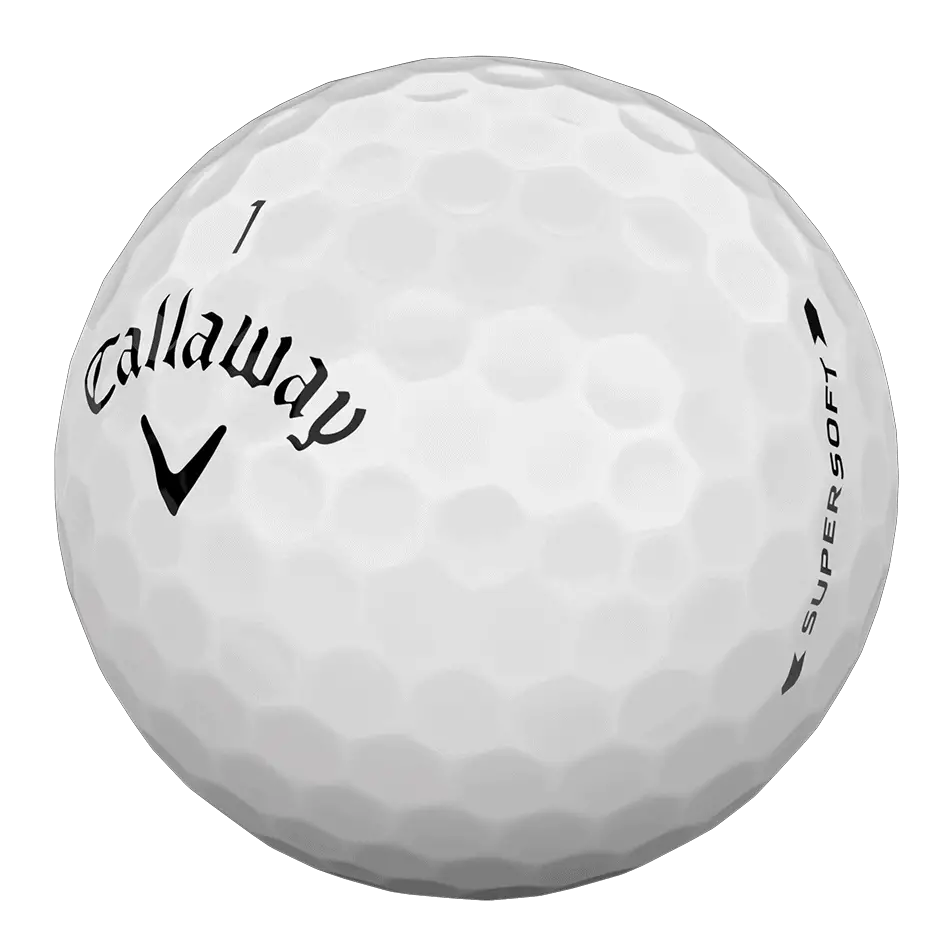 Feel
If you have ever walked barefoot on a fluffy carpet, you will know that it is one of the smoothest feelings one can experience. The same can be said about the SuperSoft when the ball hits your clubface. No matter if you are smashing a driver or stroking a 10-foot putt, you will hardly feel the impact. These golf balls have an exceptionally soft feel around the greens, which I love.
If you are like me and don't enjoy the clickety sound of a harder cover ball, it is worth testing out the SuperSoft.
Durability
I am always wary of balls with ionomer covers. I find they are not as sturdy as their urethane counterparts. That concern came to light while testing the SuperSoft's. As mentioned, they have soft trionomer polymer covers. It only took 30 or 40 shots before I began to notice scuffs on the ball, which makes sense given the price point.
However, based on the way this ball performs from tee to green at an average cost of $1,91 a unit, we can't be too upset with Callaway for this.
Who Should Play The Callaway SuperSoft?
The SuperSoft is a complete golf ball that offers you a rounded performance from tee to green. This ball is suited to players looking for distance off the tee, while not sacrificing spin around the greens. This ball will be most useful to the high handicap crowd, but there are certainly mid handicappers who can benefit from the SuperSoft.
I recommend you test this ball out if more than one of the below statements applies to your situation:
Struggle to generate sufficient ball speed on longer shots.
The degree of launch on longer shots is not high enough for optimal distance.
Struggle to keep your ball on a straight flight path.
You prefer a soft feel ball over a hard option.
Your home course plays long.
The greens at your home course are tight and require soft landings into the target.
If you want the features of a premium ball at a mid-range price.
Alternatives
There are several premium quality golf balls that I would recommend if you want a low spin on long shots an enhanced spin around the greens.
Without a doubt, I would recommend Pro V1x's, Callaway Chrome Soft's, and the Srixon Z Star XV.
However, for this Callaway SuperSoft golf ball review, let us stick with 2-piece balls within the same price bracket.
These are a brand of 2-piece balls fitted with a custom-made Pinnacle ionomer cover. The second part of the ball is a high energy soft, low compression core. The combination lowers spin on tee shots. However, I do not find that it bites into the green in the manner I need.
Here is a brief comparison of the two balls:
Both the Callaway SuperSoft and Pinnacle Soft have 332 dimples.
The SuperSoft's have a hexagonal dimple design. The Pinnacle soft's have an icosahedral shape.
Both balls amplify your distance.
The SuperSoft and Pinnacle Soft both offer a straighter, more consistent ball flight.
SuperSoft's feel better on the green.
Pinnacle soft's do not spin up to the level of the Callaway.
Pinnacle soft's come in boxes of 15 balls instead of the traditional dozen.
If your objective is to get distance, and you are not after high spin around the greens, the Pinnacle Soft may work for you.
The Titleist Velocity is another 2-piece ball with an ionomer cover, designed to maximize your distance on every shot. When I tested the Velocity, I found that I barely got any run on my drives.
On average, the ball carried 268 yards, and I was lucky if it ran more than 2 yards after landing. I seem to experience very similar fortunes when I play with a Pro V1.
I was surprised that my ball did not run much on the greens, considering that the Velocity only generated 6500 rpm with a sand wedge. That is nearly 4000 rpm less of backspin than I averaged with the SuperSoft.
Here are the key features of the Titleist Velocity balls:
The Velocity generates low spin throughout the bag.
The design of the Velocity comes with 328 tetrahedral dimples.
Despite the reduced spin levels, the Velocity does not offer much run on long shots.
The Titleist ball provides higher flight on short and mid-iron shots to promote soft landings.
Like the SuperSoft's, Titleist Velocity balls offer you an all-round performance from tee to green. Length of the tee and soft landings on the green.
The Q-star is another 2-piece ball with an ionomer cover. For me, this ball performs similarly to the Callaway SuperSoft. The Q star is an exceptionally soft ball that minimizes spin on long shots, and enhances it around the green.
The fast layer core on the inside of the ball is responsible for delivering increased ball speed and distance. Srixon covered the ball's ionomer cover with Spin skin called SERM. It softens the exterior of the ball, allowing it to drive into the grooves of your clubs. That creates more friction at impact and increases your spin on short game and approach shots.
Here are some key features of the Srixon Q-Star when compared to the SuperSoft.
The Q-Star has a pattern of 338-speed dimples to reduce the drag and increase the launch angle.
Both the Q-Star and SuperSoft offer distance on long shots and control around the greens.
The Q-Stars fast layer core delivers increase ball speed, soft feel, and maximum length. Similar to the features of SuperSoft's.
Both of these balls are similar in design and perform well on long and short game shots. If you are looking for a soft ball that performs consistently from tee to green, these may be a good option for you.
What To Look For In A Golf Ball
Based on the variety of golf balls on the market, it can be an overwhelming endeavor to seek out the perfect golf ball for you. Here are a few tips to consider when shopping for your next box of balls.
Distance
If the number one factor on your mind is distance, I recommend hunting for a ball covered with ionomer polymers. These are typically a harder feeling ball, designed to lower spin on longer shots.
On the whole, ionomer covered balls are more affordable than the urethane polymer used on most premium golf balls. Balls with three or more layers may have a urethane cover and an ionomer outer casing, designed to go long off the tee and spin more around the green.
Spin
It makes more sense to look for a golf ball with a urethane cover if you are all about the spin. The softer urethane material enables the ball to wedge itself into the grooves of your club. That increases the friction at impact between clubface and ball, enhancing your spin rpm.
Durability
If you lose balls faster than I type, then you needn't worry about durability. You likely won't have a ball long enough to see it become scuffed.
If you are a better golfer who doesn't lose balls often, you want to ensure it stays in prime condition for as long as possible. Try out a couple of balls, works out how long it takes for them to scuff, and then calculate the cost and how often you will need to buy a box.
Final Thoughts
After our Callaway SuperSoft golf ball review, it is clear that this ball is an excellent choice if you need both longer distance and decent spin. I was consistently driving over 300 yards and stopping it dead on the green with a sand wedge.
The only area that let the SuperSoft down was its durability. However, at $22.99 a dozen, you cannot complain about it much. It is an affordable product that performs up there with premium quality balls.
If you're a mid or high handicapper who wants a soft golf ball, these are a great bet.