There are several things that make Cobra stand out from other brands, but the one I think is the biggest is the adjustability of the drivers they produce. Of course, most top golf drivers have some adjustability, but Cobra has been doing this for a long time, and they make clubs that appeal to a wide range of players right out of the factory. 
The Cobra Radspeed driver is a club I recently tested to see if the performance is as good as I have heard. In addition, the pricing recently dropped on the Radspeed, so I wanted to check out the value.
Check out our full Cobra Radspeed driver review below to see if this might be a good driver for you. Let's get into it!
Cobra Radspeed Driver Overview
Cobra Radspeed Driver
CNC Milled Driver Face creates bigger sweet spot for faster ball speeds
Forward Center of Gravity for excellent forgiveness on mishits
Built to be lightweight while still producing low spin rates
Adjustable loft sleeve allows for up to 1.5 degrees of loft change in either direction
Great option for mid and high handicap golfers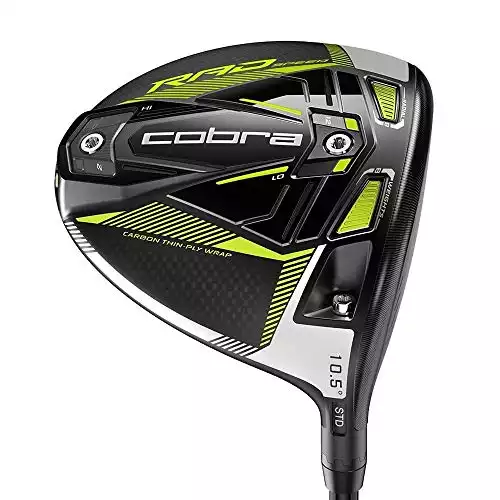 We earn a commission if you make a purchase, at no additional cost to you.
The Cobra Radspeed driver is a highly adjustable driver with a CNC milled Infinity Face and 28 grams of weight placed as far forward in the club head as possible. This driver is built for low spin and higher ball speed. 
One of the things that Cobra has been battling for over the last few years is more distance. Many golf manufacturers can create forgiveness now, especially with AI technology. Cobra has always been great at offering forgiveness but grabbing those few extra yards is what is most important to players. 
I liked that Cobra modernized the look of this clubhead and moved some of the weighting to appeal more to the golfers looking for consistency. 
The Cobra Radspeed is a great driver for players in the mid-handicap range. With the ability to change the loft by 1.5 degrees, either up or down, the club has plenty of adjustability for the tinkerer.
The Radspeed Driver also features the Cobra Connect technology, which is powered by Arccos for additional insights into your driver game. If you want some great technology packed into a lightweight and low spin driver, the Radspeed driver could be a great pick for you.
Cobra Radspeed Key Features and Technology
The Cobra Radspeed combines both distance and forgiveness technology into this driver. Let's take a look at what's put into this driver to make it perform.
Carbon Wrap Crown 
The Cobra Radspeed Driver features a carbon wrap crown. Unlike the carbon face on the new TaylorMade Stealth, you won't be hitting the ball with the carbon technology. Instead, carbon was used on the club head to improve overall weighting and make it easier to optimize the center of gravity. 
CNC Milled Infinity Face
The CNC Milled Infinity Face has a new infinity edge face design. The result is an increase in the area of the club head with maximum speed. For the Radspeed driver, Cobra optimized the sweet spot to increase total speed across a larger area. As a result, players see more roll and distance from their drives.
The Milled Face by Cobra is iconic, and praised by many- including players like Rickie Fowler and Bryson Dechambeau.
Cobra Connect Technology 
I love the addition of Cobra Connect technology powered by Arccos. There are more than 40,000 golf courses already loaded up and ready to access.
The Cobra Connect technology gives you access to granular details like swing speed and total drive distance to feel confident in your numbers. You can get real information about how you are hitting the golf ball and what loft setting on the club is optimized for your golf game.
If you love data, the Cobra connect will be a huge feature for you.
Stock Shaft Offering 
I always like to take a look at the stock shaft that a company is using in their driver. A good portion of what you are paying for when you purchase a club is the shaft. The Cobra comes with the Fujikura MotoreX shaft. 
Depending on the flex and weight you go with, there are some changes in spin and launch. However, for the most part, this is a mid spin, mid launch golf shaft. 
Combining that with the low spin head gives a great combination of long distance with enough ball flight to encourage more forgiveness. 
Looks
If you remember the Cobra Speedback driver then you can look at the Radspeed and say it is good looking. The F9 and then the F9 Speedback were funky shaped, and overall they didn't look great. 
With the Radspeed and now the new Cobra LTDx, the shaping has gone back to a bit more traditional or standard look. Frankly, we're happy to see this!
Cobra tends to go with a more trendy and fun look to their clubs than something sleek and classic. However, when I played with the Radspeed, I was pleased with how the club looked. 
Performance
The overall performance of the Cobra Radspeed is impressive. It is a consistent golf club. I won't tell you it's the longest driver I've ever hit, but it certainly can compete from a distance perspective. 
Mostly I noticed that with the Radspeed I didn't hit as many drives with severe side spin. The Radspeed ended up in the fairway more times than not. In addition, the ability to fine-tune the weighting helped this feel like a more customized golf driver for my game. 
Forgiveness
There are a few things that Cobra did to the Radspeed head to help increase forgiveness. The first is the addition of 10 grams of weight in the back of the head. There are 8 grams of this weight that are fixed in place and then 2 grams that are adjustable. 
With adjustable weighting, you can fine-tune the ball flight a little more and even compensate for a slice or hook if needed. There is also a draw version of the Radspeed, but I would recommend sticking with something neutral.
In addition to this extra weight, the T Bar Chasis and Carbon Wrap crown help the club with a better feel and higher speed. I noticed that when I did miss the center of the clubface, my misses still went a long way. 
In other words, the mishits with the Radspeed are negligible. I never really felt like I was punished on distance from a slightly off-center strike.
Sound and Feel
I think Cobra is one of the most underrated companies when it comes to feel in golf clubs. They have had a great feel in the clubs ever since they were part of Titleist more than 10 years ago. Even the very forgiving beginners' clubs have great sound and feel, something you wouldn't expect for an entry level club.
This clubhead feels fast, and of course, it's a bit loud with a solid and crisp sound at contact. I felt like the club head was quite solid and stable when I took a swing. In addition, the top down look is not overly offset, and with this being the neutral clubhead, it was not closed at impact either. 
Final Thoughts
I hope you feel a bit more confident about the Cobra Radspeed Driver and who it is for. I like this club for the mid-handicapper that is working on their game. As you make changes in your swing, you can adjust the clubhead to work for you. 
I also think high handicappers will do well with the Cobra Radspeed, as it has plenty of forgiveness. The only player I think should avoid this driver is the lowest handicapper. There is just not enough workability in the club head to satisfy the lowest handicap players. 
Check the price for the Cobra Radspeed Driver on Amazon here.
Thanks for checking out our Cobra Radspeed driver review!