Training aids that are well-built can be really effective when trying to make changes to your golf game. I recently gave the Lag Shot a try to see if I could get improved lag, tempo, and positioning in my swing. This is one of the most widely sold golf swing trainers on the market, and is the one training aid I see on social media constantly. 
One of the things that attracted me to the Lag Shot was the ease of use, and the minimal time commitment to see a difference in the golf game. So what is it meant to do, and does it really help improve your swing? Let's dive into my full lag shot review below.
What is The Lag Shot?
Lag Shot Golf 7 Iron Swing Trainer Aid
Routinely named one of the best swing trainers on the market
Helps train both lag and tempo for players of any skill level
Helps golfers produce natural and effortless clubhead speed
Great value for the quality of training the Lag Shot provides
We earn a commission if you make a purchase, at no additional cost to you.
The Lag Shot is a golf swing training device engineered to help golfers build a natural lag in their swing. With natural lag, you'll naturally move toward effortless ballstriking and consistently. The swing becomes a bit more feel and a bit less technical. 
With the Lag Shot, you will choose between a driver or iron style, and there are different lengths available depending on your height as well, which is a nice feature for this training aid. When using the Lag Shot to work on your golf game, you can hit golf balls or just swing it to get the correct feel. 
The Lag Shot has a very flexible graphite shaft that will feel entirely different than other golf tools and training devices that you have worked with. The loft of your Lag Shot is a 7-iron loft. Therefore it is relatively forgiving to hit as well. 
In addition to getting the actual Lag Shot training device, it also comes with video instructions on how to use it and some best practices for becoming a better golf by using the Lag Shot to train. 
How Do you Use the Lag Shot?
When I got my Lag Shot, I took it to the range to see what it could do. I will tell you that, at first, it feels very strange, and you have to be conscious about how you are swinging and positioned. If you don't, the results can get very ugly very quickly. 
I recommend using the Lag Shot on the driving range, although you may want to bring it to the course for a practice round at some point, it's more of a tool for the range. 
The shaft is incredibly flexible (which is the point of this training aid). With a flexible shaft, you can eliminate some of the jerky or rigid movements in your swing and take advantage of this whippy and fluid feel. The great thing about that whippy feel is that it creates quite a bit of power and speed. 
Does the Lag Shot work?
The Lag Shot is designed to help golfers load the club easily, improve overall tempo and increase the speed of the downswing. I think it's worth breaking down each of these individually so you can see how the Lag Shot works. 
Improving Overall Tempo 
When it comes to the tempo, I felt the Lag Shot did a great job of helping me adapt and improve. If you start your swing fast and try to recover, the Lag Shot won't even let you. To hit any sort of solid shot with the Lag Shot you need an even tempo.
Each swing has to be more intentional with this swing aid. However, because of proper body positioning and movement in the swing, this more deliberate tempo helps you get more speed. It seems counterintuitive at first, but it's the secret sauce behind tour caliber ball striking. 
Loading The Club 
Lag is a great feeling in the golf swing, but it's one that is hard to teach and hard to explain. Unless you have been around the game a long time and have good body awareness, chances are you won't feel confident loading the club until you do it a few times. 
I know what lag feels like but would have a hard time explaining it or teaching it to other golfers without the use of a Lag Shot. When you put this club in your hands, it truly does teach you what it takes to load up and create that extra power. 
Increase Downswing Speed 
When I took the Lag Shot out to the range, I worked with it for about 15 minutes. It truly took the first five to seven minutes to start hitting good shots. Then I practiced with the feel and switched it out for my regular 7-iron. 
At this point, I learned what the Lag Shot is all about. 
When you transition from the backswing to the downswing, the club feels as though it stays behind you. However, it was there at impact, and I was getting higher ball flight and a few more yards. 
Of course, it takes a few swings to transition, but I can see that golfers who work with this club consistently can create quite a bit more speed in their swing.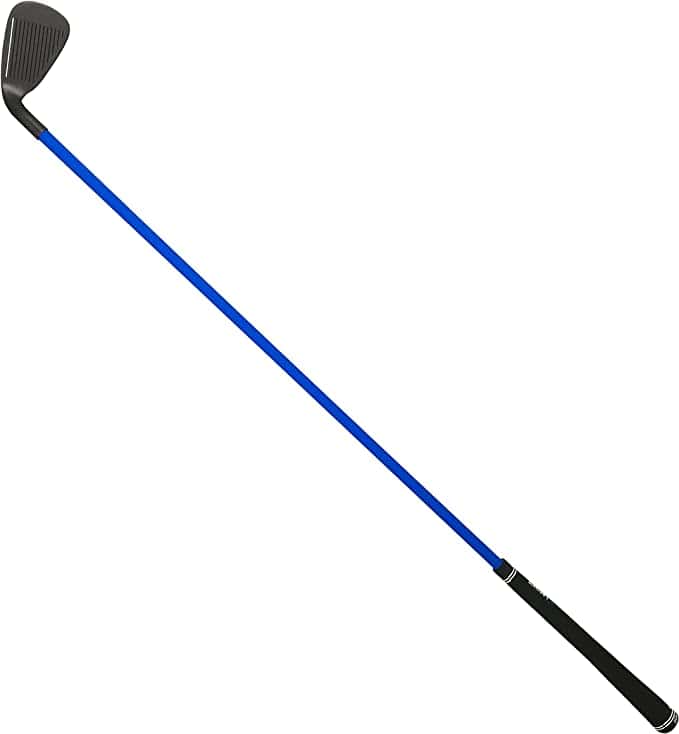 What We Loved About the Lag Shot
The Lag Shot makes golf swings more efficient. It's a frustrating tool to practice with at first because you have to slow things down and make it more about feel than position. For most golfers, this is a real positive and allows for natural movement. 
I noticed an increase in swing speed from using the Lag Shot for just a few short sessions on the range. In addition, the extra ball speed also improved some consistency in the shots that I was hitting. 
For the most part, this is an excellent tool for golfers needing help with their consistency and distance. Lag is something that every golf swing can benefit from, but it's a hard concept to pick up on initially. 
When I tested the Lag Shot, I used the Lag Shot iron, but the driver has the same general features and will lead to impressive distance as well. 
The Lag Shot is a tool you can use for quite some time for the price you pay. It easily fits in the bag, it looks just like another club and you can swing it with or without hitting a golf ball. 
Where the Lag Should Could Improve
I was happy to see that the Lag Shot had versions for seniors, taller golfers, juniors, and ladies. I can say that it's essential to choose a Lag Shot club that is most similar to the actual clubs you play golf with. 
Transitioning back and forth between the Lag Shot and your regular irons is a bit difficult. Expect a few bad swings in the transition. 
In addition, the feel and the look of the actual Lag Shot clubhead are not the best. It would be great for them to come out with a thinner topline version at some point. More of a blade-style Lag Shot. The shaft technology can be the same but it would be an easier transition from training to the course for some golfers. 
Final Thoughts
The best training aids in golf are highly marketed toward average golfers. Sometimes it can be confusing as to which ones are going to help your game. The Lag Shot, however, is a good one for nearly any player out there. It has impressive results, and it doesn't take weeks or months to see the way this could help your swing. 
Be prepared for a few bad shots the first time you use the Lag Shot, but once you have the concept down you should start seeing immediate improvements in tempo and swing speed. I would highly recommend setting up a practice routine that has you swinging the Lag Shot for ten minutes or so each day; this would likely be the way to see the best results.