At a certain point in your golf game, you start looking for an iron set that can take you to the next level. Game improvement irons are great, but maybe you have outgrown them or want to find something a little more advanced? Enter Mizuno, who are notorious for producing irons that have feel, forgiveness, and form all in one great package. The Mizuno JPX 921 Forged irons are in a very short list of the absolute best irons for single digit handicappers; check out our full Mizuno JPX 921 forged review below as we discuss the technology and performance that makes these irons stand out.
Short Version
Mizuno specializes in feel, and this is all the more apparent in their latest set of forged irons. The Mizuno JPX 921 forged are one of four Mizuno 921 sets. You will find them sandwiched between the JPX 921 'Hot metal' and the JPX 921 'Tour' in order in the range. They perfectly fill the gap between game improvement irons and a more advanced 'tour' set.
The Mizuno mantra is 'nothing feels like Mizuno,' which we can assert is true. A lot of smart technology has gone into these irons, making them really playable while also affording the user a certain degree of forgiveness.
In short, here are a few things we liked, and a couple drawbacks to these irons:
The Pros
Great control
Beautifully good looking
Exemplary responsiveness and feel
The Cons
Not as forgiving as some other irons
Long irons may be harder to hit
We didn't like the visible club back at address with the 4-iron.
These are a true players distance iron set that produce excellent shot dispersion, feel, and distance. These are best for the low to mid handicap crowd.
Mizuno JPX 921 Forged Irons Overview
Mizuno makes 'feel' a huge deal, and frankly it is a huge deal when you get to the low and mid handicap skill level. The idea of feel is only amplified by a forged iron, giving you excellent feedback on your strike. With this level of feedback, the sound and actual feeling at contact tells you whether you've hit your shot pure, or a bit off the mark.
Let's dive into some of the technical and vanity features of these irons.
Looks
As a standout feature, we thought we had better mention the looks first. These irons are to golf what Candice Swanepoel is to modeling; they are seriously good looking. They offer a relatively minimalist shape within a mid-sized forged head. The blade length is slightly shorter than other mid-sized iron heads, and ultimately the effect is that the ball looks bigger and ultimately fills you with confidence.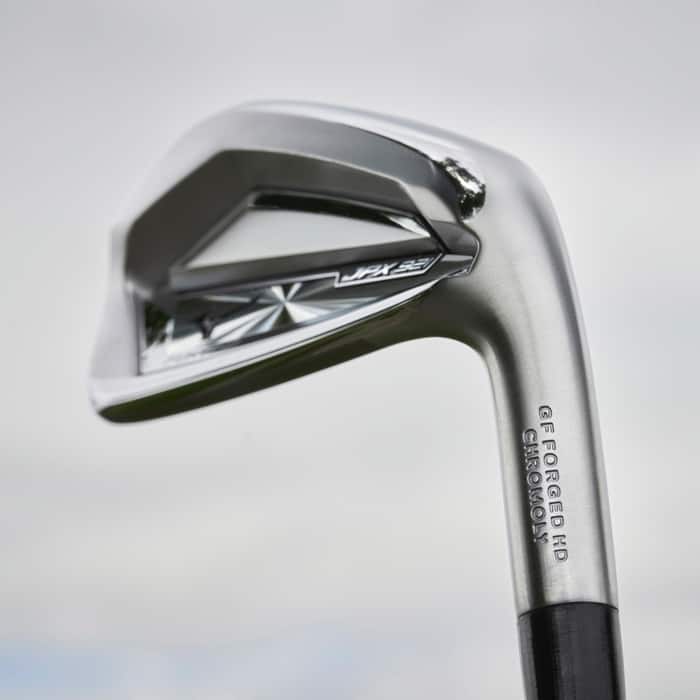 The clubhead has the same 'pearl brush finish', that was used in the JPX 919 series. This finish is a kind of metallic matte look, which aims to reduce glare from the clubhead on a sunny day, which is important for confidence over your shot. Compared to the JPX 919s, the JPX 921 Forged Irons are a little tighter and more compact.
Most of the irons actually look like blades from the topline. One minor gripe we had was that with the long irons (namely the 4-iron), the rear portion of the stability frame was visible at the address. But that said, it was only just visible. For most golfers this shouldn't be a huge deal, but we thought it worth mention.
Feel
There are a few features in these forged Mizuno irons to back up their boasts about how great they feel. Mizuno utilizes Grain Flow Forged technology. So what does that actually mean? Grain Flow Forged HD means that the alloy used to create the clubs is more concentrated. 'Tighter' steel means that more is feedback to your hands. Or as we like to call it, 'great feel'.
The clubs do feel really great. There isn't the 'deadness' that you sometimes get from really hot faces. When we hit a few shots with the 6-iron in our trials, we knew where it was going before we even looked up. A lot of the feel that comes from these irons is produced by sound- you don't get a huge jolt on a bad shot, but instead you're really able to hear your misses better with these. If feel is a top criteria for your next iron set, you're going to love these.
Clubhead Construction and Technology
Mizuno deploys its Chromoly 4120 for a full body forged clubhead, which is a huge change from the 919 series. As a result, they reduced the thickness of the face by .5mm compared to the 919 series. A thinner clubface means that you should hopefully see greater ball speeds and an increase in spin, and a more satisfying launch.
Another key technical feature included here is the stability frame on the back of the iron. The stability frame distributes the head's weight around its exterior, leaving the face relatively 'hollow'. The result ends up being more stability, less twisting on mishit shots, and excellent launch on a solid strike. It's worth noting that the stability frame is open at the heel. This reduces club weight allowing for a marginally faster swing speed, and gives the iron an ever so slight toe bias. That toe bias results in slightly more accurate mishits.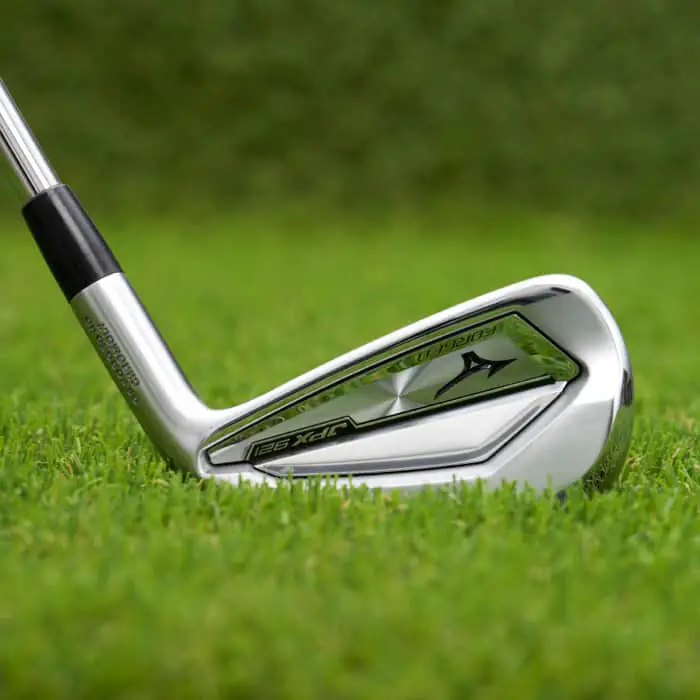 The rear face of the club is milled. Think of this as a cutaway section to the rear. By doing this, Mizuno makes the sweet spot on these forged irons a bit larger. Essentially this means that there should be fewer 'duffed' shots and low flyers.
The Mizuno JPX 919 Forged irons boast a deeper center of gravity, making it much easier to get some loft on the ball. This is particularly true of those clubs traditionally thought 'hard' to hit, such as the 4-iron and (if you are anything like us) the 5-iron.
Performance
We are pleased to say that the Mizuno JPX 921 irons are absolutely pure; we love the strike, launch and feel these irons produce. When compared to the JPX 919 forged set, the 921's are a bit stronger lofted, producing more efficiency and slightly higher spin rates.
Overall, we're impressed with the performance of the JPX 921 forged irons. We noticed a slightly tighter shot dispersion compared to the 919's, which is a huge plus for precision golfers. The JPX 921 forged irons fall into the players distance category, and with the stronger lofts, you can expect to pick up some additional carry compared to more traditional lofted irons.
These irons also produce impressive spin rates, especially in the mid irons. A well-struck shot was able to bounce and stop on a dime, allowing us to really attack a pin. These are going to be used best in the hands of a low or mid handicap player however, as high handicappers will find these pretty tough to hit.
Before Buying the Mizuno JPX 921 Forged Irons
Be Honest About your Skill Level
Ok, we believe in being transparent and honest, especially in a Mizuno JPX 921 Forged review.
We say be honest about your skill level as these are not a game improvement iron, instead falling into that players' distance category. If you are just starting out or have a high handicap, by all means, you can definitely play with these clubs, but you won't get away with bad technique or poor contact. Used in the right hands, these clubs could make life easier, but don't expect miracles. Unlike a game improvement iron, a mishit shot won't have you traveling a long way down the fairway.
We aren't trying to put you off, and by all means, a high handicapper could also benefit from these clubs. After all, the best way to start striking the ball correctly is to learn to strike the ball properly. When you've got nowhere to hide (especially behind a very easy to hit club), your only option is to improve.
Know What You are Looking For
What do you want to get out of your irons? More control, more feel, greater distance?
 When it comes to control, these clubs are top class. The face is hot, and can get the ball on a really stunning trajectory. Once you get these clubs' measure, we imagine it would be relatively simple to start shaping your shots due to the great feel offered.
On the launch monitor, these irons carry much further than our base set, which can be contributed to the strong loft these clubs have. If you have a traditionally lofted set, this will take some getting used to.
JPX 921 Forged FAQ
We know you've probably got questions. You wouldn't be here if you didn't. Let's see if we can answer some common questions about the Mizuno JPX 921 forged irons.
Are Mizuno Irons Forgiving?
This is a tough general question, as the answer truly is "it depends". Mizuno offer tour style irons, which we can confidently tell you aren't forgiving at all.
As far as these 921s go, they are forgiving, to a point. There are clubs out there that are more forgiving for sure. The Mizuno JPX 921 forged offers a nice blend of forgiveness, but they won't hold your hand like a game improvement iron would.
There is technology fitted that is designed to negate the odd bad shot. Things such as the stability frame and deeper center of gravity will ensure flight on a ball that would have usually been a 'worm burner'.
If you are struggling to find the middle consistently, then you can do one of two things. Consider something else, or resign yourself to improvement. We prefer the second option. It's what makes the game so rewarding.
If you are used to playing with 'easy' irons, you'll get a real sense of satisfaction when you master something slightly more advanced. Dare we say you may even feel like a better player.
Does Mizuno Make Good Irons?
Mizuno is a leading brand in producing quality irons. You'll see them on tour. If you've read our review above, you'll see a lot of thought has gone into the production of these irons.
Innovative use of different metals, weight optimization, and the deliberate imparting of 'feel' into each and every club could make these an excellent choice for those looking to up their game.
Why are Mizuno Irons So Good?
Mizuno has moved its focus slightly on how they manufacture their clubs when compared to other brands. Look at their unique selling point… Feel. The irons they produce are made in Japan with huge emphasis on the steel they're made from, helping produce that soft and sweet forged feel.
Aside from that, in playing terms, here is what could make Mizuno irons so good. You get a really well-balanced set of irons. They offer control, instant feedback, responsiveness, not to mention a really decent amount of distance.
Are Mizuno irons Good for Beginners?
Again we'll be honest… There are beginners, and there are absolute beginners. If you know one end of the club from the other and have enough knowledge to know why a shot went wrong, then these clubs would possibly work for you. But as we have said, you aren't going to be able to produce magic with your more inferior shots.
The JPX 921 Forged frankly is not going to be the absolute best option out there for a beginner. Instead you should look toward the JPX 921 Hot Metal irons- these are made with the high handicapper in mind and are much more forgiving.
Where Can I Buy the Mizuno JPX 921 Forged Irons?
There are plenty of deals to be had on these irons. They are a little on the steep side, but they offer a performance that it is unlikely you will outgrow, making them a little bit of an investment. Here are a few places to look:
What Do People Say About the Mizuno JPX 921 Forged Irons?
You could go to the pro shop and ask, or you could just talk to real people who have used them. We have looked around and found some great reviews from real users of the Mizuno JPX 921 forged irons. Here is what they had to say:
"These irons are beautiful!! For a forged iron, they are forgiving and easy to control. The stopping power on the greens is awesome. I would definitely recommend these for a mid to lower handicapper."
"JPX 921 irons are great. Forgiving and offer great distance. Had the 919 forged and the 921 are even better."
"My boss wanted to buy these, and I got to try them before giving them to him, and they feel just as good as my 718 ap2s. I definitely would get these"
Alternatives to the Mizuno JPX 921 Forged
Still apprehensive? That's ok, clubs are a big deal, and if you choose wisely, they will be your companion for some time. If there are elements that you think wouldn't suit you, check some of our alternative ideas out…
Callaway Mavrik Max Irons
If you want a set of clubs that offer a degree of forgiveness while still promising to give you a reasonable amount of carry, then Callaway isn't a bad direction to head. The epic series have cup technology to compensate for off-center hits and have a stiffer body to encourage higher ball speed.
Optimal Centre of Gravity for good trajectory
A thin and hot clubface
Good forgiveness
Titleist T200
If you are looking at a player's iron, then Titleist could fit the bill quite nicely. These aren't quite tour irons, as they offer a little forgiveness without dialing back the performance. They offer a great degree of control and a superb feel.
Great feel
A trusted 'players' brand
High spin generation
TaylorMade P790 Ti
For an excellent feel, TaylorMade has some wonderful offerings. The P790 Ti iron set features soft carbon steel for increased feel. They also add some creative touches to make the face a little more 'sporty'.
Urethane injected clubhead for maximum responsiveness
Great face speed
High launch angle
Final Thoughts
So, there you have it, our Mizuno JPX 921 Forged review. The clubs are an impressive upgrade from the 919s, and offer a nice blend of distance and feel. If you're looking for a real players distance iron with a exceptional control and shot dispersion, these will be right up your alley. These are best for low and mid handicappers.
Thanks for reading!