As their tagline goes, "nothing feels like a Mizuno". Obviously this is a bold claim, but Mizuno have backed up their tagline with some of the best performing iron sets on the market for decades. The Mizuno JPX 921 Hot Metal irons are no different- they come packed with feel for the average golfer to enjoy.
These irons form a core part of the Mizuno JPX 921 range. The Hot Metal iron set are aimed at those golf players who want the feel of a Mizuno iron, combined with explosive ball speeds and the forgiveness of a game improvement iron. So how do they stack up against the claims? Check out our full Mizuno JPX 921 Hot Metal Irons review below.
Short Version | Here's What We Thought of the Mizuno JPX 921 Hot Metal Irons
The Mizuno JPX 921 Hot Metal irons offer bundles of everything that we love in a golf iron. They look first-class, and they offer absolutely stellar performance. Players can expect a large degree of forgiveness from these irons, with featured technology such as the stability frame and variable sole. The thin face and intelligent use of Chromoly 4140M has allowed Mizuno to produce an exceptionally fast face on these clubs. Naturally, they also feel and sound phenomenal.
The Mizuno JPX 921 Hot Metal Irons would be a great set for a mid to high handicapper who is looking for forgiveness but also wants to increase their distance. These irons appeal to the masses, and are used in the hands of beginners all the way down to single digit handicappers.
Pros:
An exceptional game improvement iron that looks like a players club
Lots of integrated technology
Great forgiveness
Lightning fast ball speeds
Easy, high launches, even for slower swingers
Cons
Unlike the other JPX 921 irons, these are not forged
Harmonic 'sound ribs' can get dirty
The clubs may feel a little hard for some
Mizuno JPX 921 Hot Metal Irons Review
Looks
On first seeing these clubs, I was a little taken aback. There is one word that I would use to describe them.
Gorgeous.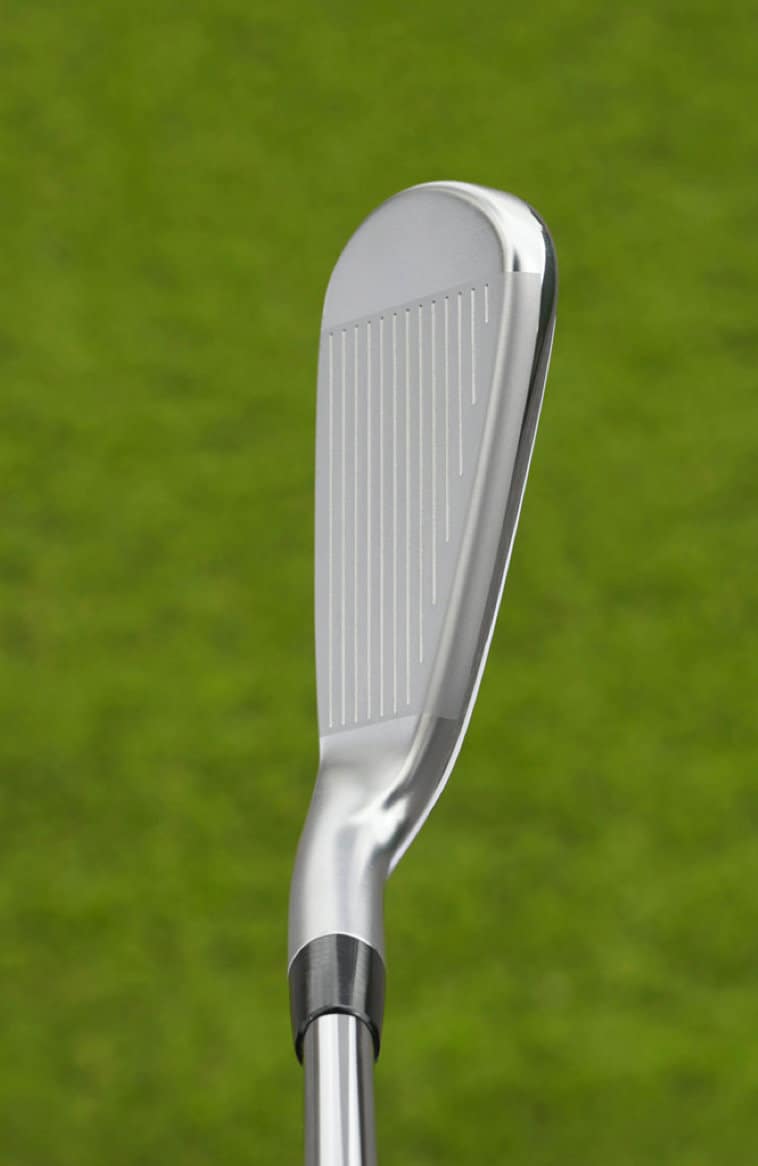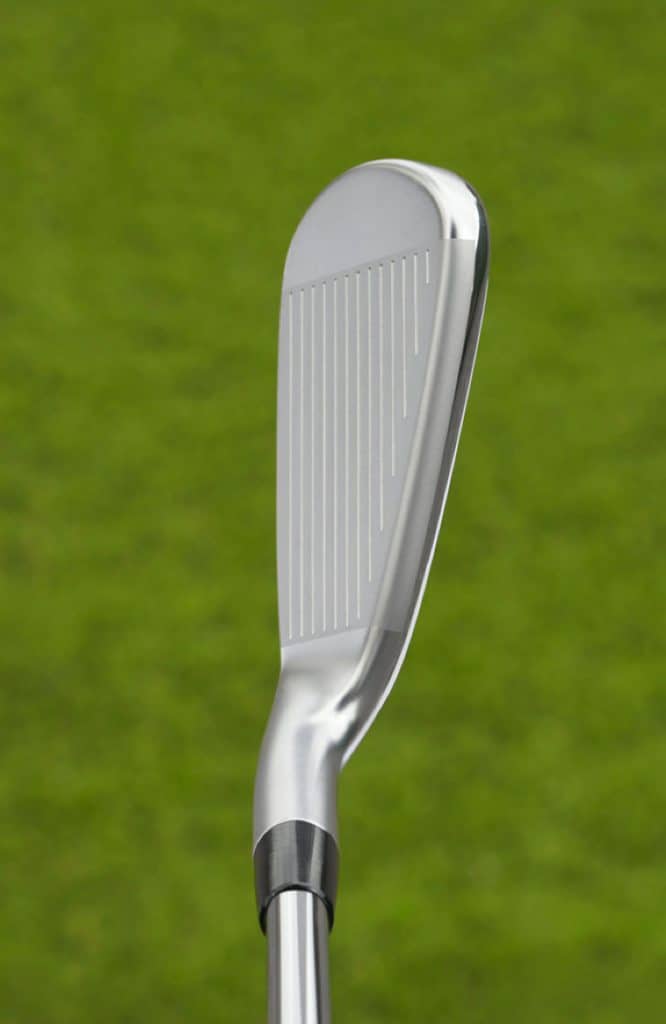 Game improvement irons tend to look a little functional and clunky. The Mizuno Hot Metal irons are seriously beautiful. They seamlessly blend what Mizuno describes as a 'pearl brush finish' with chrome elements. The pearl brush is a matte layer that forms the bulk of the clubhead. This is accentuated with shiny chrome in key areas.
The Mizuno Hot Metal's aesthetic isn't all about vanity. It's there for a reason.
The aim of using a pearl brush finish is to reduce glare when playing in bright sunshine. Easier to see the ball, easier to hit it, right? 
The clubheads on these irons are slightly enlarged when compared to the other iron sets in the JPX 921 series. It isn't a significant amount larger and doesn't make the clubs look overbearing. Still, when stood behind the ball at address, the mid to high handicap golfer should gain a little more confidence.
The top line of the iron is also worth mentioning. It is pretty thick and chunky. This might not be to all players' taste, but it looks pretty imposing and powerful. The effect of this thick top line is reduced somewhat by the inclusion of a chrome line towards the rear of the club.
The bottoms of the Hot Metal irons do feature a pretty wide sole, which is a great thing for the mid to high handicap golf crowd. This is the widest in the range and ensures both great turf interaction and a low center of gravity.
Performance
Three words spring to mind when discussing the Mizuno Hot Metal irons performance.
High, straight, and long.
Mizuno proudly boasts that these are the fastest faces they have ever created, and I'd be inclined to agree. The ball flight was long, penetrating, and it was straight. These irons are built for easy distance.
For those who consider their ball trajectory a little on the low side, these clubs could be a welcome addition to your bag. The ball flight created by these irons is on the high side. For those with slightly slower swing speeds, they offer an added boost to ball speed and flight. They also give considerable distance. A well-struck 7 iron gave me around 170-180 without having to hit it particularly hard. This is well within the average range of most intermediate golfers.
One of the reasons for this is that the clubs are strongly lofted. When compared side by side, the 7-iron from the Mizuno Hot Metal irons is 29°. The comparable club in the JPX 921 forged is 31°. It stands to reason that all things being equal, the hot metal iron set will deliver a little extra distance.
One key area when discussing performance is forgiveness. Mizuno has sought to create a good balance between feel and forgiveness in this iron set, and it shows.
The variable thickness face, enabled by Chromoly 4140M, a lightweight and strong alloy, has allowed Mizuno to frame a thinner face and redistribute weight to ensure a low center of gravity and give a high moment of inertia.
What this means for you as a player is that you won't be unduly punished if you fail to find the middle. Provided you are a reasonable striker of the ball, you should benefit from the forgiveness offered in this hot face.
Feel
As we said at the start, 'nothing feels like a Mizuno'. This is an area where the Mizuno JPX 921 Hot Metal Irons truly shine. Mizuno's slogan is a true statement.
The irons do feel pretty great.  You have to remember that the Hot Metal irons are not forged, so there will be a slight difference if you have tried out any other irons in the Mizuno lineup.
On contacting the ball, the irons feel a little hard, but to me, it feels exactly like an iron should. Game improvement irons can tend to be a little muted and 'dead', which certainly wasn't the case with these clubs.
One thing I really like was the consistency in feel. I didn't hit every shot straight out of the middle but was still rewarded with a nice high (and straight) flight. I certainly didn't get stinging fingers when I hit it thin.
The sound produced was a pleasing and crisp crack. They sound pretty clean and slightly hollower than a set of tour blades but are overall pretty conventional. They certainly don't feel soft or buttery.
Mizuno has focused very much on making both elements a standout feature in their irons. There is special technology integrated into the clubhead to encourage it. If you examine the back of the club, you'll see that there are a series of tiny bars towards the top. These 'sound' ribs have been added to create a solid feeling in the irons.
Do these feel as perfect as a forged iron by Mizuno? No, and we won't lie about it. That said, these produce some of the best feel you can get from a game improvement iron.
Technology
The Mizuno JPX 921 Hot Metal Irons are absolutely packed full of modern technology. Let's take a dig down into some of the integrated iron technology that helps these clubs perform.
Chromoly 4140M
Chromoly isn't just one metal. It's a blend of different types of steel and alloy.
Why is that important?
Mizuno has managed to create an alloy that offers the perfect blend of hardness and durability. The most significant factor in their use of Chromoly 4140M is that it has allowed them to manufacture a thinner clubface.
A thinner clubface leads to one major advantage… Faster ball exits speeds. And it really is something you can see and feel when you use the irons.
Seamless Cup Face
Twinned with the use of Chromoly, Mizuno has incorporated and redesigned their Cor-tech face in the Mizuno JPX 921 Hot Metal Irons. The area around the sweet spot is where the face is thinnest.
The seamless cup face is part of a variable thickness sole. Mizuno says that this allows the leading edge to act as a hinge. This means for you as a player, the face flexes slightly on impact, accelerating the ball to ludicrous speeds.
Harmonic Impact
Mizuno has increased the number of sound ribs in their latest irons. As we discussed above, this really does allow for increased feel and a better-sounding club. The club feels really solid as a result.
While I love the feel of these clubs, the only downside with this technology is that when playing on wet and muddy days, they can get a little gunked up, which reduces the club's aesthetic appeal somewhat.
Stability Frame
A real standout feature of the Mizuno Hot Metal irons is the stability frame technology. If you view the club from the rear, you can see this in practice. The entire area of the clubface is surrounded by a thick frame. You'll also notice that it is much more substantial towards the toe.
The effect is that the club is toe biased, an area where many high handicappers strike most of their 'mis hits'. Creating more weight in the toe, the clubhead is less likely to open and twist on impact. As a result, off-center strikes will fly straight with a higher degree of accuracy.
Variable Sole
The sole of the Mizuno hot metal irons varies in thickness along its length. At the toe, and particularly at the heel, you'll see that it is ever so slightly wider. This allows the face to flex further and produce higher ball speeds. The variable thickness also adds a bit of forgiveness as you cut through turf.
Increased Offset
Of the entire JPX 921 range, the Mizuno JPX 921 Hot Metal Irons feature the largest degree of offset. This increases the backspin imparted on the ball. As you will already know, backspin stabilizes the ball in flight, produces greater lift, and prevents unwanted shot shapes. Beginners and high handicappers, in particular, should find these clubs much easier to hit as a result.
Alternatives to the Mizuno Hot Metal Irons
The Mizuno JPX 921 Hot Metal Irons look great, offer lots of forgiveness, and feel amazing. However, there are several reasons why you might want to consider something else.
Perhaps you trust another brand and are just looking to upgrade to something more modern, or perhaps they don't align with your current budget? Whatever the reason, I've still got you covered. Based on what we have learned in our Mizuno JPX 921 Hot Metal Irons review, here are some great alternatives that will offer similar performance.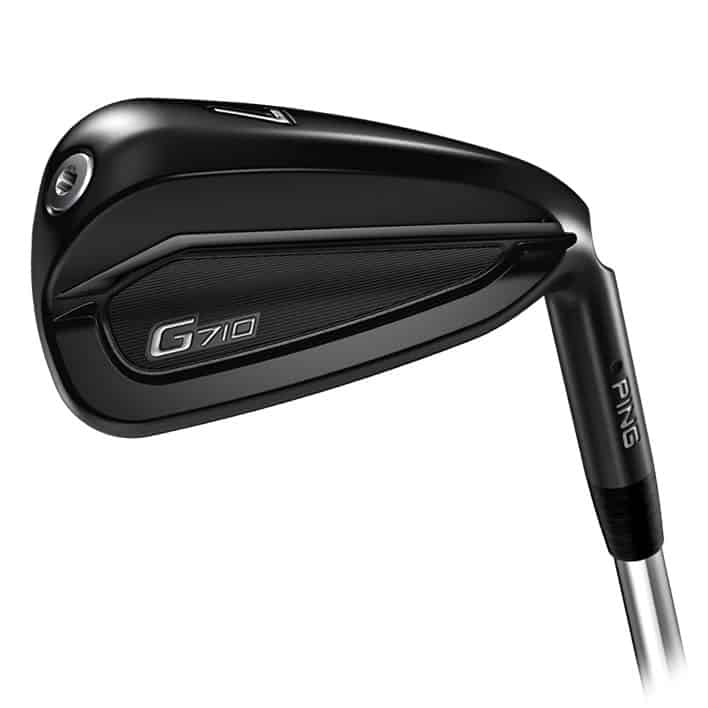 If you were looking at the Mizuno JPX 921 Hot Metal irons, you were on the lookout for clubs that offer maximum forgiveness.
The Ping G710 irons are widely considered to be the most forgiving irons on the market. These are also a new design, meaning you'll be up to date with the latest golfing technology.
As with the JPX 921's, these irons feature a matte hydro pearl coating, designed to reduce glare and give the club a great look behind the ball.
These irons also feature a thin and flexible face designed to produce rocket fast face speeds with each shot. The club features a toe-weighted insert that will provide a high MOI and a low center of gravity.
They have a slightly thinner topline than the Mizuno irons. This effect is further magnified by the black finish.
You can read my full review of these Ping irons here.
Pros
Low glare finish
Flexible face for faster ball speeds
An industry leader in forgiveness
Oversized face
Cons
They are slightly more expensive than the Mizuno Irons
The black finish does tarnish more quickly than traditional finishes.
Distance and forgiveness are two things you want in equal measure, especially when considering game improvement irons.
The 'SIM' in 'SIM MAX' stands for shape in motion and should give you a great indication of what these clubs are about. As with the Mizuno irons, the SIM MAX features a flexible face to provide fast ball speeds.
Just as the Mizuno Hot Metal irons feature sound ribs, TaylorMade has gone bigger and bolder with the rear-mounted 'speed bridge'. This promotes rigidity in the frame of the face while giving improved sound and feel with each shot.
High ball flight is something most high handicappers strive for. These clubs feature a low center of gravity to encourage higher trajectories.
You'll also find plenty of forgiveness. These irons are cavity-backed game improvement irons that will not unduly punish you for off-center hits.
Pros
Another premium brand
Excellent forgiveness
Speed bridge technology for explosive speeds and distance
Good feel for a game improvement iron
Cons
The feel isn't quite as good as the Mizuno JPX 921 irons
The TaylorMade MAX OS gives similar performance for less money
For a mid-sized cavity-backed iron, Titleist has done a pretty impressive job. As with the Mizuno irons, they promise an excellent feel and sound.
The face speed is lightning fast. Just as with the Mizuno JPX 921, you will get a nice high trajectory, a fair helping of distance, and forgiveness thrown in for good measure.
This set features a nice thick top line, and the finish is also very similar to the JPX 921's. I like that they also have a variable thickness face that offers plenty of spin and distance.
Pros
Similar price to the Mizuno JPX 921 Hot Metal irons
Fast ball speeds and high launch angles
Thick topline with a mid-sized head
Cons
Not as forgiving as the Mizuno irons
The head might be slightly small for some players.
Final Thoughts
Mizuno has long prided itself on feel. With these clubs their technology and performance show, as they feel pretty amazing. Ultimately, the Hot Metal Irons are forgiving enough to appeal to the high handicapper, and produce a high penetrating ball flight. If you struggle with height or distance from your irons, these could be ideal in your golf bag. The Mizuno JPX 921 Hot Metal irons are reasonably priced and have enough performance to carry you all the way through to being a lower handicapper. Why not take a look at them and see for yourself?