Ping are well known for their exceptional lineup of golf clubs, and they first introduced the 7 series in 2018 with the Ping G700s. The original G700 irons were meant to be an extremely forgiving game improvement iron set that produce a natural high trajectory, excellent distance and stellar performance. Ping has since released their G710 irons in 2020, and the results are impressive. These irons have a few incremental improvements built into them, as well as some high tech features that aren't included in many other iron sets.
So what's different with the G710s, and are they still being billed as a super game improvement iron? Check out our full Ping G710 irons review below!
Short Version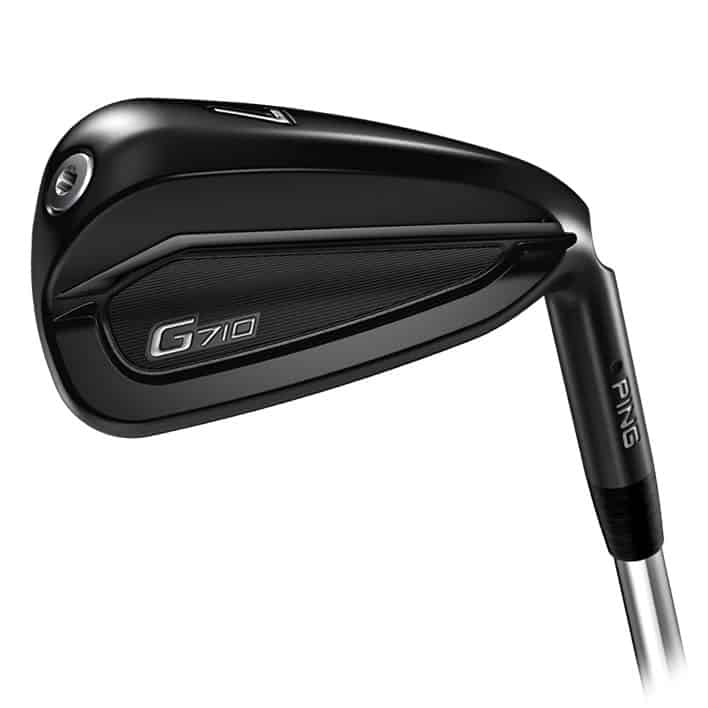 The Ping G710 irons are a real game improvement iron. They have a unique look with a black hydropearl finish and are oversized enough to fill you with confidence as you stand over your iron shots. They offer a great deal of length and ball speed off the face and the G710s are super easy to hit.
The Ping G710 irons are also exceptional when it comes to forgiveness. Off-center shots aren't heavily penalized, and if you struggle to get the ball on a good trajectory, these have a low CG to propel your ball higher in the air.
You'll find lots of technology hidden within these irons. They have a variable thickness face, strong lofts, and a large sweet spot to maximize your performance on the course.  The finish isn't just cosmetic; it's designed to reduce glare off the face of the club. The feel and sound are both exemplary, but we'd expect nothing less from a Ping iron set.
Pros:
Industry-leading forgiveness
Very easy to hit
Excellent launch characteristics and increased distance
Superb looking
Cons:
The black finish shows signs of wear very easily
The G710 iron's priced at a premium level
Ping G710 irons | Full Review
Face
The face of any iron is extremely important. After all, it's ultimately what has the greatest effect on the golf ball. Ping have excelled themselves with the face of the G710 irons.
The face is constructed from ultra-high-quality aerospace alloy. The face insert is maraging steel. This metal's key quality provides unbelievable strength and flex, resulting in a ball launch is exceptionally fast off the face.
The face also has a variable thickness. The aim of this is to minimize wayward shots produced by off-center strikes, similar to the way TaylorMade uses Twist Face technology.
Performance
When it comes to performance, I can say that I was genuinely impressed. The G710 irons are unbelievably easy to hit; they produce excellent distance and even mis-hit 'thin' shots still carry and roll a considerable distance across the entire bag.
The trajectory of the ball is actually higher than I was expecting, considering the fact that the G710 irons have a strong loft. The naturally high trajectory is perfect for any golfer who has trouble getting the ball into the air consistently; I found that my carry distance was much further than usual with these irons in hand. This didn't come at a loss of distance either; 180 yards is easily achievable with a 5-iron. I found that I was consistently hitting the G710 irons about a full club length longer than my standard set of irons.
The G710 irons are billed as the most forgiving set of irons Ping has ever produced. Ping has boasted a 5% increase in MOI, which can be seen in the performance of the G710 iron. Shots struck both left and right of the sweet spot showed minimal deviation and still went pretty straight, and shots that weren't hit perfectly still went plenty far. While these are definitely game improvement irons, I felt like I was able to shape the ball well enough; I didn't have as much shot shaping capability with these as I would with a players iron, but I was still able to draw and fade the ball on command.
Feel and Sound
There are no surprises when it comes to the sound of these clubs. They produce a pleasant and sharp sounding crack when you hit a clean strike. The sound is a little bit high pitched, in contrast to a muffled crack that you'd expect when you hit a true players iron.
One area of particular note is the feel of the Ping G710 irons. Each shot feels like you have 'caught the middle' of the face. I even found with thinned shots that they felt much less severe. If you don't like stinging hands after catching it on the bottom, these clubs offer a great feel. Hitting the G710s feels like the ball springs off the face of each club; the trajectory and speed is effortless, which I loved.
Mid and low handicap players may find that they lack feedback, but these irons should increase confidence in the average to high handicapper because of how good they feel when hit.
Looks
When it comes to looks, the G710 irons are standout gorgeous. The black hydropearl finish is unique and really eye-catching, and these are one of our favorite game improvement iron sets when it comes to aesthetics. The G710s have a surprisingly thin topline when you're looking at them at address.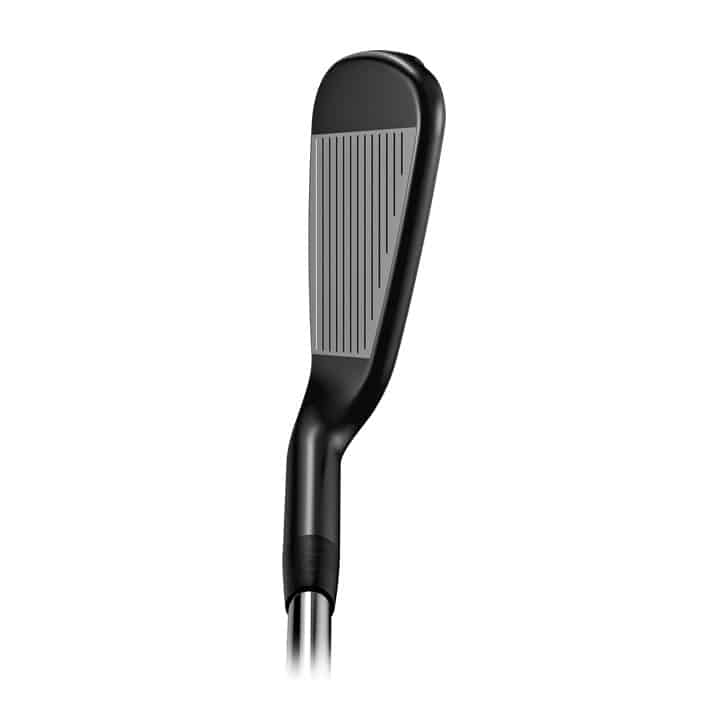 I wasn't too sure about the metallic tungsten toe weight at first, but it grew on me. Along with the chrome effect iron numbers emblazed on each iron's sole, it is actually a real eye-catching design. The clubs all look relatively compact, however they do start to get a bit chunky as you get to the longer irons.
The finish certainly looks great when the clubs are new. There is a minor drawback to the black finish, however. As with all black clubs, they do show signs of wear and tear quite quickly. Small scratches and scuffs are easily visible. If you want your irons to look pristine all the time, the black finish is going to be a major consideration for you.
Technology
Going under the hood in our Ping G710 irons review, there are a few pretty cool features that make these irons stand out in the game improvement category.
Strong Loft
High handicappers want greater distance, and the tech in these clubs will give you exactly that. The Ping G710 irons are strong lofted. This means you should get a few extra yards when held against standard lofted irons. Typically, this means that you're going to hit your clubs about 15 yards further, so just about a club length longer. If you normally hit your 7 iron 160, your 8 iron may become your 160 club.
Variable Thickness Faces
When clubs have a strong loft, you can sometimes find that trajectory is adversely affected. However, Ping has addressed this by tweaking the technology present in the face. The face of Each iron has a variable thickness. The aim is to generate ball speed regardless of where the golf ball makes contact with the club. Viewing the club from behind, the lower section is much thicker. This tapers away to a thin cavity as you move towards the top of the iron's face.
Maraging Steel Face
Twinned with this technology is the use of strong and highly flexible aerospace-grade maraging steel. While strong, the face also flexes slightly on contact. As a result, you will get a higher launch and super-fast ball speeds. This makes the clubs ideal for those with a slower swing speed or golf players who struggle to get a high trajectory.
Toe Weighting and High MOI
Along with distance, you also want forgiveness. You'll note that each club has a small tungsten weight located in the toe. The aim of this weight is two-fold. It lowers the club's center of gravity, ensuring higher launch and accuracy. The weight also increases the club's moment of inertia by around 5%. The higher the MOI, the less likely the clubface is to deviate from its given path. The additional MOI should reduce mis-hits and provide golfers with a more consistent mishit.
Water Resistant Finish
The black hydropearl finish of the G710 irons is not purely cosmetic. The black PVD coating is designed to reduce water friction, making the clubhead quicker through wet conditions and turf. If you struggle in wet conditions, this can actually be a massive feature for you.
Arccos Caddie Smart Grips
This is probably my favorite feature in these G710 irons. The standard grip for the Ping G710 irons is the Arccos Caddie Smart Grip. Within the butt of each club, you'll find a tiny embedded sensor. This records every shot you take and transfers the data to the Arccos app, which provides you with various metrics and analysis on your rounds.
Once you have seen the data, you will be able to work on various aspects of your game, which hopefully could yield some improvement. The app is subscription-based, so it could add further cost to the clubs if you are buying them for this reason. With that said, I've used Arccos before and absolutely love the product. If you want some great insight into your golf game, this is a massive feature.
Ping G710 Technical Specs
| CLUB | LENGTH | LOFT | POWER SPEC LOFT | RETRO SPEC LOFT | LIE ANGLE | OFFSET | BOUNCE | SWINGWEIGHT |
| --- | --- | --- | --- | --- | --- | --- | --- | --- |
| 4-iron | 38 7/8″7/8 | 20.0°degrees | 18.5°degrees | 21.5°degrees | 60.5°degrees | 0.29″Ping.Clubs.Specs.Offset.Units | 5.0°degrees | C9 |
| 5-iron | 38 1/4″1/4 | 23.0°degrees | 21.5°degrees | 24.5°degrees | 61.0°degrees | 0.26″Ping.Clubs.Specs.Offset.Units | 6.0°degrees | C9 |
| 6-iron | 37 5/8″5/8 | 26.0°degrees | 24.5°degrees | 27.8°degrees | 61.5°degrees | 0.23″Ping.Clubs.Specs.Offset.Units | 7.0°degrees | C9 |
| 7-iron | 37″ | 29.5°degrees | 28.0°degrees | 31.8°degrees | 62.0°degrees | 0.20″Ping.Clubs.Specs.Offset.Units | 8.0°degrees | C9 |
| 8-iron | 36 1/2″1/2 | 34.0°degrees | 32.0°degrees | 36.5°degrees | 62.8°degrees | 0.18″Ping.Clubs.Specs.Offset.Units | 9.0°degrees | C9 |
| 9-iron | 36″ | 39.0°degrees | 37.5°degrees | 41.5°degrees | 63.5°degrees | 0.16″Ping.Clubs.Specs.Offset.Units | 10.5°degrees | C9.5 |
| PW | 35 1/2″1/2 | 44.0°degrees | 43.0°degrees | 46.5°degrees | 64.1°degrees | 0.13″Ping.Clubs.Specs.Offset.Units | 12.0°degrees | D1 |
| UW | 35 1/2″1/2 | 49.0°degrees | 48.5°degrees | 51.5°degrees | 64.1°degrees | 0.11″Ping.Clubs.Specs.Offset.Units | 12.0°degrees | D1 |
| SW | 35 1/4″1/4 | 54.0°degrees | 54.0°degrees | 56.0°degrees | 64.4°degrees | 0.09″Ping.Clubs.Specs.Offset.Units | 13.0°degrees | D2 |
FAQ
Which Ping Irons are Most Forgiving?
If you are a fan of previous Ping models, then there is a good chance that you have heard of the Ping G700 series. Traditionally these have been regarded as some of Ping's most forgiving irons. The G710s improve on the original G700 irons, and are easily the most forgiving irons that Ping produces right now. Inherent technologies such as a high MOI, oversized heads, and the variable thickness face all play a massive part in increasing forgiveness. All of which you will find in these irons.
What are the Best Irons for an Average Golfer?
The best irons for an average golfer will be those that allow them to hit the ball long enough to be in with a chance of making par but also stop shots from being wasted with mis-hits and sub-optimal contact. If you can get a great mix of length and forgiveness in one package, then these would be the best irons for an average golfer. For a more complete list, check out our review of the best irons for mid handicappers.
How Good are the Ping G710 Irons?
In two words? Very good. I was really impressed with the performance offered by this iron set. They showcase everything that an average golfer or high handicapper would be looking for. The speed off the face is towards the upper end of the scale, and the Ping G710s produce comparable performance to the Callaway Mavrik Max irons. The trajectory is nice and high, and to top it off, they feel absolutely amazing. Each golf shot feels like it has been struck from the middle, and you should see an improvement in your game.
Are the Ping G710 irons Blades?
The Ping G710 irons are not blades. The back of the club is a partial cavity with a variable thickness face. Blades tend to be forged and solid all of the way through. The presence of a partial cavity encourages forgiveness and increases both distance and spin on the golf ball.
Is Ping the Best Golf Brand?
Ping produces a range of clubs to suit all skill levels and is one of the golf market's best brands. Amongst their Irons, you'll find absolutely everything from pure 'players irons' like blades to game improvement irons (such as the Ping G710). Ping focus on feel and forgiveness in the design of their clubs. While they are priced at a premium level, they do offer really great quality. Are they the absolute best golf brand? It's completely subjective. Some players will whole heartedly say yes, while others will completely disagree. It's about how the clubs fit and feel in your game.
Should I Get Fitted for Ping Irons?
While a fitting always offers some benefit for mid to high handicap players, the focus should be on playing well with standard clubs. There isn't a fitting session in the world that can out-fit a poor swing or bad technique.
Fitting is the best option when you are trying to completely optimize your game. Fitting should also be considered if you have an unusual body geometry, particularly if you are tall. Generally, your handicap will come down from hitting less bad shots, which is down to technique, not the club.
What Do Others Say About the Ping G710 Irons?
Golf can be a subjective game, with golfers having many different opinions. I had a good look at what other people thought about the Ping G710 irons. Here's what they said: –
"These are by far the best! After 25 rounds with them, I find they are a more consistent iron to hit and love the club's sound after the strike. The black finish I absolutely love. I would not change my mind about purchasing them. These will be in my bag for years going forward, without a doubt!!! The confidence I now have with these irons in my hand is over the top. Great job Ping."
"Love the look and easy to find the sweet spot. Easy to find a good smooth tempo and not want to swing so hard. Let the club do the work!!"
"I picked up my set of Ping 710 irons today, and I can honestly say I regret waiting to upgrade. Since playing my first round with these bad boys, the sky is clearer, the birds chirp louder, I feel taller and better looking. If you want a set of irons requiring less force and making your ball travel further, buy these bad boys. You will not regret it!"
"I received my custom G710 irons last Sunday, and after 2 rounds, all I can say is wow! These are the best looking irons I have ever owned. They launch the ball so easily, and the distance is mind-blowing."
"I just played my first round with these. I got the Alta Distanza Black 40 shafts and 703 grips. I am 60, and the lightness of these shafts feels so nice. They launch high, and I have to adjust my distances a little, but they are so forgiving with an errant shot. I also like the unique sound of these. These are the best irons I have gotten from Ping yet. I give them 5 stars."
Alternatives to the Ping G710 Irons
Just as with the Ping G710 irons, these clubs share some common features. They are partial cavity irons that offer both distance and forgiveness. In particular, they offer a really great feel. With Mizuno's 'harmonic impact technology', these specifically designed ribs are designed to dampen vibration and produce a great feel, even on substandard contact.
High launch speeds
Satisfying sound and feel
Great forgiveness
If you are looking for a blend of forgiveness, distance, and feel, you could consider the TaylorMade Sim Max OS irons. They feature a damping system to give a great quality strike. They also include TaylorMade's patented speed pocket, designed to increase distance and provide higher launch speeds.
Great forgiveness
Low center of gravity
Oversized clubface
High handicappers often struggle to get a high launch on the ball. The Callaway Mavrik Max irons should make it easier. This oversized iron set gives a significant boost in ball speed and increased spin. Each iron has a polyurethane insert, designed to minimize vibrations from low face hits and give a great feel.
High launch angle and trajectory
Highly forgiving
Flash face Cup for straighter shots
Final Thoughts
After thoroughly evaluating the Ping G710s in this review, these really are some impressive golf clubs. They are great looking and ideally suited to mid and high handicappers who need a distance and trajectory boost. The Arccos golf grips are a stand out feature that provides tons of data on your game which is a strong sell for these irons. Frankly, feel is pretty amazing too. If you are looking to upgrade from an old set, these are an excellent pick. The Ping G710 irons would be a true investment in your golf game as a game improvement iron.