Ping makes clean looking golf clubs, and they always have. I recently discovered the Ping i59 and was curious to see if this club went beyond just good looks. I love the look of a clean blade, but I know it's not the percentages club for my game. ( I play off about a 7).
The Ping i59's seem to have a little bit of everything and the looks I knew I wanted. When I tested these irons, I was definitely impressed. If you are in the market for new irons in 2023, this is one that I would put on your list.
Ping puts out their classic models for the lower and higher handicap players, but the Ping i59 can work for players that are not entirely sold on a specific iron category. 
Check out our full Ping i59 review below.
Ping i59 Irons Overview 
Ping i59 Iron Set
Unique Blended Iron that blurs the lines between a compact players iron and a players distance iron
Made to have a thin top like and sleek blade profile while offering ample forgiveness
Several Loft Spec options based on if you like strong lofts VS traditional lofts
Great for distance, accuracy and creating a tight shot dispersion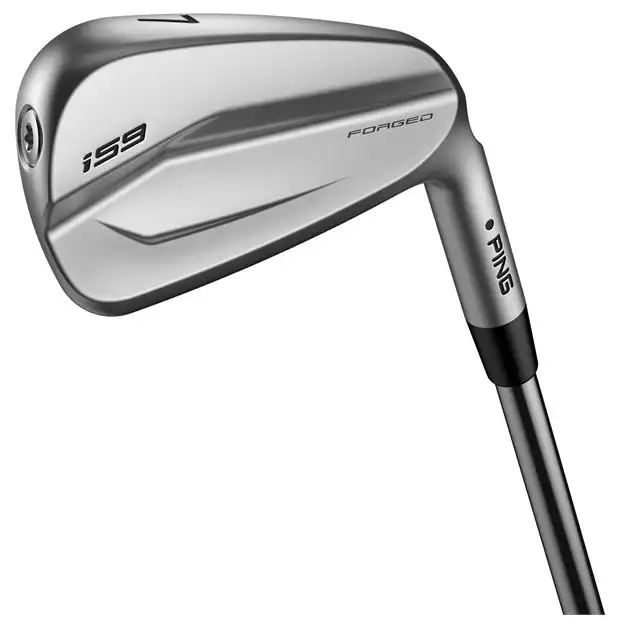 We earn a commission if you make a purchase, at no additional cost to you.
The Ping i59 irons are kind of a mix between a player's blade and a game improvement iron. 
You will find the Ping i59 to be close to the player's distance category, but it also has a tremendous Ping feel. With the Ping i59 irons, the AlumiCore technology helps increase the overall forgiveness of the club. 
One thing that really stood out to me about the Ping i59 irons is the versatility. I like taking an iron, putting a label on it, and putting it in a category, but with the i59, you will find that the lines between iron categories (game improvement, players etc.) are blurred.
For a mid handicapper like myself, that's a very good thing.  
Ping i59 Irons Key Features
Some of the technology in the Ping i59 irons is unique not just to Ping but to this particular golf iron. As you can imagine, getting the right mix of distance and forgiveness took several different materials and a lot of work in shaping and aerodynamics. 
Tour Preferred Look 
Ping tests all of its clubs on the PGA tour to see what the best players in the world think before a golf club comes to market. The top down look of the Ping i59 is a great-looking streamlined design with a player preferred thin top line. 
Aerospace AlumiCore 
Ping sources some unique materials to use in their irons; the Ping i59 has an aerospace grade aluminum insert that saves about 30 grams of weight. Ping didn't get rid of this weight. Instead, they repositioned it to the perimeter to get some more forgiveness. 
Tightly Spaced Micromax Grooves 
We know that grooves give us spin, so the concept with the Ping Micromax grooves is that more grooves should equal more spin. The Micromax grooves are closer together than previous models, and they help golfers get some great control in the shorter irons. 
Premium Shaft Offerings 
There are two stock shaft options for the Ping i59 irons. These golf shaft include a Project X LS for the faster swinging golfer that wants a stable and stiff design. The Project X LS is a good choice for those that get too much height in their iron shots. 
The Recoil ES SmacWrap is the graphite option. The graphite Recoil is still for the higher swing speed golfers that look for a bit of a higher ball flight from their irons. Don't be surprised to see more graphite options for the faster swing speed golfers in 2023.
Custom Fitting 
Ping leads the way when it comes to custom fitting in golf clubs. With the Ping custom fitting system, you can order the Ping i59 irons with the length and lie angle that works specifically for your golf game. 
If you already have a basic idea of what specifications you need in an iron, simply find that on the Ping fitting chart, making custom golf fitting unnecessary. 
Ping i59 Testing 
Now that you have the basics of the Ping i59 technology down let's take a look at what these irons were like on the golf course. 
Looks 
Not only is the top down look of the Ping i59 irons impressive, but so is the club itself. You will like what the Ping i59 looks like if you want a clean top line and a blade looking profile. If you don't want the bulk and a wide sole, the Ping i59 is a perfect fit. 
Performance 
The major takeaway from the Ping i59 irons is that you will feel like you are in control of the club while still having some forgiveness. If you miss the center of the clubface by a bit, expect yardage to still be within a few yards of what you are used to. 
In addition, the Ping i59 irons spin was impressive on the short irons- I felt like I was in complete control of trajectory and had a good judgement of distance with these shorter irons in hand. Long iron spin was still low enough to maximize distance. 
Forgiveness
When I see a thin topline, I almost always assume that forgiveness will be extremely limited. I assumed that with the Ping i59, and that was a mistake. There is plenty of forgiveness in the i59 irons. 
That said, I would recommend this set for a faster swinging player. I think there are better options out there for golfers who lack swing speed.
Sound and Feel 
Ping always handles sound and feel with ease. The Ping i59 feels and sounds like a Ping blade, but is much more forgiving. If you have never played a Ping iron you may not understand the benefit to this solid Ping feel. 
The best way to describe it is "buttery". If you ever looked into a used set of Ping irons and seen high pricing, this is why. 
Ping i59 Iron Specs
When you order your Ping i59 irons, they come with standard lofts that modern clubs all feature. However, if you find that you want them stronger or more "retro," then you can order those lofts. The Retro Spec loft is a throwback to what golf irons used to be; Power Spec is for golfers seeking tons of distance. 
| | | | | | |
| --- | --- | --- | --- | --- | --- |
| CLUB | LENGTH | LOFT | POWER SPEC LOFT | RETRO SPEC LOFT | LIE ANGLE |
| 3-iron | 39″ | 20.0°degrees | 19.0°degrees | 21.8°degrees | 59.0°degrees |
| 4-iron | 38 1/2″1/2 | 23.5°degrees | 22.0°degrees | 25.3°degrees | 59.8°degrees |
| 5-iron | 38″ | 27.0°degrees | 25.0°degrees | 28.8°degrees | 60.5°degrees |
| 6-iron | 37 1/2″1/2 | 30.5°degrees | 28.5°degrees | 32.3°degrees | 61.3°degrees |
| 7-iron | 37″ | 34.0°degrees | 32.0°degrees | 36.0°degrees | 62.0°degrees |
| 8-iron | 36 1/2″1/2 | 38.0°degrees | 36.0°degrees | 40.0°degrees | 62.8°degrees |
| 9-iron | 36″ | 42.0°degrees | 40.5°degrees | 44.0°degrees | 63.5°degrees |
| PW | 35 1/2″1/2 | 46.0°degrees | 45.0°degree | 48.0°degrees | 64.1°degrees |
Who Should Use These Irons?
The Ping i59 irons can be used by any player because of the way Ping was able to combine so many different technologies. However, I love these irons for mid-handicappers, especially those on a mission to be a low handicappers. 
With Ping i59 irons you have enough distance and power to get you to the green. The spin and the feel get you close to the pin. 
In addition, the top-down look of the Ping i59 irons makes them a great choice for golfers that have been swooning over blades but know they are a bit too difficult to hit. 
Final Thoughts on Ping i59 Irons
If you are looking for new irons in 2023, I would put the Ping i59 irons on your list. Ping has combined some of their best technology and put out something unique in the i59. 
It's not often that a company or great players have a hard time fitting a golf iron in a category. The Ping i59 can work for such a wide range of players and styles that you can keep these irons in your bag for a number of years.