Many golf manufacturers have tried to create putters that 'stand out' from the crowd. How would you feel if I told you that there is a putter that does that, literally? The S7K putter has quite a few interesting features, but will this technology 'stand' the test of time or be relegated to the realm of 'gimmick'? Is the S7K Putter worth the hype, and can it actually improve your game? Let's dive into this S7K putter review and unpack what this flat stick is all about.
The S7K Putter Review | At a Glance
The S7K Putter, by S7K golf, is a putter that is different by design. Its standout feature is the golfer's ability to align the club and then leave it standing in position while they check the fidelity of their line. Alignment is made really easy with three prominent triple-track path guides.
The putter's feel is slightly muted compared to its peers; however, with a high MOI, it is exceptionally forgiving, and distance control is relatively easy. The putter also features a lightweight EVA foam handle, which provides great tactile feedback when gripped lightly.
Looks
Mallet putter or blade putter? I just can't decide. The S7K putter could probably be described as a 'hybrid' when it comes to looks. The head does stretch back a considerable distance, but you won't find the same rearward alignment as you would with, say, the Callaway Odyssey or the TaylorMade Spider.
There is a small cutaway section to the rear to create a flange with notches on either side. On top of the cutaway section, you'll find what S7K Golf refers to as a "triple line guide path". At the front is a 'strike dot', which should allow you to align your golf ball perfectly.
From a visual perspective, I love the look of the face of this putter more than any other feature. According to the manufacturer, there is a deep, fly-cut milled pattern that will give a 'buttery soft' feel and a truer roll on the ball.
The putter head is finished in a dull matte anti-glare coating, which is fortunate as the electric blue S7K logo located in the rear would be in real danger of being a distraction otherwise.
I quite like the thin topline, combined with the extended sole made it easy to see my alignment and keep a close eye on it during my putting stroke.
You'll notice something else unique about the S7K putter too. In a slightly unorthodox move, they have introduced face 'onset'. Most putters have the face level with or moved slightly back from the hosel. With the S7K, you'll find that the face is actually in front of the shaft. While this is novel, the difference wasn't glaringly obvious when I stood over the golf ball at address.
Performance
Sound and Feel
Based on my own experience, I found the sound of the S7K putter to be ever so slightly dull feeling. This isn't a bad thing, and it is better this way than something too 'hot'. You certainly won't get a 'clack' with this putter. With a harder ball, this could be a great choice. With anything soft, it was perhaps just a little dull off the face.
The feel over the entire putter face was pretty good. When tried on the practice green, I was able to hit 10 balls within 2 feet of each other without ever looking up. As you move towards the heel and toe, you'll find it grows duller in feel, but as long as you are near the middle, you should experience a good degree of consistency.
One nice feature when discussing how the putter feels is the light head and shaft. This promotes instantaneous feedback fed straight to your hands, so if you hit a bad one, you'll know about it without even needing to look up.
Forgiveness
My S7K putter review found this club pretty forgiving. Looking at the shape alone, you should see that it will have a high MOI. This was apparent during the odd (entirely deliberate) mishit. While it might have felt a little dull when making off-center strikes, the ball path stayed pretty true to where I'd want it to go.
Overall
In the round, the S7K is a really solid putter in terms of performance. I found it pretty forgiving overall.
When it came to making those longer putts, I managed to get pretty close to the hole with the vast majority and even managed to sink a few 20 footers. When it comes to those 'knee tremblers' within 5 feet, you will be able to rest easy. The S7K makes it pretty straightforward. The technology for alignment does a good job, and combined with the feel, it is actually quite a nice package.
Technology and standout features
Putter manufacturers are constantly trying to achieve a breakthrough with differing technologies, and my S7K putter review found it in abundance. There are a few standout features that make it unique. Here's what you need to know.
Stand Alone Address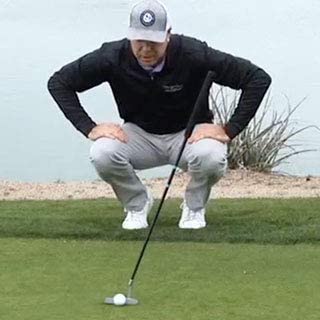 If the S7K putter had a unique selling point, this would be it. The putter is cleverly designed to stand on its own. You can put it down, walk back a few steps and check your alignment.
It's sort of like being the caddie for the invisible man.
The good news is that this works on sloping greens as well as flat greens, a bit of a relief considering that it's a two-shot penalty if the putter was to fall on the ball.
It's an interesting feature. It was good to step back and compare where I was aiming with where I thought I was aiming. Often, I found that the two were, in fact, entirely different.
The S7K putter would be a great option for those who struggle to calibrate their alignment.
Triple Line Path Guide
This is another neat feature. If you are going to take the time to align properly, you need a decent datum. The triple line guide path, along with the strike dot, gives a great degree of consistency. After a few rounds, you should start to find that you are aligning naturally without leaving the putter standing.
High MOI
This is another great feature that S7K is extremely keen to promote. It has one of the highest MOI's on the market. I must say that it was noticeable. If you find that the face has drifted, you will need to seriously consider changing your technique.
Why?
Even contact from the extremities of the toe and the heel produced a relatively straight path. There is no twisting or turning.
In the simplest terms, where you point the putter, the ball goes, regardless of contact. I really like it.
Foam Grip
One of the key areas that S7K focuses on is the heavy head and light shaft. They have cheated a little, however. You won't find too much fancy tech in the shaft itself, but what you will find is a lightweight mid-sized EVA foam handle.
S7K says that it will feel like your hands are floating on the handle. For me, it did feel a little like gripping a piece of pipe lagging. While it can take some getting used to, it actually encourages you to grip the putter lightly. With a lighter grasp, you get better feedback, which is a good thing.
Alternatives
Perhaps our S7K putter review has convinced you that it is a little too 'space age'? Or maybe you want similar features in a different brand?
Here are some great alternatives to the S7K putter.
Ping has been in the game for decades producing putters that have excellent feel and great forgiveness. If you were looking at the S7K with these at the forefront of your mind, this could be a great alternative.
The Ping Tyne C Mallet putter also has a cutaway rear section to make alignment easy. It also has a really high MOI, offering maximum forgiveness on off-center strikes. The short front layer will increase accuracy on shorter putts. The harder back layer comes into play when you hit the ball harder, giving you better distance control at range.
The shallow grooves on the face offer a more muted and softer feel, just like the S7K.
Here are the features that make it a good alternative.
Short mallet shape
Neutral offset
Easy alignment
Great Feel in both long and short putts.
You won't find far better than the Odyssey series of putters when it comes to easy alignment. Here I've opted for the 'two balls' as it is slightly more compact, just like the S7K. When using this putter, there is no doubt as to where the ball is headed. The extended rear section does mean this is a true mallet putter, which will favor a straight-back style putting stroke.
The White Hot face insert is world-famous for providing exquisite feedback. This putter is slightly more 'clicky' than the S7K, so if you prefer a more lively sounding face, this could be the one to go for.
Here are its standout features.
Extremely easy alignment
Excellent feel
Well known and trusted golf brand
Offset face
Final Thoughts
In reviewing the S7K putter, I was pleasantly surprised. While the 'stand alone' feature does smack of being just a touch 'gimmicky', ultimately, it did help to make sure I had true alignment. Even without this feature, the putter performs well in all areas. Alignment is easy, distance control is excellent, and the feel is pretty good too. Is it worth it? I'd say yes. If you struggle with alignment or need forgiveness, it will improve your game.