When golfers shop for a new set of clubs, the Srixon irons don't always get considered in the mix. With big names like TaylorMade, Callaway, and Titleist producing so many great choices, Srixon has a lot of competition. In recent years their irons have started to pick up popularity, now being played by major professionals including Brooks Koepka.
Some of their irons fly under the radar, but not the ZX4 irons. Once these came out they quickly became a hit, even making the Golf Digest Hot List.
When I first tried these, I expected game improvement run of the mill, but what I found was something entirely different. Take a look at what the Srixon ZX4 has to offer and whether it could be a good match for your game. 
Here's our full Srixon ZX4 irons review.
Srixon Zx4 Irons Overview
Srixon ZX4 Irons
Sleek Players Design for a Game Improvement Iron
Forged construction provides exceptional feel
Hollow design allows for max ball speed and distance
Forgiving on mishits
One of the best iron sets released in 2022
We earn a commission if you make a purchase, at no additional cost to you.
The Srixon ZX4 irons are intended to be a game improvement iron. However, when you look at the club from the address, it has a player's distance look to it. In addition, the forged-like feel makes you think that the iron could almost be in the player's category. The set reminds me a bit of the P790s in that way.
The Srixon ZX4 are clean looking, they have a hollow design, and are strong lofted to help players gain a bit more distance. If you are a mid handicapper, this iron takes everything you need from forgiveness, distance, and feel standpoint and mixes it into one set of irons. 
One of my favorite features of the Srixon ZX4 is the long irons. The long irons have a wide sole and plenty of forgiveness, but when you set up to hit, the club looks like a more traditional short iron. 
Srixon ZX4 Key Features
The Srixon ZX4 irons have some impressive technology built in. As we mentioned, the shaping and design here was certainly unique and meant to grab performance from a variety of different types of golf clubs. Some of the key features include: 
Tour V.T. Sole: the sole is V-shaped to encourage better turf interaction; for golfers that struggle with hitting behind the ball, the ZX4 is there to help. 
Multi-Piece Construction: when forgiveness is on the line, using more than one material in the club head is essential. The Srixon ZX4 irons include Tungsten, a forged HT1770 steel face, and a 431 Stainless Steel body. Each material was carefully selected to maximize performance. 
Advanced Groove Technology: the ZX4 set is a progressive design that also applies to the grooves. The short irons will allow for more spin and accuracy, and the longer irons have a bit lower spin and more distance. 
Hollow Design: more and more high performing golf irons for mid handicappers are moving to the hollow design, which allows for tremendous distance while maintaining a great feel. 
Looks
The Srixon ZX4 is a bit thicker than the other irons in the ZX series from Srixon. However, they did a really good job with the top-down look. When you stand over the ball, it looks more like a player's distance iron than a game improvement iron. 
Srixon has said that their goal here was to create a golf club that would appeal to a wide range of players and has a unique look to it. From our perspective, mission accomplished. I think both high handicappers and low handicappers alike will be able to hit these irons.  
When you look at the bottom of the club, it may turn you off, but stand with it at address, and your mindset may change. Srixon was essentially able to hide the bottom of the club head. If you hate a thick sole, these may not be the best possible irons for you.
Performance 
The Srixon ZX4 irons combine forgiveness and distance to increase overall performance on the course. I found that the short irons were accurate and allowed for plenty of distance. The long irons were surprisingly easy to hit and had that built-in forgiveness that I needed. I was super impressed with the distance I was able to get with a 4 iron in hand.
You can work the ball a bit with the ZX4 irons, but it's not meant to be overly workable. If you want something that is more of a finesse club, there are better choices in the Srixon lineup. This set is meant to send the ball as straight as possible.
Forgiveness
Forgiveness was never an issue with the Srixon ZX4 in testing. I did notice that the offset is slightly decreased from other game improvement irons on the market. However, this did not decrease overall forgiveness. It was actually quite refreshing.
The center of gravity is easier to position in a clubhead when you use various materials, especially Tungsten. With the wider sole, I also felt as though I had a bit of room to miss. If I didn't strike the ground exactly, the overall results were still something I could work with out on the course.  
Sound and Feel
The sound did not stand out to me as either positive or negative. It was similar to any other iron in this category from other manufacturers. However, the feel is really impressive. The forged face is noticeable, and the feel is a bit smoother and softer than I would have expected from an iron like this that boasts both forgiveness and distance.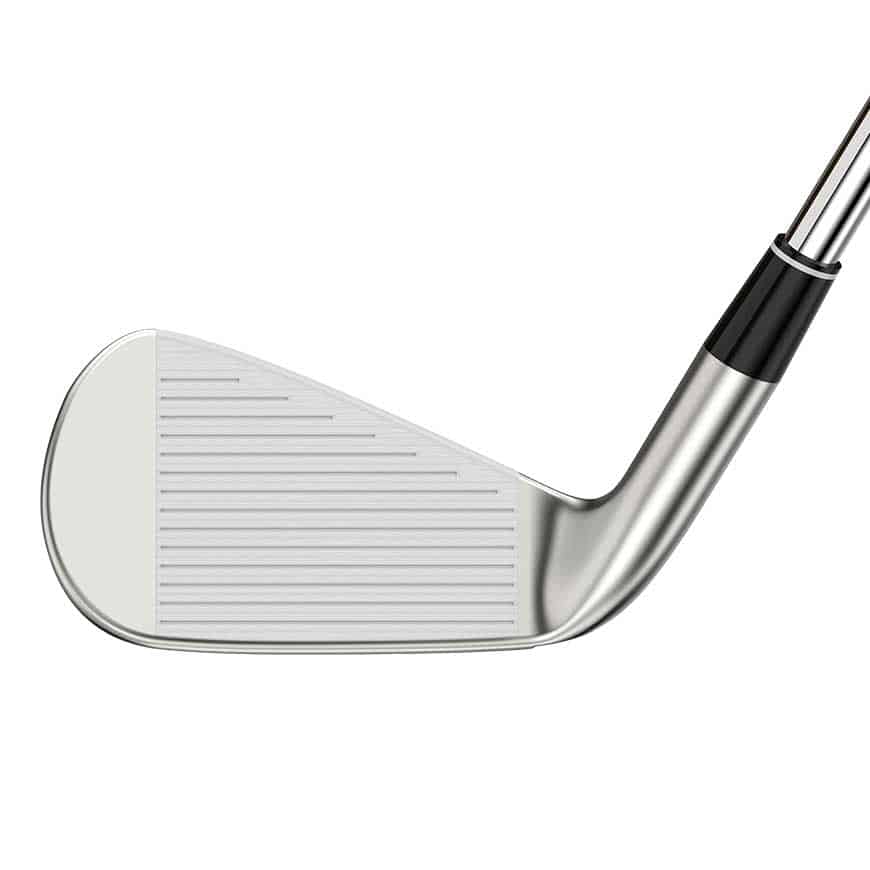 These irons do justice to the forged feel- nothing quite like it.
Club Specs
As you can see from the lofts on the Srixon ZX4 irons, there is some strength in these clubs. They are lofted to be more like a game improvement set or a player's distance set, and that has certainly helped with the popularity of the clubs. 
You will probably want to get the matching AW at 49 degrees; you'll need this gap between your irons and wedges filled. 
| | | | |
| --- | --- | --- | --- |
| Head | Loft | Lie | Length |
| 4 | 21° | 60.5° | 38.5″ |
| 5 | 23° | 61° | 38″ |
| 6 | 25.5° | 61.5° | 37.5″ |
| 7 | 28.5° | 62° | 37″ |
| 8 | 33° | 62.5° | 36.5″ |
| 9 | 38° | 63° | 36″ |
| PW | 43° | 63.5° | 35.5″ |
| AW | 49° | 63.5° | 35.5″ |
Who Should Use These Irons? 
I like the Srixon ZX4 irons for the golfer who cares about feel off the face but still needs help with distance and forgiveness. If you want to move out of a super game improvement set or leave clubs that don't feel great off the face, this is a great next set. 
With the ZX4, you won't be costing your game any distance or making the sweet spot of the club harder to hit. Srixon really surprised the market with this release of the ZX4. It stood out as something entirely different and really blurred the lines between the game improvement and players' clubs. 
I think it will be much harder to put a golf iron into any one category in a few years. With clubs like the ZX4 and the P790s, game improvement sets are becoming more like players sets by the year. Not a bad thing for your average player.
Final Thoughts
Hopefully, you have a better idea of what the ZX4 from Srixon offers. I would add this to the list of clubs to consider for any golfer in the mid-handicap range. If you care about feel, forgiveness, and total distance, the Srixon ZX4 could end up being the right fit for your golf game. 
Keep in mind that Srixon has a lineup of irons in this ZX series that may help you fine-tune the performance you are trying to get. Thanks for reading our Srixon ZX4 irons review!