Golfers are always looking for the perfect golf bag to fit their needs, and frankly sometimes less is more. The Loma Bag by Sunday Golf is a small golf carrying bag that weighs less than 2 pounds, making it perfect for those who are on the go or have limited space. It also has plenty of storage within its two zippered compartments and three external pockets to allow you to carry your essential golf clubs and equipment with ease! To find out more about this lightweight, durable golf bag, check out our full review below!
Sunday Golf Loma bag: First Impressions
When I first got my Loma golf bag, I was super impressed with the presentation, even just starting with the unboxing of the golf bag.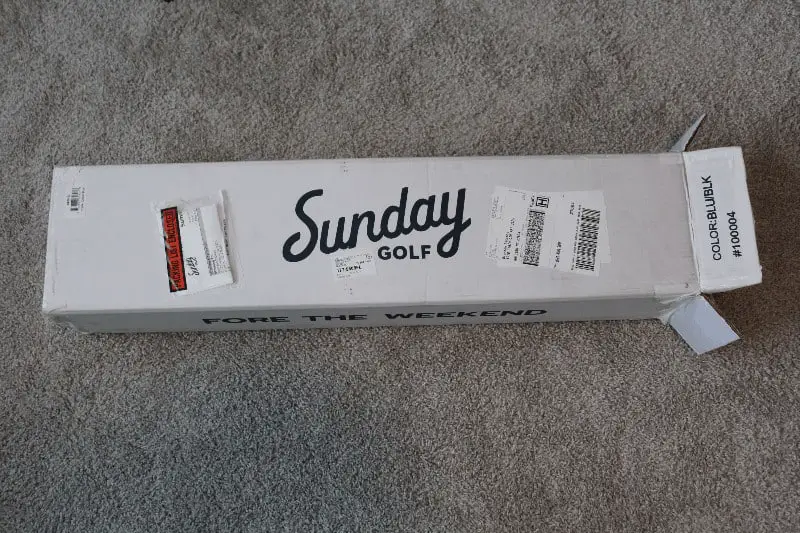 The most standout first impression I had is just how compact and lightweight it is- the thing is nearly weightless, yet obviously made from sturdy materials. The legs of the bag are quite sturdy which is a huge plus in my book, and the strap sits on your shoulder with ease when you grab it. I love the design of the bag itself, with it's sleek embroidered logo and two tone color scheme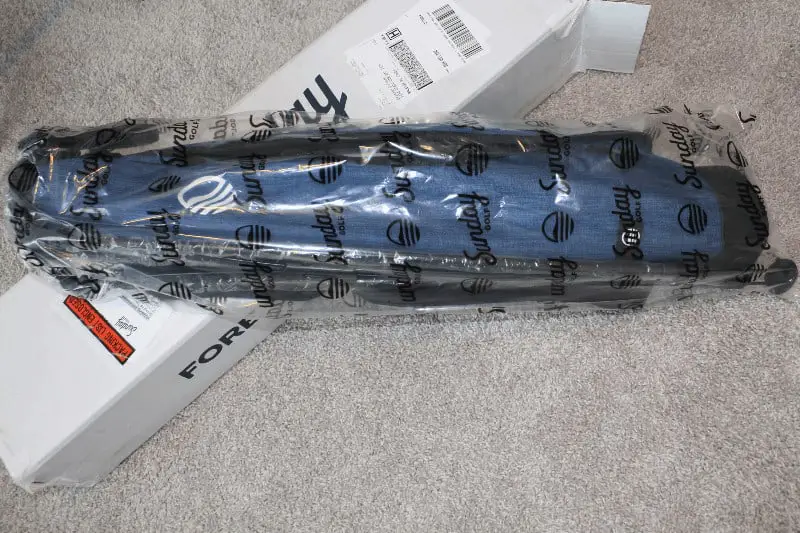 .
This Sunday Golf bag is a perfect lightweight carry option for those of us who want to carry a bag for 9 holes or a bring it to a range sesh without a huge burden, or just want something that doesn't take up much space in your trunk.
Features and Functionality 
For being such a compact and tiny golf bag, this thing is packed with features. The actual make of the bag feels high end, and feels like a bag that will last quite a few seasons before showing any signs of wear. The handle is well placed and the bag is light enough that it makes sense to use it, while the stand the bag sits on feels well structured and sturdy.
The Loma Bag features a full length divider, with a zipper compartment on one side and an open pocket for larger items on the other. The bag can comfortably fit about 7 clubs in it without overcrowding.
The bag also features two external pockets, both with zippers to ensure your valuables are protected from weather or being squished by all of your clubs! The top level pocket is mesh so you can easily see what's inside without having to dig around. I find myself using this pocket for my phone, keys, or the occasional beverage.
In total there are 5 pockets included in this bag, one of which is dubbed the "Frosty Pocket". This is an insulated pocket that's deep enough to carry about 2 12 oz cans of whatever it is you like to drink on the course- not bad for a bag made for a quick jaunt.
There's also a nifty Velcro glove holder, which is an excellent addition to this bag- you slap your glove on the outside of the bag, freeing up some interior space for more important items. There are also 7 little tee slots on the outside of the bag, allowing for maximum functionality while out on the course of the range.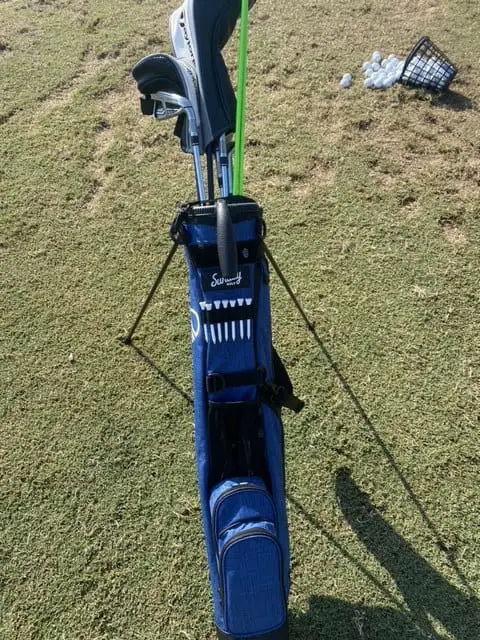 One of the most impressive things about this bag is the weight. This bag is so light you'll sometimes forget it's on your back! The bag weighs just under two pounds (1.95 pounds to be precise), making it easy to carry for longer periods of time without adding too much strain to your back or shoulder.
What We Love
There's a lot to love about the Loma golf bag. I know my favorite thing about it has got to be the weight- this bag is so light, yet still feels sturdy and well made. The high quality materials are definitely one of the biggest selling points for me!
The pockets on the outside are great for keeping your phone or wallet safe, while also being able to grab what you need quickly. There is plenty of storage room on the inside of this bag as well, and I'm certain that it will fit everything you need for an abbreviated round. It's really easy to fit 6 or more balls in the bag without it getting too heavy or stuffed-looking.
I definitely love the versatility of this bag- it's super easy to bring to the range, or a late evening round; there are dozens of times where I've preferred to grab my Sunday Golf bag rather than my full size bag.
Drawbacks
Honestly, the only drawback to this golf bag is the strap- it just doesn't seem to sit perfectly on my shoulder. It's not a huge issue since I can just grab the handle and go, but it would be nice if the bag hung a little more vertically on it's own. The bag tends to be quite horizontal, with the occasional club starting to slide out here and there.
Not the best, but not the worst by any means. The strap isn't and shouldn't be a huge deterrent, as it's such a light bag it's pretty easy to just hold the top steady as you walk.
FAQ on Sunday Golf Loma Bags
What is a Sunday Bag?
A Sunday Bag is a golf bag that fits only the essentials, for those of us who just want to grab some clubs and head out on the course without dealing with all of our gear. The name Sunday Bag comes from the fact that it's typically used for casual rounds on Sundays, when you don't want to haul around your usual bag.
How Many Clubs Fit in a Sunday Bag?
Most Sunday Bags can fit up to about six clubs maximum. This is not a bag you want to bring to a money game- instead, this is a bare bones essentials bag to bring to the course at your leisure.
Are Sunday Bags Worth It?
In my opinion, Sunday Bags are a great option for those who want to travel light without sacrificing too much on the functionality end. This is a bag you can bring around with ease and not have to worry about it carrying a 50 pound bag. What's more, most Sunday Bags come at a relatively affordable price point compared to full sized golf bags.
Final Thoughts
Sunday Golf have made one of the best lightweight and affordable golf bags out there. The quality of the materials is nothing to scoff at, and it can all be yours a pretty decent price! If you want a bag that will fit half a dozen clubs without weighing you down, this is an excellent option- I had a feeling I'd love it, and boy was I right.
This bag has become my go-to choice when heading out early before work with just enough time for some quick rounds or range sessions; never once have I felt limited by its size. Overall? This is a must buy for any serious golfer out there.