When I think Sunday Golf, their compact, lightweight and functional carry bags come to mind- neither of which are full size and meant to carry all 14 clubs. I've reviewed both their Loma bag and their El Camino bag in the past, and overall love both products. The Ryder Bag is arguably their most exciting release yet, and not to spoil the surprise, but this is my favorite of the trio.
If you love Sunday Golf's products, this is a no brainer bag. The thing has everything and does everything you could need in a slim, bulk-less package. If you don't know these other products that's ok too- this bag is the complete package and is a plug and play option for virtually any type of golfer. So what's the deal with this new release? Check out our Ryder Bag review in full below.
First Impressions
When I first unboxed the Ryder Bag, my first thought was how compact the package was for a full size bag. The bag doesn't seem to be that big at first glance, but the more you dig into the details, it has a shocking amount of features included. After digging into all the little pockets and features, I was actually blown away. This bag can hold a lot more than a couple other bags I either currently have or had in the past, yet it's lighter with a smaller overall package.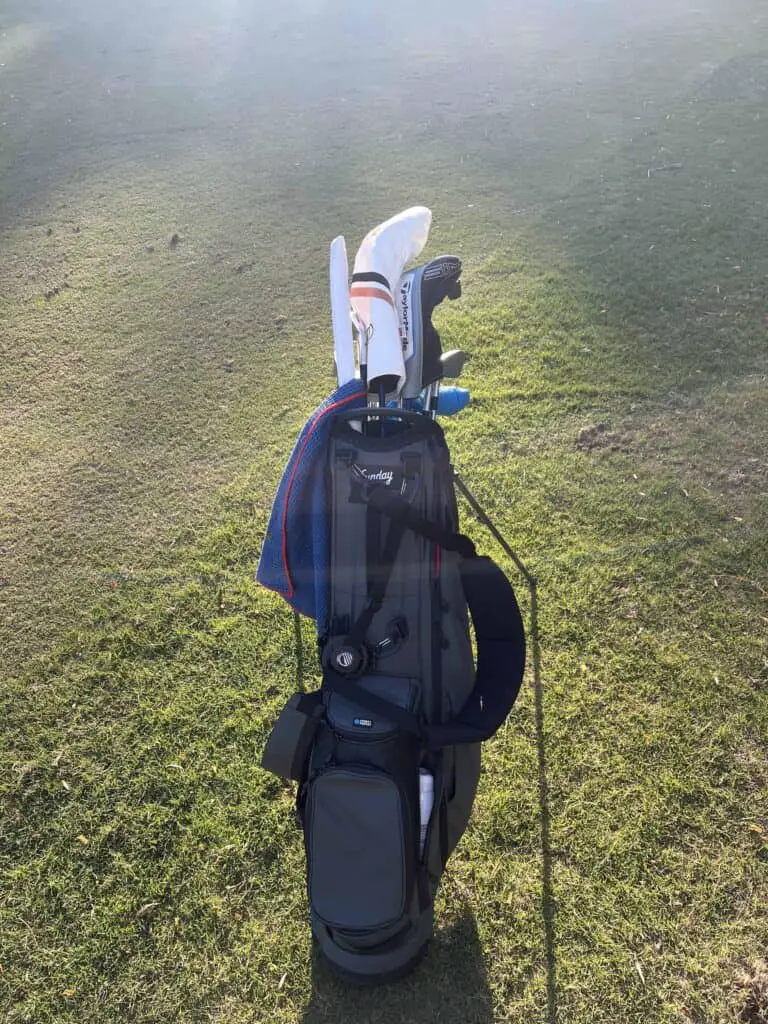 My initial takeaway before taking the Ryder bag out on the course was that this thing could have the makings of the ultimate golf bag, and I mean that literally.
Key Features and Functionality
There's a lot going on with this bag, so in this review of the Ryder Bag I wanted to be sure we unpack all the small details it has to offer.
Pockets
The Ryder Bag has 7 different pockets that fit into this lightweight package, which I thought was pretty incredible. There's a huge "Frosty Pocket" that can easily fit 2 full size water bottles or 4 cans, which is plenty of storage in my book.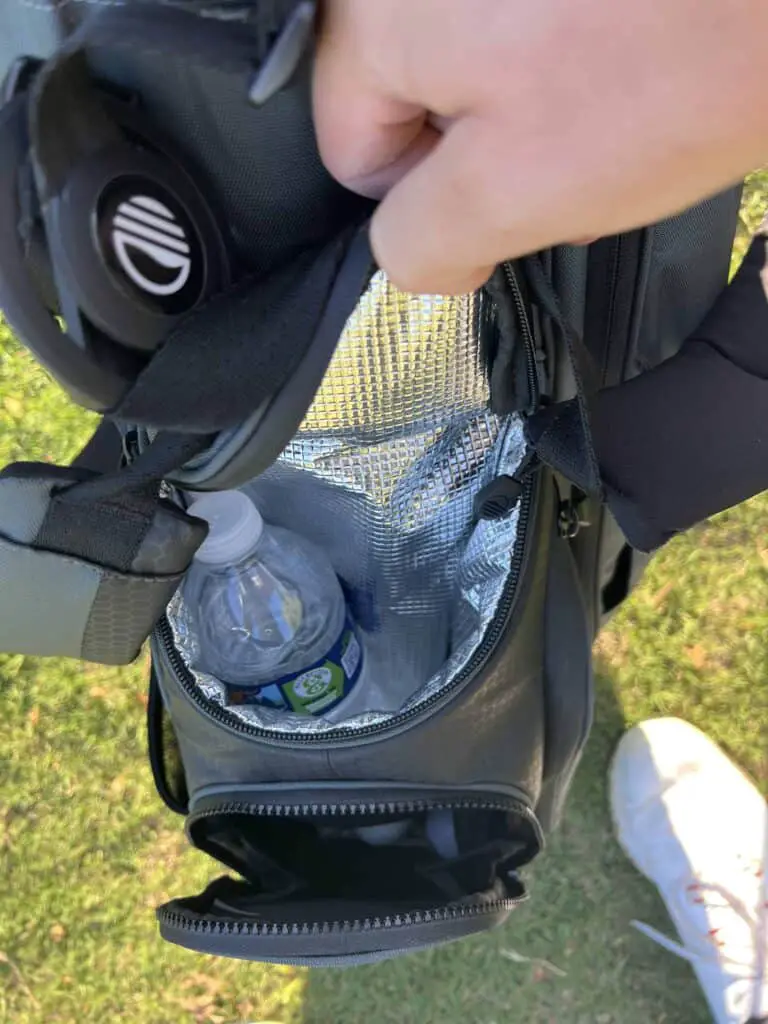 The main front pocket is generous, allowing for plenty of storage for tees, balls, etc. On one side there's a quite sizeable general accessory pocket included, which is pretty standard of course.
There's a nice velour lined valuables pocket, a compact rangefinder pocket, a full length apparel pocket (I was shocked at this, given the compact look the bag has), all of which I would consider a luxury in the golf bag game.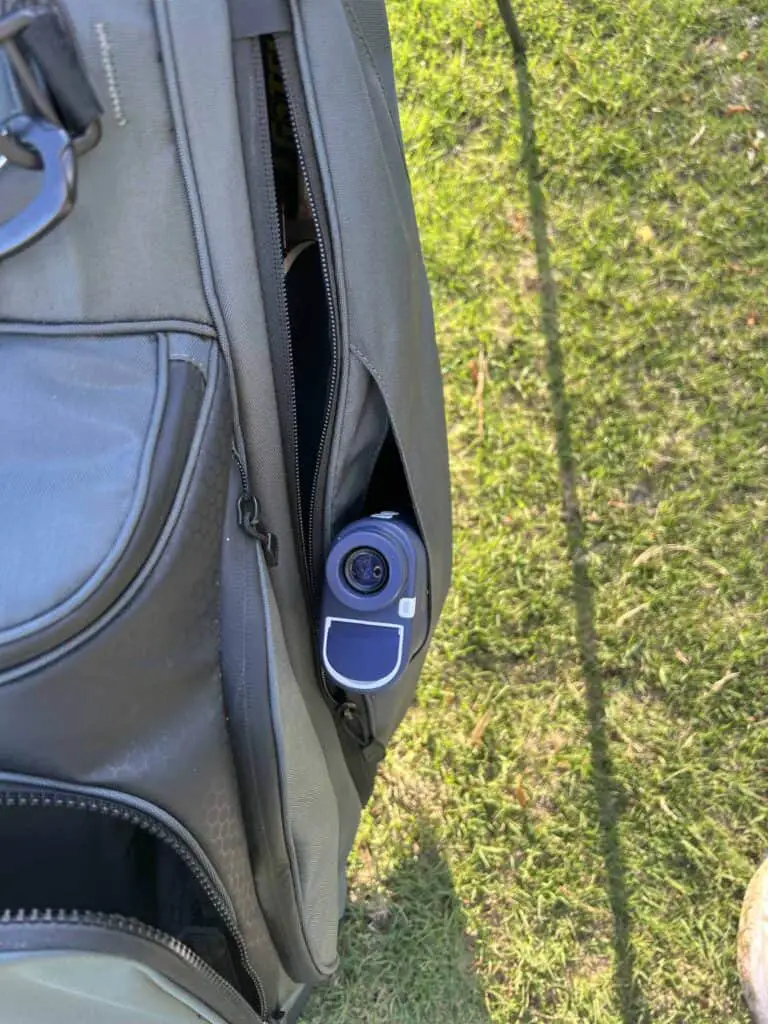 This bag has one thing I don't think any other bag out there has- a Smell Proof Pocket. Yep. That's a multi-purpose pocket for any type of golfer out there, to say the least.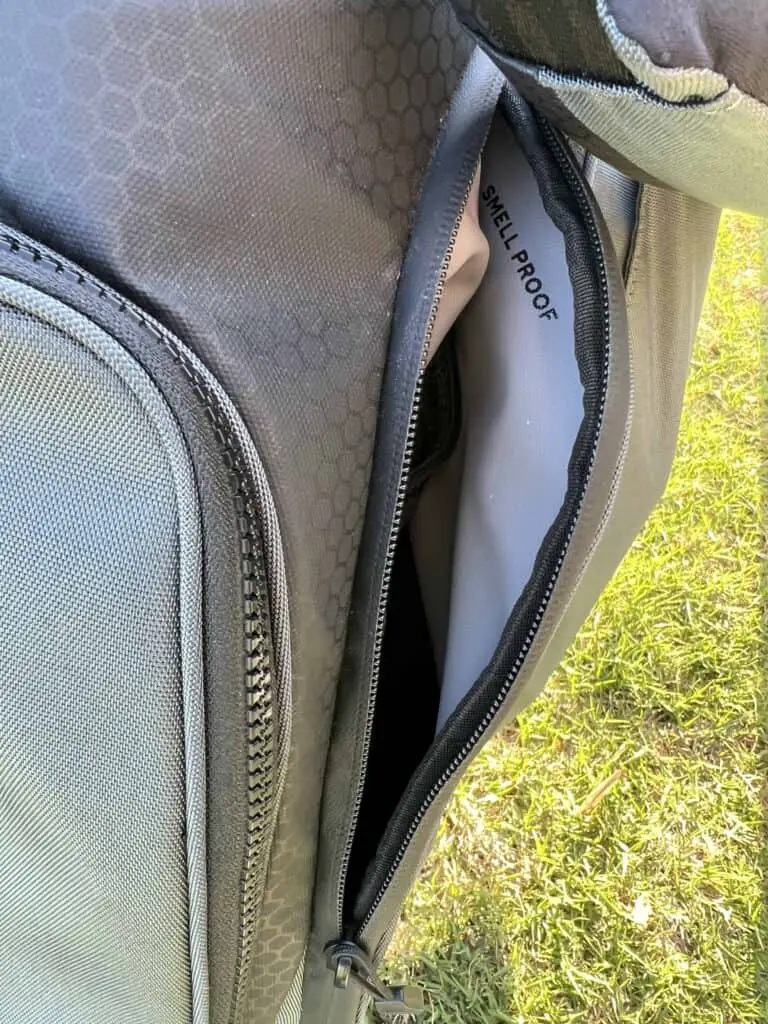 Bag Features
For me a lot of what makes this bag exciting is the slim package that's packed with functionality. With that said, I wanted to still note a few high level bag features about the Ryder Bag by Sunday Golf. To get into some specific details, the Ryder bag stands at 35″ tall, with a 4-way top divider that comfortably fits all 14 clubs, and some alignment sticks if you choose.
The Ryder bag has the bones of the other Sunday bags with adjustable carrying straps and a glove holder on the outside of the Bag. Beyond that there's a good pass through section to strap the bag to a cart, as well as both a towel and umbrella holder. Both nice touches for such a slim bag.
What We Love
There's a lot to love with this lightweight stand bag. I think the most stand out thing for me is just how many useful pockets this thing has. The apparel pocket is full size and can fit at least some rain gear and a ball retriever; the rangefinder pocket is super convenient. The smell proof pocket is going to be useful for MANY golfers out there, and the frosty pocket keeps drinks cold for literally hours on end.
As with other Sunday Bags, I do love the glove holder and velor lined valuables pocket. These are staples found in every single Sunday Bag, and for good reason. There's just massive functionality out of this bag, and the fact that it isn't bulky at all is super impressive.
Drawbacks
If I have to get picky, I would say the straps are just decent- this is in contrast of the rest of the bag being way above average to excellent. The bag does hang quite low on your back if you keep the original fit, however it is adjustable and you can make it comfortable as you see fit.
One upgrade on these straps compared to the other Sunday bags is that this bag seems to be weighted well, and you don't encounter any issues where the irons may start to slip out at all.
If this is the biggest drawback in a golf bag, you know you've got a winner on your hands.
Final Thoughts
A great golf bag should be able to hold everything you need (and more) without weighing a ton on its own. You want something built well, ideally lightweight, and packed with features. By definition, the Ryder bag excels in all of these areas. I was really pleasantly surprised in trying out this bag, and am happy to say this is definitely going to be my main bag moving forward.
This bag is great for the walk and carry crowd, as well as the cart crowd alike. Check it out on Sunday Golf's website here.