If you've found this page, you obviously take golf quite seriously and are looking for some irons that can help you level up. Maybe you're coming from an older set of irons, or a pure game improvement set. Regardless, you came to the right place. The TaylorMade P790s are some of the most stunning irons on the market, even a year after their 2021 release.
If you're looking for a set of irons that may help you reach the next tier of your game, check out our full Taylormade P790 irons review below.
Short Version
The TaylorMade P790 Irons are an upgraded and revamped version of the incredibly popular P790 iron set released in 2017. When the first set came out in 2017, both amateurs and PGA Pros alike were stunned at the performance of these clubs; they're incredibly long, workable and still forgiving. The TaylorMade team have made a the face thinner and the sweet spot larger in the updated version of these already impressive irons.
In a few words, the P790 irons are a joy to play with. TaylorMade had far exceeded expectations with these irons. We don't want to sound too enthusiastic, and we aim to be unbiased in our reviews, but these clubs are genuinely great.
One sure-fire way to assess a club's quality and target market is to see who is carrying it in their bag. This is where the P790 irons are somewhat of an enigma. You'll find them being used by tour pros, scratch players, mid handicappers, and even beginners. If that doesn't give testament to how hittable these irons are, we don't know what will.
Here's a quick rundown of what we thought: –
Pros
Absolutely A1 in the looks department
Excellent feel and control
A good degree of forgiveness
Cons
They look like blades, not always great for inspiring confidence
Not a huge difference from the previous model.
In short? These will work for the low and mid handicap crowd, but even players at the highest level will appreciate these clubs. The P790s will end up being a set of irons that won't easily be replaced in your bag. These are a true investment into your golf game.
Here are a couple places to buy them:
TaylorMade P790 Irons Full Review
The TaylorMade P790 is the new and improved version of TaylorMade's previous iteration released in 2017. The foundations of these iron sets are the same, but the 2019 version have a few key performance improvements built in.
Let's run through some features of the P790s.
Face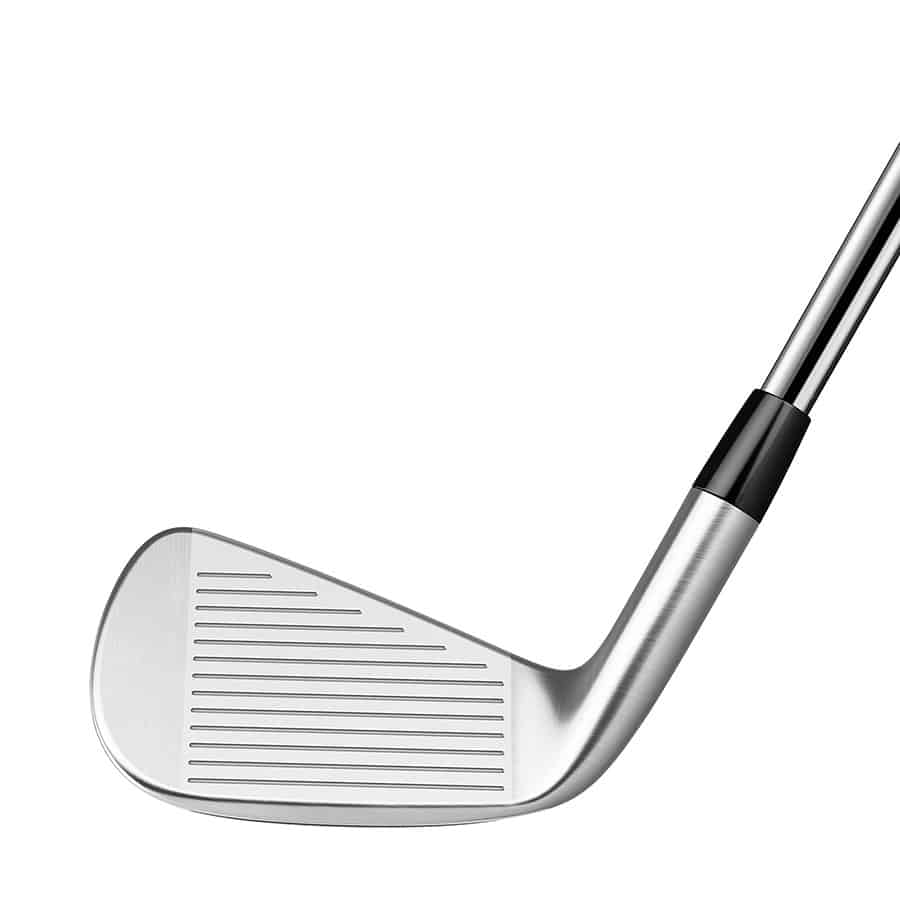 The forged face has been made thinner than the original P790 iron set; its about 7% thinner in the 2019 model. That might not sound a lot, but the ultimate aim is to encourage a faster ball speed and maximize the clubface's hittable area. For you, as a player, this means that the irons should be easy to hit and fly off the face with impressive speeds.
Performance
These irons are killer in the performance department; for something that looks like a blade, we were surprised at how easy they are to hit, as well as the distances they can produce compared to the 2017 version.
The ball flight from these irons is absolutely spot on. The trajectory the P790 irons produce is naturally high, and the shot dispersion these clubs produced was pretty narrow. If you're looking for a little more consistency, that was one of the first things I noticed on how these performed.
The hollow face really works well with regards to getting a decent launch on the ball. For those who have ever had the misfortune of trying to hit a thoroughbred 'blade', you'll know that shots coming off anything other than the middle are punished and punished hard. With the P790 irons, even off-center shots flew. Again, these are not a 'game improvement' iron. So, you won't get away with an atrocious shot, but they would offer a decent degree of forgiveness for your average player.
Feel and Sound
Unless you hit one off the toe or hosel, you'll be rewarded with a crisp and pleasing crack. There's not even a hint of hollowness or softness like you may expect from a hollowed iron.
One of the reasons people upgrade from game improvement irons to a players profile iron is to look for a greater feel in a club. Once you know a good shot from a bad shot based on feel, it may be time to up your game to something that gives you really great feedback.
The feel on the P790 irons is exemplary. The feedback on both feel and sound is great, whether you hit it well or didn't. While you might get away with slightly thin shots, anything south of the sweet spot is going to feel hard and be fed straight back to your hands.
Short game performance is another area where these irons really shine. The Pitching Wedge feels great both on a full swing and around the green. Again, the sound is just pure.
Here's a quick video from our testing to demonstrate how flush these things sound:
Looks
This alone is a stand out feature of these irons. Frankly put, these irons look sick. They do look much more akin to blades or a real players iron, and they certainly make you feel confident standing over your shot.
The 2019 version looks are slightly, and only slightly, different from that of their predecessors. The new iteration features a polished chrome sole. At first glance, you would be forgiven for thinking that the TaylorMade P790 irons were a set of tour blades. They certainly look like a set of blades, but due to some inherent technology TaylorMade's put into these clubs they are more forgiving, and end up falling more in the Players-Distance category of irons.
Technology
Besides the features that we have already discussed, there are a few minor upgrades and improvements from the old version of the P790 irons and the 2019 model. The lofts are about what you would expect, with no surprises with overly strong lofts or offsets.
The head of the P790 irons is actually hollow. Essentially think of them like cavity backs, except for the 'cavity' at the back is covered up. TaylorMade combines the hollow back with an ultra-light urethane 'speed foam'. This foam increases the ball's speed off the face and gives a superior feel in and after the strike.
The Speed Foam Technology has remained the same year over year- here's a video of some of the TaylorMade team checking it out:
The P790 irons also feature a tungsten weight insert, which is designed to lower the center of gravity of the club. The net result is that you should see a higher ball launch. TaylorMade has increased the tungsten weight by a total of 15% compared to the 2017 P790s. If you got a high launch from the old set, you could expect this effect to be somewhat magnified with this version.
One last thing to note is the shaft lengths of the 2019 versions are slightly longer if you buy from factory spec without fitting. It is subtle, but it is worth considering if you prefer to be fitted for your clubs and hope to get 'like for like'.
Specs
| CLUB | 3 | 4 | 5 | 6 | 7 | 8 | 9 | PW | AW |
| --- | --- | --- | --- | --- | --- | --- | --- | --- | --- |
| LOFT | 19.0° | 21.0° | 23.5° | 26.5° | 30.5° | 35.0° | 40.0° | 45.0° | 50.0° |
| LIE | 60.5° | 61° | 61.5° | 62° | 62.5° | 63° | 63.5° | 64° | 64° |
| OFFSET | 3.5mm | 3.4mm | 3.1mm | 2.9mm | 2.7mm | 2.4mm | 2.1mm | 1.8mm | 1.6mm |
| LENGTH (STEEL & GRAPHITE)  | 39.00″ | 38.50″ | 38.00″ | 37.50″ | 37.00″ | 36.50″ | 36.00″ | 35.75″ | 35.50″ |
| SWING WEIGHT (STEEL/GRAPHITE) | D2/D0 | D2/D0 | D2/D0 | D2/D0 | D2/D0 | D2/D0 | D2/D0 | D3/D1 | D3/D1 |
Considerations When Buying
If you've done your research, you'll know that you will have to see these clubs as a bit of an investment. They certainly aren't a budget model; if you're looking at these, you're definitely more than just a weekend warrior. We'll be honest, there's not a lot of downside to these irons.
Here are a few things to consider before you pull the trigger.
Upgrading to the P790 Irons (2019)
If you are already the proud owner of the previous version of the TaylorMade P790 Irons, you might be somewhat underwhelmed by the difference in performance. Aside from a facelift and a few tweaks to the inherent technology, these are still quite similar to the 'old' P790 irons.
Do these differences offset the cost? Well, that is for you to decide. If you are looking to upgrade from a game improvement set, or perhaps your current irons are 5+ years old, you'll find these to be a welcome replacement.
We like that the irons have only been subtly changed from the initial version of the TaylorMade P790s. In fact, when we tried them, we were a bit skeptical that they would have spoiled a 'good thing'. Luckily, the only changes made have been genuine improvements.
Change In Length
As we said in our TaylorMade P790 Review above, for the eagle-eyed among you, you may have spotted a subtle difference in the length of the club.
With a slightly longer club, you will get one key benefit: faster clubhead speed. By increasing the length (in this case by ¼ of an inch), you might gain just a touch more speed. Now, this isn't a deal-breaker. But if you are used to 'standard' clubs, this might just wrong foot you slightly. It isn't critical, but it is worth considering when you try them out and marvel at your miraculous 'extra' 3mph of club speed.
P790 Irons | FAQ
When buying new clubs, there are often things that you really want to know. Here are some of the questions that we've seen for these irons:
Are the TaylorMade P790 Blades?
This is a categorical 'no'. The P790 irons are not blades. They may look like blades (sometimes they even sound like blades), but they aren't. As we said in our P790 review above, the clubhead is hollow. Genuine 'blades' are solid all the way through. These are more of a Players-Distance iron, so they'll end up being useful for the average player.
Are TaylorMade P790's Good for Mid Handicappers?
They most certainly are. In fact, if we were to pick a group of golfers that these would be ideal for mid handicappers would be high on our list.
The TaylorMade P790 offers a decent amount of forgiveness, counterbalanced with just the right amount of feel. If you know one end of the club from the other and can even apply a degree of shape to your shots, these are going to work well for you.
Are P790 Hard to Hit?
The P790s are surprisingly easy to hit. We don't know whether it's because we were used to trying extra hard with blade style clubs and were expecting the worst. The hollow face and speed foam really do work as well as they claim to, and we felt that most shots came off with a  great degree of consistency and accuracy.
They aren't a game improvement iron, but they are certainly close in terms of ease of striking.
How much are the P790 Irons, and Where Can I Buy Them?
The price of the TaylorMade P790 irons can vary depending on time, retailer and condition. If you want to get a good idea of how much it will take to invest in a set of these irons, here are a couple places to look:
What Other People Say
We always like to get second opinions when we are reviewing clubs. What works for one might not always be the case for another. We have checked out what other people have had to say about the P790 irons in their reviews. Here are their thoughts:
"The distance, shape control, and feel are remarkable. I have never seen such a noticeable improvement in such a short time."
"I feel like the P790 can cater to anywhere from a very low to mid handicapper. If you're in the market, give them a try, I'm pretty sure you'll love them too."
"The distance and accuracy with these are an easy to play blend. After 6 weeks, I have worked my way back into the lower 80's and upper 70's. The clubs are the difference. Such a premium club in both looks and feel. Great job, TaylorMade."
"What an upgrade over my current game improvement irons! Super feel, still forgiving and with extra controllable distance. There is a reason these sell so well."
Alternatives
Do you like some aspects of the P790 irons, but not others? Why not consider these instead?
Titleist T100
If it's forged, you are after, forged you shall have. A similar style of club used as a good all-rounder, the Titleist T100 offers a lot. The clubs aren't true blades, but they share a mix of tour performance with some much-needed forgiveness.
Tour sound, look and feel
Ideal for mid handicappers
Above-average forgiveness
Ping G410
Perhaps you want just a touch more forgiveness or something with similar performance on a slightly lower budget? The Ping G410 offers a high launch angle and a huge degree of forgiveness. The looks are more of the blade-style too, just like the P790's.
Blade-alike compact clubhead
Great forgiveness
High launch angle
Callaway Apex 19
Another forged iron that offers a great trajectory without compromising on the forgiveness. Feel may be something you are looking to develop; these could fit the bill in this regard. These irons also incorporate urethane to dampen vibration and increase feel.
Hollow injected face
Optimum weighting for great trajectory
High ball speed
Final Thoughts
As you will have seen from our TaylorMade P790 review… There isn't too much that has changed with regards to these irons. But that can be a good thing. When something works and works so well, you don't need to be 'reinventing the wheel'. These clubs offer stunning good looks, a generous amount of forgiveness and will travel with you as you progress in improving your game. What more could you want?