When TaylorMade released their SIM series for fairway woods, it was a bitter sweet moment for the golf world. The TaylorMade SIM and SIM Max fairway woods were released in 2020, and ultimately replaced the "M" series, which we saw from the TaylorMade M1 up through the previous M5 and M6. Keeping that in mind, this is not a sad story.
Now that we can look back on this, the addition of the SIM series was an awesome upgrade from a technology perspective, and the TaylorMade SIM fairway woods pack a serious punch. We know these were released a few years back in 2020, and of course you must be asking yourself if the SIM Max fairway wood is still relevant in 2023?
In short, definitely. In fact, I still keep the SIM Max 3 wood in my bag in 2023.
Below is our in depth TaylorMade SIM Max Fairway Woods review, where we discuss how we feel like these fairway woods stack up in 2023.
Let's get into it.
TaylorMade SIM Max Fairway Wood overview
The 2020 release of the SIM Max Fairway wood was unbelievably exciting; these clubs got a complete redesign from the previous M5 & M6 woods, and to this day these are still my favorite woods from an aesthetics point of view. The technology in this fairway wood is what makes this club so special, which we'll get into shortly.
The SIM Max fairway wood is designed to be very easy to hit (as far as fairway woods go), with a naturally high launch angle, and loads of forgiveness packed in.
This is an awesome fairway wood for any golfer, whether you're a low, mid or high handicapper. The forgiveness benefit this fairway wood has will help any average golfer make better contact. For some context, I'm currently a 7 handicap, and this is arguably my favorite club in my bag.
Now that the SIM Max fairway wood is a few seasons out of date, you can grab it for a pretty reasonable price. If you want some great technology without paying over $300 for a 3 or 5 wood, this is an excellent club for you.
Check the price for the TaylorMade SIM Max fairway wood on Amazon here.
TaylorMade SIM Max Fairway Wood Review: Deep Dive
Looks
While not technically the most important factor, looks play a huge part in my book. You want to like the way your club looks in your hands. First impressions with the SIM Max fairway wood? This thing is an absolute beauty.
I love the Composite Carbon design when looking at the club top down, and the white accent against the face just looks sleek. The sole also has a pretty attractive design with the prominent V Steel sole.
Overall, this is just a damn good looking fairway wood.
Performance
The SIM Max fairway wood I've tested is specifically the SIM Max 3 wood. I expect the general performance characteristics to carry over across all of the fairway woods, and just adjust in terms of distance.
When I upgraded to the SIM Max fairway wood, I was trading out of a Ping G25 wood.
After taking the SIM Max to the range a few times then out to the course, I was super impressed with the performance of this club. My first impression was that I could send this fairway wood much higher than the club I just traded out of, which is something I was struggling with prior with the G25. With this higher ball flight, I still saw a pretty substantial increase in distance to the tune of about 10-15 yards.
I previously hit a 3 wood about 220 off the deck, and now I'm pretty comfortable going for a shot in the 235-245 range. Off the tee, my previous fairway wood would go about 235- I now have 255+ in the bag with the SIM Max fairway wood.
For a 7 handicap, that's a huge deal.
I tend to hit a draw with a fairway wood, and that stays true with this club in hand. That said, I find it pretty easy to work this club both ways, but find it hard to hit a huge cut. Not the worst thing in the world for your standard golfer who might want this club in the bag.
Overall,, the performance of this fairway wood is superb, and that's what has kept this club in the bag several years after it's initial release.
Forgiveness
Now, disclaimer; this is still a fairway wood, and it can still be challenging to strike well for an average golfer. That said, the twist face and other tech packed into this club do make it about as forgiving possible with a wood in hand.
I don't tend to get wild mishits with this fairway wood in hand- this was a big problem with my previous Ping.
This is the most forgiving of the SIM fairway wood options, and frankly is probably the best fairway wood for most golfers out of the bunch. Overall, the SIM Max is great in the forgiveness department.
Sound & Feel
For a club that's designed for a huge range of players in mind, the SIM Max fairway woods have quite responsive feel to them, and you can immediately tell when you've struck the club well.
The sound is very snappy and almost tinny- it mirrors the sound of the SIM Max driver, which in my opinion is a good thing. You can tell when this club is well struck; the sound off the face is so pure.
It's great to like the sound and feel of your fairway wood, and to me these features add to the playability of the SIM Max fairway wood.
Club Specs
| CLUB | NUMBER | LOFT | HAND | LIE | VOLUME | LENGTH | SWING WEIGHT |
| --- | --- | --- | --- | --- | --- | --- | --- |
| SIM Max Fairway | Rocket 3 | 14° | RH | 59° | 185cc | 43.25″ | D3 |
| SIM Max Fairway | 3 | 15° | RH/LH | 59° | 185cc | 43.25″ | D3 |
| SIM Max Fairway | 5 | 18° | RH/LH | 59.5° | 160cc | 42.25″ | D3 |
| SIM Max Fairway | 7 | 21° | RH/LH | 60° | 160cc | 41.75″ | D3 |
| SIM Max Fairway | 9 | 24° | RH | 60.5° | 145cc | 41.25″ | D3 |
Key Features & Technology
I can tell you first hand that the SIM Max packs a punch, but there's some tech behind that. Let's look at a few key pieces of technology that help this fairway wood perform.
V Steel Sole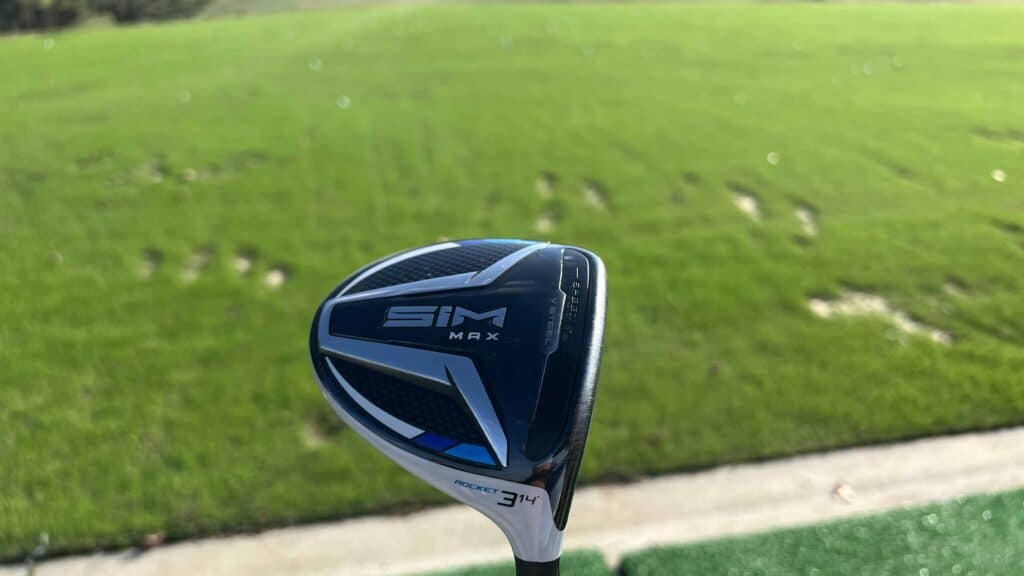 The SIM and SIM Max fairway woods both feature a V Steel Sole design, which sits prominently on the sole of the club. This design is made for better turf interaction off the deck.
This sole design also allows you to play this wood confidently from a tight fairway lie, or other uncomfortable lies and positions. I can attest to this; I feel really good playing the SIM Max fairway wood on a tight fairway, which I can't say for every 3 wood I've ever used.
It's good to feel confident with a long club in hand.
Twist Face
TaylorMade struck a cord with Twist Face technology, which was introduced with the M series. The idea is that the Twist Face uses corrective face angles to overcome typical mishits. The result is straighter shots when you mishit the ball, and better energy transfer.
The Twist face technology has been used ever since the M series was introduced, and is even featured in the Stealth series from 2022. If it isn't broken, don't fix it!
Thru-Slot Speed Pocket
As the name suggests, the Thru-Slot is all about speed. This piece of tech sits right below the face of the club, and is meant to increase sole flexibility. It also helps you keep your ball speed up when you catch a shot a bit thin, or a little low on the face.
C300 Ultra-Strong Steel Face
Stronger steel means a faster face- more distance. That's why TaylorMade uses the Ultra-Strong C300 steel on these fairway woods, as well as the SIM hybrid. This steel ensures the highest possible ball speed.
Who Should Use The SIM Max 3 wood?
The SIM Max 3 wood is going to be a great option for about 90%+ of the golfing population. Everyone want's a forgiving fairway wood, and that's exactly what you get with this club.
Very low handicappers may opt for the standard SIM 3 wood, which is a little less forgiving and little more workable. For those mid and high handicappers out there, this is a great bet.

Final Thoughts
That pretty much concludes our TaylorMade SIM Max fairway wood review. This is a great club for most of the golfing population, and given that it's a few years out of date, you can snag this club for a bargain price right now. If you want a forgiving fairway wood, look no further.
Check the price for the TaylorMade SIM Max fairway wood on Amazon here.