TaylorMade is absolutely dominant with their golf club lineup, year in and year out. This year's SIM ( Shape in Motion) lineup has been very impressive, and we got our hands on a TaylorMade SIM Max Rescue Hybrid to see if it's worth the hype. We evaluated everything from looks to feedback and were really excited by the results; check out our full review below!
Short Version
If you want to cut to the chase, we love this rescue club and it's definitely staying in the bag for 2020. The TaylorMade SIM Max looks awesome, is easy to hit, and inspires confidence on those long par 3's and danger shots. We highly recommend this hybrid, and feel that this is one of the best hybrids in 2020.
TaylorMade SIM Max Rescue Hybrid Review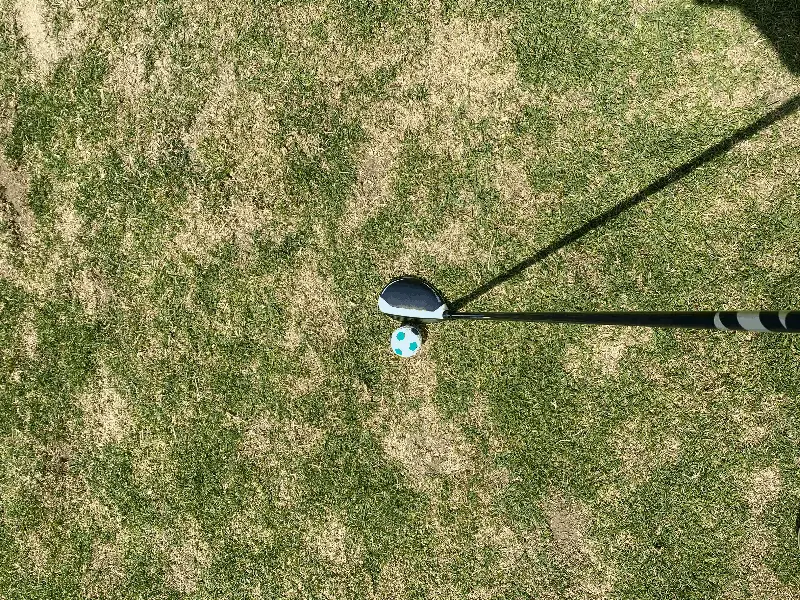 Specs
First, let's take a look at the specs the of TaylorMade SIM Max Rescue Hybrid:
| CLUB | NUMBER | LOFT | HAND | LIE | LENGTH | SWING WEIGHT |
| --- | --- | --- | --- | --- | --- | --- |
| SIM Max Rescue | 3 | 19° | RH/LH | 60° | 40.75″ | D3 |
| SIM Max Rescue | 4 | 22° | RH/LH | 60.5° | 40.25″ | D3 |
| SIM Max Rescue | 5 | 25° | RH/LH | 61° | 39.75″ | D3 |
| SIM Max Rescue | 6 | 28° | RH | 61.5° | 39.25″ | D3 |
| SIM Max Rescue | 7 | 31° | RH | 62° | 38.75″ | D3 |
The SIM Max Rescue comes with a stock Ventus Blue Shaft, available in Stiff, Regular or Senior flex. All of these shaft options provide at minimum mid-high launch and mid-high spin,with the stiff shaft being the heaviest at 76g. The Regular Flex shaft weights 66g, and the Senior Flex Shaft weighs 56g.
The standard grip is a comfortable Lamkin Crossline 360. This is a textured grip, weighing in at 47g.
Looks
The first impression you have of any club is the way it looks. We feel like TaylorMade did a great job designing the SIM Max Hybrid, and personally this is probably my favorite hybrid design that I've ever seen.
Standing over the ball, the carbon fiber crown and white top of the clubhead gives this hybrid a really clean, modern look. The face looks sleek and has the feel of a compact fairway wood rather than an iron, while the bottom of the clubhead clearly displays different technology components that make this club perform the way it does.
We're big fans of the way this hybrid looks, and the head cover has a clean look to it too!
Feel and Sound
The first thing that I noticed is that the Stiff Flex version of the SIM Max feels heavy, but not in a bad way. If anything, the feel to me says "swing easy and the club will work it's magic". When you hit the ball, the contact with the clubface is really solid, and it's pretty easy to gather feedback on a mishit vs hitting the center of the clubface.
The TaylorMade SIM Max Rescue doesn't have an ear splitting metallic sound when you hit it. Instead, it sounds more woody, with a cracking sound. Tough to describe, but I feel like the sound is a big upgrade against my previous hybrid. This year's model has a really nice sound to it, and the feel when you strike the club is very satisfying.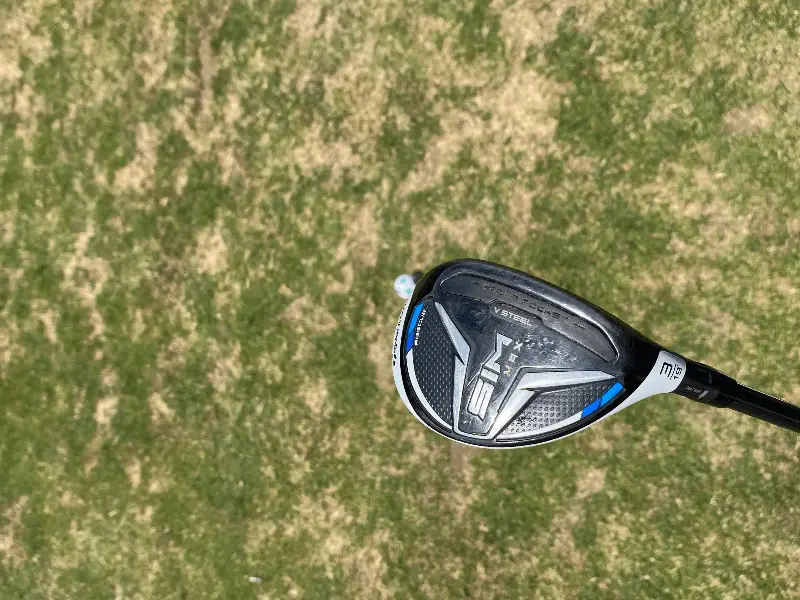 Technology
What it's made of
TaylorMade uses a multi material construction to build out the SIM Max series to optimize the center of gravity for a better ball flight. The C300 Ultra-Strong Steel Face included with the SIM Max hybrid golf clubs has a sleek black finish and looks beautiful. This is a high-strength steel that is only used in the fairway woods and rescue hybrids; the result is a stronger and faster face that produces faster ball speeds.
On the sole of the club, TaylorMade reintroduces V Steel sole technology. This sole design was first used about 20 years ago, and has been improved on for these clubs in 2020. The V Steel is meant to deliver a clean turf interaction, and versatility when you're in trouble on the course. This sole shape helps you get out of the rough and make good contact on a tight lie.
Twist Face Technology
TaylorMade's Twist Face Technology was introduced in the M5/M6 line in 2019, and essentially is meant to help straighten out mishits. This technology helps you get a better shot shape on a mishit, turning a potential slice into a softer fade, and a big hook into a softer draw.
After using this club for a few rounds, I definitely notice this hybrid producing straighter shots on mishits, which result in much better misses and opportunities to attack the green.
Speed Pocket
The Speed Pocket Technology deployed on the sole of this rescue club is designed to provide more forgiveness on low face hits. The Speed Pocket is a slot built into the sole of the club that results in a more flexible face and sole that helps with both ball speed and forgiveness.
Performance
It's cool to see the Twist Face in action on this hybrid; when you strike the ball with the toe you get a really natural right to left ball movement that helps smooth out your mistake, and off the heel you get a soft fade. In my notes when trying this club on the range, I was impressed with the ball flight and shot dispersion; I was hitting it pretty consistently, without many errant shots.
On the course I've used this club from the tee, fairway, and rough. Compared to my previous hybrid, I'm getting about 20 yards more out of this club with relative ease. It's a bit heavier which helps me swing easier. I've been impressed with the distance and ball flight in every situation I've used the club. From 200+ yards, my main priority is to hit a mid-high ball flight and hit the ball straight. This club makes me feel confident on these longer shots, and I have no problem taking this club from the tee on longer par 3's.
Alternatives
We think this club is the best hybrid in 2020, but we're happy to show you a couple alternatives if you're not completely convinced.
The M6 is the 2019 version of the SIM Max, and frankly it's still a pretty impressive golf club. If you want new technology but are a little uncomfortable spending $250+, this is the next best thing. The M6 hybrid includes the Speed Pocket and Twist Face technology, and the only difference there are the improvements TaylorMade implemented year over year.
If you want another great option released in 2020, we think the Callaway Mavrik Max hybrid is the next best thing. Callaway introduced 3 hybrids to the market this year (Mavrik, Mavrik Max, Mavrik Pro), and the Mavrik Max is the most forgiving of the 3. If you want a club that produces a higher launch with tons of forgiveness, we think this is a great pick.
final Thoughts
If your hybrid is more than a few years old, you really need to be looking into the newest technology. TaylorMade's SIM Max Hybrid really wowed us this year; compared to my previous rescue, I'm getting much more distance, better trajectory, and a much tighter shot dispersion. The SIM Max is packed with technology, looks awesome in the bag, and is a killer performer. We were super impressed, and in turn adding this club to the bag was a really easy decision to make.
Thanks for reading! Make sure you check out more of our reviews, like our comparison of the Pro V1 vs ProV1x.