TaylorMade is one of the most established golf names in the world and is continually seeking new technological improvements to enhance your game. They're an equipment powerhouse, and it's no secret that their drivers are used by the biggest names in golf including Dustin Johnson and Tiger Woods. Today we'll look at two of the latest drivers they've put out: the extremely popular TaylorMade SIM VS SIM Max, which both came out in early 2020.
These drivers are very similar and could be considered the latest upgrade to TaylorMade's M5 and M6, which were both exceptional golf clubs for players of any skill level. Some subtle differences and key upgrades are worth mentioning compared to the previous TaylorMade models. We've taken a really good look at every feature in the SIM vs SIM Max, and will tell you everything you need to know about each driver to help you make the best possible choice for your game.  
At a Glance
There is no such thing as a 'one size fits all' club, which is one of the key reasons TaylorMade usually brings out 2-3 new drivers at a time. The differences between the SIM VS SIM Max can lead to each driver favoring different types of players, in the same way that the M5 and M6 targeted slightly different audiences.
For beginners and intermediate players, the SIM Max is much a more forgiving club. It has nearly all of the features of the SIM. But, with a larger face and a higher launch angle, it will allow players (even those with slower swings) to get the ball up into the air without too much difficulty, helping create a longer carry.
The SIM Max isn't quite as customizable as the SIM is, but as you'll soon see, this might actually be a good thing. There is often a belief that extra features will 'fix' a latent error in a swing, but let's be honest. A club certainly isn't a 'magic wand' that will rectify every fault.
The SIM would be better for players who prefer a lower trajectory and those who really like to give the ball a high-powered swing. At slower swing speeds, it produces significantly less spin leading the ball to 'drop off' unless you have put some real power into it.
Want to see these things in action? Check out this uncut video of some of the top PGA Tour players slinging the SIM drivers:
TaylorMade SIM Driver: Behind the Name
First, let me introduce you to the TaylorMade SIM series. The 'SIM" isn't just a catchy name. It actually means something… In fact, it stands for "Shape in Motion". So, what's the deal? Essentially, TaylorMade claims that due to the revolutionary new shape of the clubhead, you will get an increase in swing speed.
What does this mean for you as a player?
Essentially a faster swing speed means more energy imparted on the ball. More spin and more energy equals more distance. At least that is the theory. But how does the SIM series achieve this? Well, allow us to explain the features found in both drivers.
TaylorMade SIM VS SIM Max | The Similarities
Both the SIM and the SIM Max share a few key features. Let's fill you in before discussing the differences between these two clubs.
Construction
Both the SIM and the SIM Max are constructed from a mixture of carbon, titanium, and steel. The sole and crown feature a detailed and super cool look carbon fiber pattern. This, combined with the chalk-white finish, makes the clubhead look more prominent, giving you lots of confidence when you are stood over the ball. TaylorMade has done a great job. They look great, and may actually be my top pick for best looking drivers I've ever seen.
Asymmetric Sole and Inertia Generator
This is a vital feature of the drivers and is what differentiates them from previous models. On the sole of both, you will find a weight that runs from the front to the back and is angled towards the toe. This weight is pretty much at the lowest point that it can be on the club, creating a very low center of gravity. The idea is that when the center of gravity is drastically lowered, the driver ends up being much more forgiving.
When you see pictures, you will see that it is quite prominent at the back. However, it is not distracting. When you have the club grounded, it is absolutely invisible.
It isn't just a case of weight, however. The shape of the Inertia Generator looks like something you'd see on a high-performance sports car. Its purpose is to aid in reducing drag and giving ultimate aerodynamic efficiency during the downswing. Less drag means more clubhead speed, which of course delivers more distance.
Speed Injected Twist Face
This is unique to TaylorMade drivers, and is something that was first introduced in the M5 and M6 drivers. Traditionally, drivers have had a relatively flat face. However, (and if you are anything like us) you'll appreciate that you don't hit the ball straight off the middle every time. Toe and heel shots tend not to fly incredibly straight… "Fore right!"… Anyone?
TaylorMade has developed the club's face to be slightly 'twisted', with the aim being to mitigate spin when the ball is hit off-center. The outcome is that you should get straighter shots even when you don't find the sweet spot.
You might also be surprised to know that TaylorMade actually 'tone down' the power of their drivers.
How? Well, at production, the drivers emerge from the factory exceeding the legal ball speed limit. Obviously, this is not what we want.
Just before the club leaves the factory, TaylorMade takes each and every driver and inject the back of the face with just enough weight to drop it back below the limit. If you are wondering what the two screws on the face are all about, this is where they 'dial it down'.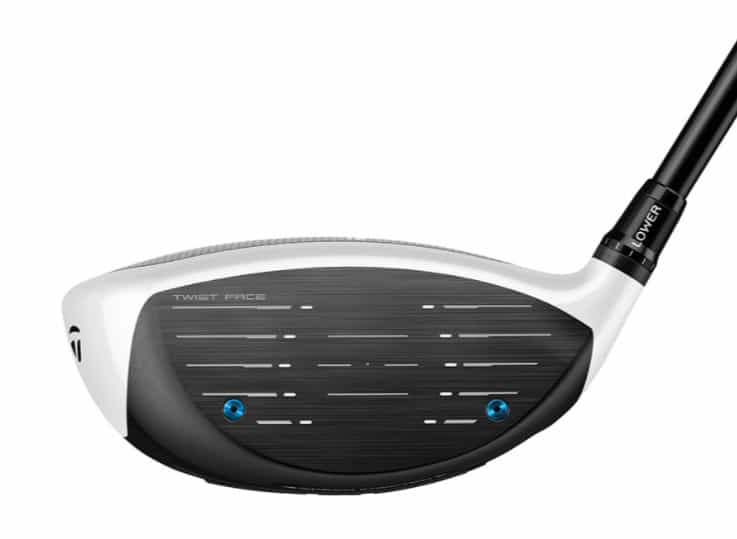 Loft Sleeve Technology
Both the TaylorMade SIM and SIM Max feature an adjustable sleeve located on the shaft. You can adjust both the club loft (by up to +/-2°). You can alter the face angle, too (by up to +/-4°).
This makes either club really flexible and customizable for those who like to 'tweak' their setup to perfection This type of adjustability is becoming more and more common, but still remains important for customization as you grow as a golfer.
TaylorMade SIM VS SIM Max | Differences Compared
So, we have seen all of the shared features when discussing the SIM VS SIM Max. Let's take a look at areas that they are definitely different: –
Face Size
Depending on which you choose, you will find that the face's size is ever so slightly different. For the SIM driver, the clubface is given as 'mid-sized'. Taking a look at the technical specs you will find that the SIM Max's face size is around 8% bigger.
While this may not seem like a huge difference, any increase will help golfers gain more forgiveness on mishits. A bigger face means a more significant sweet spot and more room for error. When standing over the ball on the tee, you want to be filled with confidence. A bigger clubhead positively encourages this, and creates more consistency in your drives.
If you are looking for a larger clubface, then the SIM Max offers more than the SIM.
Launch Angle
The SIM is advertised with a low launch angle. The trajectory angles available are 8°, 9°, and 10.5°.
The SIM Max offers a mid-launch angle. You'll notice that the lower launch angles are not available. They come in the following; 9°, 10.5°, and 12°.
Launch angle can vary from player to player. As we have said, using the loft sleeve technology, both the SIM and the SIM Max offer some customization options to get the most out of their performance. However, remember that you can only change the trajectory by 2°.
A low launch angle is excellent if you are crushing the ball with a very fast swing every time. However, if you can't put some serious 'grunt' into every shot, then you may find that your distance will suffer, because you won't be able to carry the ball as far with a lower launch angle.
Consider that the whole purpose of the SIM series is to increase swing speed. If you find that you have a slower swing, then it might make sense to choose a driver that gives you the best opportunity to get a higher trajectory and increase your total drive distances.
We prefer a higher loft angle. Higher loft angles let you get the ball traveling more easily. Further to this, a higher loft angle offers a degree of error compensation (think about it, have you ever hit a snap hook with a wedge?). By choosing a driver with an inherently higher launch angle trajectory, you should ensure a better degree of consistency.
The SIM Max gives a higher launch angle, and suits most players with a mid to high handicap.
Customization
The loft sleeve will allow you to customize both the SIM and the SIM Max, as we have already seen. However, the SIM does offer additional customization that's worth discussing.
The SIM features sliding weight technology. This isn't featured on the SIM Max. The SIM has a track located on the sole that runs from the heel to the club's toe. Within this track is a small weight that can be adjusted to add a 'bias' to the ball's trajectory, helping you shape your shots more.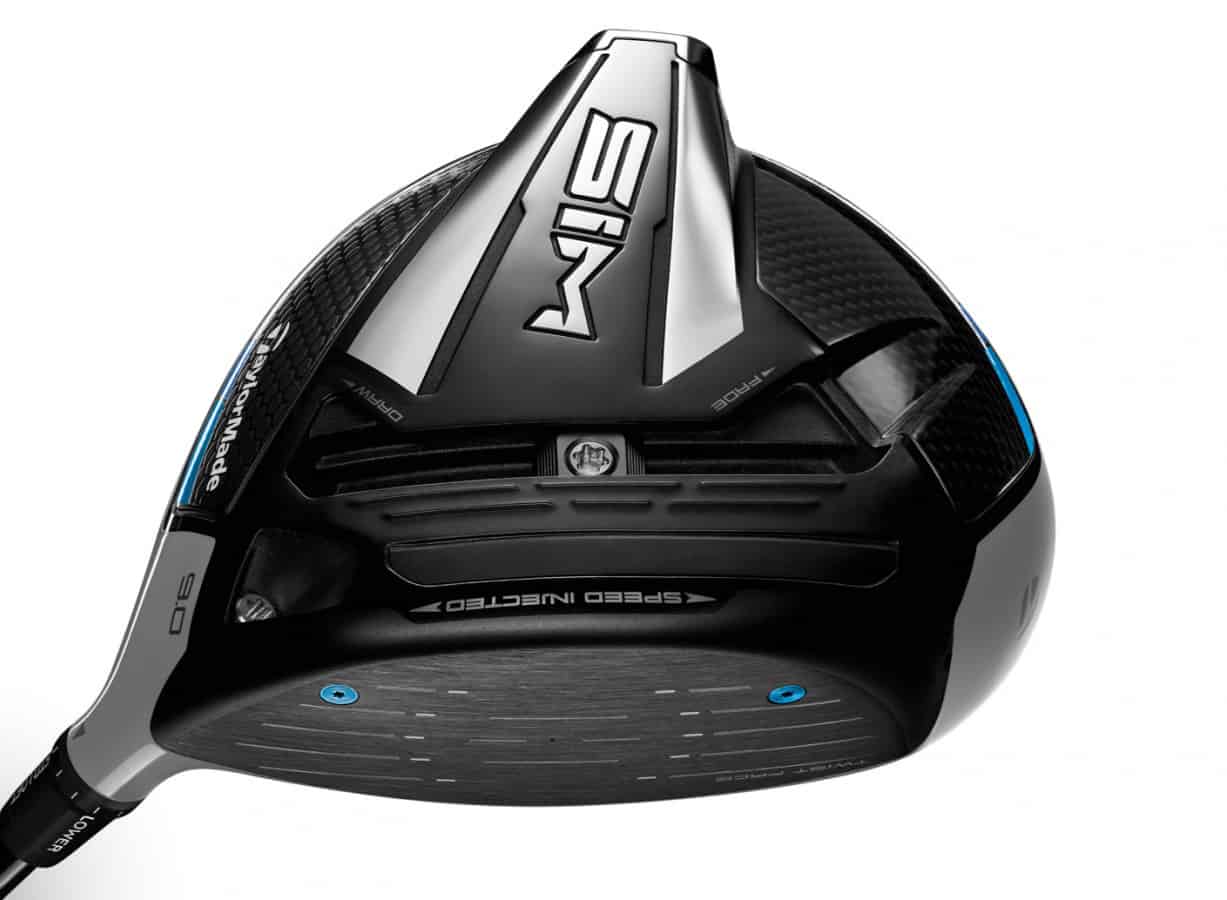 Move the weight towards the heel, and you should, in theory, be able to create up to 20 yards of draw, while moving the weight all the way to the toe will create 20 yards of fade.
The sliding weight technology does work, and you should find that, for a really consistent swinger, a more significant proportion of your shots will 'turn' in the desired direction. But, as we said at the start, no club is a 'magic' wand. You can't outweigh a fundamental swing flaw. So, don't expect miracles. It might mitigate the odd shot that would have otherwise gone slightly astray. Still, it won't remove all unwanted spin on a plain mishit.
For those who like to take club optimization, this could be a great feature. One thing we were not so thrilled about was the lack of scale on the 'track'. As the saying goes, 'if you aren't measuring, then you are guessing'. There is no gradient to assess how much you have moved the weight. It is very much a case of trial and error until you find the right position.
The SIM is more customizable than the SIM Max. If you are a great and consistent striker of the ball, then it is worth considering. But please don't be caught out thinking this additional customization will answer all of your problems. Generally speaking, we tend to recommend that lower handicap players work with this type of customization, while high handicappers should just focus on forgiveness and hitting the club square.
Swing Speed
This is ultimately the critical area that TaylorMade has sought to optimize. When it comes to the SIM VS SIM Max, there is no difference. Both feature the same Asymmetric sole and inertia generator technology.
The drivers are both constructed of the same material and are shaped in the same way.
The SIM and SIM Max will marginally increase your swing speed. However, this will be as a proportion of your regular speed. The faster you swing, the greater the proportional increase. For slow swingers, this may be a case of diminishing returns. 5% of 110mph is greater than 5% of 90mph.
Remember, however, it isn't all about swing speed. The combination of other factors like loft, ball trajectory and accuracy are all just as important.
TaylorMade SIM VS SIM Max Price
Cost and value for money are always something that should always be considered. You have to ask yourself, "for the money am I getting that much more worth out of any extra features"?
The SIM is ever so slightly more expensive than the SIM Max. And it indeed has a couple of extra features. It is up to you whether you consider this to be worth it. If you enjoy tinkering with your clubs and value maximum customization, then the extra cost will be worth it! If customization isn't a priority, the SIM Max will be a welcome addition to your bag.
Looking at cold hard numbers, the SIM Max is cheaper than the SIM.
SIM VS SIM Max | The Winner
Frankly, these are both great drivers that appeal to a pretty wide range of players. For us, however, the SIM Max wins as the best driver overall.
Aside from the sliding weight technology, you get practically all of the great features found in the SIM. When we match this with a higher launch angle, more forgiveness, and overall simplicity, we think that you will get more benefit from the SIM Max as a mid or high handicap player.
One really nice thing is that the SIM Max costs fractionally less too.
Which TaylorMade Driver is Best for Me?
Beginners and Mid-High Handicappers
As we have said, clubs can be a very subjective thing. However, let's go with what generally works for us.
If you have a slower swing or are looking to really up your consistency, then the SIM Max could be ideal.
You'll find forgiveness for mishit shots due to the technology within the club. The face itself is bigger than the SIM, with a larger sweet spot, and will give you more confidence when standing over the ball. It also features the unique twist face, meaning the odd mishit won't plague your game too much.
The higher loft angles certainly make the ball sit up in the air. They impart more spin and reduce sidespin. Suppose you already have a naturally high launch angle due to your swing. In that case, you'll still be able to take advantage of the loft sleeve technology.
The SIM Max would be a great driver for anyone looking to gain more consistency, especially a beginner or mid handicapper. Suppose you have outgrown your 'old' driver, or haven't had an upgrade for many years. In that case, you should find that the TaylorMade SIM Max is an excellent middle ground that offers plenty of great technology, combined with forgiveness.
Big Hitters and Low Handicappers
If you are hitting the ball a long way or are looking to up your game, then the SIM could be ideal. We say this for a couple of reasons.
First, the launch angles are lower, and if you want to impart enough spin to get the ball genuinely flying, you will have to really be able to hit it hard. Twinned with this is that lower launch angles tend to make sidespin much more pronounced. This is a problem that beginners may face, not so much consistent strikers.
The second reason is due to the sliding weight technology. OK, we all want to hit a slight draw or to be able to blend out that subtle fade. However, most beginners are just happy hitting the ball straight. Draw and fade are both trajectory characteristics that are mainly focused on by those who can already control the trajectory.
The SIM isn't quite as forgiving as the SIM Max, and the benefits you gain will only make it good value if you have the skill to take advantage of them.
If you are an existing TaylorMade fan and are looking to get more out of the latest technology or upgrade from a model with fewer features, then the SIM is really worth a look. 
Where Can I See the SIM Series for Myself?
That's a good question. Well, the ideal place to start might be here at TaylorMade themselves. You'll see all of the great features we have discussed and see the numerous customization options available, including loft angles and shafts.
There's plenty of places to choose from if you are looking to buy too! Here are a few places we recommend:
Final Thoughts
A driver is a tool, and like all tools, it is only as good as the person wielding it. Technology inherent in drivers certainly makes life easier, and when it works well, it's even better!
TaylorMade is a master of their craft and is a trusted brand even amongst the best Pros in the game. While your swing is entirely up to you, anything that helps iron out flaws or improves your game can only be a good thing.
When it comes to the SIM VS SIM Max, both are great drivers, and you won't go far wrong with either. The road to improvement is long but rewarding. Why not check some of our other articles to help you get the most out of your game?
We hope you enjoyed reading.