Wedges are so frequently overlooked when amateur players are looking to upgrade. Your wedges, in my opinion, are the absolute most important clubs in your bag. If you put yourself in a scoring position, you want to capitalize, and you want to make sure you have the right club in your hands to make a good number.
There are no wedges on the market that have the same reputation of excellence as the Titleist Vokey wedges; Bob Vokey is the most iconic name in wedge craft. The SM8 wedges from 2020 are still a spectacular wedge design that can be tailored to nearly any players needs.
I recently traded out of my SM6, and wanted to provide a detailed Titleist Vokey SM8 review to unpack the performance, feel, and other key traits. I was really pleased with the differences, and am excited to have the SM8 in my bag. Let's dive into this Titleist Vokey SM8 review.
Titleist Vokey SM8 Review | Full Rundown
First Impressions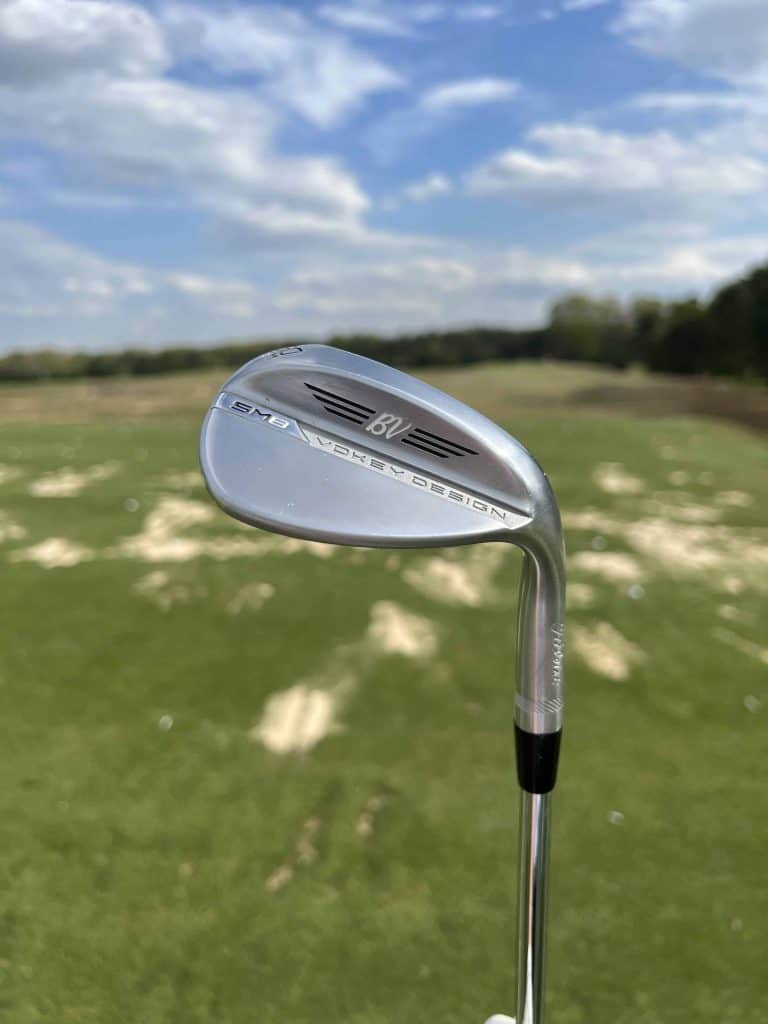 The first thing I did when I picked up an SM8 wedge for testing is compare the profile to my SM6; overall they look pretty similar, but the SM8 just looks a little bit cleaner and more modern. As part of my selection process, I worked with several different grind types, and was really surprised how different each club looked at address. For example, when I put down the F Grind wedge, it looked easy to hit with a slightly bigger looking face, which to me looked like it would work well in the hands of a high handicapper.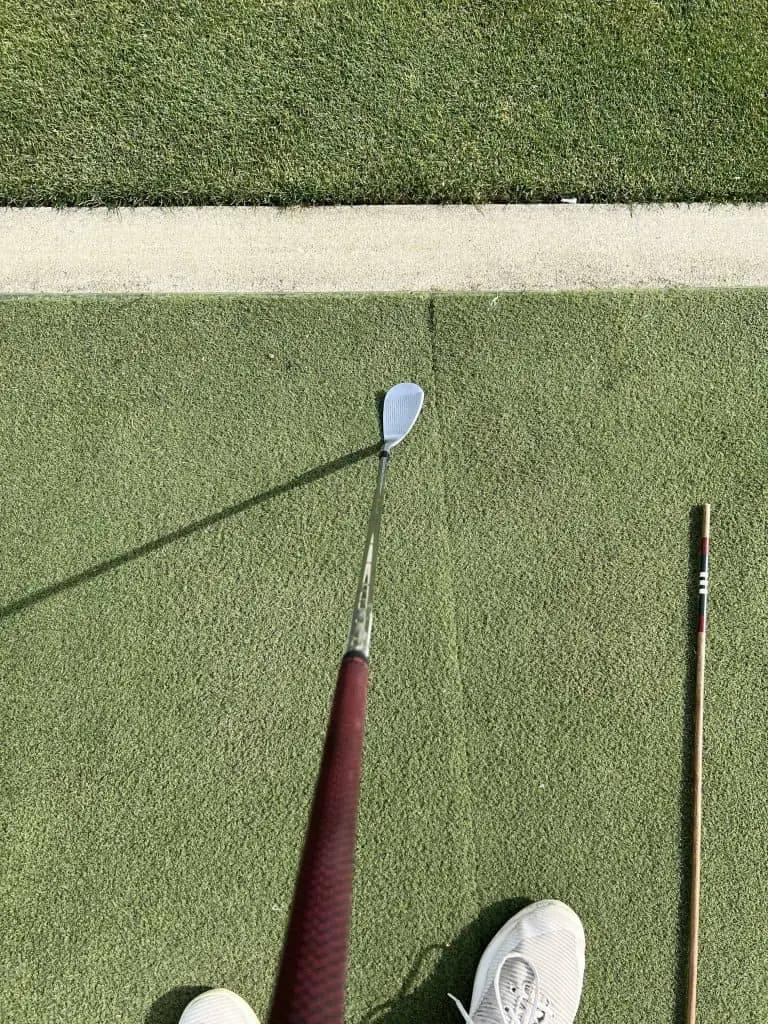 The Wedge I upgraded was a 60 degree, and I settled on the M Grind with 8 degrees of bounce; I play out of tight lies around the green and have a lot of confidence out of the sand. The M grind fit my game best, and I was really pleased with some of the key data points I was looking at.
As far as looks are concerned, you can buy your SM8 in one of four finishes: Raw, Jet Black, Brushed Steel and of course Tour Chrome. I decided to go for the Tour Chrome, purely from an aesthetics standpoint.
Feel and Sound
Upgrading from an older Vokey, my first few swings with the new SM8 I felt like the technology put into this wedge was leaps and bounds better than my previous wedge. Contact just felt nice; really solid, completely under control, and when I hit the sweet spot perfectly, the shots just felt effortless. On mishits, you get some feedback, and you'll know you didn't fully connect right away.
As far as feel around the green goes, contact feels really crisp and smooth; you barely feel the ball coming off the face, yet it's abundantly obvious the club has a good amount of grab on the ball once you've hit your shot. The shots around the green just felt stable. If you're a big feel player with your wedges, you will absolutely love these. With my low bounce lob wedge choice, shots from a greenside bunker quite literally feel effortless. They produced a strong thud, and I felt like I had so much control over the ball trajectory coming out of a standard bunker lie.
Performance
Getting down into the details of what makes this club perform the way it does, it comes down to a few technical upgrades that Titleist implemented in the SM8. The key areas of improvement for this model were to move the center of gravity forward and in front of the clubface, combined with a progressive center of gravity based on what sort of wedge you actually pick. These improvements were ultimately made to make these wedges as forgiving as possible, while producing maximum performance every time you need.
By moving the CG forward, the club naturally has a higher MOI, which helps keep the clubface square before, during, and after impact for a tighter shot dispersion and more consistent distances. The idea of a progressive center of gravity is also quite appealing; by using tungsten weights and varied hosel lengths, the CG of these wedges can be manipulated to produce optimal results. Pitching & Gap wedges (46°-52°) have a low CG, Sand Wedges (54°-56°) have a mid CG, and the SM8 Lob wedges (58°-62°) feature a high CG. This is a completely re-imagined wedge system from Vokey, which helps make each wedge style as accurate and forgiving as possible.
The Spin Milled grooves of the SM8 are cut to the edge of the face, helping maximize spin and shot control. They are also heat treated to make them twice as durable as previous models, which is an exceptional touch from Titleist.
Grind Options & Specs
The Grind Options available from Titleist on their Vokey wedges make the SM8s super customizable; there is a grind type and a bounce for every style of player or situation. Frankly, I highly recommend using Vokey's homegrown wedge selector tool for the best, most personal results to your game.
Here are the grind options and what they might mean for you, as well as some other useful specs:
F Grind
The F Grind is the most played Sand Wedge style on the PGA Tour, used by the likes of Justin Thomas and Ian Poulter. This is your standard all-purpose wedge that you can use for full shots, and shots hit with a square face. The F Grind suits players who like the look and feel of a traditional wedge sole.
S Grind
The S Grind is pretty similar to the F Grind, with the main difference being trailing edge relief. This is a great option for someone who is mid to shallow in their delivery at impact. This is a great wedge for both square faced shots and full shots, and tends to provide a little more height when the ball comes off the face, however it's really easy to control trajectory with your hands being either ahead of or behind the ball. This grind plays well on neutral to more firm golf courses. This wedge is in the bag of Jordan Spieth.
M Grind
A personal favorite of Bob Vokey himself, the M Grind is great for players who love to manipulate the club face. This is a highly versatile wedge grind that performs well with an open club face, a closed club face, and everything in between. If you're really creative and tend to manufacture shots when you've got a wedge in hand, this is the one. Important to note, this club tends to benefit players with a shallow and sweeping motion as they come into impact. Patrick Cantlay and Cam Smith both game the M Grind Vokeys in their bag.
D Grind
This is naturally a high bounce grind, which is great for forgiveness and versatility around the green. This is a great wedge grind option for any player who has a naturally steep angle of attack, who likes to play the clubface a variety of ways. This wedge had full heel to toe trail edge relief helping you open the clubface up even more around the green.
K Grind
This is the highest bounce option of all the Grind Types, and is billed as the ultimate bunker club. The K Grind features a very wide sole that stretches the length of the club with an enhanced curvature making this a really forgiving wedge in a multitude of conditions. You can play this wedge from the bunker, around the green or with a full swing. Both JT and Webb Simpson game the K Grind in their bags on tour.
L Grind
On the opposite end of the spectrum, the L Grind is the lowest bounce grind that Vokey offers to market. The grind of this wedge features heel, toe and trailing edge relief, making this a very versatile wedge around the greens. Given the lower bounce, this is ideal for firmer conditions; you typically see a more advanced player using the L Grind. This option is best if you want precision and maximum control at impact.
Lofts: 46°, 48°, 50°, 52°, 54°, 56°, 60°, 62°
Stock Shaft: TrueTemper Dynamic Gold
Flex Options: regular, stiff, X-Stiff
Titleist Vokey SM8 Wedge FAQS
What is the Difference between the SM7 and SM8?
For Titleist's release of the Vokey SM8 wedge, the biggest change in the SM7 VS the SM8 is the fact that the SM8 features a progressive center of gravity. The CG in the SM8 will be either higher or lower on the face based on the loft of the club you pick, as well as being a bit more forward. Other notable changes include strategic additions of tungsten which support that CG shift being more forward, and a lengthened hosel.
These additions were all included for the ultimate goal of helping the player hit straighter shots with a tighter dispersion than it's predecessor.
What is the Most Forgiving Vokey SM8 Wedge?
The most forgiving SM8 is going to be the K Grind. The K Grind has the widest sole out of any of the grind options, and it a great wedge for anyone who wants extra help out of a bunker. Combine the wide sole with the advanced curvature built into the grind of this wedge, and you have a club that is packed with forgiveness whether you're hitting a full shot or using the wedge around the green. If forgiveness is paramount for you, this is your safest bet.
Are Vokey SM8 Wedges Forged?
Alternative Suggestions
Not sure if it makes sense to go for a SM8? Here are a couple of competitive alternatives that will be similar in terms of performance. Check them out below!
Callaway MD5 JAWS Wedge
If you want to be able to compare and contrast a Vokey SM8 with another wedge, we don't blame you. In our eyes, the top competitor to the SM8 wedge lineup has to be the Callaway Mack Daddy 5 JAWS wedge. Used by fan favorites like Phil Mickleson, Jon Rahm, and pretty much every other Callaway player, these wedges have some real bite to them- hence the JAWS title! This wedge made Golf Digest's Gold 2020 Hot List, alongside the Vokey SM8.
This is another pretty customizable wedge option, with multiple lofts, grinds, etc. The key differentiator with the Callaway MD 5 lineup is their groove in groove technology- this gives these wedges the extra spin and zippiness around the greens when you need it. If this sounds more up your alley, it may make sense to check them out here!
Cleveland CBX2 Wedge
Cleveland makes an awesome golf club, and a very forgiving wedge. The Cleveland CBX2 wedges are made for those who want maximum forgiveness from their wedges, as opposed to maximum playability and versatility. The CBX 2 is designed with a hollow cavity back, which is rare in a wedge, which helps create really seamless contact on impact.
You can still choose from 3 different wedge grinds if you go for the Cleveland CBX2 wedge, and they can absolutely get the job done when needed. Check them out here.
Final Thoughts
With a wedge in hand, you need to be damn confident you can use that club to score and have a huge impact on your round. If you're within 100 yards, you need to be in that go zone. For me, the Titleist Vokey SM8 is unparalleled in terms of performance for your short game. I love the sheer amount of selection and options you have when choosing your wedge, yet they all still pack the same underlying performance you need to make a shot when you need it.
If you're looking for a wedge that will never go out of style, the SM8 may just be that club for you. Grab yours here.