Recently, I tested a Callaway Epic 5 wood and had really great results with it. It brought to mind the idea that maybe I should look into the driver as well. Of course, Callaway has released a few drivers since then, and now the new Paradym has made its debut. However, that just means I can get a great deal on the Callaway Epic Max driver as retailers try to shed inventory.
The Epic Max driver has a ton of stability, ball speed, and accuracy. Take a look at what I experienced when I took it out on the course. Let's dive into my full Callaway Epic Max driver review below!  
Callaway Epic Max Driver Overview
Callaway Golf Epic Max Driver
Made using A.I. to produce an exceptionally forgiving driver
Stable clubface through the hitting zone thanks to the included Jailbreak Speed Frame
Deep CG allows this driver to launch higher with lower spin rates
Great driver for mid to high handicap golfers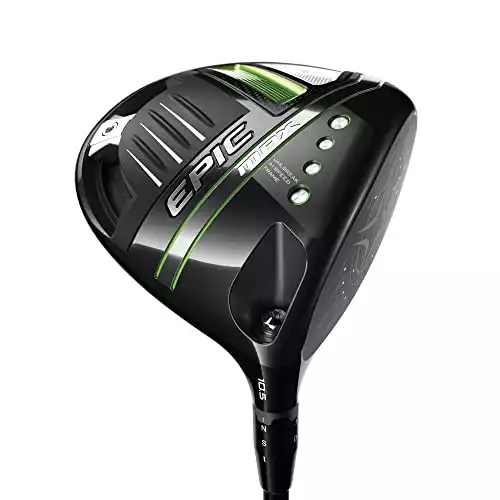 We earn a commission if you make a purchase, at no additional cost to you.
The Callaway Epic Max driver features a full 460cc clubhead with a deep center of gravity, high MOI, and the A.I. Designed Flash Face. Golfers tend to look for ball speed and maximum distance in a new driver, which was Callaway's goal when putting this Epic Max together. 
To describe it in one sentence, the Epic Max Driver is built for the average golfer. Players that have that moment of brilliance and hit one striped down the center of the fairway, and on the next hole find themselves in a bunker or water hazard. This is a forgiving driver that will suit the masses.
Callaway Epic Max Driver Key Features and Technology 
Callaway releases new drivers every year, yet we often see some overlap in the technology used. Don't look at this as a negative- if it ain't broke, don't fix it. 
When something great (i.e., Jailbreak Technology) makes its way into a golf club, it will often stay in place for quite some time. Here are some features you can find in the Callaway Epic Max driver. 
Jailbreak A. I Speed Frame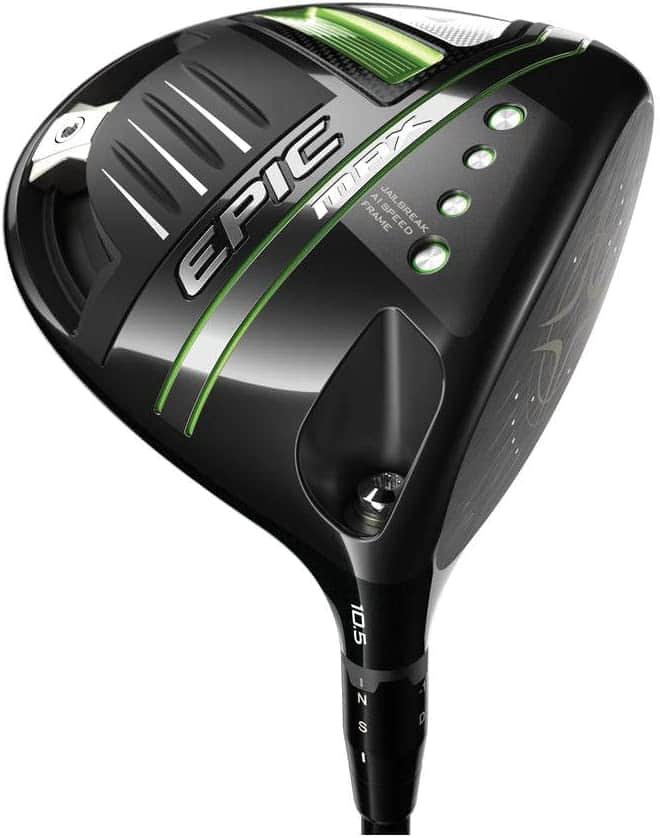 The Jailbreak A.I. Technology was put in place to help golfers feel as though they were hitting the ball off the face of a trampoline. The new Jailbreak Speed Frame seen in the Epic Max Driver allows for more stability across the entire face. This extra stability results in a bit of twist resistance which increases ball speeds, especially for those that go after the ball. 
A.I. Designed Flash Face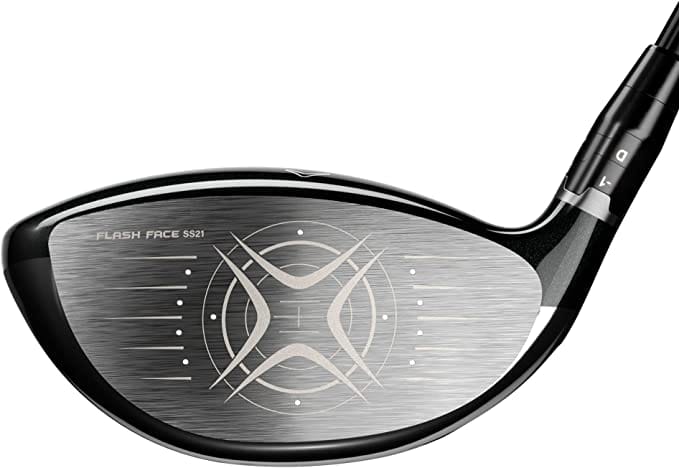 If you haven't already caught onto the trend, Callaway is pretty serious about A.I. technology. They were the first ones to use it and they are absolutely leaning into this. 
The A.I. designed Flash Face is just another technology to help increase distance and speed. However, with the technology use, you may also see a bit more forgiveness. 
With this design, players also tend to notice lower spin levels, adding extra distance even after the ball hits the ground. 
Deep CG and Draw Bias 
To help make the Callaway Epic Max more forgiving, a deep center of gravity and a slight draw bias was put into place. When standing over the driver, you won't have a hard time looking at the club; it's not closed at address. 
In fact, the draw bias is a bit more internal, helping golfers who tend to lose one to the right every once in a while. In addition, the lightweight Triaxial crown saved some weight and allowed Callaway to put in place the total increase launch. 
Even though this is a distance driver, it does a great job with forgiveness as well. 
Sliding Rear Weight Technology 
Customization is critical in any golf club you choose today. Almost all golf drivers (even Clevelands!) are now offered in a design that you can fine-tune to your needs. However, sliding weight technology makes driver customization much easier. 
The Callaway Epic Max driver features a 17g sliding rear weight. Essentially, instead of having one or two different options for fine-tuning your ball flight, you will now have infinite possibilities. 
Callaway combined the sliding weight track with the OptiFit hosel. They claim that this provides up to 20 yards of shot shape correction. I don't doubt it for some golfers, but I saw closer to ten yards of correction when playing with the different settings. That's a pretty massive amount of influence, and can do a ton of good for the average golfer.
Looks
Overall I thought the Callaway Epic Max was one of the better-looking designs from Callaway. It has more of the black, white, gray, and green markings on it, so it's not overly bold, but it still looks modern. 
In addition, I was worried about the top-down look of this driver, with the extra draw bias that it has in place. However, when I was standing there looking down at it, I actually felt quite a bit of confidence about hitting it straight. 
The looks of this driver check all the boxes for me. 
Performance
When I started swinging the Callaway Epic Max Driver, I expected some big distance numbers. I did have an easy time creating ball speed with the Epic Max. However, it's not the distance that sold me on the club. 
It's the consistency. 
I found this to be one of the more forgiving golf drivers from Callaway. However, even though it's a forgiving club, it still had great sound and feel, something that even better players would enjoy hitting. 
I was able to see the sliding weight track in action while I played with some different settings and saw how the driver would respond. Keeping the ball in the fairway with the Epic Mx Driver is certainly a possibility. 
Forgiveness
Forgiveness has sometimes been something I avoid in a driver. Usually, if you are getting something forgiving, you have to give up on the feel, adjustability, or overall looks of the club. 
However, that wasn't the case with the Epic Max Driver. 
I felt like I could really go after the ball, get plenty of distance, enjoy what impact felt like, and still get the impressive distance. 
If you are a golfer that needs that extra help from the tee box, the Epic Max Driver is a good choice. 
Sound and Feel
I found the sound and the feel of the Callaway Epic Max Driver to be very similar to the Callaway Mavrik. If you hit the center of the clubface, you are rewarded with a pure sound and stable feel. 
If you miss the center, expect it to be a bit more of a thud noise, and there may be some vibration. 
The most significant difference I noticed between the Mavrik to the Epic Max was that the face felt hotter. If you play this game long enough you know what it feels like when a golf ball takes a jump off the clubface. 
With the Epic Max in play, expect that jump that gives you the yardage you're looking for. 
Final Thoughts on the Callaway Epic Max
After playing with the Callaway Epic Max driver, I'm really impressed with what you can get for the money. Pricing on this driver has dropped considerably from it's initial release. In fact, you would have a hard time doing a shaft replacement in a driver for the price that the Callaway Epic Max can now be found for. 
The bottom line here is that if you are an average golfer or mid-handicapper who wants to go after the ball but still keep it in the fairway, the Callaway Epic Max is for you. 
With the way pricing has dropped in recent months on the Callaway Epic Max, now has never been a better time to grab one. Even if you have the budget for some of the newer products, don't count the Epic Max driver out; it has a lot to offer.