TaylorMade puts out new irons every year, and for the most part they don't tend to disappoint. In 2023, you may be wondering if it's actually worth it to buy the slightly out of date TaylorMade M6 irons, given the improvement in technology over the past few years.
After making the purchase myself, I wanted to put out a TaylorMade M6 irons review, for those of you that may be on the fence. These are excellent game improvement clubs, and thanks to the tech being just a few years out of date, they come at a very attractive price. If you're a mid or high handicap player, these may just end up being the investment of the year for you into your golf game.
TaylorMade M6 Irons Review
Short Version:
If you're in the market for a new set of irons, these 2019 TaylorMade M6's are just a year out of date and provide a ton of value for the performance. These clubs are a true game improvement set, and will work for nearly and mid or high handicap golfer. If you're a single digit handicapper, these may be too big for you. The TaylorMadeM6 irons provide awesome distance, feel, and trajectory with loads of forgiveness off the face. I upgraded a set that was about 5 years old, and saw some impressive changes on the golf course without having to change anything about my swing.
First Impression
I tried these clubs out before I bought them, just to make sure my hunch on these being a good fit for my game was correct. It was. In trial, I saw a pretty tight shot dispersion with my 7 iron, and immediately noticed an improvement in distance vs my previous set of clubs.
After a few rounds (3) playing with them, the first thing I noticed is that you don't have to swing hard with these irons to send the ball flying. A smooth tempo and good contact is all that I needed to achieve a ton of distance and brilliant flight. It also seems like it's pretty tough to hit a bad shot. With what I think is a wild swing that should create a haywire ball flight ends up being a pretty minor miss to the right.
I also found the trajectory on every club to be much higher than my previous set, which both looks good and really helps to stick a green. In terms of distance, I had to club down on nearly every shot; the stronger lofts added 10-15 yards per club. These clubs are also surprisingly workable; you can flight them down when you want which is massively helpful in the wind, and I found it easy to hit a draw and fade on demand.
To summarize, just a few rounds of playing with the TaylorMade M6 irons has me feeling confident that I can hit longer straighter shots with a better trajectory than I could before.
Technology
TaylorMade focuses on 2 things in these game improvement irons: forgiveness and distance. One of the key upgrades in this iron set is the Speed Bridge on the cavity back, which helps golfers achieve maximum ball speed off the clubface. The Speed Bridge is a metal insert that runs along the back of the center of the face, connecting the top line and the sole of the cavity. The Speed Bridge helps enable the thru-slot Speed Pocket for better ball speed on every shot, center or not.
The clubhead is made to be more stiff than previous M series irons, resulting in a better energy transfer on impact further contributing to better ball speed.
TaylorMade's Inverted Cone Technology creates a much larger sweet spot in these irons vs previous models, allowing for better mishits across the entire clubface. For additional forgiveness, the M6 irons feature a fluted hosel and 360° undercut, lowering the center of gravity (CG) on the club for higher launch and a penetrating ball flight.
Performance
I can sum the performance up nicely in 2 words: trajectory and distance. The TaylorMade M6 irons deliver a truly stunning ball flight; I achieved a lot more height in all of my irons, and in turn the ball lands much more softly. This soft landing style prevents too much roll out and helps you hold the green. For a mid or high handicapper, this can be huge, as often times you see high handicap players hit the green, only for the golf ball to roll off.
The ball rockets off the face of the club when you hit it well, and well struck shots end up soaring; these clubs are strong lofted so if your irons are a few years old, you may need to adjust and club down. Personally, I find myself hitting 9 iron where I used to be hitting 8, and this change carries across the bag. Again, the only players who this may not work for are low handicap/single digit players.
Sound and Feel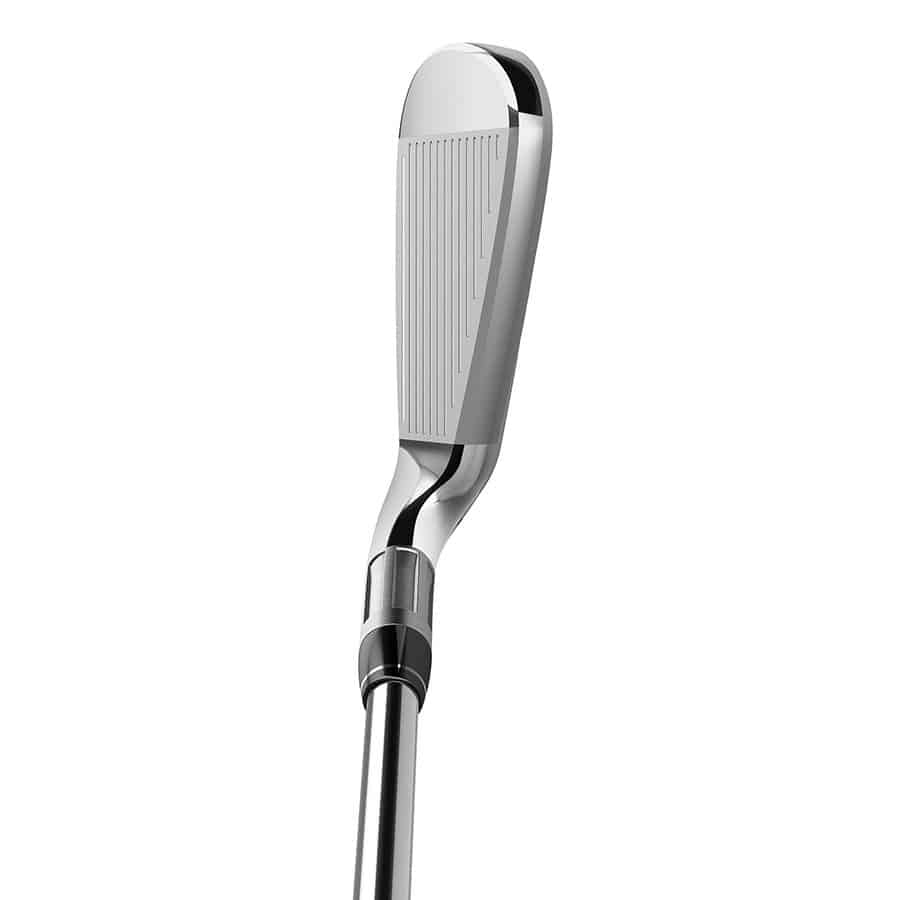 Hitting these irons in the sweet spot is extremely satisfying; there's definite feedback when you strike the ball from the center of the face, and the ball just launches effortlessly. On mishits, you'll get feedback that you missed the center of the face, but it's somewhat dampened and doesn't feel as bad. There's a sweet sounding click when you hit these clubs. The sound for me is a huge upgrade, and is definitely satisfying to hear off a pure shot.
Comparing with clubs that are a few years older, I'm really impressed with how much better these feel and sound. These are some of the most satisfying irons I've ever hit.
Looks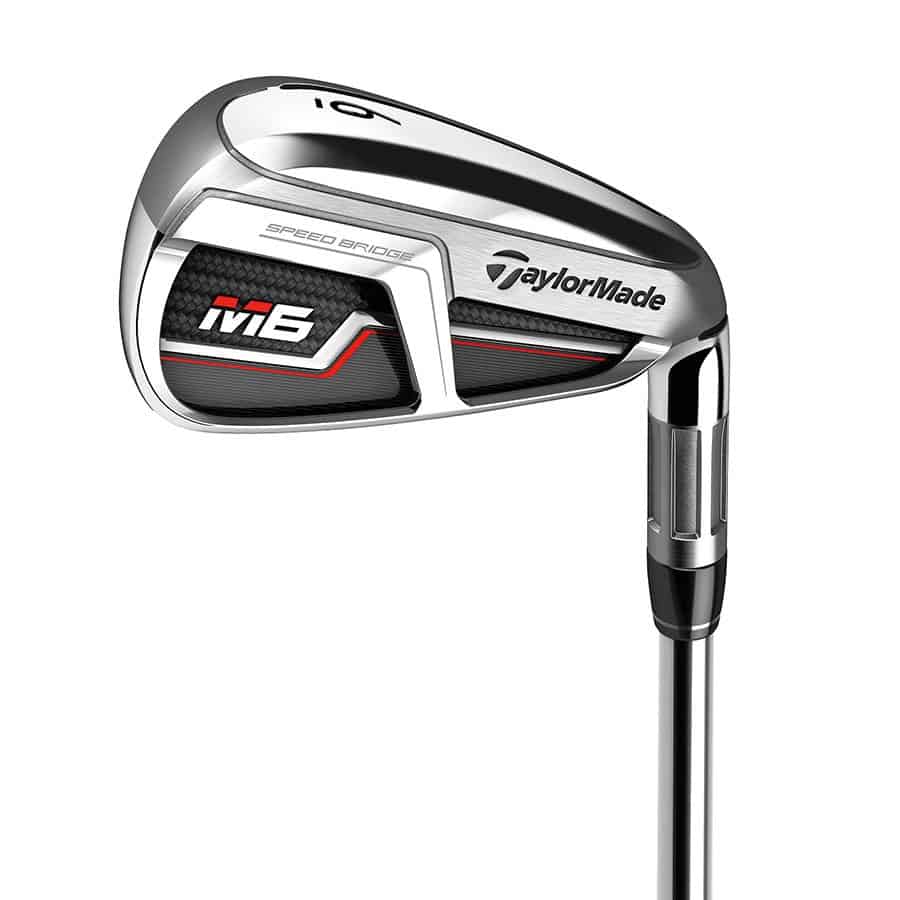 For a set of true game improvement irons, I was expecting these to be a little bulkier than they actually are. TaylorMade does a pretty good job of making these look more like players irons at address. Yes, the clubs are definitely bigger than a typical players iron. There's a good amount of offset on these irons too. They look like game improvement irons, but I think they look sleek.
Full Club specs:
| CLUB | 4 | 5 | 6 | 7 | 8 | 9 | PW | AW | SW | LW |
| --- | --- | --- | --- | --- | --- | --- | --- | --- | --- | --- |
| LOFT | 19° | 21.5° | 25° | 28.5° | 33° | 38° | 43.5° | 49° | 54° | 59° |
| LIE | 61.5° | 62° | 62.5° | 63° | 63.5° | 64° | 64.5° | 64.5° | 64.5° | 64.5° |
| OFFSET | 5.8mm | 5.2mm | 4.7mm | 3.9mm | 3.5mm | 3.0mm | 2.6mm | 1.8mm | 1.5mm | 1.5mm |
| STEEL LENGTH | 39.25″ | 38.62″ | 38.00″ | 37.50″ | 37.00″ | 36.50″ | 36.00″ | 36.00″ | 35.75″ | 35.50″ |
| SWINGWEIGHT (ST/GR) | D1 / C9 | D1 / C9 | D1 / C9 | D1 / C9 | D1 / C9 | D1 / C9 | D1 / C9 | D1 / C9 | D3 / D1 | D3 / D1 |
| LEFT HAND | YES | YES | YES | YES | YES | YES | YES | YES | YES | NO |
Common FAQ on TaylorMade M6 Irons
Are the TaylorMade M6 irons made for high handicappers?
The M6 irons are made for both mid and high handicap players, but the priority for these irons is forgiveness and distance. The clubhead is a bit bigger than the M5, but still has a traditional look and feel. High handicappers will be happy with the performance of the TaylorMade M6 irons, and will notice straighter ball flight off the face of these clubs.
Are the M6 Irons better than the M4 irons?
The M6 irons have measurably better performance than the M4 irons in 2 important categories: distance and trajectory. The M6 irons are capable of delivering about 1.6 mph higher ball speed than the M4 irons deliver; this correlates to nearly 4 more yards of carry and over 5 yards more distance out of the M6s. The M6s trajectory is also improved upon, and you'll find that you can attack the green a bit better with the higher trajectory that the M6 irons provide, across the entire set.
TaylorMade M6 Irons Verdict
If you need to upgrade your clubs but don't have a $1000 budget, these 2019 TaylorMade M6 Irons are a really good option for you. These clubs are a few hundred bucks less than sticker price of the latest set on the market, and the technology is essentially still brand new. Most players will benefit from the lower CG, Speed Bridge and Inverted Cone Technology that are all used to create a high flying ball flight with incredible distance.
If you're a single digit handicapper, you may these to be a bit too big; they're much bigger than a true players iron. If you're a mid or high handicapper, these irons will be awesome for your game and deliver some truly impressive performance. These irons can help you become a bit more consistent, and hit more greens in regulation.
We rate these irons as a definite buy for any mid to high handicapper in the market. Well worth the price.
Thanks for reading! Did you enjoy this post? Make sure to check out some of our other reviews and guides, like our best rangefinder guide or our complete look at the best golf balls for high handicappers.