Hand size is different from one golfer to the next. Yet we are all expected to handle the same golf club, with a similar grip on the end. 
The good news is, with standard, midsize, oversized and even undersized golf grips, there are options out there that can be customized to the size of your hand. The problem is most golfers don't even know they have this option and why it is so important. 
In this guide, I'll give you all the information I have about standard vs. midsize grips and let you see some of the ways in which this decision will impact your golf game. 
What Is A Standard Golf Grip?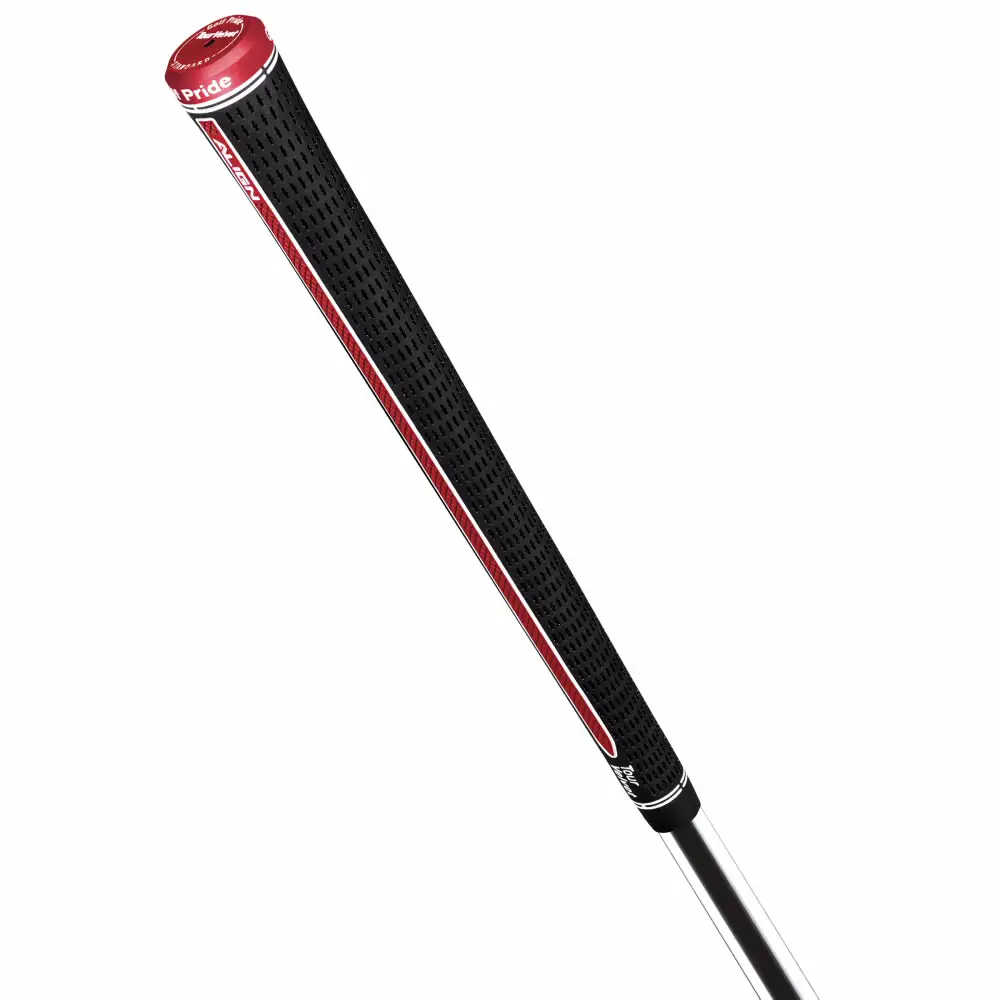 The standard golf grip is the one for which all other golf grips are measured off of. If you don't make any adjustments or customizations to an order of golf clubs, the standard is the size the grip will come with. 
A great example is the Tour Velvet Grip from Golf Pride- Standard. This is a standard sized grip that you'd find on any set of clubs.
What Is A Midsize Golf Grip? 
A midsize golf grip is 1/16 inch larger than the standard golf grip. This larger size is measured in the width of the grip, not in the total length. The circumference matters, as it will impact how your hands fit around the golf club. You'll find most of the popular golf grips tend to be available in midsize, as well as jumbo/oversize.
Main Differences between Midsize and Standard Golf Grips
The midsize and standard golf grips both have similar technology when it comes to maintaining good contact with the club and keeping yourself moving towards great contact with the golf club. However, there are some key differences here that are worth mentioning. 
Size 
The most significant difference between standard and midsize golf grips is the size of the grip. The midsize is larger by about 1/16 of an inch. This may not seem significant, but I can tell you there is a huge difference when you hold a standard vs a midsize grip. 
Golfers are pretty particular about the way a club fits in their hands, but the size is especially important as it can really play into the way the swing can transpire. If a grip is too big or too small, it impacts the clubface a lot!
Here's a quick cheat sheet chart that compares glove size to the appropriate grip size:
| Glove Size | Grip Size |
| --- | --- |
| Junior | Junior |
| Women's S or M | Undersize |
| Women's M/L or L | Undersize |
| Men's S or Cadet S | Undersize |
| Men's M or Cadet M | Standard |
| Men's M/L or Cadet M/L | Standard |
| Men's L or Cadet L | Midsize |
| Men's XL or Cadet XL | Midsize |
| Men's XXL or Cadet XXL | Jumbo |
| Men's XXXL | Jumbo |
Ability To Release/Grip The Club
If your hands are not quite big enough for a midsize golf club, you may notice that you cannot release the golf club at times. We all know the dreaded late release leads to a slice. 
In addition, if the golf grip is too small for your hands, you may see a big hook. The bottom line here is that these differences in the sizing of the grip lead to issues with your ability to maneuver the golf club. 
Availability and Options
Most golf companies provide the standard size grip in every model they make. For golfers that need the midsize grip, there may be some reduced availability. There are still plenty of options out there, as midsize grips have become even more popular throughout the years. 
However, if you are set on a particular grip style or color, be prepared to notice slightly less stock in the midsize. 
Pricing 
The price of midsize golf grips is sometimes a little higher than standard. This has nothing to do with performance and is mostly related to the overall amount of material used to make the golf club. 
If you want to keep pricing down, there is always the option of installing the grip yourself. 
The Importance of the Right Golf Grip For You
Now that you have a basic idea as to the difference between a standard and a midsize golf grip let's look at what you need to know about how the proper grip impacts your game. It's probably much more important than you think. 
Increased Comfort and Control
When you are playing with the proper size golf grip, you will have more control over the club and more comfort in your hands. In fact, I could probably tell you which club is mine with my eyes closed because I know the way the grips feel. 
Truly if you put a foreign club in my hand, the first thing that comes to my mind is the way the grip feels in the hand, not the club head or the performance. 
Think about it; the grip is the only place we even make contact with the golf club. With the increased comfort and control, the chance of getting the golf club to do what we want it to do is greatly improved. 
Less Tension
Tension in the hands brings about some major issues in the golf swing. The problem with tension in your hands is that it will never just stay in your hands. 
When your hands get tense, it moves up in your arms, then shoulders, back, etc. As you can see, this is not going in the right direction. Golfers want to get rid of tension whenever possible as it will allow for more power and more significant energy transfer in the golf swing. 
Keep the tension under control; the benefits are usually more distance and longer shots. Of course, you still need to hold the club with enough pressure that you are the one in charge, but it's worth it not to have a death grip on the club either. 
More Maneuverability of the Clubface
Most of the time, you will want to let your club path and angles in your swing define the way the club head is delivered to the ball. However, there are times when we hold the clubface a bit open or shut it down to get the results we need on the course. 
However, a great benefit is having a grip size that at least allows you to manipulate the clubhead when you need to. 
Less Pain 
Golf shouldn't really hurt. However, for some golfers, arthritis has become an issue, and the grip that you choose can play into the way your hands feel on the golf course. Most golfers find that the bending of the fingers is painful, and its best to keep them a little more open. 
If you are looking for less pain in your golf shots, the midsize or even oversized grips tend to be a really smart choice. 
Confidence 
Increased confidence is the name of the game in golf. 
A grip size that is the right one for you feels a bit like going home. Golf is an awkward sport. We have to do many things in our swing, stance, and setup that may feel less than natural. If you can grip a club and feel great about it, that confidence can play through the rest of your golf bag. 
Confidence is one of those things that takes time to develop on the course, but the right grip can undoubtedly help get you there. 
Benefits of Using a Standard golf grip
The great thing about a standard golf grip is that it is easy to find, available on stock clubs, and very often cheaper than a midsize golf grip. Most clubs have the standard grip on them, so it's easy when you want to try out a golf club to see if it's the right fit for your game. 
Benefits of using a midsized golf grip
Midsized golf grips are a must for golfers with larger hands. Without the midsize grips, it's hard to let your hands do what they are naturally supposed to around the greens. 
Mid Sized VS Oversized
The midsized grip is smaller than the oversized grip. Oversized grips are another 1/16 larger than the midsize. This is really a grip for golfers with large hands and more for those wearing a size XL glove or larger. Oversized golf grips can sometimes be called arthritic grips as well. 
Golf Grip Sizing Info
If you are unsure which golf grip size you need, you can measure your hand to get a better idea. Some golfers use the golf glove size to determine which grip is best for them, and others will use a chart to measure the size of their hands. 
Sometimes it takes a bit of trial and error. Whenever I change grips or grip sizes, I put just one grip on a club like my 7 iron. I play a few rounds with it, see how it goes, and then switch if I feel the need. 
FAQ
Here are a few most commonly asked questions about the standard vs. midsize grips. Making sure you choose the right one for your hands will make all the difference in your game. 
Are standard or midsize grips better?
Standard and midsize grips are both good. The key is to find the one that is the right fit for your hands. Both grips can have a similar feel and overall performance; find one that fits within the palm of your hand the way it should. 
Do most pro golfers use standard-size grips?
Most professional golfers use standard-size grips. However, depending on the size of the player's hands, their ability, and what they feel most comfortable with, they will adjust the grip size. Most professionals will also have custom tape wraps under the grip to play with the total size of their grip. 
Do larger grips cause a slice?
Larger golf grips can cause a slice if your hands are too small. If your hands are the proper size for the golf grip, you should not have any trouble with slicing the ball. Large golf grips are excellent as long as your hands can accommodate them. 
Do any pros use oversize grips?
Some golf professionals use oversized grips. Players like Bryson DeChambeau, that have very large hands, will use these large grips to make sure they have a secure and firm hold on their golf clubs. 
Final Thoughts
Hopefully, you now feel as though you are prepared for your next grip change.
Most amateur players do not change their grips nearly as much as they should. Stay on top of this so that you don't end up with grips that are the wrong fit for your hands. Each year golf manufacturers like Golf Pride, Lamkin, Winn, and SuperStroke come out with new options for players to use. Keep an open mind, so you are using your golf clubs to the best of your ability.