Callaway are one of the most successful club makers out there, and the unveiling of the Callaway Epic driver series was a huge hit. To follow up the Epic, they've introduced the Rogue- this driver is meant to be even more forgiving than the Epic, which is a huge win for mid and high handicappers struggling to straighten out their drives. So what's the deal with the Callaway Rogue drive exactly? Who's it for, how does it compare to the Epic? Check out our full review below.
Short Version
The Callaway Rogue is a solid driver for the mid and high handicap crowd. The Rogue emphasizes forgiveness combined with optimal performance. The result here is a club that's very easy to hit. Combine the hittability with the fact that this driver is no longer "brand new", and the Rogue ends up being a pretty stellar value option for the cost-conscious golfer.
Features and Benefits of the Callaway Rogue Driver
Jailbreak Technology
If you aren't familiar with Callaway's 'jailbreak' technology, here's a breakdown of what it is and what it does.
The term Jailbreak might seem odd, but it references some smart technology contained within the driver. Inside the head of the club there aretwo vertically suspended bars (think prison bars, hence the name).
These two bars are designed to strengthen the driver head's structure and stiffen both the head and the driver's sole. By having a stiffer and stronger head, the face can withstand higher impact speeds.
What does this mean for you as a player?
Essentially a harder strike will lead to a faster ball speed, giving more power and distance to each shot.
One thing to note about the Callaway Rogue driver, when compared to the Epic, is the shape of the 'jailbreak' bars. Callaway has changed the shape of the bars to be hourglass shaped (tapering towards the middle). By doing this, they have reduced the weight of these bars by 25% making the driver just a bit lighter.
Driver Face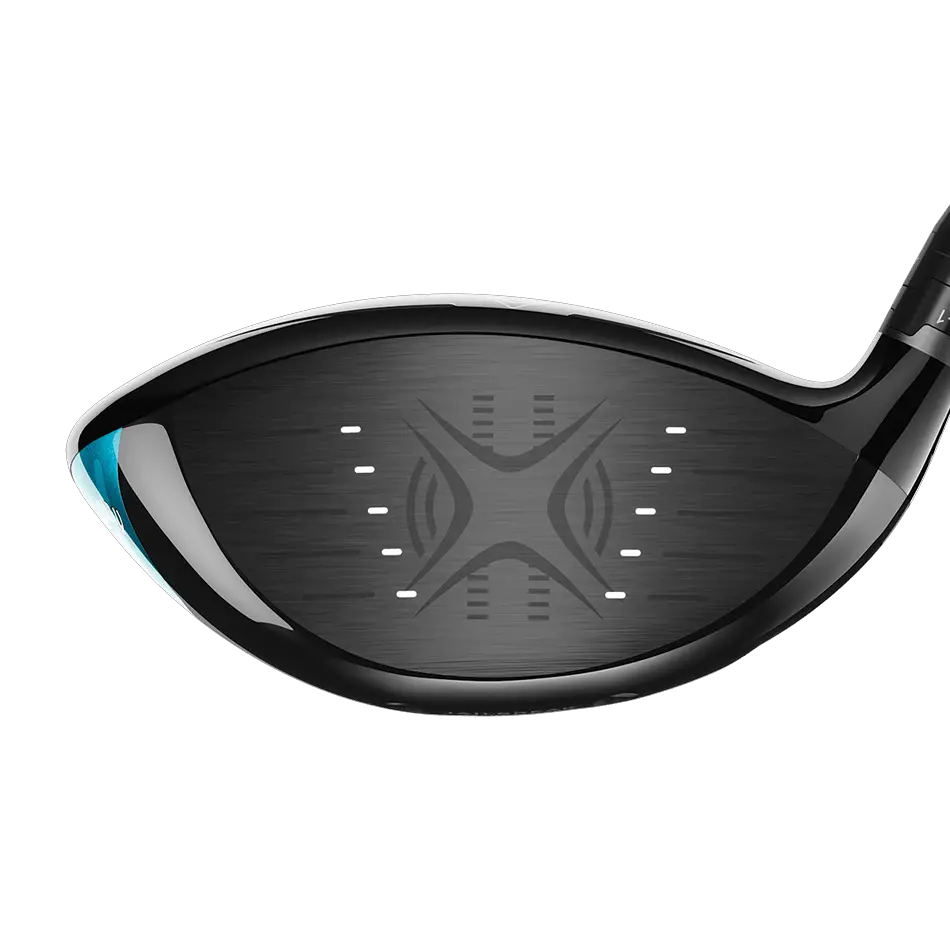 Callaway has also introduced X-Face VFT architecture. This face creates a more extensive zone that promotes faster ball speed. Perfect for off-center hits.
Does it work?
Yes, it does. We are not always the most consistent striker of the ball, yet shots that were nowhere near the center of the club still managed an excellent carry without a massive loss in the distance.
Callaway refers to the interaction between the Jailbreak technology and the X-Face VFT as the 'jailbreak effect'. That jailbreak effect translates to forgiveness and better mis-hits on less than stellar shots.
Forgiveness
Let's face it, this is what we are all looking for in a driver. The Callaway Rogue driver does offer a reasonable degree of forgiveness, with a high MOI, large sweet spot and low CG.
The head of the driver is perimeter weighted. This results in a higher moment of inertia. In practical terms, this means that with a semi-decent swing, the driver's head is less prone to twisting, even if it is struck off-center. Less twisting means a squarer face on impact, and a square face means straighter shots.
The expanded sweet spot gives a bit of a wider margin of error if you don't quite hit the ball on the center of the face, while a naturally low center of gravity helps you get the ball into the air on a great trajectory.
Construction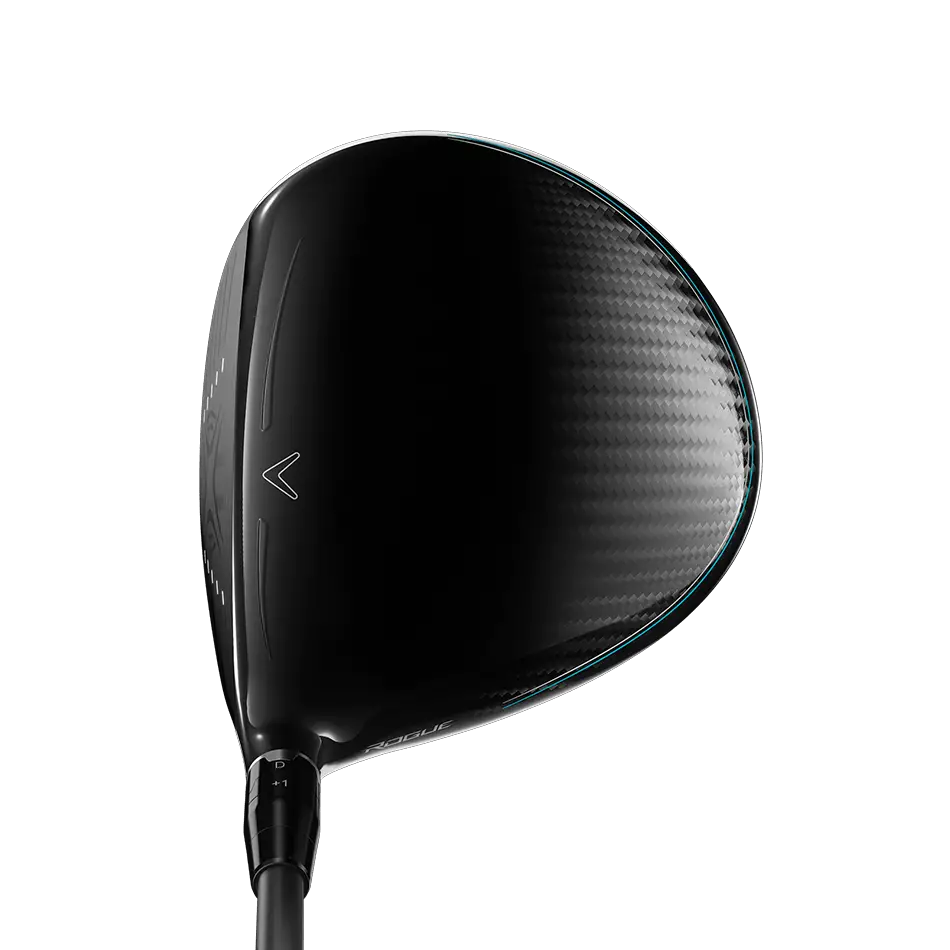 The critical thing to note about the Callaway Rogue driver is the triaxial carbon crown. This is most obvious on the driver's head, aside from looking pretty good. Again the aim is weight saving. By keeping the head light, Callaway has picked and chosen where they distribute the remaining weight.
Callaway Rogue Driver Head Shape and Looks
When you are on the 1st tee and facing a grueling par five, it can be a little daunting. The first shot of the day, with a driver? What you need is confidence. One way to achieve this is to put a club behind the ball that fills you with good thoughts. The Rogue inspires confidence and looks great at address.
Callaway is keen to stress that the Rogue has the most extensive Tri-axial carbon crown ever fitted to a Callaway driver. But what does that mean for you?
When placed behind the ball, the clubhead looks massive. It isn't just the width of the clubhead either. This thing is long, seriously. It seems to go back forever, and in the backswing feels super stable.
The club sits nicely and is very hittable. One thing which won't be for everyone is that the face appears ever so slightly closed. If you are used to a slightly more open face, this may take some getting used to.
Aerodynamic Performance
If you are familiar with Callaway, you'll already know about their 'speed step' technology. Working with Boeing, Callaway has developed a leading-edge design that offers optimal aerodynamic efficiency. Without getting too technical, less drag means more speed, and more speed means you should be able to hit the ball further.
Sound
Callaway drivers have a sound all of their own. In your mind's eye, how do you think a driver should sound? If you are anything like us, you won't be disappointed or face any surprises with the Callaway. It sounds like a driver should.
The sound it makes is a metallic ping, when hit on the sweet spot. It isn't particularly heavy, nor is it too tinny. Often drivers with a large head produce interesting results in the sound department, being prone to sounding like a large 'knock'. We were pleased to note that even off-center contact still made a pleasing metallic thwack.
Overall Performance of the Callaway Rogue
Did we like the performance of the Rogue driver? The answer is a resounding yes. It got us down the fairway with a reasonable degree of accuracy.
There's a slight draw bias which can be a little disconcerting, and we found that very few shots in our trial (in fact, none at all) went to the right. If you have a slice, this draw bias club can really help eliminate the dreaded left to right slice.
On the launch monitor, it performed as a driver should. Our swing speed was increased ever so slightly (by 2mph), and total driving distance was improved by about 3-4 yards on average. However, what was interesting to note is that there wasn't a vast increase in the amount of spin. In fact, it was at the lower end of what we consider normal. Ball speed was increased a little, so it would appear to work.
If you're upgrading from a driver that's more than 3 years old, you'll see a big difference in distance, otherwise the difference may not be as significant.
Mens Rogue Driver Product Specs
Now, let's talk numbers. The Rogue driver is available in a range of lofts. The lie angle is dictated by your selection on the adjustable shaft mounted sleeve.
| Model | Loft | Availability | Standard Length | Lie | CC | Swing Weight |
| --- | --- | --- | --- | --- | --- | --- |
| 9° | Adjustable (8°-11°) | RH / LH | 45.50″ | 58.00° (Adjustable) | 460 | D3 |
| 10.5° | Adjustable (9.5°-12.5°) | RH / LH | 45.50″ | 58.00° (Adjustable) | 460 | D3 |
| 13.5° HT | Adjustable (12.5°-15.5°) | RH / LH Custom Only | 45.50″ | 58.00° (Adjustable) | 460 | D3 |
Buyers Guide
Who is the Callaway Rogue Driver for?
Callaway is undoubtedly a premium manufacturer, they don't do cheap, and they don't do poor performance. This club could be an ideal tool for one who is looking to improve on an already solid foundation. Due to the massive head and creative technology, it would also be well suited for beginners to increase their confidence.
This club will do it's best work in the hands of a mid or high handicap player. If you need a forgiving driver that you can buy for a decent price, this is a really good option. You won't find many better bang for buck picks out there; this driver is well made, and was $500 when it came out.
Think About What You Want to Achieve
What are you looking for? Do you want more distance? More consistency? Something to give you more confidence? Are you trying to blend out that pesky slice? If the answer to any of these questions is yes, this driver could be a great choice.
The inherent Jailbreak technology does get the ball flying, with a pretty decent carry. If it is the length you are looking for, this driver is right up there with others in its class.
From a consistency point of view, it would probably have you covered too. Granted, if you hit one fat or really thin, no club in the world will save you. But if you are tired of being punished for not finding the sweet spot every time, then the X-Face VFT architecture will come as a breath of fresh air. You won't have to find the middle perfectly to get a satisfactory result.
Is it for Everyone?
The answer to this question is simple, but we prefer to be honest. No, it isn't. Let's explain why…
Remember we talked about the lie angle being ever so slightly closed? If you are a player whose natural shot shape is to the left, this could present problems. The club is undoubtedly draw biased.
If you hit it reasonably straight (tell us your secret), it could add a subtle draw. If you have a touch of fade, it may very well straighten your shots. For those who have a natural draw shape, you will have to put in a lot of effort to hit it to the right.
One other area which we noticed has been changed is the weighting system. The Callaway Epic featured a sliding weight so you could tweak and alter the clubface. The Callaway Rogue driver is an altogether more straightforward affair. The weight is fixed, offering much less adjustability than the Epic did.
If you rely on tweaking the club to get an optimal trajectory, there are a few customization options in the shaft-mounted sleeve. But this is your standard 'lie angle' adaptation. There are no moving weights. So, if fine-tuning is your thing, you might want to consider something else.
Golfers Opinions on the Callaway Rogue
Golfers like to chat about clubs, and we are no exception. We have had a good look at what people had to say about the driver. Here are some of their thoughts:
"I treated myself to a Callaway Rogue driver. I got the 10.5-degree regular flex version. After taking the Rogue out a couple of times to get the feel of it, I'm hitting it very well. Good distance for me (a senior), and I'm keeping it in the fairway for the most part. It's also a beautiful driver. I recommend it."
"I have always used Ping drivers. I knew I was giving up yards, but I was always in the fairway. I decided to try the Rogue based on reviews. I have played 2 rounds, and so far, it is about 10 yards longer than my ping G and just as forgiving. Callaway is doing something right with their woods."
"I purchased this driver to replace an aging Callaway Diablo Octane driver that I owned. WOW, what a difference in performance! All of the tech that Callaway threw into this driver has done wonders to my driving consistency. Sure, I can still put a bad swing on it and spray it all over, but with a smooth swing, the ball just rockets off the face."
"Took me a few rounds. But figured it out. I'm going to use this driver until it can't be used anymore. I have newfound confidence at the tee box."
"Rogue Driver feels so stable and easy to swing. Hit anywhere on the face, and the ball still wants to get up and go. Not as punishing as other drivers, I have played."
FAQ
Is the Callaway Rogue Forgiving?
The short answer is, yes, the Calloway Rogue is forgiving. As we have said, a club is only capable of so much, and it isn't going to work miracles if you have a severe out to in-swing or the wrong grip.
The club is plenty forgiving and the target market truly is that beginner to mid handicap crwod.
Is the Callaway Rogue Driver Good for High Handicappers?
In parallel with the above, yes, this could be a great driver for high handicappers. Everyone started with a high handicap at some point in their golfing career. It makes little sense to purchase a substandard driver just because you feel you "aren't that advanced". At the end of the day, that is just making life more difficult for yourself.
The way we prefer to look at it is this. Clubs that are not easy to hit aren't for high handicappers. Conversely, anything that is easy to hit and forgiving gets a pass in our book.
Just because something is more comfortable to hit doesn't make it a 'beginners club' either. If you choose a good driver, and even one that is slightly more advanced than you think you need, it will be able to accompany you as you grow your game. High handicappers become mid handicappers with a little practice (and often a few better drives). If something worked for you when you were starting out, it should still work for you when you improve.
Is Rogue more Forgiving than Epic?
We'll be honest, this is a tricky one.
Both clubs offer forgiveness, and as we said, Callaway isn't replacing the Epic with the Rogue driver. They are side by side products.
If you are trying to tune out an aspect of your trajectory, the Epic offers sliding weights that might make the difference to your shot shape.
With regards to the specs and whether you'll get the ball on its way, the Rogue driver offers really great forgiveness and performance. It contains a great many technological elements found in the Epic, some of which have been improved.
Is the Rogue Driver Worth it?
The Callaway Rogue driver is a premium product. It is a real player's driver. Make no mistake. This isn't going to be something that you choose on a whim, but something that you should select.
Addressing is it worth it. In our opinion, yes, it is. By purchasing this driver, you'll get a quality product with lots of technology. And the best thing is you are unlikely to outgrow it as it is suitable for most players. We love the value the Rogue brings, and see this as one of our top bang for buck driver picks out there.
Alternatives
If you are here, there is a good chance that you are looking for something easy to hit with a fair amount of forgiveness. If you aren't convinced by our Rogue driver review, then other options could offer similar performance. Let's take a look at some other suggestions:
Remember how we said there was a draw bias to the Callaway Rogue? IF you are somebody who just wants a straighter shot, then TaylorMade offers plenty of solutions. Poor shots from mis-hits are minimized with twist face technology. This, combined with a larger sweet spot, makes this club really easy to hit.
Smaller sole volume increasing the sweet spot
Twist face technology reduces poor strikes
Fast ball speed
You may be reading about the Callaway Rogue if you are looking to remove the right-hand trajectory dominating your game. Ping has developed a driver to do just that. Extra weight in the heel allows the clubface to remain squarer on impact, reducing the tendency for that 'bad' shot to leak right.
445cc head for ultimate confidence
Dragonfly optimized aerodynamics
Thin and very hot face for increased ball speed
Our Closing Thoughts
Sometimes you want something simple and effective. In that case, this club is certainly worthy of consideration. Granted, it isn't entirely as customizable as its contemporaries, but that said, it is your swing that does most of the work. By making the ball airborne and relatively straight in its flight, this club would give you an excellent opportunity to work on the best aspects of your game. The Callaway Rogue driver offers exceptional performance but is hittable enough for players of pretty much all levels. If you want to know more about it, including cost and options, you can get a really good look just here.
Thanks for reading!