Some golf manufacturers make it seem like the clubs they create can do it all. Sometimes I get a bit annoyed with this because we know better. Not all golf irons are capable of everything we need them to be. 
However, the Ping i525 checks a lot of boxes! Whether it be distance, forgiveness, or stop-ability you are looking for, there's a good chance you can find it with the Ping i525. I recently tested these irons and thought some of this feedback could be helpful. Take a look at my Ping i525 irons review below. 
Ping i525 Irons Overview
Ping i525 Irons
Excellent Players Distance Iron from Ping
Variable Thickness Forged Face for premium feel and feedback
Two different loft options for stronger or more traditional lofts
Exceptional ball speed off the face
Clean top line to inspire confidence at address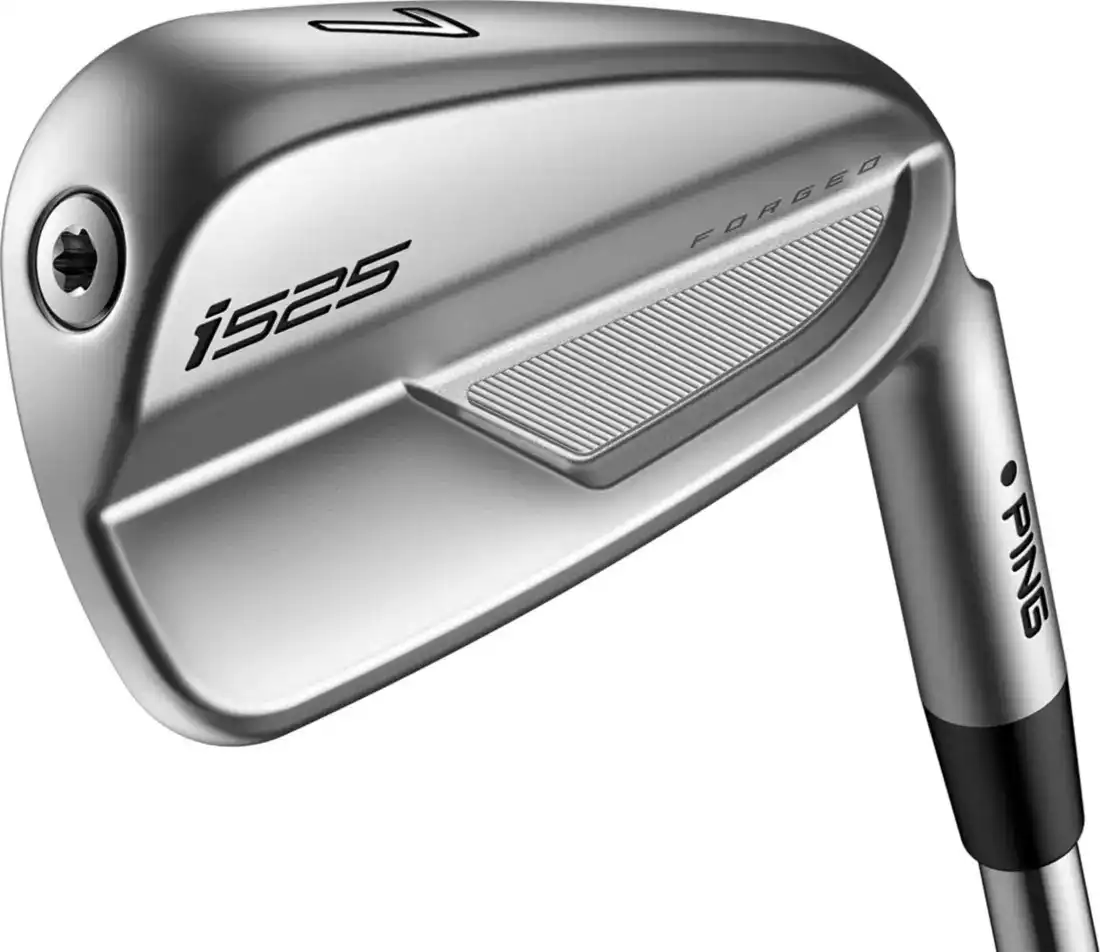 We earn a commission if you make a purchase, at no additional cost to you.
The Ping i525 irons are a player distance iron with a forged maraging steel face. If you are looking for a ton of speed coming off the face without losing the impressive buttery Ping feel, the i525 can help provide that for you. 
The permitted weighted design does help increase overall forgiveness and carry distance. Players that struggle to hit and then hold the green will notice the Ping i525 incorporates plenty of technology to help. 
Key Features
The Ping i525 irons are in that players distance category from Ping. You have likely seen the G series of irons built more for game improvement. The Ping I series takes clubs to the next level and provides a bit more workability, improved materials, and some increased technology in the grooves. 
Here's a quick glance at some of the tech packed into the i525 irons:
High-performing stock shafts in the Project X IO and Ping Alta CB 
Hydropearl 2.0 finish 
Precision milled groove pattern 
Micromax Grooves 
Tungsten toe and shaft tip weights 
A great mix of technology in the Ping i59 and Ping i230
Polymer face injection to improve the overall feel 
Looks
The Ping i525 golf irons are designed to have a cleaner and more player preferred look. You will notice from the top down the line is relatively thin. In no way did I feel as though this was a bulky golf iron. 
In addition, the Hydropearl 2.0 finish ends up being something that looks professional but is certainly not too shiny.  
Performance
One of the feat features of the Ping i525 is supposed to be increased spin on the greens. These irons are designed to give you a higher flying shot that lands on the green and stops where you want it to.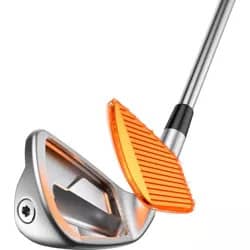 I noticed that the Micromax Grooves not only provided spin from the tight fairway lies but also from a bit of rough. Overall distance was good, and ball speed off the clubface was really strong. 
The key here is that I felt confident with these iron shots; if there was a certain shot that I wanted to hit, I felt as though I could pull it off. 
Forgiveness
The Ping i525 irons are not the most forgiving golf iron on the market today. However, they do have tungsten toe and shaft tip weights and a perimeter weighted clubhead to help improve overall accuracy. Couple that with a mildly generous cavity that is somewhat disguised in a sleek looking profile, and you have a bit of forgiveness built into this iron set.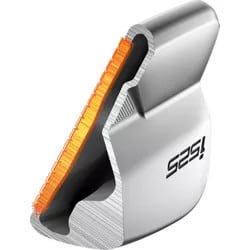 If you hit the center of the clubface most of the time, the Ping i525 is a great choice. If you are still struggling to do that, look for the G series golf irons instead. 
Sound and Feel
Ping always makes some of the best feeling irons in the game. A polymer material was injected into the face to ensure that the Ping i525 irons had a good feel and sound. This helps improve the overall sound and feel. 
Additionally, this injection to improve the overall sounds and feel did not decrease the distance capabilities of the golf clubs. Sometimes in a muscle back iron, you will notice that the clubhead is considerably heavier; although it may have a great feel, overall distance capability is impacted. 
These have a relatively light feel, and pack in the distance you'd expect from a players distance set.
Club Specs
One of the most interesting things about Ping irons is these Power Spec Loft options. Let's face it golf manufacturers have lowered the lofts in the golf irons and hoped that amateur players would not look at the specifications. 
We caught on! 
With the Ping i525 irons, you can choose the Power Spec or Retro Spec loft. If you are seeking distance, the Power Spec is certainly best with a strong 44 degree PW. The Retro Spec is better for those looking for higher ball flight as well as great stopping power on the greens; this club features 47 degrees in the PW.
The Ping i525 irons come stock with a Project X IO shaft in steel and the Ping Alta CB in graphite. If you are looking for additional distance, the graphite with the Power Spec Loft tends to be a good combination. However, I found that the Ping i525 irons in the steel Project X IO had much better overall control.  
| | | | | | |
| --- | --- | --- | --- | --- | --- |
| CLUB | LENGTH | LOFT | POWER SPEC LOFT | RETRO SPEC LOFT | LIE ANGLE |
| 3-iron | 39 1/2″1/2 | 18.0° | 17.0° | 20.0° | 60.0° |
| 4-iron | 38 7/8″7/8 | 21.0° | 19.5° | 23.0° | 60.5° |
| 5-iron | 38 1/4″1/4 | 24.0° | 22.5° | 26.0° | 61.0° |
| 6-iron | 37 5/8″5/8 | 27.0° | 25.5° | 29.0° | 61.5° |
| 7-iron | 37″ | 30.5° | 29.0° | 32.5° | 62.0° |
| 8-iron | 36 1/2″1/2 | 35.0° | 33.5° | 37.0° | 62.8° |
| 9-iron | 36″ | 40.0° | 38.5° | 42.0° | 63.5° |
| PW | 35 1/2″1/2 | 45.0° | 44.0° | 47.0° | 64.1° |
| UW | 35 1/2″1/2 | 50.0° | 49.0° | 52.0° | 64.1° |
Who Should Use These Irons?
I really like the Ping i525 irons for the mid to low-handicap player looking for more control without sacrificing distance. If you are past the point of wanting to hit the golf ball on the green and would prefer to hit it close to the hole, the Ping i525 has the technology necessary. 
The entire Ping I line, with the release of the new Ping i230 and the Ping i59, has so many great options for ball strikers that don't quite want a blade but can't do a game improvement iron either. 
Final Thoughts
When I tested the Ping i525 irons on the course, I was impressed. With the thinner face structure, I felt like I could get plenty of distance while still feeling in control of the ball. Ping puts a lot of R & D into their golf products, and I feel like this one is a win for the company and for golfers in the mid to low handicap range. If you have been playing a G series club and feel like it's time to take the next steps in your golf game, this is the one to try. Thanks for checking out our Ping i525 review!
Check the price for the Ping i525 irons at Golf Galaxy here.