When you walk and carry, or when you're hitting a range session, you want your bag to be as light and compact as possible. Your clubs, golf balls, and beverages can be heavy as is, so many avid golfers tend to lean toward very lightweight bags. Sunday Golf has quickly become one of the leading brands when it comes to lightweight and ultralightweight golf bags for your typical golfer. We first tried out their Loma bag which is perfect for a range session, par 3 course or a "just the essentials round", and absolutely loved it. Now they've released the El Camino golf bag, which we're super excited to try out.
So what is it, and how do we like it? Check out our full El Camino golf bag review below!
First Impressions
As with the Loma Bag, I was really happy with the presentation of the packaging of the El Camino bag. Sunday Golf's packaging is no frills, and leaves the excitement of the unboxing to the bag itself.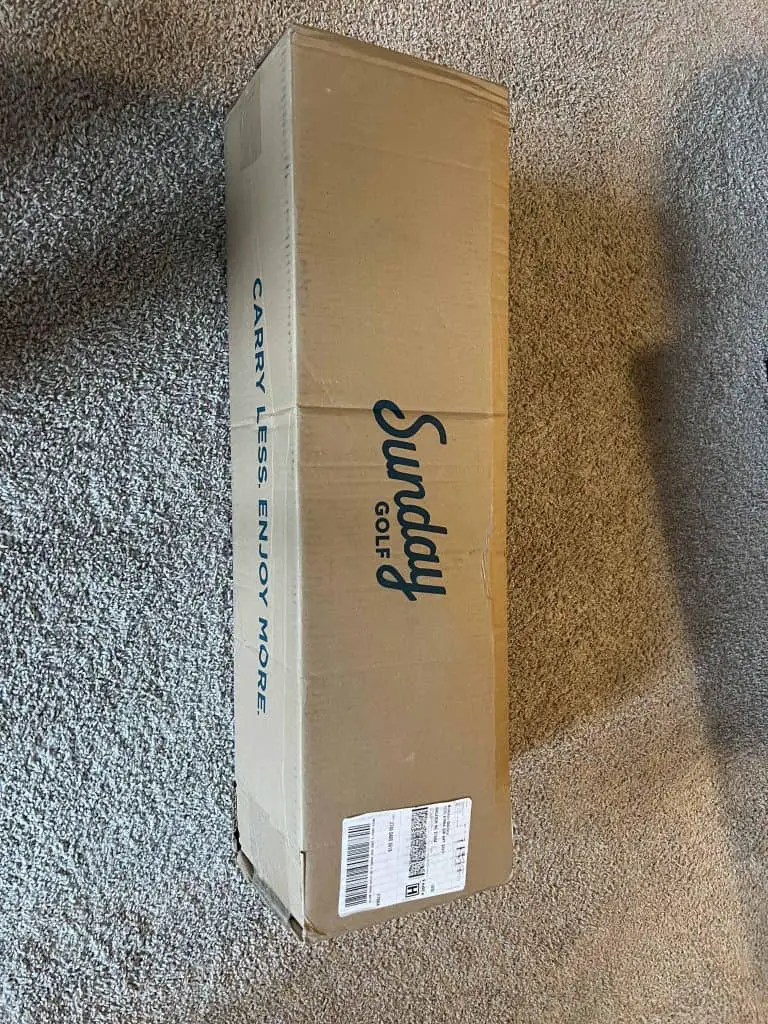 I opted to get the Heather Grey bag, and the first thing I thought was how great of a walking bag this would be. The bag is noticeably slimmer than a standard full-size carry bag, but not so slim that you'd struggle to fit your clubs into it. This is a super lightweight bag weighing in at less than 4 pounds. This bag has some of the same staple features that made me love the Loma bag, this time put into a bag that's meant for daily use.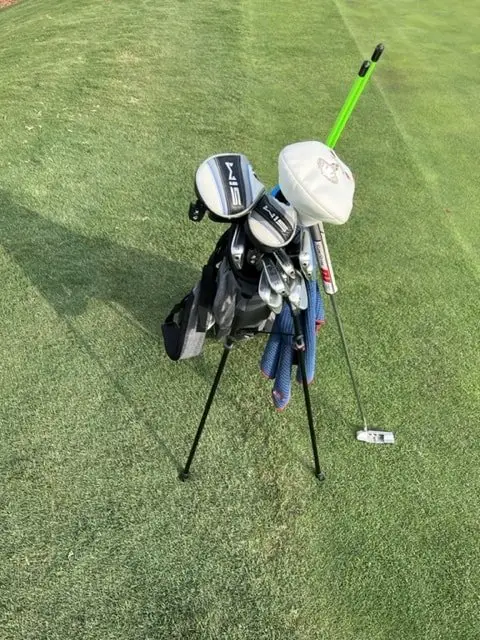 At first glance I was pretty damn happy with the bag. Now let's get into some of the details on what the features look like.
Key Features and Functionality
The thing about Sunday Golf's bags is that there are subtle features that make these bags highly functional, and just make sense for a golfer. As far as general specs go, the bag can easily fit 12 clubs, and when I took it out I managed to squeeze 13 in there for good measure (no, it wasn't crowded with 13). The top is split into 4 sections with full length dividers, and the straps are really comfortable on your shoulders. The bag measures in at 34.5″ high.
There's a Velcro patch on the bag where you can easily slap your golf glove- this helps prevent your glove from getting sweaty in your pocket, and keeps it very easily accessible. Above the glove holder, there's a well placed golf towel loop. Another subtle yet useful inclusion on this bag is the tee holder slots you see below; you can fit maybe 10 or more tees on there making them very easily accessible throughout your round.
Below the tee holder, there's a mid sized mesh pocket that you can store anything from your phone, keys, a drink or whatever you want really- again, super accessible and useful while you're out there walking the course or hitting balls on the range.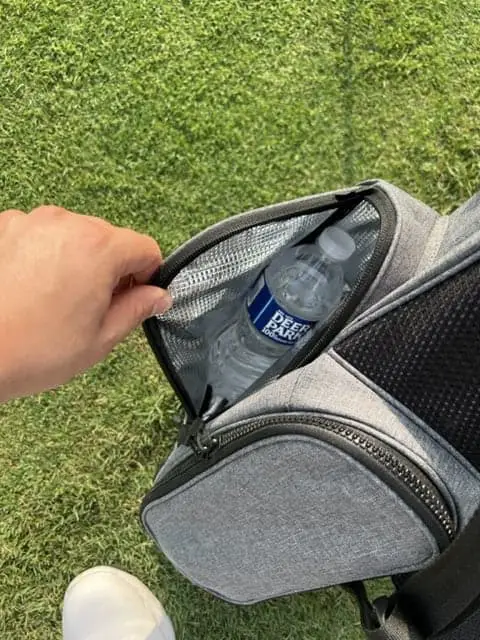 As far as pockets go, there are plenty. The "Frosty Pocket" meant for drink storage is pretty big; you can easily fit 4 cans in there, or 2-3 full sized bottles of water depending on how you'd like to play it. There's also a small Velour Lined Valuables pocket near the top of the bag which can easily fit all your things- phone, keys, watch etc with room to spare. You've also got a huge apparel pocket, and a sizeable ball pocket that has a mesh net for things like your tees, divot tool, and current balls etc.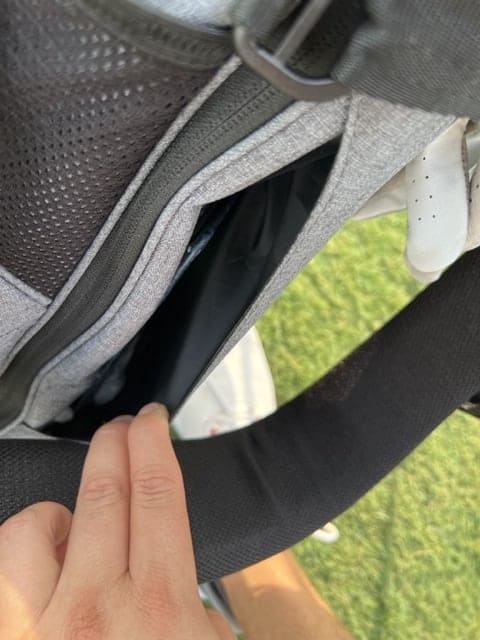 One of the more interesting pockets on this bag is an "easy access" pocket; it's wide enough to fit an array of items, and when I walked 9 I found myself putting both my rangefinder and my phone in there to quickly grab whenever I wanted. Really liked this one.
What We Love
After playing a few rounds with the El Camino bag, there's a lot to love. First and most obvious, this thing is super light, and it feels like this could be easily 5lbs lighter than my standard golf bag. As simple as it sounds, my favorite feature on this bag has to be the easy access pocket. I've got a bag with a standard range finder pocket, but it feels cramped and like it should only pack my rangefinder; this one feels like it can truly be multipurpose, and fit a couple hands things in there for your round.
The drink pocket kept my water cool in 100 degree heat for an entire round, which I thought was quite impressive. and the glove holder/tee holders on this bag just make sense, which I'm a huge fan of. It would be pretty cheesy to say "I love everything about the bag", but that statement isn't far off. Honestly, this is just a highly functional and stylish walking bag for any avid golfer.
Drawbacks
Honestly there's not many drawbacks when it comes to the El Camino golf bag. The only gripe I have with the bag, if I had to pick something, is the way the bag hangs when it's on your shoulders. I find the bag tends to hang very level, which can make your irons become top-heavy here and there, causing them to slip out of the bag a bit. I was able to adjust the straps to hang with a little more favor on the bottom of the bag, which mostly fixed the problem.
Other than that, the fact that this bag doesn't fit your full set can be a minor inconvenience. For me, it just meant foregoing my 4 iron, which might have helped improve my game rather than hurt it….. Many players don't carry a full 14 anyway. Still, for a really light walking bag, I'll gladly leave an iron out of the bag when the trade-off is being much less sore after a 4 hour round of golf.
Final Thoughts
After checking out all the features Sunday Golf put into this bag, I have to say the El Camino is clearly a winner in the super lightweight golf bag category. All of the innovative design features that Sunday put in their Loma bag were included here- you have your glove holder, tee slots, the Frosty Pocket, and ample storage throughout. The bag is clearly well made, and looks like it will stand the test of time with sturdy materials, durable legs, and comfortable shoulder straps.
If you love walking and don't mind leaving a club or 2 out of the bag in favor of a more comfortable round of golf, this bag is ideal for you. Check the price on Sunday Golf here.