Being 'well dressed' on the golf course is actually a mixture of requirements. You need a good measure of style and functionality while also adhering to a semi-strict golf dress code. The best golf pants should look good while also protecting you from the elements and keeping you comfortable without restricting any movement.
In my experience, buying a pair of pants for golf can be completely hit or miss- I've bought some pairs that had no business being on the golf course, while there are a few that I would love to have 10 more pairs of.
We've assembled a list of some great golf pants so that you can strut your stuff out on the course in style- check out our full guide below!
8 Best Golf Pants for 2021: Reviewed
The Nike Flex golf pants were one of my first ever pairs of golf pants, and in my opinion are one of the best pairs you can buy.
Slim stylish and super soft, that is our appraisal. Whether you are winding up to crush a 300-yard drive or are sitting down in the 19th hole, these pants provide supreme comfort and a great deal of stretch, keeping you nice and free during your round.
The pants are of the more modern slim fit style. However, due to the incorporation of spandex in the fabric, they are surprisingly roomy, and offer plenty of mobility while you're swinging a golf club. This is a popular golf pant out on the PGA Tour, too. Thanks to several very prominent tour players making Nike their brand of choice, Nike has flourished as one of the top golf apparel brands, and their pants are seen week in and week out on the course.
Although they are cool and highly stylish, it's important to note that they do not offer water protection, so they are best suited to those who play in drier weather. If you're looking for a great everyday pair of golf pants without a huge price tag, we love this option.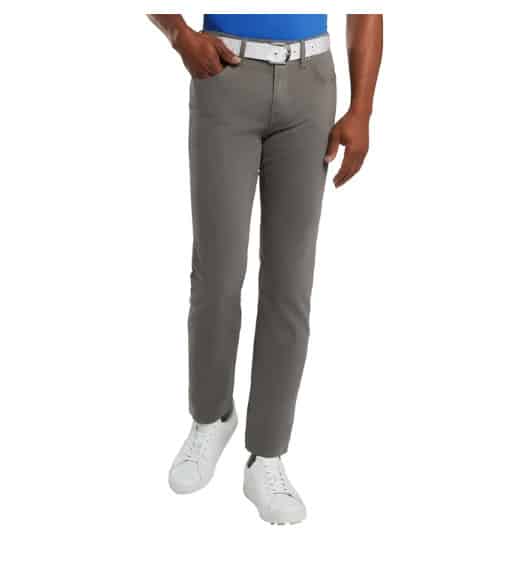 When walking for miles on the course, comfort is king. These G/Fore pants use a lightweight stretch twill fabric that will allow you to move freely, both while walking the fairway and swinging. The blend of cotton and modal ensures that they will wick moisture away from the skin and also dry quickly, keeping you feeling fresh all the way to the end of your round.
Fashion is almost as important as form, and these golf pants are undoubtedly stylish, which is something G/FORE is really well known for. The straight leg and polished finish give a classic look while also maintaining the comfort you would expect from pants that are much more casual.
The G/Fore golf pants offer 6 different color options, and offer a ton of different sizing options that should fit a majority of golfers out there. They look fitted, smart, and are very wearable, both on the course and off it. G/Fore are one of the top players in the premium golf apparel market; if you want an excellent premium pair of golf pants that are built to last, we love this pick.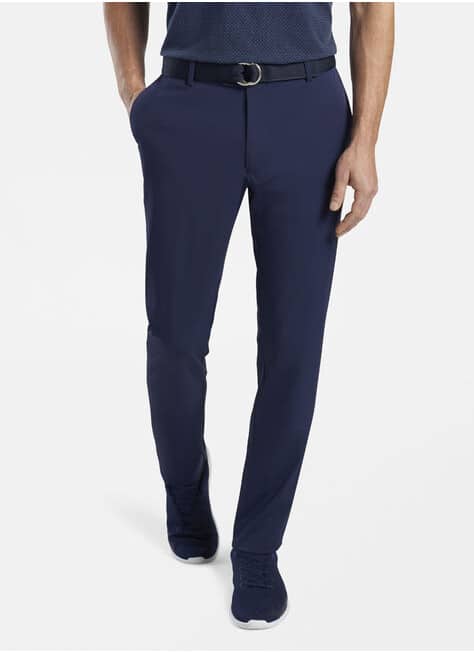 Peter Millar has been around for decades, and they consistently put out some of the best golf clothes you can get your hands on. They usually feature more of a classic golf look, and it's always great to have something classic and a little more formal in your golf wardrobe. For classic looking golf pants, these Peter Millar chino style pants tick a lot of boxes.
If you play in all weather conditions, then these Stealth Performance Pants could be an ideal choice. These weatherproof golf pants are specially designed to be used in many different environments. The lightweight fabric won't be cumbersome or heavy on milder days. If playing in 'umbrella weather,' they also offer outstanding protection. They are water-resistant and are constructed using quick-drying fibers.
While these golf pants look a little more formal, one great feature of these pants is that they are machine washable and' easy care'. You'll be able to keep them in top condition, so you should get a lot of wear out of them.
The high-performance twist fabric ensures that you will have excellent mobility when swinging and moving around the course. A nice extra is the zippable pockets, keeping anything you place in them safe until you need it.
As style goes, the legs have a slightly narrower opening than some other models and would be the best golf pants for someone who prefers a tapered leg and close-fitting look. The only downside to this pick is that they're the most expensive on our list.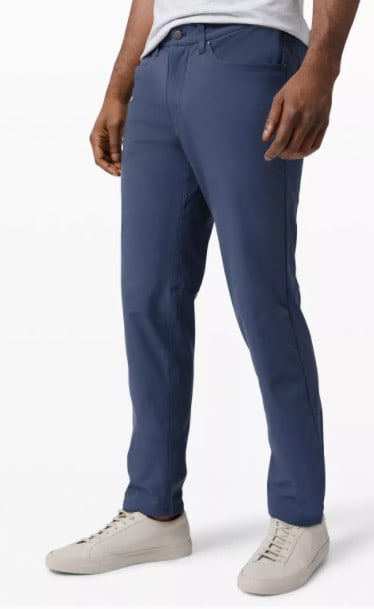 Want to know what 'ABC' stands for? 'Anti Ball Crushing' technology, and they're not talking about golf balls! Flexibility while playing is essential. If there is any restriction in your movement, your game could suffer. These golf pants offer a great deal of maneuverability while taking tension away from your crotch area, and also look rather cool.
The four-way stretch fabric makes for a comfortable fit and is custom designed for people who like to move; these are the pants Lululemon recommends for golf, and frankly we couldn't agree more. The Warpstreme fabric is formulated to give a super soft feel allowing you to stay comfortable and focus on your game. They retain their shape well and are wrinkle-resistant, keeping you looking pristine on the course.
These could be great golf pants for all weather conditions. They are breathable, allowing you to keep cool, and are quick-drying. So a passing shower shouldn't present too much trouble.
The style of these golf pants is a little less formal. They are ideal for a slightly more relaxed look. There is plenty of variety too; these golf pants are available in a range of sizes, and there is a choice of eight colors. With a little thought, you'll pick up a few pairs and be able to 'mix and match' your outfits for different days. If you want pants that are truly flexible to wear on and off the course for almost any occasion, you'll love these.
While Puma doesn't have a huge presence in the golf apparel market, their product line is growing quickly thanks to players like Rickie Fowler. Puma says the Jackpot pant is the best golf pant that they have created, and we must say they have done a great job.
There are a few features these golf pants offer that make them perfect for your round. One really great example is the silicone gripper tape located in the waistband. This is designed to ensure a snug fit and prevents your shirt from becoming untucked, which can happen throughout the day (especially when swinging a club or bending to tee up).
The classic 5 pocket construction means that you'll have plenty of room for your various golfing paraphernalia, such as scorecards, tee pegs, and ball markers. The mesh stretch waistband ensures a snug yet comfortable fit. There are also belt loops if you want to fine-tune your fit slightly.
With 13 colors to choose from, you should be able to find a color to match your style. As Puma suggests, they have done their utmost to make sure you feel that you have hit the jackpot. These are a solid mid-range option for anyone who loves the Puma fit.
Under Armour are industry leaders in producing functional and durable sportswear, and have been a powerhouse in the golf wear market for some time now. The knowledge that they have applied to fitness enthusiasts has been extended to some of the best golf pants that we have seen.
The stretchy woven fabric ensures ease of movement and ultimate comfort. The tapered leg won't be to everyone's style, but for those looking for a slimmer fit,  could be a great addition to your wardrobe. The flat-fronted four pocket design gives these golf pants a really smart look. As a major sports manufacturer, you can expect excellent wicking from the cotton and polyester blended fabric. They will dry quickly if you happen to be caught in a shower.
The stretch engineered waistband allows for a really great fit without making you feel uncomfortable during your game. For the money, these are great value golf pants that offer superior performance.
Adidas' niche used to be firmly rooted in traditional athletics; however, they've become another massive player in the golf apparel market with players like Dustin Johnson sporting their clothes week in and week out. Adidas are now one of the best manufacturers of golf clothing, and with pants like these, we can see why.
These golf pants offer a perfect mix of formal and casual styles. The flat front speaks of more classic golf pants, while the tapered leg will appeal to those who want to be on-trend with a modern style. The pockets feature Adidas' branded 3 stripe logo.
The stretchy fabric gives a snug fit without being too restrictive and will allow freedom of movement. Another nice feature is the elasticated waistband, complete with rubberized gripper tape. This ensures that you finish your round in the same smart condition in which you started it. The pants aren't weatherproof, so they might be better suited for drier days and fair weather golfers.
These would be the best golf pants for slimmer players, but Adidas does make other pairs that suit different styles and fits. These are ultra comfortable, and are built to last quite a few seasons. We love these golf pants for virtually any avid player.
The best golf pants don't have to break the bank, and the Amazon Essentials pair is proof of that. For a wallet-friendly, budget option, these golf pants could fit the bill quite nicely. They offer a lot of features typically found in golf pants at a much higher price point.
The look of these flat fronted golf pants is very classic. The straight leg may appeal to those who prefer the traditional style.
The pants are constructed from a lightweight polyester blend. This is great as it allows you to machine wash them, keeping them looking newer for longer. The material also offers some stretch enabling you to stay flexible. As a final plus point, it is also quick-drying, perfect for all weathers.
They are designed to keep you comfortable and cool; the performance fabric ensures that sweat and moisture are wicked away from the skin, making them great for use in warmer weather too.
For those who don't want to spend $80+ on pants, these are excellent budget golf pants.
How to Choose the Best Golf Pants: Buyers Guide
Like all clothing, the best golf pants will be a slightly subjective choice. People have different body shapes, not to mention various style preferences. What works for one person might not work for another, so it requires a little thought. Let's go through some considerations so that you can choose the right golf pants for you.
Cost
Budget can play a big part in your choice; in fact, it is usually the primary deciding factor regardless of how good a pair of golf pants are. The best golf pants don't have to be expensive, but you will find that you get what you pay for. The pants with a higher price point will tend to last longer and will have more features.
All that said, some mid-range or even budget offerings can provide you with a great pair of golf pants. They often have qualities that are at least very similar to more expensive offerings. Generally speaking, $75-150 is going to be the range where you see most of the best options, with the more premium pairs being toward the $150 mark.
When considering your budget here, remember the saying 'buy cheap, buy twice'. If you spend half as much, but your best golf pants only last for half as long, then you may find that you would have been better investing in a better-quality pair.
Fabric
As with most clothing, golf pants are constructed using many different fabrics. The key in today's market is looking for blended fabrics.
By choosing a blended fabric, you get to pick the best of several worlds. Cotton is excellent for wicking but creases very easily. Polyester can be great for durability and stretch but can get slightly warm and itchy, especially on hot days. A blend of fabrics borrows a little from one material's strength and supplements it with another's great properties.
Most golf pants will be a mixture of cotton and polyester. Many use other materials to come up with their very own fabric, such as 'warpstreme' or 'flex twill'.
Mobility
Mobility in golf is essential for quite a few reasons. The first is obviously your swing. You are pivoting your body quickly and often. Anything that doesn't allow you to do this consistently or restricts you will affect your game, and leave you feeling uncomfortable. Uncomfortable golf pants are synonymous with distraction out on the golf course. If you are looking to make that crucial birdie putt but can't focus on the stroke because you feel like you have 'ants in your pants', then your scorecard can and will suffer.
Golf isn't just a game that is played standing up. Watch the pros and see how often they are bending to tee up or mark their ball. Or squatting as they read a lie. If you make two putts per hole (lucky you), you can expect to squat at least 36 times per round. You will want a pair of golf pants that will allow you to do this with ease.
Finally, it may seem obvious, but golf involves a hell of a lot of walking. Just as with shoes, if you have an annoying rub or 'pinch point' throughout several miles, that is really going to take its toll on your comfort.
Weather
Some people prefer only to play in the summer months. For others, golf is a year-round obsession. Which are you? Your answer may very well dictate what would be the best golf pants for you.
If you play in hot weather, you might consider choosing a pair of pants that are lighter in their construction or feature a greater mix of cotton, which is ideal for keeping you cool.
Conversely, if you play in damper weather, then there is a good chance that your golf pants might become slightly wet at some points. In this instance, it is good to have pants that offer a degree of weatherproofing or, failing that, at least dry quickly, so you aren't soaked through for the remainder of your round.
Twinned with the above, you need to consider if your pants will get dirty due to the weather. Choosing pants that are easy to keep clean or machine washable will ensure that you get plenty of use out of them, regardless of the conditions you play in.
Breathability
Part of keeping comfortable is keeping dry. But moisture doesn't just come from the elements. If you are used to marching around the course quickly, you will already know that you might get a little 'hot under the collar'. Perspiration can accumulate surprisingly fast, especially on hot days.
By choosing a breathable fabric, you can ensure that moisture and perspiration are not kept in constant contact with your skin but is carried away by the material, keeping you ultra-comfortable.
Style
Style is very much a personal thing. You'll have noticed that slim-legged golf pants are all the rage on tour at the moment, especially amongst the younger players. Slim legs are great, but remember what we said about comfort? It's not good looking great if you don't feel great, so pick a style that you are comfortable with.
Color is actually also worth a thought. White pants do look brilliant and tend to be easy to match with just about any top. However, white pants can tend to show dirt and stains very quickly. If you are in the habit of kneeling to assess your putt, then a darker pair might actually be the way to go.
What Are The Benefits of Golf Pants?
Golf pants should be stylish and in keeping with the course's rules and allow you to play your game without hindrance. In all honesty, the best golf pants are those that you don't notice at all when you are wearing them. If you feel uncomfortable or restricted at any point, it might be time to reconsider what you are wearing.
Why Wear Golf Pants?
Most golf clubs/country clubs tend to have a dress code. No jeans allowed (with that said, jeans definitely aren't the best golf pants). Back in the day, it was expected that one must look extremely smart at all times. As you'll no doubt be aware ultra-formal attire rarely focuses on comfort.
As time has progressed, golf clubs have relaxed their rules slightly. This has coincided with the advent of modern fabrics. Manufacturers have produced relatively smart-looking clothes but have also taken advantage of these modern fabrics. The upshot is that we now have custom clothing that satisfies the requirement to be 'formally dressed' while also having properties that make them very comfortable to wear.
Extra Features to Look For in The Best Golf Pants
Rubberized Waistbands
Comfort and style are all great features to look for in the best golf pants, but you may find other things that make them even more suitable if you look closely.
One feature that we really like in golf pants is a rubberized waistband. Depending on your club's requirements, you may find that the dress code demands that shirts be tucked in at all times.
When bending, squatting, or swinging, there can be a tendency for shirts to become untucked. Looks aside, this can be quite distracting too. A rubberized waistband pretty much guarantees that your shirttails stay precisely where you stuff them.
Extra Pockets
Another great feature to look for is pockets. You can avoid unnecessary trips back down to your golf bag by having a few pockets as you can carry your golf trinkets on your person. At the bare minimum, look for enough space to hold a scorecard, a pencil, and a few tees.
Zippable pockets are even better. There's no worse feeling than having to march all the way back up the last par 5 to find an 'escapee' from your back pocket (your scorecard, glove, you get the point).
Final Thoughts
Clothing is highly personal. What you wear on the outside can often influence how you feel on the inside. As you'll know, golf is all about confidence. The best golf pants will allow you to swing easily, move on and around the course with ease, and will enable you to look great and feel great.
For the money, the Puma Jackpot 5 pocket golf pants offer outstanding value and have great features. The rubberized waistband allows you to stay smart for the day, this, twinned with numerous pockets and light fabric, make them ideal for a round. They are pretty wallet-friendly and represent a nice compromise between features and budget. They have a great range of colors too!
If you want to go for a more premium upscale pair, we think the G/FORE Core 5 Pocket Pants are the best option out there. These are made with premium materials and feel great on, yet they're not at the extreme high end price-wise.
When looking for the best golf pants, consider which style will suit you, both from a playing point of view and how you want to look.
Thanks for reading, and we hope you find a pair you like!