Golf has always had the reputation of being a gentleman's sport, and it's been a sport played mostly by (well, let's face it) grandparents and retirees. Thankfully, this trend has been changing throughout the past decade and younger generations are beginning to play the game of golf as well. Now more than ever, younger men and women are learning the game and getting out there on the golf course. 
According to  National Golf Foundation, in June of 2019, "women represented almost one-quarter of participants, 5.7 million in total. Females also represent a disproportionately higher percentage of beginners (31%), juniors (36%) and off-course participants (44%) than they do in the overall golf population (23%)".
With more women in the game now more than ever before, it is important that the golf industry provides plenty of options for women's golf apparel, from both big and small brands. We've covered the market to find the best women's golf apparel brands out there providing stylish and high quality clothing to women on the golf course. Read our findings below!
Best Women's Golf Apparel Brands | Buyers Guide
Material
When you are looking at women's golf clothing brands, one of the most important factors is the quality of the material. Depending on the item of clothing, the material needs to feature specific qualities and traits. For instance, for golf shirts and polos, it is imperative that the material is breathable, moisture-wicking, stretches easily, and is durable. Common blends for materials are polyester & spandex, tech nylon, pique material, or a cotton & polyester blend. They should be comfortable and durable, yet sporty and practical. 
For golf skorts and bottoms, you will also want to look for stretchy material for added comfort when swinging and walking. Golf skirts should, in our opinion, always feature spandex shorts inside. If you are swinging a golf club, or bending down to get a tee or ball, you want to feel comfortable. Inner spandex shorts in skirts give you a sense of comfort and ease when moving around on the course. Inner spandex shorts also add value and practicality to golf dresses, which are seen more frequently than ever before. 
Higher quality materials usually equate to higher prices, but it is definitely worth the investment. 
Comfort
Now, this is an important one for female golfers. We have all been there: you see a cute skirt, or pair of shoes but once you put them on they aren't comfortable at all and give you blisters. Don't make this mistake with any of your golf clothing! Just because something is cute or stylish, make sure it is also comfortable. You will be on a golf course for hours, either walking or riding for 9-18 holes; you want to be sure you are comfortable and feeling your best. 
If you feel good, you will have the confidence that you need while swinging your golf club. Women's golf apparel needs to be stretchy and moisture wicking, skirts and shorts need to be an appropriate length, and shoes need to fit you perfectly. If you are uncomfortable on the course, you will not enjoy the game and you will not be at your best.
Practicality
Have you ever gone to the course wearing a pair of pants and a pullover, and then realized you have no pockets? The worst! When you are on the golf course, there are some features that you need on your golf clothes that make your life easier. Pockets are extremely important while you are playing golf; you need tees, an extra ball, your ball marker and other essentials quickly within reach at all times!
As mentioned earlier, it is also so important for golf skirts and golf dresses to have built in spandex shorts. Not only are they comfortable, but extremely practical. When you get in the golf cart and the wind starts blowing, it is always good to know that if your skirt blows around, you are covered!
For your golf clothing to be practical and function, it needs to feature breathability and moisture wicking material. Golf is usually played in warm weather on sunny days. It is very likely that you will sweat and be hot; nothing is worse than having a heavy shirt that doesn't allow any air flow. 
Style 
Ahhh – golf apparel and style. Seems like that is kind of an oxymoron at times, right?
Luckily, brands are really stepping up their game and are slowly breaking away from the stereotypical golf attire for women. When we think of women's golf attire, we think of bright colors, crazy patterns, longer skirts and shorts, and collars. Just years ago, golf dresses were not even a thought. Now, brands are creating trendy skirts, dresses, tops, pullovers and even form fitting pants! The patterns are getting better, and there are some brands that have a really stylish collection of women's golf apparel. The classic brands, like Peter Millar, are changing their styles to keep up with the trends and times, and new brands are entering the women's golf apparel game with fresh ideas as well.
With this criteria in mind, let's take a look at the Best Women's Golf Apparel Brands that do a great job of keeping up with the latest trends and designs:
The Brands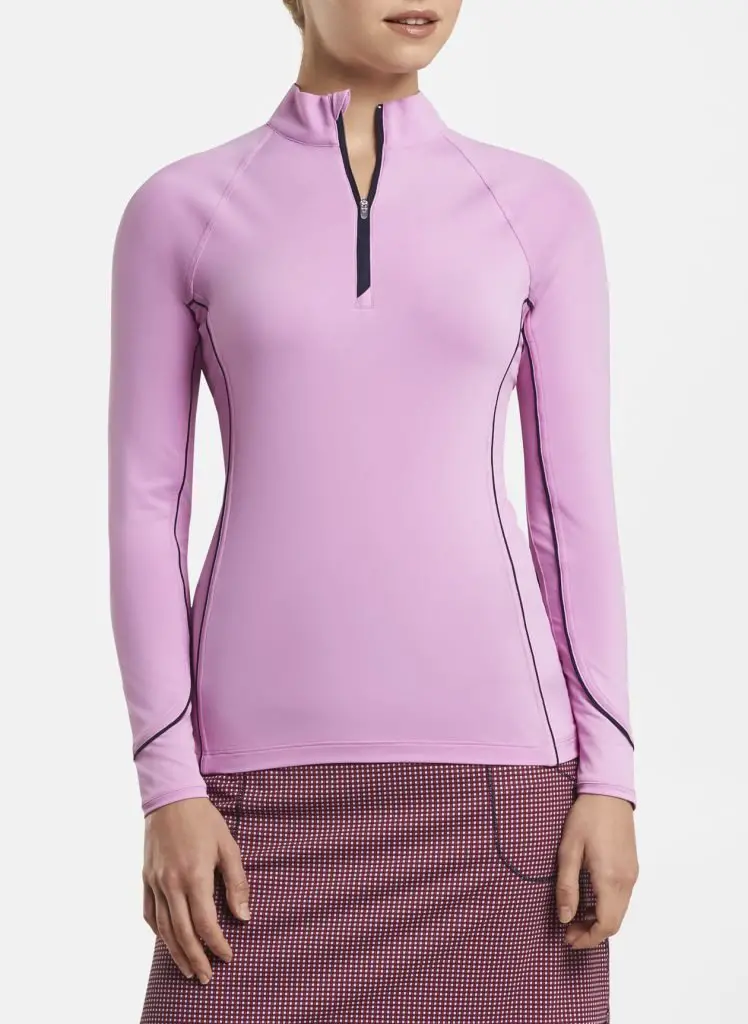 Peter Millar is a long standing powerhouse in the golf apparel game. They are a high-end brand that offers stylish, traditional designs and uses high quality materials. Peter Millar caters mainly to men, but has a nice women's golf apparel line as well. Their clothing is on the conservative side, with a traditional and more mature feeling to their items. Depending on the season, they have skirts, a few dresses, slacks, pullovers, polo shirts and more. Peter Millar is a classy, traditional brand and has been around long enough to have earned a great reputation within the market. 
Nevis Golf Co. is a new name in the women's golf clothing world, but after seeing their products first hand, we truly believe that in a short period of time, Nevis Golf Co. will be a staple in the market. A woman-owned small business, Nevis Golf Co. currently has a smaller number of items in their catalog but the owner/founder says there are many new designs and products to come in the near future. All of the items in Nevis Golf Co's collection are crafted with four-way stretch material, antimicrobial fabrics, and offer UPF 50+ protection. If you're looking for a small women's golf brand to support, we love what Nevis Golf Co. has done so far and are excited to see how they fair!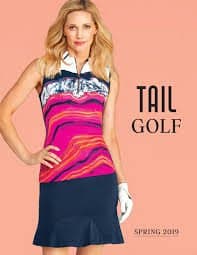 We first discovered TAIL in a Dick's Sporting Goods store and found that they have a large collection of women's golf apparel. Not only do they have golf apparel, but they also have tennis specific attire and other sportswear as well. TAIL's apparel features brighter colors, and fun crazy patterns. Many women like this type of golf clothing, while a lot of other players are begging companies to stop making these loud pieces. We do love TAIL's large selection of clothing however, there is something for everyone and they have some interesting styles not seen everywhere else (such as their mid-sleeve length shirts). The pricing is basically in the middle tier between G/FORE and Nike; dresses for instance are around $89-$100.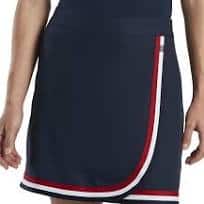 Acquired by Peter Millar in 2018, G/FORE is another staple in the women's golf apparel industry. They are a bit more trendy and edgy than the traditional Peter Millar and the acquisition took many people by surprise. G/FORE has a lot more options for women than Peter Millar does, and they have more accessories, such as shoes, gloves, hats, etc. The prices are a bit higher as well, reflecting the premium materials they use in their items. A golf polo can range from $110-$145. They are form fitting clothes and would appeal to the younger demographic in the 20-40 year old range, or anyone searching for a more trendy look. This is a company to keep your eye on as they are constantly adding to their collection and updating their looks to keep up with the latest trends.
Even though everyone knows Nike is a staple in all things sport apparel and equipment related, we do feel the need to add them to this list. They really do have great golf apparel for women and it is super affordable! They have a ton of styles for skirts, polos, pants, dresses, shoes, hats, and more. They basically have everything you would need to complete your golf wardrobe. Nike is pretty much a no-frills company; they have what you need but usually in simple materials and styles. If you are a beginner looking for something affordable to get yourself started, we highly recommend checking out Nike Golf's catalog. The big names usually have their reputation for a good reason! 
KINONA is a women's golf wear brand that helps women make a statement – on and of the course. With a large catalog of items, KINONA features colorful, stylish, and comfortable golf apparel that can be worn on or off the course. They have a wide selection of dresses, pants, skorts and golf tops that can be worn on the green, for a game of pickleball, and beyond . KINONA's pricing may be slightly higher with dresses around $170, and sleeveless polos are around $100. But with their signature 4-way stretch Italian Fabric and commitment to sustainable fashion, they might be the right option for those who like brands with strong causes. If you like making a statement with bright colors and fun patterns, KINONA is worth checking out!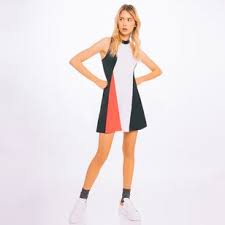 Foray Golf is another fairly new player in the woman's golf apparel industry and focuses on creating trendy and edgy attire. They feature collections such as their "Chain Reaction" and "Birds in Paradise" that have unique patterns and color schemes. They are similar to G/FORE in that they also offer their own golf gloves, shoes and accessories for female golfers. This women's brand was created by a former Victoria's Secret executive and is based out of New York, adding some allure being made in the USA. 
Final Thoughts
Even though men make up the majority of golfers, women golfers are growing each and every year. Companies are absolutely noticing this and are adding stylish women's golf apparel and accessories. New companies are coming into play, and classic brands are changing their styles to appeal to younger generations. Keep material, comfort, practicality, and style in mind when you are looking for new women's golf clothes. We hope you enjoy our list of best women's golf apparel brands and show them some love when you need to spruce up your golf wardrobe!