Choosing the right golf ball for your game has a huge impact on how you play, and be the difference between sticking a green and rolling off the back. TaylorMade's TP5 and TP5x golf balls are two of the best golf balls on the market today, but there are a some key points to look at before deciding which one you should play.
Check out our complete guide below to figure out which of these tour style golf balls is better suited for your game.
TP5 and TP5x Short Background
TaylorMade has had their TP golf ball line on the market since 2006- TP standing for Tour Preferred. At that point, their tour ball didn't have the brand power of big names like Titleist and Callaway.
The modern staple versions we now know today as the TP5 and TP5x were both initially released in 2017, and are used by several of the top players in the world, including Rory Mcilroy, Dustin Johnson and Jason Day. These balls serve as direct competitors to top performing golf balls on the market like the Pro V1 line up.
Let's get into what puts these balls into the best golf ball category and understand what's unique between these two.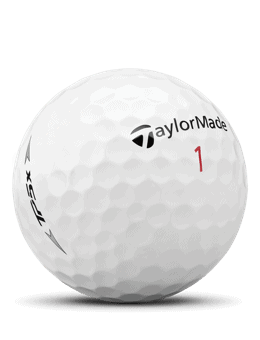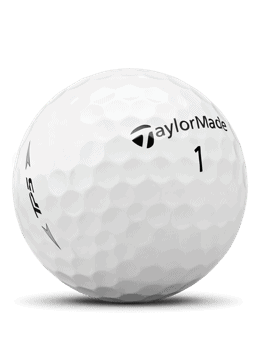 Comparison at a glance
| Key Metrics | TP5 | TP5x |
| --- | --- | --- |
| Construction | 5 Layers | 5 Layers |
| Ball Speed | Faster | Faster |
| Cast- Urethane Cover | Softer | Soft |
| Feel | Softer | Soft |
| Playability | Workable | Piercing |
| Launch | Mid | High |
| Short Game Spin | Higher | High |
| Price | $40+ | $+45 |
The TP5 is among the top performing golf balls on the market, and is geared toward players who have average golfers who want tour level performance. The TP5 is best suited for golfers who have a lower swing speed, as the compression rating of this an 85. This ball has superior green side feel and spin.
The TP5x features a high compression rate of 97, and is made for players with higher swing speeds. This ball is used by players like Rickie Fowler and Dustin Johnson on the PGA Tour, and promotes a higher, more piercing ball flight. This ball is best suited for better players who can maximize the performance on a high compression golf ball.
Key Feature Comparison
Construction
Both the TP5 and TP5x feature a unique 5 layer construction, and are the only tour preferred style balls on the market that have 5 layers. These layers allow for optimal performance from tee to green without any sacrifice in performance. In both of these golf balls, TaylorMade uses a Tri-Fast Core for more carry off the clubface and low drag.
As with all tour style golf balls, they both sport a soft urethane cover, which is what helps deliver those high spin rates on wedges and short shots. The Dual-Spin urethane cover is ultra soft, yet durable. The TP5 a bit softer than the TP5x, so if you have a slower swing speed the softer cover of the TP5 may be a better fit.
Compression
There's a pretty big difference in compression between these two golf balls, which may be a deciding factor for many golfers. The compression rating of the TP5 is 85, where the TP5x has a compression rating of 97. This difference matters based off of your swing speed. If you have a slower swing speed, you'll be able to get significantly more distance with the TP5 as you'll be able to fully compress the ball and get optimal performance. For players with a faster swing speed, you'll need to use the TP5x to maximize distance and performance.
Feel
Because both of these golf balls feature that ultra soft urethane cover, the feel on this tour rated golf ball is soft. The TP5 is softer than the TP5x, thanks to it's lower compression and slightly thinner cover. The softer feel of the TP5 is definitely my preference, especially in my short game around the green.
Trajectory
Trajectory is important both off of the tee and when approaching the green, but again this trait does come down to preference. I like to have a higher trajectory, especially when approaching the green, because I want to be able to hold a green and stick the ball as close to the pin as I can. The TP5 has a mid launch or trajectory, and will roll out more on the fairway off the driver. The TP5x has a higher trajectory off the tee, and will roll out much less on the fairway and the green.
Driver Performance
Both the TP5 and the TP5x are designed for outstanding performance, with minimal side spin off the tee. The 5 layer construction and soft urethane cover help optimize both carry distance and spin rates to achieve maximum distance when hit with the driver.
In both cases, you'll need to be able to compress the golf ball to achieve optimal performance. If you struggle to swing the golf club fast, the TP5 will help you out with it's mid-compression rating. Low handicap players, or players with high swing speeds will be able to use the TP5x more effectively.
Iron Performance
These two balls also have similar performance when hit with irons, so the biggest difference here is workability and trajectory. The TP5's mid trajectory is a little more workable, and you'll have no issues holding a green from an approach shot. The TP5x has a higher, more piercing trajectory that helps you land softly on the green with less roll out, so you'll be able to get more of that stop and drop feel with the TP5x.
Performance Around the Green
Both of these golf balls handle themselves extremely well around the green. The Dual-Spin cover is used on both balls, which gives the TP5 and TP5x plenty of spin and shot stopping control in your short game. The TP5 will have a slightly softer feel around the green, and that's the biggest difference between the two.
There is very insignificant differences in how these two balls play when putting. Both have a soft feel and sound, however the TP5x will feel slightly firmer off the putter face.
Which is right for you?
Investigating into these two Tour Preferred golf balls by TaylorMade likely means you want to upgrade your current ball to a high performance ball that can help lower your scores on the golf course.
So, which is right for you? I think the biggest things for you to consider when deciding are compression, feel and trajectory, as those are the main key differences.
The TP5 has a softer feel, with a mid trajectory and mid-compression rate. This combo will work for many amateur golfers; this ball can be used by high handicappers and mid handicappers alike to lower their scores and feel confident going around for 18 holes. The ball is slightly better suited for mid handicappers who want to be able to shape the ball from the tee and fairway.
On the other hand, the TP5x has a slightly firmer feel, higher trajectory and high-compression rating that works best for players with higher swing speeds. I prefer the higher trajectory that this ball provides, because it promotes less roll out and helps me stick more greens. This ball is great for mid and low handicappers who need a high compression, tour rated golf ball.
Thanks for reading and I hope you enjoyed this post! We'd love to hear back which ball you prefer!
If you're still not sure about these two options, head over to our review on the Pro V1 vs Pro V1x, as these are widely regarded as the two best golf balls in golf today.